Having an acclaimed fifth place in the World Bank's Ease of Doing Business 2020, South Korea provides an ideal business ground for foreigners to register company in South Korea. Besides being recognized as one of Asia's most developed economies (Four Asian Tigers), South Korea is also strategically located between two of the largest economies, China, and Japan. Therefore, opening a company in South Korea is a leading choice among foreign investors who wish to gain a foothold in Asia. Regardless of whether you are an aspiring entrepreneur or experienced business owner, we will explore what are the interesting facts to know about the country before starting a business in South Korea as a foreigner. 
15 facts to know before starting a business in South Korea as a foreigner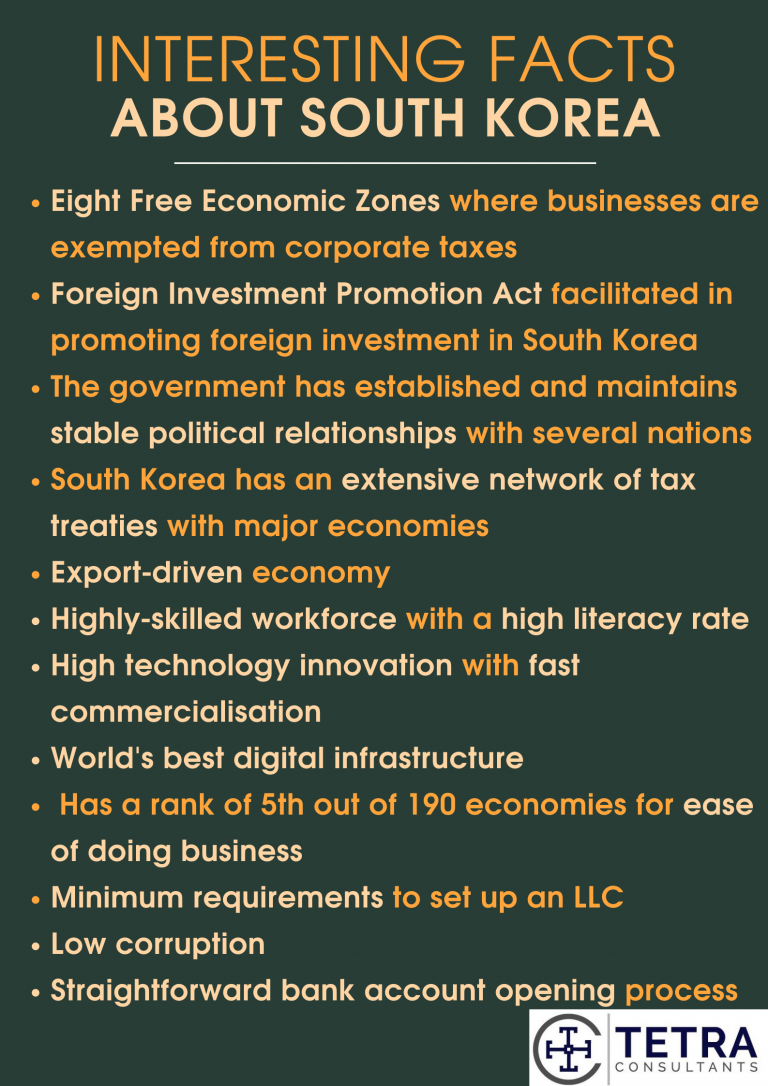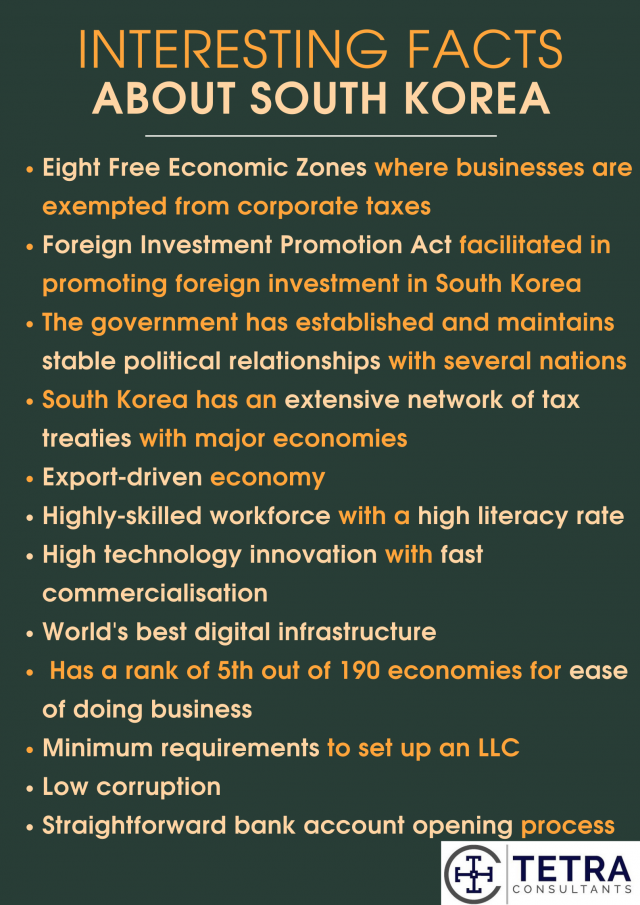 #1
There are eight Korea Free Economic Zones (KFEZ): Incheon FEZ, Busan-Jinhae FEZ, Gwangyang Bay Area FEZ, Yellow Sea FEZ, Daegu-Gyeongbuk FEZ, East Coast FEZ, Chungbuk FEZ, and Saemangeum-Gunsan FEZ. Businesses operating in these zones are exempted from paying corporate taxes for five years. There are no import tariffs for free zone companies.
#2
The Foreign Investment Promotion Act was enacted to promote foreign investment in South Korea by providing support and benefit and to contribute to the sound development of the nation's economy. The Act opened up 99.8% of Korea's industries to foreign investment and provided significant protection for investor interests. The government provides FDI incentives which include tax support such as corporate tax, income tax reduction, and exemption from customs duties. Cash grants such as land purchase expenses and lease expenses are also provided. 
#3
South Korea establishes and maintains stable political relationships with several nations.

Since 1996, South Korea has been a member of the Organization for Economic Cooperation and Development (OECD) and the World Trade Organization (WTO). Moreover, South Korea has signed subsidiary agreements including TRIPs (Trade-Related Aspects of Intellectual Property) and the Government Procurement Agreement. 
#4
South Korea has established an extensive network of Free Trade Agreements (FTA) with major economies such as ASEAN, China, the United States, India, the European Union, and the European Free Trade Association. 
#5
South Korea has an export-driven economy, with leading production mainly in electronics, telecommunications, automobiles, machinery, ships, petrochemicals, and robotics.
#6
South Korea boasts a highly skilled workforce, with a high literacy rate of 97.9%, and 80% of adults aged between 25 to 64 received university education.
#7
South Korea is one of the top-performing OECD countries in reading literacy, mathematics, and sciences, placing it ninth in the world.
#8
Incheon International Airport is the largest airport in South Korea and one of the busiest airports in the world. It is also ranked 4th worldwide as The World's Top 10 Airports of 2020. 
#9
South Korea scored 79.62 points out of 100 on the 2019 Global Competitiveness Report published by the World Economic Forum. This makes South Korea the 13th most competitive nation out of 140 countries. 
#10
Known for its high technology innovation with fast commercialization, South Korea is home to many high technology companies with fast commercialization. Some of these companies include Samsung Electronics, LG Electronics, and Hyundai Motor.
#11
South Korea also has the world's best digital infrastructure, with wide use of high-speed Internet and smartphones. 
#12
According to The World Bank's Doing Business Report 2020, South Korea ranks 5th among 190 economies in the ease of doing business. This can be attributed to the straightforward

South Korea company registration

procedures. 
#13
Setting up a South Korea Limited Liability Company (Yuhan Joesa) has minimal requirements. The requirements include 1 director of any nationality, 1 shareholder of any nationality, no minimum paid-up capital, and a legal registered office address. However, as a foreign investor, it is required to have at least KRW 1 million when starting a company in South Korea under the

Foreign Investment Promotion Act.
#14
According to Transparency International's Corruption Perceptions Index, South Korea was ranked 33 out of 180 countries in 2020. With a low risk of corruptive activities in South Korea's public sector, it reinforces an investor's confidence in the jurisdiction's political stability.
#15
It is a straightforward process to secure a multi-currency corporate bank account and it is not necessary to have face-to-face bank meetings.
Considering starting a business in South Korea as a foreigner?
South Korea company registration is hassle-free if you are familiar with the entire incorporation process. Tetra Consultants strives to provide our clients with a seamless experience when setting up a company in South Korea. Our team of experts will ensure that your South Korean company can be operationally ready as soon as possible.
Contact us to know more about the incorporation process in South Korea and our comprehensive service package offered to our clients. Our experienced team will revert within the next 24 hours.