Bangladesh is one of the fastest-growing economies in the world and has been trying to establish a reputation in the telecommunications sector as opposed to its traditional expertise in garment manufacture. Regardless of what business you choose to do, here are the four reasons why you should proceed with Bangladesh company registration. Tetra Consultants will help you to register company in Bangladesh within 2 weeks. Throughout the whole set-up process, you are not required to travel for Bangladesh company registration or corporate bank account opening. After company registration, our banking team will proceed to open a Bangladesh corporate bank account for your business. Depending on the nature of your organisation and its long-term goals, we are also able to open overseas offshore corporate bank accounts. This process will take approximately 4 weeks. Thus, within 6 weeks from our engagement, you can expect to commence operations with your new Bangladesh company. 
4 reasons to choose Bangladesh company registration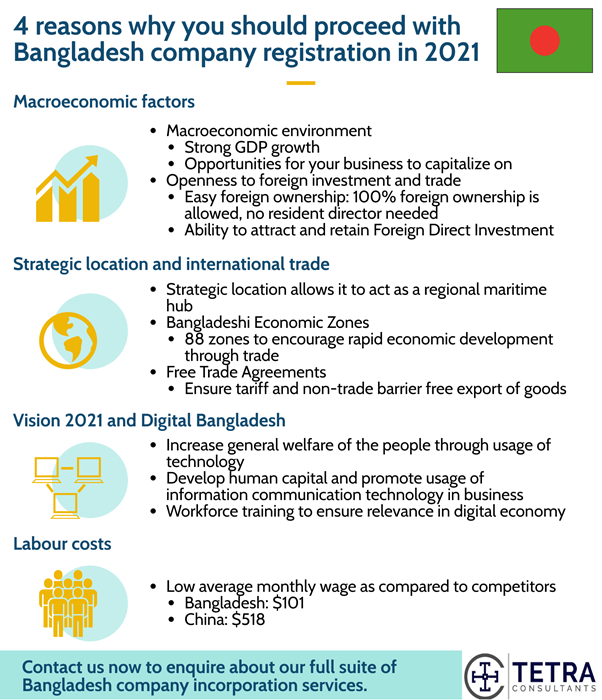 #1 Macroeconomic factors
Terence James O'Neill, Baron O'Neill of Gatley, the British economist behind BRIC (an acronym used to refer to Brazil, Russia, India and China) earmarked Bangladesh as part of the Next Eleven. These 11 economies were identified as potential candidates to challenge the economic dominance of the traditional economic superpowers. They were chosen for their promising outlook for investment and future growth, based on criteria such as macroeconomic and political stability, quality of education and openness to trade and investment policies. O'Neill made this prediction all the way back in 2005, and despite the many disruptions to the global economy since then, Bangladesh has lived up to the expectations that came with their inclusion in the Next Eleven, achieving an annual real Gross Domestic Product growth rate of 8.3% in the first quarter of 2019. This was the seventh highest in the world. 

On top of being one of the fastest-growing and promising economies in the world, Bangladesh also has a high degree of openness to foreign investment and trade. It allows full foreign ownership for companies, allowing your business the independence to freely operate and manage its own affairs. Although the total foreign direct investment (FDI) inflows for Bangladesh fell in 2019 due to the effects of the pandemic, a promising report by the United Nations Conference on Trade and Development, the 2020 Global Investment Trends Monitor showed that FDI inflows for East Asia rose by 12%, whilst global inflows fell by 42%. This shows the potential for Bangladesh to play a key role in the economic development of the East Asian region. Other policies and schemes to encourage international trade will be covered below.
#2 Strategic location and international trade
Given its strategic location along the Bay of Bengal, it provides access to maritime trading routes for landlocked countries such as Bhutan and Nepal. Even the Southwest region of China must go through Bangladesh to access such maritime routes. Being so close to major economies such as India, China as well as the other Middle Eastern economies also works to the advantage of Bangladesh as It offers lucrative trading opportunities. Its two biggest trading partners are India and China, making up 12% and 21% of its total trade respectively. 

Bangladesh has also taken further efforts to improve its attractiveness as a regional maritime hub and trading centre, by implementing both free economic zones and Free Trade Agreements (FTA) to reduce the tariff and non-economic barriers to trade. 
Bangladeshi Economic Zones
With the establishment of the Bangladesh Economic Zones Authority through the enactment of The Bangladesh Economic Zones Act in 2010, the Bangladeshi government has taken big steps to encourage rapid economic development through "

diversification of industry, employment, production and export". With 88 zones implemented to date, they are well on track to hit their 15-year target of having 100 zones. These zones are established in all potential areas, even underdeveloped ones, ensuring that the benefits of economic growth can be shared by all its citizens. 
Free Trade Agreements
Being a member of several influential international organizations such as the World Trade Organization, World Bank and International Monetary Fund, as well as equally important regional organizations such as the South Asian Association for Regional Cooperation, it is able to attain a certain degree of political and economic stability. It also makes it a party to free trade agreements such as Asia-Pacific Trade Agreement and the South Asian Free Trade Area. Such agreements work in conjunction with the above-mentioned factors to enable your Bangladesh company to easily and cheaply export goods or engage in international trade. 
#3 Vision 2023 and Digital Bangladesh
The current ruling party, the Bangladesh Awami League Party ran with Vision 2021 as their political manifesto in the 2008 National Elections.

The crucial goals of this manifesto are as follows:

Increase political participation and transparency

Poverty-free middle-income country

Nation of healthy citizens

Develop skilled and creative human capital

Become a globally integrated economic and commercial hub

Environmental sustainability

Build an inclusive and equitable society
One philosophy underscoring this manifesto to help them achieve these goals is "Digital Bangladesh". By promoting the usage of technology alongside changing attitudes and innovative ideas for businesses, they aim to ultimately improve the general welfare of the people. Key elements of this plan are the development of human capital and the use of information communication technology in business, a sector that Bangladesh is already doing relatively well in. 

Businesses in Bangladesh can expect to benefit from online access to government services due to their increasing adoption of e-Governance and e-Services solutions.

Bangladesh company registration

can even be done online. This also makes a Bangladeshi business more attractive to foreigners since it allows them to conveniently incorporate and manage their business from abroad. 

In terms of human capital, Bangladesh is focused on training its citizens in several key areas such as Intelligent Enterprise, Digital Trust, Cyber Security, Robotics, and Social Media, Mobility, Analytics and Cloud (SMAC). This equips the workforce with the skills needed in today's digital economy. 
#4 Labour costs
Bangladesh has one of the lowest labour costs in the world. Taking one of their biggest industries as an example, manufacturing garments has an average monthly wage of $101, as reported by The Dhaka Tribune. This has led to a shift in garment manufacturing firms from China, which now has a labour cost of $518. 

Admittedly, this low labour cost has come about as a result of lax enforcement of labour policies and sometimes even exploitation of child labour. Hence, Tetra Consultants would recommend you to be aware of this if you are incorporating your company in Bangladesh solely due to cheap labour costs.
How can Tetra Consultants assist you with Bangladesh company registration?
Bangladesh company registration is hassle-free if you are familiar with the steps. With Tetra Consultants at the wheel, you will be able to channel your time and energy into other more important aspects of your firm.
With our lean-and-mean mentality, you can rely on our team of experts to provide you with a seamless experience throughout the company registration process in Bangladesh. Our ultimate goal is for your company to be operationally ready within 6 weeks. Thereafter, Tetra Consultants will ensure that your company stays compliant with local regulations.
Our service package includes everything you will require for business registration in Bangladesh:
Contact us to find out more about company registration in Bangladesh. Our team of experts will revert within the next 24 hours.