Do you need a license to trade cryptocurrency? Simply put, cryptocurrency licenses serve as official permission to conduct a regulated cryptocurrency business. In Estonia, the National Financial Intelligence Unit (FIU) is the governmental body in charge of issuing an Estonia crypto license. Under the Estonia crypto regulations, a cryptocurrency license is required for activities in the field of crypto services, in accordance with the Law on the Prevention of Money Laundering and the Financing of Terrorism.
Until 2020, businesses were required to obtain two cryptocurrency licenses from the FIU:
Estonia cryptocurrency exchange license

: For exchanging and trading between cryptocurrencies and fiat currencies.

Estonia crypto wallet license

: For operating electronic wallet services with cryptocurrencies. Based on public-key cryptography, cryptocurrency wallets allow users to send and receive cryptocurrencies over the network. There are 2 types of wallets – cold wallets can store digital coins offline, whereas hot wallets include conventional and multi-currency wallets for cryptocurrencies.
However, starting in 2021, the Estonian Financial Intelligence Unit (FIU) will provide a license called the Virtual Currency Service Provider, which has consolidated the previous licenses and merged them into one. This means that only a single cryptocurrency license is now required to legalise cryptocurrency activities, which makes it more convenient to set up a cryptocurrency business in Estonia.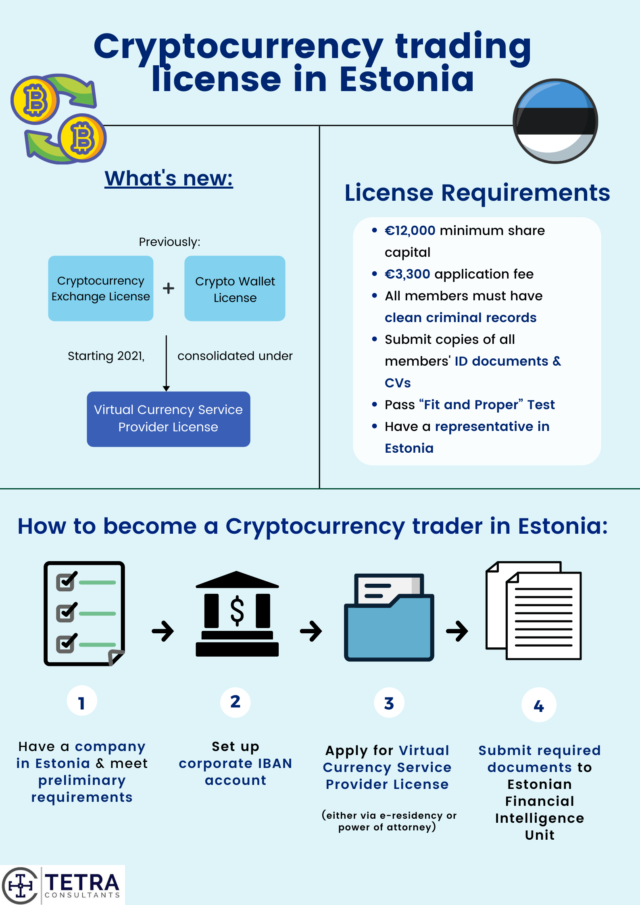 How do you become a cryptocurrency trader in Estonia?
Firstly, you will need to have a company in Estonia, which requires you to open a local branch of either a foreign company or a company in Estonia. The board of management is required to be located in Estonia too.
You can either:
Purchase an existing shelf company with an already approved

crypto trading license

, or 

Register a new Estonia company and apply for a cryptocurrency license.
It should be noted that the best legal entity for registration when applying for an Estonia cryptocurrency license is the private limited liability company (LLC). Such an entity allows for a quick and simple registration with both the Trade Register and the authorities in charge of issuing the necessary business permits. This can be achieved by meeting all the requirements imposed by the new regulations for fintech licenses.
Secondly, setting up a corporate bank account is required after registering a company in Estonia. Your company needs to open a bank account with IBAN before obtaining a cryptocurrency license. However, it may be difficult for crypto companies to apply for a bank account with traditional Estonian banks due to strict regulations. One possible option is to open an account with one of the European Providers of Cross-Border e-Money Services in Estonia. Additionally, the bank account does not necessarily have to be registered with traditional banks. It is also possible to register a digital bank account with companies such as Transferwise and Revolut.
Thirdly, you need to apply for the Virtual Currency Service Provider license from the Financial Intelligence Unit (FIU). The license allows your company to conduct cryptocurrency exchange businesses, such as trading and exchanging between cryptocurrencies and fiat currencies. Your company will be able to provide crypto/fiat exchange services on par with market leaders like Binance and Coinbase. The license also allows your company to carry out business activities, similar to a cryptocurrency wallet.