Estonia, being one of the most advanced European countries, is spearheading the development of blockchain technology by allowing foreign investors to set up companies relating to cryptocurrency trading in 2021. As such, numerous cryptocurrency companies seek to conduct their businesses in Estonia because of the speed and low cost of implementing a cryptocurrency project there. This can be attributed to the simple and affordable environment created by the regulations around the Estonia cryptocurrency license, which complies with the Anti-Money Laundering (AML) and Combating the Financing of Terrorism (CFT) Acts. Before setting up a cryptocurrency business in Estonia, investors are required to obtain cryptocurrency licenses, which include the cryptocurrency exchange license and crypto wallet license.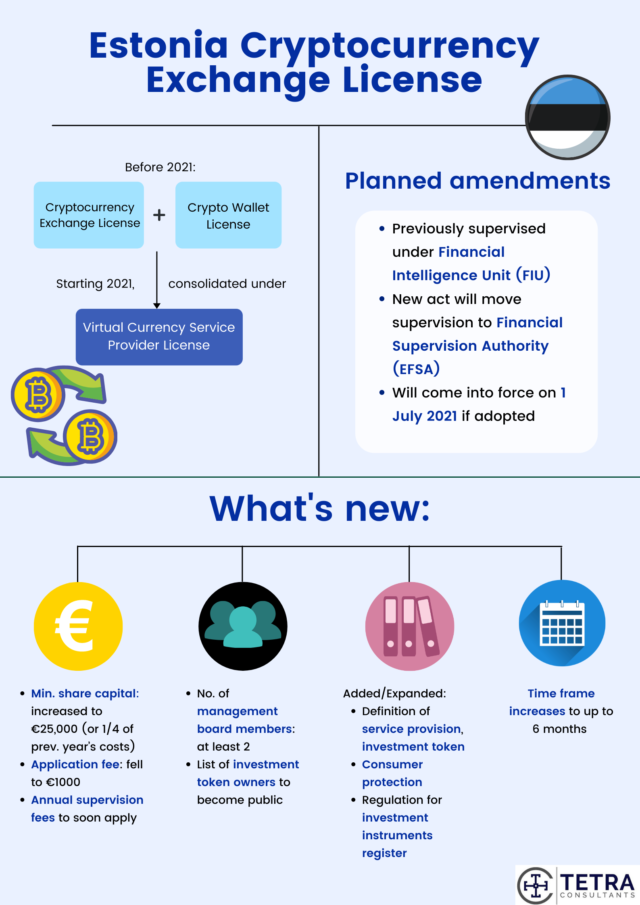 1. What is a cryptocurrency exchange license?

A cryptocurrency exchange license is for providers of a service that exchanges a virtual currency against a fiat currency. The crypto trading license allows them to exchange fiat to crypto, crypto to fiat, and crypto to crypto.
There are 2 types of cryptocurrency licenses:
Cryptocurrency exchange license

Cryptocurrency wallet license
However, under the new regulatory framework, the Estonian Financial Intelligence Unit (FIU) provides a license called the Virtual Currency Service Provider, which has consolidated the previous licenses into one.
This means that only a single cryptocurrency license is required to legalise cryptocurrency activities, which makes it more convenient to set up a cryptocurrency business in Estonia. 
2. Advantages of Estonian cryptocurrency license
With Estonia being the pioneer of the fintech and cryptocurrency industry, there are many advantages of applying for an Estonian license. Here are 6 of the main benefits:
   

Attractive licensing fees.

   

Shorter regulatory process compared to other jurisdictions – In Estonia, it generally takes weeks, whereas it takes months or even years elsewhere.

   

Simple and straightforward regulatory process.

   

Corporate tax exemption on reinvested profits.

   

No income tax.

   

Licenses come with EU passporting rights, which means that individuals can establish their crypto business in other EU jurisdictions.
3.

Intended modifications to the Estonian Virtual Currency Service Provider
Previously, the Virtual Currency Service Provider was subjected to supervision from the Financial Intelligence Unit (FIU). However, under a proposed new legislative act in Estonia in 2021, supervision will move from FIU to the Financial Supervision Authority (EFSA). The legislation will come into force on 1 July 2021 if the new proposal is adopted. Some of the proposed requirements include a higher minimum share capital, mandatory audits and regular reporting.
4. What do the new Estonia crypto regulations change?

While most of the regulations remain the same, under the new requirements, service providers must have or provide the following, among other things:
   

The minimum share capital requirement has increased from 12,000 Euros to 25,000 Euros, or a quarter of the previous year's fixed costs.

   

The application fee for the license will decrease from 3300 Euros to 1000 Euros.

   

Previously there were no annual supervision fees, but annual supervision fees will soon apply.

   

The management board must consist of at least 2 persons.

   

The definition of service provision expands and a definition of investment token is added.

   

New rules will be added for the maintenance of the investment tools register.

   

The list of investment token owners is to become public.

   

Consumer protection aspects are to be introduced.
5. What remains the same?
   

You are required to establish a local branch of a foreign company or a company in Estonia, and the Board of the business must be located in Estonia.

   

The company applying for the license must have a legal office in Estonia.

   

The company must have a corporate IBAN account before applying for a license.

   

The appointment of a local AML/KYC officer is still necessary. In addition, the AML/KYC officer will have to undergo an interview with the Financial Intelligence Unit (FIU) to assess their skills and suitability for the position.

   

Capital paid in full before applying for a crypto license is mandatory.



Conclusion
The legislation will come into force on 1 July 2021 if the new proposal is adopted. It is noteworthy that the virtual currency service providers already operating under the license issued by FIA or those planning to apply should keep a lookout for upcoming developments.
Future cryptocurrency regulations in Estonia seem to be stricter than before. Previously, there was a government plan to introduce a national cryptocurrency "estcoin". While the mooted cryptocurrency faced backlash and criticism from the European Union in 2018, Estonia continues to seek possible ways to use Estcoin as part of the government's "e-residency" program.