There are three key steps to setting up business in Malaysia: firstly, business planning; secondly, business incorporation and lastly, business operations. We have broken down the process for Malaysia company registration into these three key steps and further sub-steps in order to better understand what exactly is required at each step, and more importantly, how to successfully set up company in Malaysia with the help of our team of consultants.
General Overview of the steps to setting up business in Malaysia
Business Planning

Business and global strategy

Strategic alignment of goals and capabilities

Business structure

Business incorporation

Business Name Application

Business Incorporation Application

Application for any other relevant licenses

Opening a corporate bank account

Business operations

Human resource and staffing requirements

Annual General Meeting requirements

Financial reporting and taxation requirements

Other rules and regulations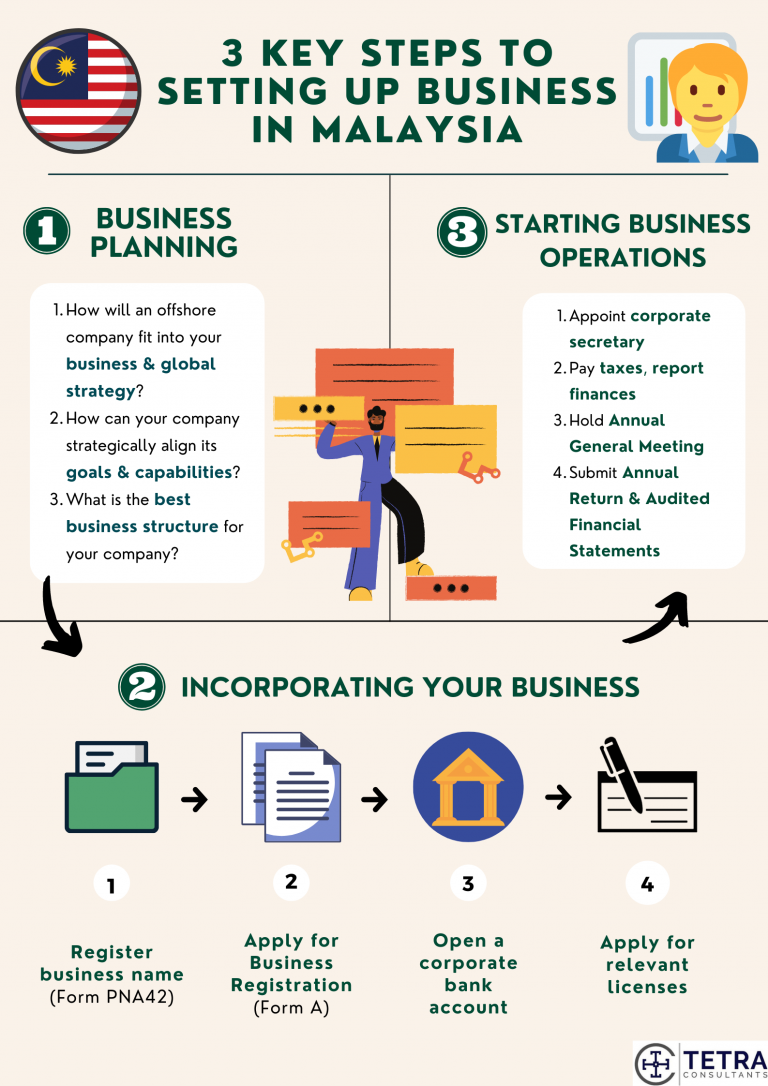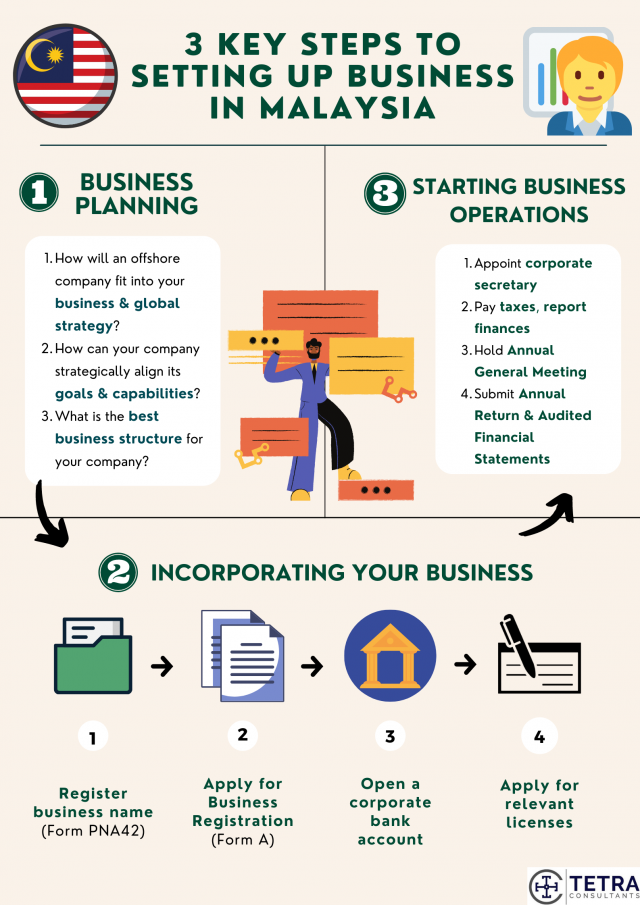 #1 Business Planning
Before even deciding to

register business in Malaysia

, companies must first consider how an offshore company in Malaysia will fit into their business and global strategy. Most importantly, companies should analyze and understand their strengths and weaknesses, and how they are able to utilize these in capitalizing on the opportunities that Malaysia has to offer, and also how they might mitigate the threats it brings as well. Based on this, companies can thus determine if Malaysia is the best fit for them to further their business, and we can begin to think about the business structure that best suits them. Whilst the most common option is a limited liability company (Sdn Bhd company), many more options are available such as the Labuan-based trading company, limited liability partnerships and sole proprietorships. The best option ultimately goes back to the specific business requirements of the company, such as the nature of their activities and clientele.
#2 Business incorporation
Once businesses have determined that

company formation in Malaysia

is both suitable and feasible, they should then proceed with the actual incorporation process, beginning with the name application using Form PNA42. This costs RM50 and a few guidelines need to be followed in order to maximize chances of approval by SMM and streamline the process. In short, names should not be unconstitutional, unlawful or contain any misleading, offensive, or negative elements. Any relevant documents permitting the use of registered trademarks or names should also be produced. At this point, companies should also conduct a company name search using the SSM e-info website to ensure that their name of choice has not already been taken by a pre-existing company as identical names will be rejected.

Once companies are successful in their application, they should then proceed with the business registration using the signed and completed Business Registration Form (Form A) as name reservation only lasts for 30 days, though it can be extended to a maximum of 180 days. This requires the associated information of the business and directors, such as personal particulars, type of business and status of business. Directors must also conform to certain eligibility requirements to

register business in Malaysia

. Their primary place of residence should be Malaysia, and the director should also not be an undischarged bankrupt or committed any offences relating to the promotion, formation or management of a corporation, or any offences involving bribery, fraud or dishonesty. The residency requirement can also be satisfied by having a nominee director instead, simplifying the

steps to setting up business in Malaysia

. Any additional supporting documents required such as certificates of the director's qualification, or any consent letters from the relevant agency should also be attached.

In creating a Malaysia Corporate Identity account, first-time users must be physically present in the country to verify their identity at a Suruhanjaya Syarikat Malaysia (SMM) office. The subsequent step in

company formation in Malaysia

is opening a corporate bank account, which might also require the directors' physical presence in the country. However, it is possible for both of these requirements for physical presence to be satisfied through utilizing an agency company who can efficiently simplify and streamline the

steps to setting up business in Malaysia

.

The next step is to apply for relevant licenses to begin business operations. General licenses that businesses need to apply for include: Company and Employees Income Tax Registration, Employees Provident Fund (EPF), Social Security Organisation (PERKESO), Human Resources Development Fund (HRDF) and also state-specific Business Premise Licenses and Signboard Licenses. There are also sector-specific licenses that depend on the nature of the business whereby additional licenses might also be needed such as relevant manufacturing licenses, or the Wholesale Retail Trade license.
#3 Business Operations
After all the necessary business incorporation processes have been completed and relevant licenses have been applied for and obtained, the onus is also on businesses to ensure that these licenses are renewed as necessary and do not expire. Businesses must then appoint a corporate secretary within 30 days of company incorporation. This secretary must be registered with SSM and have the relevant practicing certificates. Once again, this step can be taken care of by an agency company.

Businesses must also ensure they abide by Malaysian financial reporting standards and pay the appropriate amount of income taxes where applicable. The latter step has been vastly simplified due to changes in the Malaysian tax system which reduced the number of yearly payments and thus the administrative load. These statements must then be presented at the Annual General Meeting (AGM), which must be held within 18 months of incorporation. The Annual Return and Audited Financial Statements must then be submitted to the SSM within 1 month of this AGM. Businesses cannot afford to be complacent in abiding by these regulations, lest they incur unnecessary fines or charges.
Looking to set up business in Malaysia?
Although there are only 3 key steps to setting up business in Malaysia, once broken into the specific sub-steps, the actual process of company formation in Malaysia can be confusing and overwhelming to new business owners. Tetra Consultants' team of experts is able to guide our clients through each step of the way, from business planning and incorporation to financial reporting, ensuring as smooth a process as possible.
Contact us now to see how you can successfully set up company in Malaysia and our team will revert within 24 hours.