Introduction to Bahrain Free Trade Zone
Forming a company in Bahrain's free trade zones ensures access to a stable economic setting, a business-friendly environment, cutting-edge technology, and outstanding business potential in a prime location in the Gulf. All the things mentioned are enough to persuade an investor to embark on his business setup journey in Bahrain free trade zones. Bahrain has welcomed international investors over the past 20 years and has extensive experience in comprehending their needs.
Bahrain is the best option for your successful business because of the Middle East economy's relentless expansion. Many businesses look forward to investing in this booming trillion-dollar economy, especially at a time when other established economies are competing for investment. Bahrain is considered to have the freest commercial market in the whole Middle East, surpassing G7 nations like Japan, France, India, China, and Germany in terms of economic characteristics. The nation's only goal is to do everything it takes to maintain its status as the Gulf's most open market.
Bahrain's free zones are among the greatest in the world since they are well-known for providing an ideal business environment for doing business in. Bahrain resembles a sizable free zone in many aspects since it (i) is tax-exempt ii) permits 100% foreign ownership in a number of businesses iii) has low customs tariffs. For foreign companies looking to establish a presence in a region with anticipated levels of favorable economic growth, this benefit is a major draw. Three major Free Trade Zones are present in Bahrain (FTZ). These include the Bahrain Airport Zone, Bahrain International Investment Park, and Bahrain Logistics Zone (BLZ) (BIA).
What are the benefits of forming a company in the Bahrain Free Trade Zones?
Ongoing reforms economic or legal promises the success of both Bahraini and Foreign businesses. Following are a few notable points about Bahrain's economy capable enough to attract foreign investors to invest in Bahrain's free zone:

Lowest taxes in the Gulf, with no corporate, personal, or withholding tax;
Hundred percent foreign ownership;
Restriction-free capital, profits, or dividends;
Ranked as the 16 freest economies in the world;
The first country to have a free trade agreement with the U.S.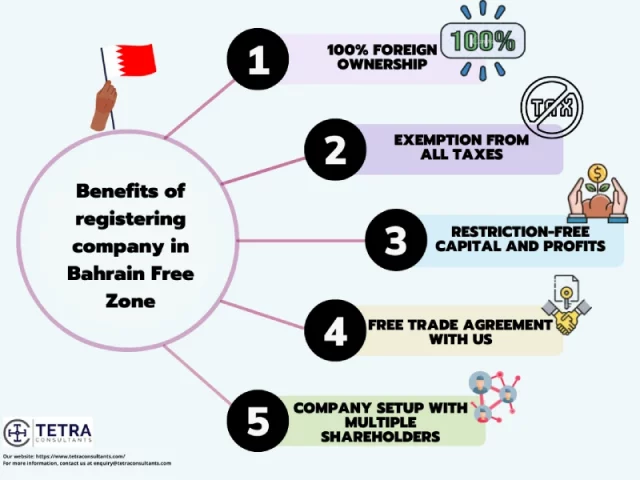 What are the types of business entities that you can set up in Bahrain Free Trade Zones?
While starting your business in Bahrain's Free Trade Zones specific legal company structures are advantageous for operating the foreign company within the zone as the structure can avail several benefits and allows flexibility in running the company. Some of the best available company structures for FTZs in Bahrain are:

Bahrain Shareholding Company (B.S.C) Public
Bahrain Shareholding Company (B.S.C) Closed
With Limited Liability Company (W.L.L)
Simple Person Company (S.P.C)
Individual Establishment
Branch of Foreign Company
List of Free Trade Zones in the Kingdom of Bahrain
The Free Trade Zones in Bahrain have the specialized infrastructure, world-class facilities, exclusive regulations and rules, excellent multi-modal connectivity through sea, land & air to major the Middle East & North African (MENA) markets, and offers a world-class environment for businesses and companies to operate in the zone. The free zones in Bahrain are –

巴林国际投资园(BIIP)
巴林物流区(BLZ)
巴林国际机场(BIA)
Sheikh Khalifa bin Salman Port (KBSP)
Bahrain Investment Wharf (BIW)
巴林国际投资园(BIIP)
The Bahrain International Investment Park (BIIP) is located in the Salman Industrial City, Muharraq Island. The BIIP is strategically positioned on the North coast of Bahrain taking only five minutes drive from the Bahrain Logistics Zone (BLZ) and ten minutes from the Khalifa bin Salman Port.
The BIIP is not considered a free zone according to the law as the businesses & companies located in the area are considered to operate from Bahrain mainland which is within the GCC market empowering them with seamless cross-border access with a regional promotion of their products and services.
This is considered as an advantage as the foreign companies operating out this zone avails the benefits as such it is operating in a free zone and also the advantages of duty-free cross-border operations across the GCC since the company is located in Bahrain.
巴林物流区(BLZ)
The Bahrain Logistics Zone is located at the heart of Salman Industrial City in Al Hidd Industrial Area Muharraq Island, the BLZ is a regional trans-shipment hub with highly-integrated logistics, purpose-built Infrastructure, large-scale berthing facilities and plot entry allowances, designed explicitly for handling container truck traffic and freight-forwarding operations while remaining as the dedicated customs-free zone and value-added logistics park in Bahrain.

100% foreign company ownership
Multimodal access by land sea and air
Flexible plot sizes starting from 4000 square meters onwards
Purpose-Built Infrastructure with a sufficient road network and plot entry allowances, designed explicitly for lorry traffic needs
Twenty-four-hour customs services
巴林国际机场(BIA)
The Bahrain International Airport serves as a driver of economic growth in the region by offering top-notch airport facilities and modern air logistics. It was established in 1927 as the first airport serving the Kingdom of Bahrain and currently operates as a significant aviation hub in the region.
The Bahrain airport currently serves as Gulf Air's central hub of operations, in addition to this, the airport continually upgrades the facilities and services with the latest technology to make the existing airport into a world-class facility, with best-in-class customer service which is in line with the Kingdom's long-term Bahrain Economic Vision 2030 and maintaining its reputation as a leading financial, cultural and aviation center in the Middle East.
Special Free Zones in the Kingdom of Bahrain
The Bahrain Free Zone company structure is suitable for foreign companies interested in operating manufacturing or distribution bases with Bahrain as the regional hub or center with significant operations carried out in Middle East regions outside the country.
Sheikh Khalifa bin Salman Port (KBSP)
The Sheikh Khalifa bin Salman Port (KBSP) on the Northern coast of Bahrain is the premier transshipment hub for Northern Gulf. Strategically located in the Northern Gulf region, KBSP is an ideal cost-effective choice for carriers' operating the trans-shipping containers to the critical and rapidly expanding Upper Gulf region, particularly the markets of Kuwait, Iraq, Saudi Arabia, Qatar, and northern Iran.
The KBS currently operates at 47 percent of its capacity and the container side is presently designed for around one million tonnes of capacity use and ready for further expansion if the need arises.
Advantages of Establishing a Company in KBSP: Investors who proceed to set up a company in KBSP can avail the following benefits

Strategically located in the Arabian Gulf
Holds a modern business model
Dedicated web portal to ease the business process
Tailored warehouses as per business needs
Bahrain Investment Wharf (BIW)
The Bahrain Investment Wharf is a hybrid industrial investment park privately owned & managed industrial investment park resulting from a Public-Private Partnership between Innovest and the Government of Bahrain represented by the Ministry of Industry, Commerce and Tourism (MOICT).
The zone comprises business spaces, logistics zones, information technology centers, commercial spaces, and residential development estates.
Advantages of Establishing a Company in BIW: The decision to start a company in BIW can help you to grab the following benefits

High-built storage facility
Availability of business parks
Low company setup cost
Complete exemption of tax
No requirement of a local sponsor
What are the regulatory requirements for registering a company in the Bahrain Free Trade Zones?
Registration of an entity:
The most typical corporate structure is a limited liability company, and establishing an LLC on the main island has the benefit of enabling trade across the entire nation.
Foreign businesses interested in operating production or distribution facilities with Bahrain serving as the regional hub or center and conducting major business in Middle Eastern regions may find the Bahrain Free Zone corporate structure to be ideal.
Tetra Consultants is proficient in undertaking the process to 巴林注册公司 Mainland as well as Bahrain Free Trade Zone. We assist our clients from the very first step recommending the most suitable form of entity structure, corporate bank account opening, tax registration, and taking due care of the accounting and tax aspects of the company.
Minimum capital requirement:
The capital requirements in Bahrain Free Trade Zone generally depend on the type of entity formed and the specific industry/sector of such free zone companies. However, 100 percent foreign ownership is allowed for most businesses, and there are no duties for companies serving the free zone including import & export.
What are the documents required to register a company in Bahrain Free Trade Zones?
The required documents include but are not limited to:
Draft Memorandum of Association.
Board of Directors resolution resolving to establish the company in Bahrain (for corporate partners).
Identification documents like copies of notarized passports, and national ID cards of the company's representatives like directors and shareholders.
Lease agreement as proof of the company's commercial address.
Last audited financial report of corporate partners.
了解更多
现在联系我们 to know more about how to register your business in Bahrain Free Trade Zones. Our dedicated and experienced team will revert within the next 24 hours and answer all your queries.
常见问题
Does Bahrain Free Trade Zones allow 100% foreign ownership?
Yes, 100% foreign ownership is allowed in most of the businesses in the Bahrain Free Trade Zones.
What is the most prevalent form of business entity in Bahrain's Free Trade Zone?
A limited liability company and its variants with a single shareholder is the most popular form of company.
The other available structures in the Kingdom of Bahrain are as follows:

Bahrain Shareholding Company (B.S.C.)
Bahrain Shareholding Company, (B.S.C) Closed
With Limited Liability Company (W.L.L)
Establishment
Branch of a foreign company
What are the tax implications of forming a company in the Bahrain Free Trade Zone?
Bahrain has no corporation tax, with the exception of the oil and gas industry. However, there is the value-added tax (VAT). Bahrain's Council of Ministers agreed in September 2021 to raise the regular VAT rate from 5% to 10%, effective as of January 1, 2022.
Additionally, the Labour Law and its amendments govern employment agreements and are applicable to (i) Bahrainis and non-Bahrainis employed in Bahrain and (ii) Bahrainis working abroad if the employment contract is governed by Bahraini law.
Moreover, Bahraini employees pay 7% of their salary and non-Bahraini employees pay 1% of their salary as social security contributions. In the case of employers' social security, payments are made to the social security organization on behalf of the employees: (i) Non-Bahraini employees: 3%. and (ii) Bahraini employees: 12%.
What is the minimum capital required to register a company in Bahrain Free Trade Zones?
The paid-in minimum capital requirement to register company in Bahrain free trade zone depends on the type of company formed and the specific type of business activity opted for business operation in the region.