Oman has a distinct history of developing entrepreneurship and international trade, undergoing a rapid transformation since the 1970s. The economy of Oman was previously primarily dependent on fisheries and agriculture production until the discovery of its oil and gas reserves, allowing the country to develop in areas such as industrialisation as well as diversification of industries. Oman is governed by a sultanate system that adopts a forward looking pro-business vision, shaping the country to be an investment hub for many foreign investors and Foreign Direct Investments (FDIs). The country has designated three different Free Zones as well as two Special Economic Zones (SEZ) to encourage international firms to set up shop in those areas and increase the overall productivity of businesses. Business set up in Oman has become an increasingly popular choice for many investors as they view the jurisdiction to be an ideal long-term investment destination.
Before you proceed to register company in Oman, allow Tetra Consultants to share 4 best business in Oman to consider in 2022.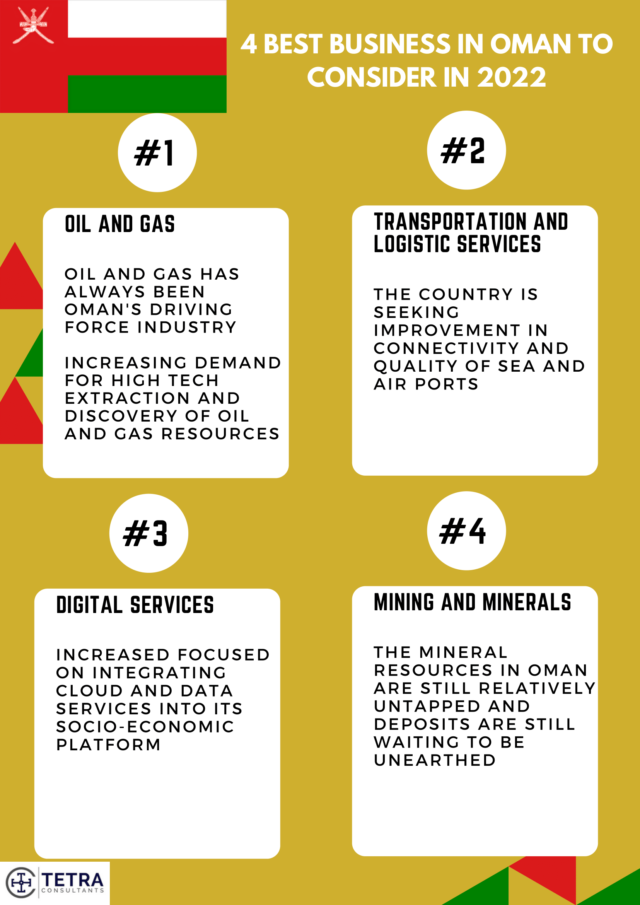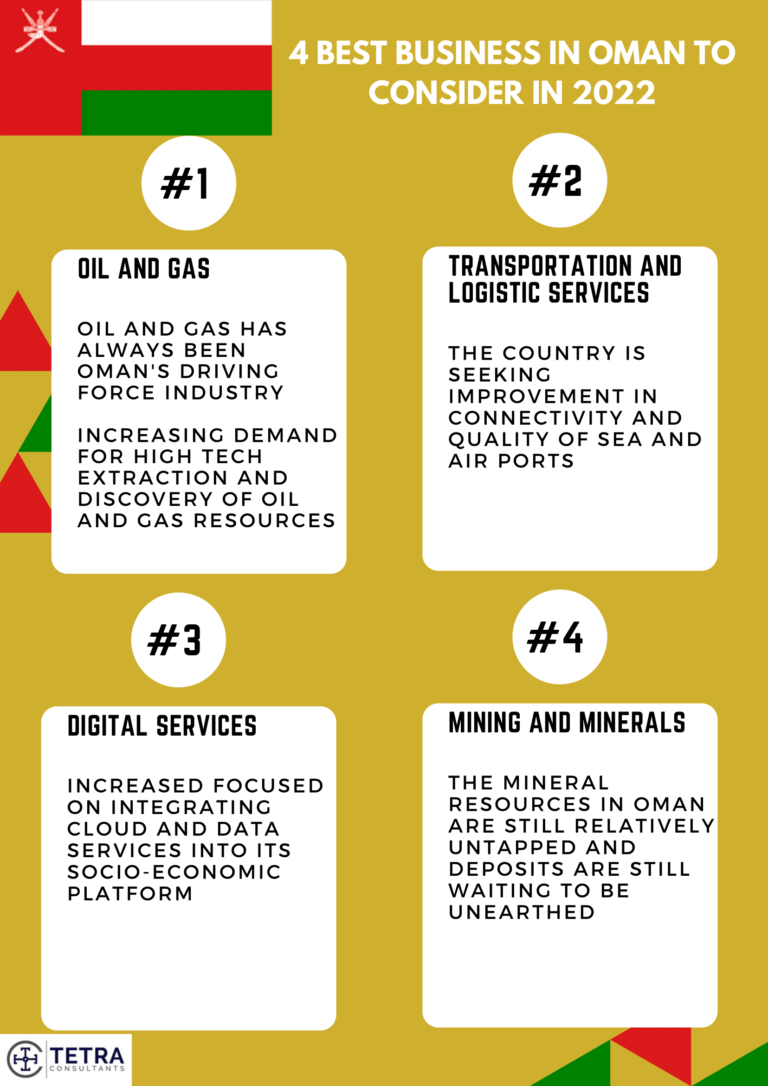 1) Oil and Gas Industry
The first best business in Oman to consider in 2022 is in the field of the oil and gas industry of Oman. Oil has always been the main driving force of the economy of Oman ever since the start of their production. The country has the capability to produce upwards of more than one million barrels per day of crude oil, which is also its primary oil reserves. There is large demand for oil and gas produced from Oman and China is one of Oman's predominant markets for export. The sultanate country also has sufficient natural gas reserves that help propelled industrial growth and is expected to do so for the coming years as well. Although there exist bountiful resources in terms of oil and gas in Oman, there is currently a gap in terms of manufacturing and providing value-added processes when it comes to extracting the natural resources. The Oil and Gas industry is considered to be relevantly outdated and present opportunities for advanced or high-tech companies with capabilities of providing more efficient manners of extraction and discovery of oils and gas resources to enter the industry. Some of such services include drilling, hydraulic fracturing or more commonly known as "fracking", 3-D seismic analysis and other enhanced oil recovery technologies will be able to tap on to the lucrative oil and gas industry in Oman.
2) Transportation and Logistic Services:
The second best business in Oman to consider in 2022 is in the field of transportation and logistic services. The current infrastructure of the country presents huge opportunities in the sectors of transportation and logistics as the government of Oman is actively seeking to improve connectivity and elevating its quality of air and sea ports. In recent years, the local government has increased efforts in road construction, development and improvement of sea and air ports, entering new codeshare agreements between the sultanate's flag carrier, restructuring the local infrastructure in an effort to improve connectivity between the nation and overseas market. This means that there is demand for equipment and transportation vehicles such as buses, aircraft, security screening devices, security solutions, logistical software and so much more. Oman is increasingly looking forward to the private and international sectors for their investment and expertise in the field of transportation and logistical services, with hopes of developing new projects through joint ventures which will bring the infrastructure of the country to a whole new level.

3) Digital Services Industry:
The third best business in Oman to consider in 2022 is in the field of digital services as the country is actively heading towards improving the national technical capabilities. Vision 2040 is Oman's long term development plan that was proposed to overcome challenges and stay competitive with regional and global changes in terms of economic growth and social well-being. This involves the construction and development of ICT infrastructures and the improvement of e-government services to improve overall productivity of the nation. The government of Oman formed the Oman ICT Group (OICT) during 2019 in hopes of focusing on integrating cloud and data services on the different layers of socio-economic platform of the country, ushering the next generation technology to its residents. This presents opportunities for firms who are well-versed in the industry of ICT and next generation technology to enter the market of Oman as there is increasing demand for such services.
4) Mining and Minerals Industry:
The third best business in Oman to consider in 2022 is in the field mining and minerals. Oman's mining industry has attracted the interest of both local and foreign operators as the mineral resources in Oman are still relatively untapped. The country has large deposits of metals and industrial minerals that are sought in high demand by various economies waiting to be unearthed. This presents a lucrative opportunity for foreign firms to acquire mining permits but it is important to note that they may only be able to enter the market through joint ventures or service contractors due to bureaucratic reasons.
Conclusion:
Engage Tetra Consultants as we guide you on how to register a company in Oman through a smooth and hassle-free process. The team provides a comprehensive service package that includes planning and strategizing with our clients to select a suitable business entity, completing the registration and documentation processes, obtaining required licenses, opening a corporate bank account, and ensuring your compliance with the government regulations. 
Contact us to find out more about company registration in Oman and our dedicated and experienced team will revert within the next 24 hours.