Regulatory compliance consulting services provided by Tetra Consultants
Tetra Consultants' regulatory compliance consulting services assist enterprises in adjusting to an ever-evolving regulatory environment. Tetra Consultants' compliance professionals during the typical engagement of offering the regulatory compliance consulting services provide support at three levels:
Objective & strategizing – to assist organizations in anticipating and adapting to regulatory change.
Operational excellence – to strike a cost-effective equilibrium between compliance and risk as posed by anti-money laundering & financial terrorism.
Remediation – to provide remedial solutions for regulatory enforcement.
We have dedicated regulatory compliance consulting service as volunteered, throughout the process of engagement by the team of compliance specialists that deliver advanced research and thought leadership on a case-to-case basis.
Tetra Consultants' team has deep technical knowledge and skills across a variety of disciplines, allowing them to objectively assess each situation, identify its unique opportunities and challenges, and devise a strategy to address those opportunities and challenges as quickly and efficiently as possible. Tetra Consultants uses risk approaches and tools that have been finely tuned, designed in accordance with applicable industry standards, and in cooperation with competent authorities, to provide clients with cutting-edge thinking and best practices.
Branches of regulatory compliance consulting solutions provided by Tetra Consultants
Tetra Consultants' risk & regulatory compliance services help organizations effectively navigate business risks and opportunities—from strategic, reputation, and financial risks to operational, cyber, and regulatory risks—to gain competitive advantage.
We apply our experience in ongoing business operations and corporate lifecycle events to help clients become stronger and more resilient. Our market-leading teams help clients embrace complexity to accelerate performance, disrupt through innovation, and lead in their industries.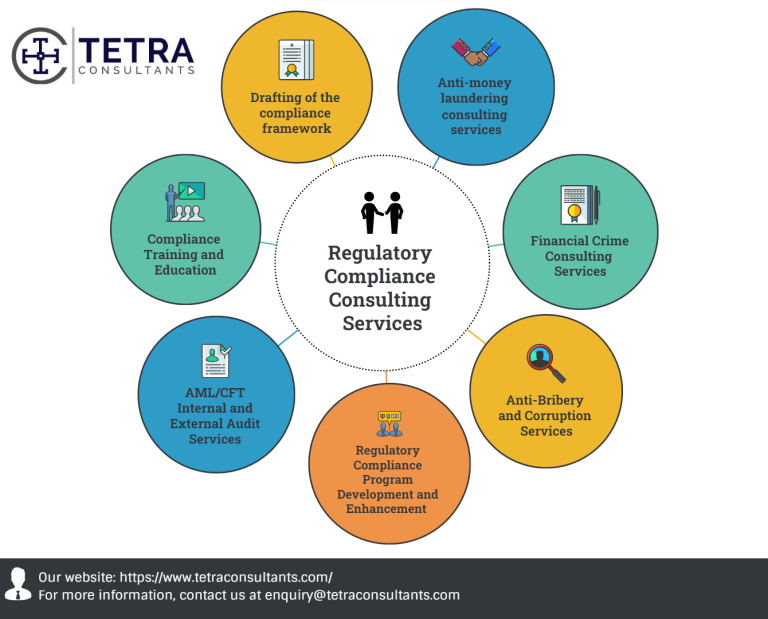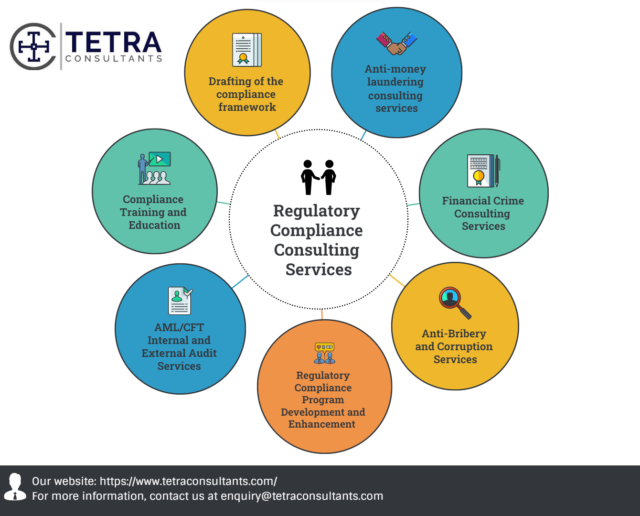 Our extensive legal compliance and risk management solutions cater to the following services:
Anti-money laundering services
Anti-money laundering compliances are nothing but standard protocols that businesses and organizations must implement in order to avoid, identify, and report suspected money laundering activities that may appear while carrying out the operations. AML compliance measures are designed to dissuade and prohibit prospective violators from participating in money laundering fraud or crime. However, if the processes are AML compliant with the criteria provided by the money laundering prevention procedures, this risk is reduced to zero.
Non-compliance leading to ML failures can have significant reputational risks, potentially putting at risk relationships with legitimate customers and suppliers and jeopardizing the availability of banking arrangements or a business license.
Compliance procedures present two major challenges, their formulation, and interpretation, as well as their implementation in the company's or institution's routine operations. As a result, entrusting its implementation and management to experienced specialists is the best approach to ensure that you meet AML compliance standards while also fully using its capabilities and advantages.
Tetra Consultants has extensive experience providing international clients with regulatory compliance consulting solutions with respect to potential risks of anti-money laundering transactions. By creating, implementing, upgrading, and testing AML programs, we can help your firm lower its money laundering risks and increase its ability to fulfill regulatory standards for effective processes and controls. When associated compliance problems arise, we often provide services to respond to and remedy them.
With extensive expertise and a global network of AML professionals, we are well-versed in regulatory standards and expectations, as well as the challenges and difficulties that our clients confront. We provide a broad array of services to assist you in meeting different jurisdictions' AML standards.
Our range of regulatory compliance consulting services to mitigate the risks of AML includes
AML policies & procedure:
One of the primary criteria of AML/CFT legislation is that organizations have an AML/CFT policy in place. The policy should outline all internal AML/CFT rules and procedures for various divisions inside the business. It should also be updated and proportionate to the risks that the company faces, i.e. a risk-based strategy.
Tetra Consultants can assist with the creation or development of tailored policies that are personalized to the specific needs of your firm while adhering to the AML directives and local standards. We can also help with policy updates and reviews for firms that currently have policies in place but want to ensure that they are compliant and optimum.
Customer Due Diligence (CDD) and KYC checks
To comply with AML requirements, use a risk-based approach to evaluate the hazards of conducting business with consumers and third parties. Tetra Consultants AML compliance experts provide a plethora of risk-based screening, monitoring, and due diligence solutions.
We offer tailored solutions that are proportionate to the level of risk involved, such as formulating policies, procedures, and controls to identify and report instances of money laundering, client onboarding, risk scoring, sanctions, and negative news screening, monitoring, and open-source public records research and enhanced due diligence on higher risk accounts.
AML Compliance Consultancy Services
If you are planning to set up a financial institution or already own a financial institution, you may face situations where you require legal and compliance insights from external experts.
Our AML Compliance professionals will be able to fully understand the situations you are in and provide AML compliance consultation services.
Outsourcing the skilled personnel
Our regulatory compliance consulting services with respect to AML compliance solution also includes the appointment of an AML Compliance Officer ("AMLCO") to oversee the application of AML/CFT/CPF requirements in relation to the fund or registered entity appointing them, as well as act as a point of contact with regulatory authorities for the purposes of AML Regulations. Furthermore, we can supply a Money Laundering Reporting Officer ("MLRO") and a Deputy MLRO ("DMLRO") for the purposes of receiving, reviewing, and filing Suspicious Activity Reports ("SARs").
We have tools in place with our practice architecture that regularly monitor and understand the ever-changing requirements surrounding AML areas and deliver relevant training, work programs, and information to our field specialists so they can assist customers to remain ahead of emerging concerns.
AML training for employees to facilitate knowledge and capability building
We provide AML awareness/training programs for both senior and intermediate management. This comprises a thorough program tailored to each organization's culture and product base to teach and raise awareness of critical AML problems among workers.
Assistance with regulatory compliances and further requests
You may be confronted with regulatory regulations that necessitate fast action in order to provide an effective resolution. These might develop as a result of the regulator's feedback requests or themed evaluation; tight deadlines for regulatory reporting, or explicit requests for information.
Our team will aid you with any specific question from the regulator and perhaps other parties related to AML/CFT, which includes additional support in drafting technical responses to regulators, assistance in choosing a remote onboarding tool; compilation of Customer due to diligence information for a specific supplier; and customizing an internal procedure in response to a specific request by an entity.
Financial Crime Consulting Services
The scope of both financial fraud and regulatory enforcement is expanding. As a result, having effective policies, procedures, and internal controls in place, as well as complying with legal requirements, is crucial for preventing, detecting, reacting to, and correcting fraud, waste, abuse, and misconduct.
With regulators enacting stronger laws on financial transactions and stepping up enforcement efforts, firms' compliance obligations are becoming more complicated. However, with fines for noncompliance only increasing in severity, what has to be prioritized now is not only the expenses of corrective actions but also enhancing procedures and operational controls to assist prevent similar risks in the future.
Tetra Consultant's CFT experts will address these problems front-on by developing and improving global compliance programs for entities that include compliance frameworks, operational controls, and efficiency, as well as governance requirements.
We provide a full array of financial compliance consulting services to fulfill today's financial crimes risk compliance requirements, while also delivering solutions that adapt and develop in response to evolving illicit financing threats and the regulatory landscape.
Our wide range of regulatory compliance consulting services with respect to financial fraud & terrorism for combating financial crime includes:
Screening
Tetra Consultants conducts a thorough identity verification check, which decreases the danger of fraud, violations of compliance laws, and dealing with dirty money.
We search for known or suspected entities and persons linked with money laundering, terrorism, financial fraud, weapons proliferation, drug trafficking, or PEPs using our rigorous screening procedure (Politically Exposed Persons).
Enhanced due diligence check
We provide worldwide customers with enhanced due diligence (EDD) by employing analytics, which encompasses negative media screening efforts for the detection of litigations, adverse orders, and other possible hazards.
Tetra Consultants enforces sanctions screening, which results in benefits such as shorter timelines for enhanced due diligence, faster and more informed decision making, faster identification of key risks associated with companies, management teams, and other affiliates, and faster transaction processing and alert monitoring.
Prevention and detection
Reducing financial crime incidents and identifying early issues and risks by implementing effective operational controls. The focus is on enterprise fraud and misuse management using integrated technology platforms and advanced analytics.
Monitoring and testing the existing financial crime system
Tetra Consultants assess financial crime systems and policies to ensure they are efficient and tailor systems to meet changing internal and external threats.
Vulnerable transaction monitoring
Tetra Consultants detect anomalies and identify patterns indicative of laundering, and detect and prevent suspicious activities
Transaction investigations & link analysis
We detect entity-level linkages and study the behavior of different linked accounts colluding for a laundering activity. Some of the linkages that we track include:
Linked customer: To identify IDs owned by the same customer across lines of business.
Linked accounts: To track customers having multiple accounts under different names.
Linked transactions: To track transactions linked to a closed group of entities and performed with a clear intention of routing money to destination accounts.
Linked access: To track transactions happening through common cyberinfrastructure.
Compliance with CFT regulations
Tetra Consultants make sure companies are acting in accordance with the requirements of relevant authorities by implementing governance structures and financial crime strategies.
Customized investigation procedures
Tetra Consultants will form a procedure of investigation which is customized to the scope of transaction and business needs of your entity.
Anti-Bribery and Corruption Services
The discovery of fraudulent activity such as bribery or corruption can be a devastating blow to a company's finances, external reputation, and ability to conduct business with governmental entities. But it also frequently involves varying degrees of regulatory and legal scrutiny, which carry substantial costs and can have negative effects on the organization's day-to-day operations and longer-term business strategies.
If your company is facing these challenges, turn to Tetra Consultants for experienced anti-bribery and anti-corruption support. With a team of our professionals, who apply their investigative, data analytics, digital forensics, and internal control skills to routinely handle international investigations.
Under our regulatory compliance consulting package we offer a wide range of expert support at every stage of a global corruption investigation which includes:
Evaluating & enhancing the existing system
Tetra Consultants will evaluate your current anti-bribery and corruption framework for identifying gaps and prioritizing high-risk operations in accordance with applicable laws and regulations. In addition, we will make recommendations for policy and procedure changes and improvements.
Creation of Governance system
Tetra Consultants will create and implement governance and compliance systems that are compliant with industry best practices.
Risk-based approach for mitigating the bribery & corruption
Tetra Consultants will ensure that analytical risk assessments of business operations where corruption risks are suspected are carried out, as well as accounting and audit examinations of business transactions where the risk of such atrocities is substantial.
Background verification check
Tetra Consultants will acquire relevant data from publicly available sources, scrutinize beneficial relationships, and summarize the results with data and evidence collected elsewhere to form a fact pattern.
Generate a report for key stakeholders that provides an explanation of who, what, where, when, how, and why predicated on our investigative process.
Enhancing the anti-corruption compliance program
Tetra Consultants will identify control flaws as well as ways to improve anti-corruption compliance programs and financial reporting internal controls.
Working with the internal team
Tetra Consultants will ensure that information is provided to assist outside counsel in developing the best case strategy and developing a crisis communication systems strategy and strategic implementation plan.
Outsourcing the suitable personnel
Tetra Consultants will take on the task of appointing a compliance officer, who will be in charge of developing and implementing anti-bribery and anti-corruption policies, as well as providing all required resources to the compliance function.
Crafting of effective Internal system
Tetra Consultants is skilled at developing internal policies and procedures, such as a Code of Conduct and special anti-corruption methods, and integrating them into operations. A whistleblowing helpline and techniques for reviewing and investigating allegations will be included.
Tetra Consultants will make sure to regularly monitor the efficiency of anti-bribery and anti-corruption processes.
Due diligence of employees and counterparties to identify conflicts of interest and prevent compliance risks.
Regulatory Compliance Program Development and Enhancement
Tetra Consultants design legal compliance and risk management programs to fit the way you do business. Our aim is to make sure that every employee knows his or her compliance obligations, as part of his or her job and is educated, empowered, enthusiastic, and proud to be working for you.
Our complete regulatory compliance consulting services involves a risk assessment to identify and prioritize compliance risks for your company, the creation of tools to address the risks (usually a combination of employee education and business controls), development of employee communication materials, such as a code of ethics and policies on specific subjects, development of training programs, alignment of risk areas to employee responsibilities, the establishment of anonymous reporting systems, creation of incentives for compliance, and evaluation of compliance systems.
Our regulatory compliance consulting experts will also take into account the potential risks associated with the deviation from following a standard protocol or breach of the regulated undertaking of the process by an employee of your organization.
Moreover, our range of regulatory compliance consulting services would spread to the prospective cyber risks that affect organizations, environment compliance risks dealing with pollution, and environmental damage an organization's operations can cause.
Further to our development of legal compliance solutions governing employees of the organization, we make sure that the organization adheres to the regulatory health & workplace protocols. For example, In the U.S., many of these laws are enforced by federal agencies, such as the Occupational Safety and Health Administration (OSHA) and U.S. Food and Drug Administration (FDA). In Europe, the equivalent regulatory bodies are known as the European Agency for Safety and Health at Work (EU-OSHA) and European Medicines Agency (EMA).
Our services for building your compliance program include:
The creation of company compliance policies to address key risk areas, with a common look-and-feel, and ease of understanding.
We can help you develop a training and communication program designed to deliver compliance knowledge aligned to job responsibilities.
Where appropriate, we can work with you to develop business controls to reduce the likelihood of violation.
We can examine your current program against applicable published standards, such as state rules, country-specific guidelines,
We can review your compliance program with regard to risks that might be created by third parties.
Regardless of where an organization is in compliance with AML/CFT, an accurate understanding of where they are today helps define what the correct path forward should be.
Compliance Review
With a compliance review, our team takes a little deeper dive into an organization. We dive a little deeper into audit evidence already in place, a business process being performed, network diagrams, scope, and assessment boundary, etc. compliance review is intended to bring more detailed information on the compliance infrastructure and internal control, it can give them a realistic, and most affordable, the path to completing and managing that plan.
Mock Exams and Gap Analysis
Tetra Consultants prepares mock exams or gap analyses to prepare you for the eventual reality of being examined. We will identify regulatory risks and potential weaknesses in your compliance program. Through document requests and in-person interviews, we take you through the examination process to prepare you to respond to the regulatory scrutinies when you get that call while avoiding unnecessary panic and disruption to your business.
Compliance Training and Education
Compliance training is a method of ensuring that employees are aware of policies, procedures, and actions in order to help prevent and detect problems that could lead to legal and regulatory violations. Compliance training can help you save time, money, and your reputation. Corporate compliance allows your company to operate effectively and reliably in today's complex and rapidly changing regulatory landscape.
Employees who receive compliance and ethics training learn how to stay compliant and follow the rules. It aids them in identifying and reporting any violations they come across. They can also assist in spotting prospective compliance issues before they become a problem, even if it means assisting their coworkers in avoiding a problem.
All of this contributes to the organization's compliance by ensuring that everyone is accountable. The organization can function at its best when everyone understands the requirements and expectations.
Tetra Consultants go a step further with compliance training by delving into the company's goals and objectives. Then, to encourage your employees to understand how and why company policies and procedures apply to them personally, we work towards ensuring that your compliance training is in line with your workplace culture.
Our services for Compliance training and education include:
Evaluate your current compliance training program to see what changes are required to optimize time to competency, retention, and engagement.
Collaborate with your team to determine if there are any discrepancies between learner behavior and expected outcomes.
Suggest a solution for compliance training that is tailored to specific employee roles, company culture, and business objectives.
To indulge your learners and achieve your business objectives, use human-centered design.
To synchronize your learning experience with your business strategy, find the right technology.
AML/CFT Internal and External Audit Services
Internal controls regarding money laundering and financial terrorism must be designed and maintained, which is both important and difficult for businesses. AML compliance is a difficult area to oversee because it necessitates specialized technical knowledge. Meanwhile, the regulator, as well as other stakeholders (such as lenders), expect internal procedures to be audited at least once a year, and will often place greater emphasis on specialist, independent teams working outside the organization to do so.
Tetra Consultants performs customary assurance-based internal audit assignments on AML procedure adherence, either independently or in collaboration with your organization's internal audit team. We can also assist with internal control consulting. We will assist you in establishing and maintaining internal controls that are tailored to your specific needs. This necessitates a preliminary effort to ensure that appropriate controls are in place.
Drafting of the compliance framework
A compliance framework is a collection of systems, procedures, and documentation that outlines an organization's commitment to following applicable laws, such as legislative requirements, industry regulations, organizational standards, and guidelines of good corporate governance, best practices, ethics, and customer expectations. The purpose of establishing a compliance framework is to ensure that the company is always compliant and that incidents and violations are properly managed, recorded, and tracked.
The comprehensive steps involved in the drafting of the compliance framework with Tetra Consultants' assistance:
Step 1: Identify all regulatory and legislative requirements
During this stage, we will compile a list of all applicable regulatory and legislative requirements in the areas where your company operates as it will be extremely difficult to manage compliance and risks without this list.
A corporate operation comes with a large number of compliance duties, both at the national and international levels. It is critical to identify legislation and other legislative instruments that impose a compliance obligation in order to ensure compliance with all requirements.
Step 2: Assess the current state and identify gaps
The second step is to examine the current situation – what resources are available, what controls are in place, and whether are there any existing commitments or duties to report to the regulator on a regular basis.
Tetra Consultants will gather all existing systems, processes, and documentation and assess if they are still relevant or need to be updated. In a nutshell, organizations should conduct an audit or assurance review.
Step 3: Develop systems and processes
We go on to the following step after conducting an initial assurance and audit, which is all about establishing systems and processes to fill in the gaps.
Tetra Consultants will create mechanisms for compliance breach reporting, internal non-compliance issues, and incident management.
Looking for regulatory compliance support?
Tetra Consultants will be your one-stop solution providing regulatory compliance consulting services with respect to all the potential risks of anti-money laundering activities and financial crime terrorism to your business. With our lean-and-mean mentality, you can rely on our team of experts to provide you with a seamless experience throughout the whole process of an engagement.
Tetra Consultants assists companies with skilled and effective gap and deficiency resolution for their regulatory compliance program. We provide diligence remediation solutions to help our clients with changes to the law and/or internal firm policies. Our dedicated compliance team also provides transactional remediation services in cases where customers need to assess internal performance and compliance.
Tetra Consultants is an international consulting firm specializing in global business setup and securing various offshore financial licenses around the globe. During the engagement of providing regulatory compliance support, our team of dedicated consultants can additionally provide assistance with respect to corporate bank account opening services in the jurisdiction preferred by our clients to ensure the smooth operation of their business and free from any potential harm.
Find out more!
Contact us to find out more about our regulatory compliance consulting services. Our team of experts will revert within the next 24 hours.