An offshore business bank account has traditionally been associated with all sorts of illicit behaviours, from tax evasion to money laundering. However, not only is it 100% legal, it can even offer a multitude of benefits crucial to a globalized, international business. Find out more on how many business owners and investors are engaging Tetra Consultants with corporate bank account opening.
Benefits of offshore business bank account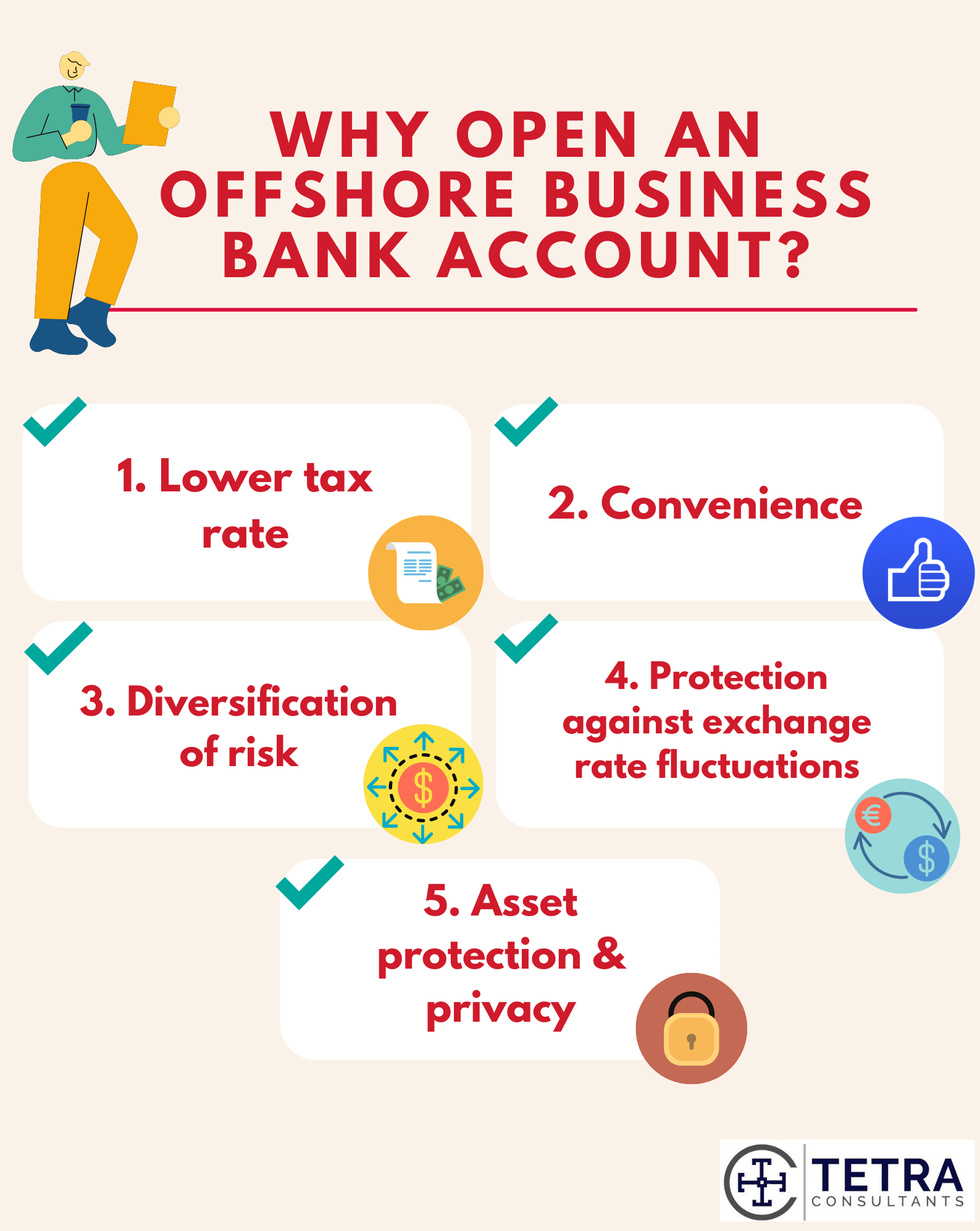 #1 Lower tax rate
As opposed to tax evasion, an offshore corporate bank account offers the opportunity for tax optimization. In most cases, the best offshore bank account is located in jurisdictions that are either tax-exempt or feature a tax rate of zero. This means that you are able to legally minimize the amount of taxes paid, allowing you to maximize the take-home profits of your company instead. Your profits can then be channelled towards further expansion and growth, as opposed to servicing exorbitant tax rates.
#2 Convenience
An offshore bank account opening also offers convenience in multiple aspects. First and foremost, opening an offshore account has become increasingly convenient in itself. Despite the previously strict requirements to open a business account, physically travelling down to the bank is now rarely needed due to advancements in video conferencing technology, and the whole process can be completed online. Beyond that, users will also be able to enjoy continued access to the bank account remotely via internet banking services, which are available around the clock.
Secondly, by having an offshore corporate bank account, businesses also gain access to a new and convenient payment option. Credit cards often carry a foreign transaction fee when a purchase is in a currency other than your home currency or is routed through a foreign bank. Argentina even imposed a 30% tax on foreign currency-based transactions or any purchase of foreign goods and services. Businesses with offshore bank accounts are able to legally bypass such restrictions and fees, decreasing their cost of transacting whilst increasing their ease of doing so. This allows you to save not only expenses, but also time. 
Lastly, an offshore business bank account also opens up new avenues for investments and access to international markets. Some governments might have restrictions on foreign investments by their residents, as well as on incoming foreign investments. Such accounts would therefore allow greater flexibility and options to companies as to where exactly they would want to invest their funds.
That being said, reputable banks such as Citibank or HSBC may still require some clients to travel for a face-to-face interview prior to account opening.
#3 Diversification of risk
You would not want a portfolio with only one stock, so why would you hold all your assets in one country and one currency? An offshore business bank account offers multi-currency options that might not be available in your home country, helping you to diversify any risk that your home country is facing. Such risks include political risks or capital controls which could seriously affect the value or liquidity of your deposited money. Regardless of how likely it is to occur, oftentimes it is better to be safe than sorry, as it might be too late to take action once such risks come into effect.
#4 Protection against fluctuation of exchange rates
Diversifying your money amongst different accounts will also help to hedge against another form of risk, which is the fluctuation of exchange rates. Having a business account with holdings in a foreign currency will not leave businesses at the mercy of fluctuating exchange rates and allows it to serve as a stopgap in preventing losses. More importantly, this allows companies the ability to guarantee an exchange rate in multiple business transactions, offering their suppliers and customers valuable certainty.
#5 Asset protection and privacy
By setting up an offshore company and opening an offshore corporate bank account, this would ensure that any business or personal related claims will not be valid on your offshore assets. Trying to obtain or freeze offshore assets generally requires more time and a much more tedious process, and you would still have access to your overseas assets for the time being. This would offer you financial flexibility in a crucial period which you might need to recover from the said crisis.
In the same vein, since such accounts are being registered to an offshore company instead of in your own name, they also offer a degree of privacy when making sensitive transactions. Naturally, most people would not want their transactions being publicized, so having such an offshore account would also be beneficial.
Find out more about offshore business bank account
An offshore business bank account offers the flexibility for modern, globalized businesses to better equip themselves to deal with the risks and threats that our globalized economy brings.
Tetra Consultants provides you with a quick and easy way to set up an offshore bank account in over 40 jurisdictions. Our team of experts will recommend to you the most suitable bank for your needs and assist you through the full set-up process, as well as the procedures for offshore company incorporation if needed.
Contact us now for a free consultation and our team will revert within the next 24 hours.
Prepared by: Lennon Goh and Jessica Zhou