Delaware's legal system is known as one of the most efficient and comprehensive in the whole of the United States, offering legal certainty and protection to those who choose to register company in Delaware. The efficiency of the legal system occurs through several ways. Firstly, unlike most of the country, there is a bi-partisan political consensus that Delaware corporation law statutes are one of the main reasons behind its attractiveness for company registration. This motivates both parties to work together to ensure that it remains updated and modern. Secondly, there is a specialized court for corporate cases. The Court of Chancery has judges and lawyers specializing in corporate law that will ensure your corporate legal disputes get fairly and quickly resolved without the need to wait for juries, or get buried amongst non-corporate cases. This creates a strong body of corporate case law that offers predictability and certainty for Delaware corporations. Our company formation package will get you on your way to setting up your corporate home in Delaware, allowing you to capitalize on these legal protections. Tetra Consultants advises you to read through this guide to fully understand the steps required on how to incorporate a company in Delaware. In particular, we will highlight why Delaware company registration for non-residents is just as easy as for locals with the state's online systems. 
We can break down the Delaware company registration process into six simple steps:
Choosing a suitable corporate entity

Reservation of company name

Preparation of supporting documents

Filing for registration 

Corporate bank account opening 

Financial reporting and taxation obligations  
By systematically following the above six steps, you can expect to start conducting business with your Delaware company within 5 weeks.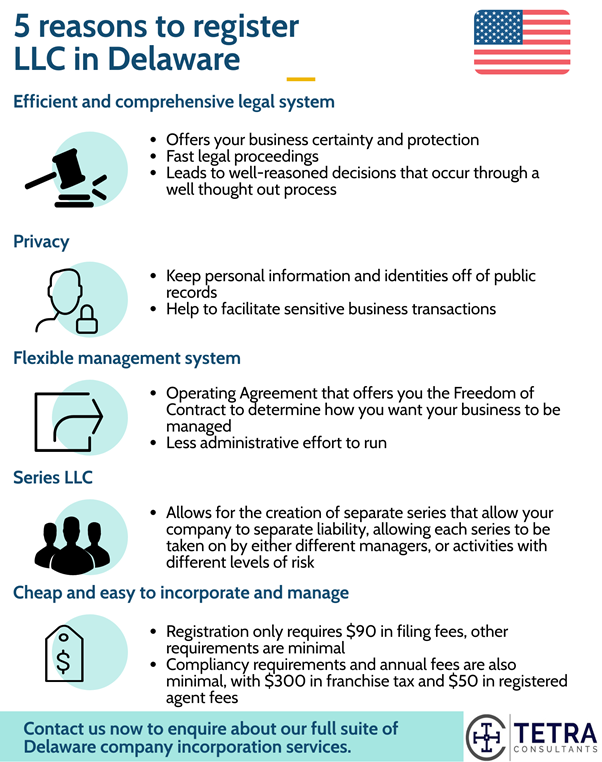 Step 1: Choosing a suitable corporate entity
The most important and first step in setting up your company will be to decide the structure to use. After understanding your business goals and activities, our team of dedicated consultants will recommend the most suitable corporate entity for you to carry out your business. 

Common corporate structures include:

Limited liability company

. Limited liability companies in Delaware offer its managers and members protection from the debts and obligations incurred by the business since the company is considered to be a separate legal identity. This type of company is cheap to setup and maintain, has minimal requirements to set up and offers a good level of privacy protection. Only a registered office and agent is required, with no nationality requirement on the members or managers. However, profits and losses are passed to individual owners and taxed independently of the corporation, and ownership cannot be easily transferred. 

Corporations

. Corporations are split into C-corp and S-corp. We would generally recommend that our international clients choose a C-corp since there is no requirement for the shareholders to be USA citizens. C-corps can also eventually go public, allowing you to secure funding for further business expansion.

Statutory trust

. Trusts are a flexible non-incorporated business structure that often serve passive functions like holding assets of subsidiary companies, and may not be directly involved in profit generating activities. 

Based on which corporate structure you choose, you will also be advised on the optimum paid up share capital, requirements and whether there is a need to apply for any licenses to operate your business.
Step 2: Reservation of company name
Tetra Consultants will reserve your preferred company name with the Delaware Division of Corporations. This name must be distinguishable from other companies, and its availability can be checked in advance. 

Approved names will be reserved for 120 days, has a fee of US$75. 
Step 3: Preparation of supporting documents
In most cases, the directors and shareholders are required to provide basic KYC documents. Some of these documents include the names of directors, certified true passport copies, proof of address, bank reference letter and CV for our internal due diligence checks. 

Our team will also advise and assist clients who are looking to incorporate in Delaware with renting a local office and appointing a registered agent. The registered office will be used to maintain all corporate records and official documents whilst the registered agent will serve as your local point of contact.  

According to the business activity and corporate structure, Tetra Consultants will also draft Articles of Association, business plan and other incorporation documents.

Your Articles of Association drafted will include key information about your company and its directors, the amount of subscribed share capital, share classes, duration of the company and other information with regards to your business activities. 
Step 4: Filing for registration 
We will then proceed to file for online registration with the Delaware Division of Corporations.

After receiving approval, Tetra Consultants will courier the Certificate of Incorporation, Memorandum and Articles of Association and other corporate documents to your preferred address.

According to your business activities, we will also assist in acquiring a valid business license as needed. 
Step 5: Corporate bank account opening 
After registration, Tetra Consultants will assist you in opening a

corporate bank account

. Our team has established partnerships with multiple reputable banks in Delaware. By engaging our services, you can leverage on our full portfolio of banking partners. We will present your business to each relationship manager and compliance team.

Typically, a corporate bank account opening will take roughly four weeks. In most cases, the directors and shareholders are not required to travel. However, if travel is required, we will have a representative accompany you to the bank meeting. Alternatively, our team will negotiate with the banks to conduct a conference call instead or to request for a waiver. 

Once your account has been successfully opened, Tetra Consultants will courier the internet banking token and access codes to your preferred address.
Step 6: Financial reporting and taxation obligations  
Following the setup of your new company, Tetra Consultants will continue to provide you with the necessary accounting and tax services to ensure that you can continue to legally conduct business while staying compliant to regulatory obligations.

We will help you to obtain a Federal Employer Identification Number from the Internal Revenue Service.

Corporations in Delaware are required to pay a franchise tax and file an annual report. The minimum tax for corporations is $175 with a maximum tax of $200,000. 

Limited liability companies in Delaware do not need to file an annual report but must pay an annual tax of $300.

Our team of dedicated consultants will timely prepare your firm's financial statements, corporate tax returns and manage bookkeeping on your behalf. 

Our team of dedicated consultants will continue to clarify any doubts you may have with regards to your company's obligations.
How can Tetra Consultants assist you?
The process of Delaware company registration is hassle-free if you know how. With Tetra Consultants at the wheel, you will be able to dedicate your time and resources to other more important business channels.
With our lean-and-mean mentality, you can rely on our team of experts to provide you a seamless experience throughout the whole process of setting up a business in Delaware. Our ultimate goal is for your Delaware company to be operationally ready within the stipulated time frame of 5 weeks. 
Our service package includes everything you will require to register business in Delaware:
Company registration with 

Delaware Division of Corporations

Local company secretary and registered address

Registered agent

Opening local or international corporate bank account

Financial and business license applications

Annual filling and tax services

Contact us to find out more about Delaware company registration for non-residents. Our team of experts will revert within the next 24 hours.