Canada has a well established global connectivity across several major economies, drawing many world-leading companies including firms from Fortune 500 to register company in Canada. The country actually punches well above its weight and is ranked 10th globally in terms of GDP production in 2021. Given the onset of world class infrastructure and highly attractive talents, many foreign investors have gravitated towards this country due to its ideal business environment. Now that we know just how perfect the business conditions are for those who incorporate in the country, it is time to find out just which businesses are most profitable in Canada. In this article, Tetra Consultants will share which businesses are best in Canada.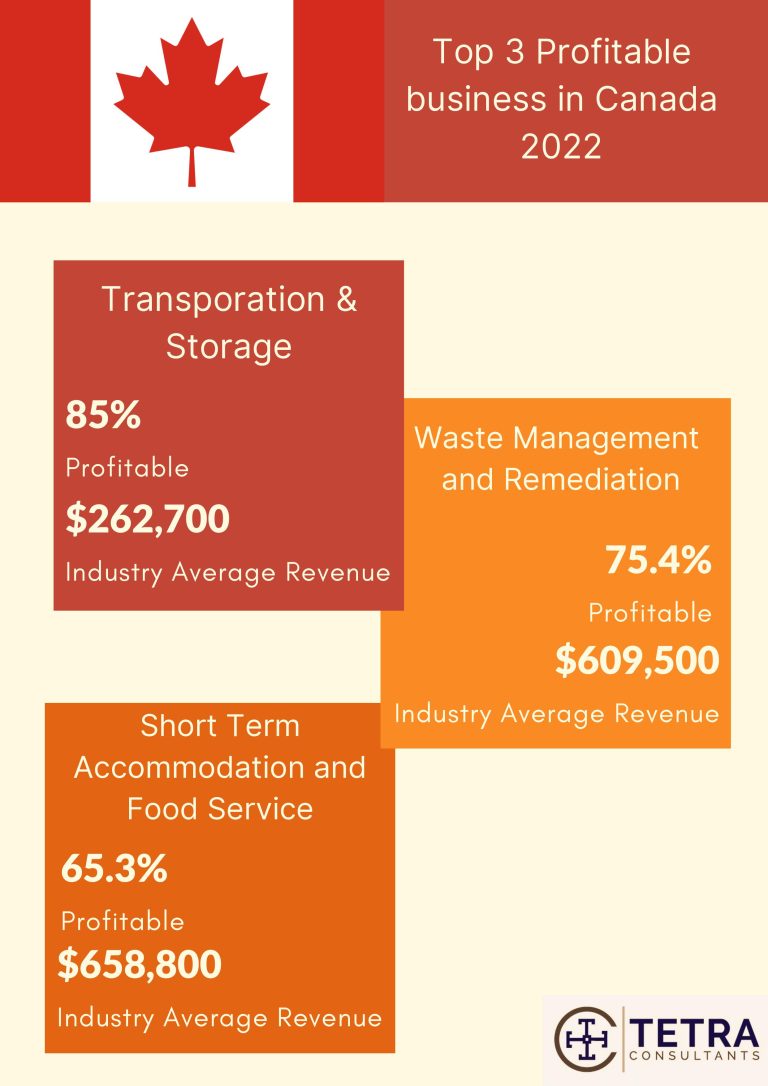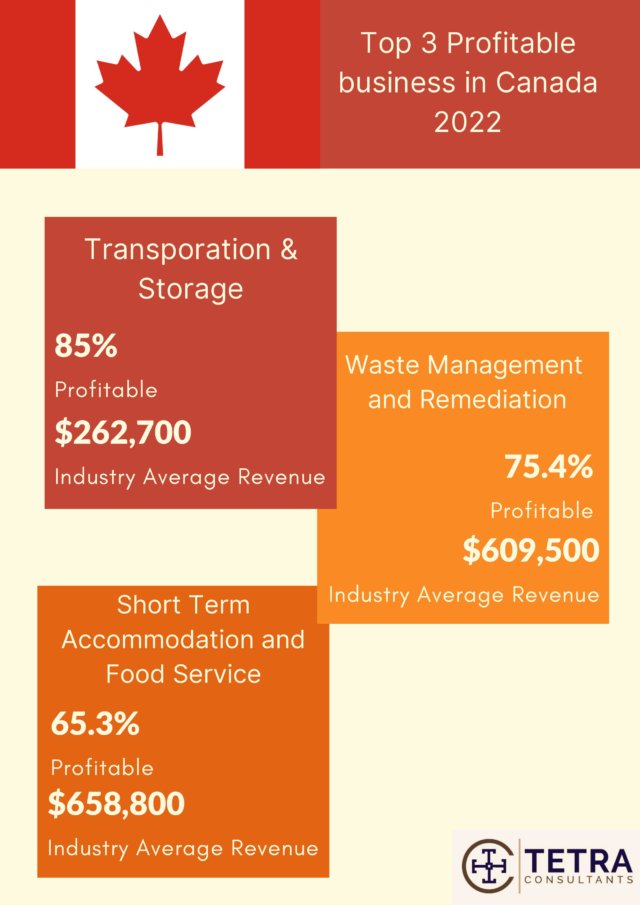 1. Transportation & Storage:
The first answer to which business is best in Canada lies in the industry of transportation and Storage. Given its global trading hub and established connections with different economies, if it is one thing to be sure of, transportation and storage is always needed in this intensive import/export transactions happening at every moment. The country has access to over 51 countries, creating access to up to 1.5 billion consumers for business registered in Canada. To facilitate the countless trades ongoing every single day, transportation and storage facilities will be the crux of this mega operation. The transportation and storage industry facilitates not just the movement of passengers but also includes transportation of goods and also warehousing of products. Another reason why transportation and storage answers which business is best in Canada is because of the low barrier of entry and scalability. This industry might seem daunting to enter but you can always start small with a single vehicle or truck, soliciting a loyal base of customers. Not to mention, there are also options of tapping onto transportation via Canada's waterway. Storage and warehousing services can also be started from humble beginnings before you make your way to expansion and acquire larger warehouses and storage spaces. According to the Canadian Government in 2019, the industry average revenue was about $262,700 and up to 85% of businesses operated within this line of business were profitable.
2. Waste Management and Remediation:
The next answer as to which business is best in Canada lies in the industry of waste management and remediation. This industry primarily involves in the engagement of providing waste management services which includes: waste collection, treatment, disposables, remediation of environment, septic tank pumping services as well as material recovery. The key issue also overlooked by many is that when the economy grows, so does the accumulation of waste. In order for the economy to develop, businesses must increase the turnover rate of operations, meaning more inputs and resources are used to generate more output, leading to higher GDP production. Resources such as paper, plastic, wood and or any other inputs used in the process of creation will be significantly consumed, thereby increasing waste as a by-product. Between 2006 to 2016, the total accumulated amount of waste collected in Canada increased by a sheer 3.5 million tonnes, representing an increase of 11% in a decade. This creates opportunities for people to enter the waste management industry, given the increasing importance of Environmental, Social and corporate Governance (ESG). According to the Canadian Government, the industry averages for the year of 2019 on average revenue was $609,500 and up to 75.4% of businesses operated within this line of business were profitable.

3. Short Term Accommodation and Food Services:

The third answer as to which business is best in Canada lies in the industry of short term accommodation with food services. This industry primarily involves in providing lodging and accommodation in periods considered short term, and offer complimentary services which includes the provision of meals, as well as various leisure facilities that extends to swimming pools, gyms and any other alike. Canada is known for its high quality and freedom of life, achieving #1 across the entire world in the Best Country 2021 index in terms of places to live. Under the index, the highest scored category was "movers" which was defined as reasons relating to unique and dynamic, indicating the vibrant lifestyle the country has to offer. According to the Canadian Government, the industry averages for the year 2019 on average revenue for Small and Medium Enterprises (SMEs) were $658,800 in revenue, and up to 65.3% of businesses operated within this line of business were profitable. Similar to the transportation and storage industry, offering short term accommodation and complimentary breakfast services are not just limited to big and established hotel chains. There has been increasing demand for homestays that offer small groups of travellers to stay together at the host's residence and are offered a more local and specialised experience. Businesses looking to enter this market can leverage existing sharing economy applications such as Airbnb to list their residences, making passive income every month.
Conclusion:
Engage Tetra Consultants as we guide you to incorporate your business in Canada in a smooth and hassle-free process. The team provides a comprehensive service package that includes planning and strategizing with our clients to select a suitable business entity, completing the registration and documentation processes, obtaining required licenses, opening a corporate bank account, and ensuring your compliance with the government regulations. 
Contact us to find out more about company registration in Canada and our dedicated and experienced team will revert within the next 24 hours.