Introduction to Puerto Rico Banking License
Attaining a Puerto Rico banking license is a smooth and hassle free process. Tetra Consultants advises you to read through this guide on Puerto Rico banking license to fully understand the legal regulations and requirements to adhere to during the process of applying for the license. Tetra Consultants is an international consulting firm that provides assistance with the attainment of a

Puerto Rico banking license.

Our team of professional consultants has extensive experience with the rules and regulations governing such licenses
Puerto Rico is a non-incorporated territory of the United States. While all citizens of Puerto Rico are deemed citizens of the United States, the island nation is far from a smooth extension of the United States. Puerto Rico is a self-governing, democratic nation among other government entities as its own independent taxing authority.
Given its location in the Caribbean and recent economic challenges, Puerto Rican government has sought to enact legislation to encourage the development of an offshore financial services center. This includes certain tax benefits, including rates as low as four percent on corporate taxes and tax holidays for certain expatriates. Most recently, Puerto Rico passed Act 273, which established international financial entities and an associated international banking license.
Puerto Rico is the perfect location for the formation of an international offshore bank, despite the fact that it is not strictly "offshore." With a favorable tax rate of 4% of profits and simple access to the US financial system, Puerto Rico's International Financial Entity license gives its holder extensive banking authority. Even though the banking regulations were recently enacted, the licensing accelerated the development of offshore banking in Puerto Rico, leading to the establishment of approximately 25 offshore banks in 2018.
What are the benefits of acquiring a Puerto Rico Banking License?
Attractive tax regime
Puerto Rico has no dividends tax or capital gains tax. The corporate tax rate is territorial for foreign companies engaging in business in Puerto Rico, which means they only pay taxes on their Puerto Rican income. It can be reduced from a heavy 33 % to just 4 % thanks to a wide array of tax incentives.
There are great tax advantages that are provided with regard to financial entities. A foreign-derived income is immune from taxation for an international financial company created in Puerto Rico for its first 20 years, while all locally sourced corporate revenue is subject to a 4% tax rate.
Location
Despite being in the Caribbean, Puerto Rico is a US territory. As a result, it serves as the ideal gateway for Latin Americans in the US. It's an excellent first step in opening up a company in this nation. A lot of Americans who seek to minimize their tax obligations migrate there for retirement and business purposes.
Solid banking confidentiality
Because Puerto Rico is not a member of the (Common Reporting System) CRS, it does not automatically exchange tax data with other countries' tax agencies. Because of this, it is a top choice for investors and high-net-worth people who wish to secure their money in complete secrecy.
The best of the best
One of the most potent financial service structures in the world is a legally registered international financial corporation in Puerto Rico. These organizations are able to provide a variety of foreign banking services, investment management services, and financial services to overseas clients from Puerto Rico.
Flexible license
In Puerto Rico, everyone can apply for a license to operate an international financial company, not just foreign banks. Among the financial firms that typically seek for this license and benefit from it are insurance companies, hedge fund managers, and investment advisors. This demonstrates its unparalleled versatility.
Reduced costs
Even though other top offshore banking licenses continue to provide major economic benefits. Nonetheless, licensing prices have risen rapidly. That is just another reason why Puerto Rico remains a popular destination and one of the favorites. A financial institution in Puerto Rico is required to have a minimum capital of US$550,000, which is the lowest minimum capital requirement in the offshore banking business.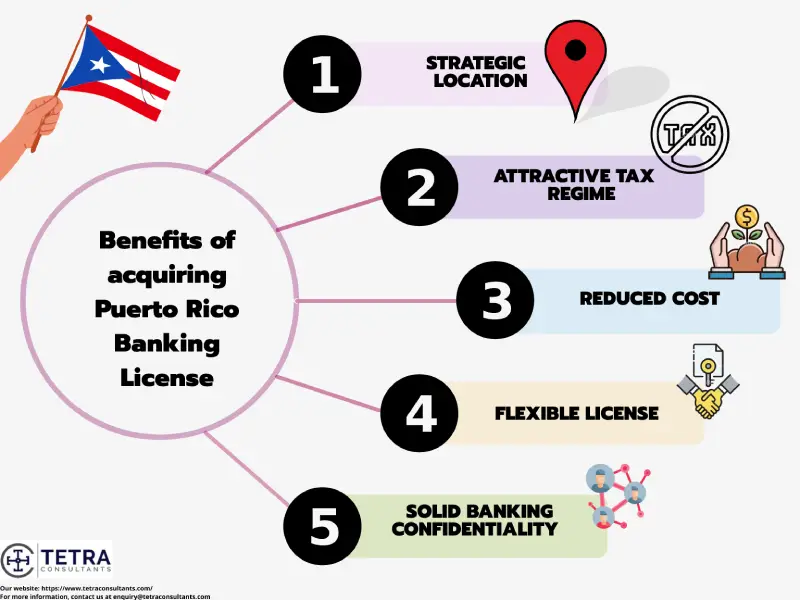 What are the activities allowed under a Puerto Rico Banking License?
With a Puerto Rico Banking License you can:
Accept deposits and loans from non-residents of Puerto Rico as well as from certain government agencies.
Transfer funds to any Puerto Rican bank or an international bank with a presence in Puerto Rico.
Offer loans to non-residents of Puerto Rico and issue letters of credit to them.
Offer discounted money orders and bills of exchange to non-Puerto Rican residents.
Invest in tax-free assets, equities, and Puerto Rican government bonds.
Carry out transactions in any currency, as well as gold or silver trading and foreign currency trade.
Underwrite and trade notes and debt instruments issued by non-residents of Puerto Rico.
Engage in trade finance of raw materials and finished goods imports and exports.
Purchase and lease personal property on behalf of non-residents of Puerto Rico.
Establish branches outside Puerto Rico in the continental USA or in other foreign countries.
Who is the issuing authority of a Puerto Rico banking license?
In 2012, Puerto Rico replaced the long-existing Act 52, which was initially enacted to allow international banking to compete with offshore financial institutions in the Caribbean. However, with the enactment of Act 273, whose goal was to strengthen the country's environment for conducting international banking. It allows International Financial Entities to conduct standard banking and financial activities with Puerto Ricans who are not residents.
The country's Office of the Commissioner of Financial Institutions (OCFI) is the entity responsible to license International Financial Entities (IFE) to conduct specified financial transactions.
What are the regulatory requirements for obtaining a Puerto Rico Banking License?
General Requirements
A physical presence in Puerto Rico is required for an International Banking Entity when applying for a

Puerto Rico banking license.

It must secure sufficient office space and show confirmation of this to the Board. In the case of existing banks in Puerto Rico, these requirements can be met by reserving a portion of the bank's current office space.
Capital
The International Banking Entity preferring to obtain a

Puerto Rico banking license

is required to have an authorized share capital of US$5,000,000 and a paid-up share capital of US$250,000.
Upon receiving a

Puerto Rico banking license

and at all times thereafter, an International Banking Entity is required to maintain at least US$300,000 in unencumbered assets in Puerto Rico. These assets may consist of deposits with the Government Development Bank for Puerto Rico or with other banks doing business in Puerto Rico (not including affiliates of the IBE), investments in Puerto Rico government securities, United States government securities, and United States municipal securities, or any other real or personal property owned by the IBE and held in Puerto Rico.
Changes Requiring Board Notification or Approval
The capital structure of an International Banking Entity may not be altered without the prior written approval of the Board. This restriction applies to any reduction in capital and to any issuance of stock or other securities convertible into stock. An IBE is also required to seek prior written approval from the Board for amendments to its articles of incorporation."
Transfers involving the sale of more than five percent of the outstanding shares of any class of voting securities of an International Banking Entity or more than ten percent of the outstanding shares of any class of non-voting securities, or transfers that cause any person to own more than five percent of the outstanding voting shares or ten percent of the non-voting shares require thirty days prior notice to the Board and written authorization. Similar transfers involving the securities of the parent entity must also be reported to the Board within ten days after the occurrence of the transfer, but the Board's prior approval is not required.
A transfer of control would not result in revocation of an IBE's license unless the Board determined that the International Banking Entity's ability to conduct its operations and meet its obligations could be impaired, that the transfer would result in a violation of the Act or regulations, or that the transfer would have a negative impact on the economy of Puerto Rico.
Reports and Records.
An International Banking Entity must maintain a complete set of books and records in its business office in Puerto Rico. Such records must be segregated from the records of any other affiliated enterprise. These records are subject to inspection by the Board. An IBE must submit annual and quarterly financial statements to the Board. The annual statements, which must include a balance sheet and an income statement, must be certified by an independent certified public accountant licensed to practice in Puerto Rico.
Personnel
Within the course of its first year of operation, an International Banking Entity applying for a

Puerto Rico banking license

must employ in Puerto Rico at least four employees on a full-time basis. For these purposes, employees of a corporation of which the International Banking Entity is a unit will be considered employees of the International Banking Entity only if such employees are assigned exclusively to the operations of the unit.
What is the procedure of obtaining the Puerto Rico Banking License?
Tetra Consultants' team of experts has summarized the most prevalent steps that take place during the process of obtaining a Puerto Rico banking license.
Step 1: Setting up the banking entity
Tetra Consultants will organize the steps required to register company in Puerto Rico.
The permitted corporate vehicle for setting up the banking entity in the country is to set up a Puerto Rico domestic company. Tetra Consultants will take all the measures for registering the respective entity with the corporate registry of the country.
Step 2: Meeting the local substance requirements
Tetra Consultants will assist you to meet the Local substance requirements in the form of the local office and local employees. Our team will assist with the recruitment of local qualified employees to join the team.
Tetra Consultant's HR team will conduct the shortlisting and initial interview with the candidates including the candidate for the position of compliance officer. Thereafter, you can shortlist the final list of candidates to determine who is most suitable to join the team. Once the candidate is chosen, Tetra Consultants will assist to prepare an employment contract with the terms and conditions that are agreed upon.
Our team will also shortlist a list of physical offices and send them to you. We will include important considerations such as monthly rental, location, size, etc so you can better decide which is most suitable for you. Once the office is chosen, Tetra Consultants will prepare the lease agreement to be signed between you and the landlord.
Step 3: Preparing the legal documents
Tetra Consultants' legal team will prepare the required documents for the

Puerto Rico banking license

application. These documents will include the business plan, AML/CFT policy, and insurance policy depending on the local requirements.
Once the documents are prepared, Tetra Consultants will send over the drafts for your review. Thereafter upon confirmation, we will send them to you for e-signature and prepare for license application.
Step 4: Applying for the correspondent bank account
A correspondent account at a multinational bank may allow you to hold some cash in the US and some in your primary country of operation. This way, you can batch process transfers and reduce your transfer costs.
Tetra Consultants will assist you in opening the correspondent bank account through Fedwire wherein if approved, the US Federal Reserve Bank will act as your corresponding bank.
Step 5: Applying for the operative Puerto Rico banking license/permit
Once the above requirements are successfully adhered to and complied with, Tetra Consultants will apply for the operative

Puerto Rico banking license

with the license application form duly filled and submit the legal documents prepared to the Puerto Rico Financial regulatory authority.
If everything goes well and your entity gets through the audit of the above banking system and other internal procedures successfully, you will be issued the Peurto Rico banking license which will enumerate the type of services you are permitted to conduct under the name of your entity.
Step 6: Applying for the SWIFT/BIC
Once the license is acquired, Tetra Consultants will assist in applying for the SWIFT Code for your banking entity.
The SWIFT Code is a unique identification number for your bank when making bank transfers via Wire transfer and transfers between other banks through different channels.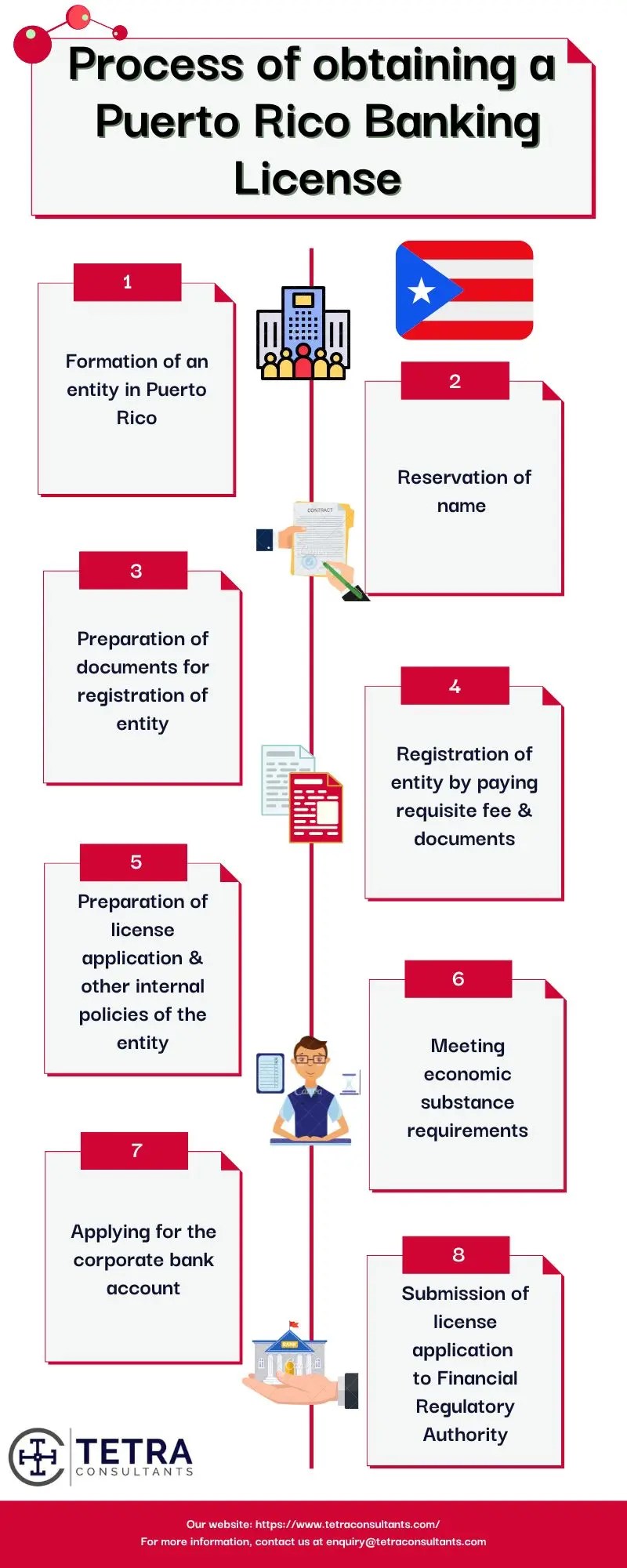 What are the documents required to obtain Peurto Rico Banking License?
To start the procedure, we need the following documents:
Passports and CV of the final beneficiaries
Passports and CV of the directors
Copies of other financial licenses the company has (if applicable)
Proof of the necessary funds and their legitimacy
Letter indicating the intention of obtaining a financial license
Anti-money laundering policy
Financial analysis for the next five years.
What is the tax implication?
Puerto Rico Offshore Banking License Tax Treatment
A fixed 4% Puerto Rican income tax rate in the net income, increased up 10% at renewal.
Full property and municipal license tax exemptions.
6% income tax rate on distributions to Puerto Rican resident shareholders.
0% tax rate on distributions to non-Puerto Rican resident shareholders.
How much time does it take to obtain a Puerto Rico Banking License?
Prior to the start of the engagement, Tetra Consultants will send you a project plan with the timelines stipulated for company registration, preparation of documents as well as license application. This is to ensure that all parties are clear on the upcoming project.
How much does it cost to obtain a Puerto Rico Banking License?
The total engagement fee depends on the services you need from Tetra Consultants. We provide you with multiple services ranging from assisting you through the incorporation process to obtaining the banking license. The total fee that will be charged is inclusive of the company registration fee, license fee, and any additional cost that may arise.
We will discuss with you the total engagement fee in detail before we begin the registration process so that you have a better understanding of what you are paying for. Tetra Consultants strives to be transparent with the engagement fees prior to the start of any engagements. All these terms and conditions will be stated clearly in our appointment letter.
Our Services
Tetra Consultants will provide you with a comprehensive set of services to obtain a Puerto Rico banking license, including the formation of a Puerto Rican business corporation, the preparation, and drafting of a descriptive business plan, the preparation and drafting of the requisite bank constitution and prospectus, as well as application with the Puerto Rico Commissioner of Financial Institutions, the development of responses to license application inquiries, and the management and organization of required physical presence and resident director.
Moreover, Tetra Consultants will be providing recommendations of banking software for the business, placing the bank into full operation once it gets the required certifications and licenses, obtaining background information for the bank, and ensuring its smooth functioning, along with ensuring that the bank's registered office is secure.
Tetra Consultants will assist you with communications with the local and Puerto Rico Central Bank, regulatory authorities, and government officials throughout the whole course of the engagement.
In addition, Tetra Consultants can also assist with attaining other offshore financial licenses depending on your long-term business goals.
Find out more!
Contact us to find out more about how to obtain a Puerto Rico banking license. Our team of experts will revert within the next 24 hours.
FAQ
How do I get a bank license in Puerto Rico?
To obtain a bank license in Puerto Rico, you will need to follow these general steps:

Determine the type of bank you want to establish.

Develop a comprehensive business plan that outlines your bank's mission, goals, financial projections, and management structure.

Meet minimum capital requirements set by the Puerto Rico Office of the Commissioner of Financial Institutions (OCFI). These requirements will depend on the type of bank you want to establish.

Submit an application for a bank license to the Puerto Rico OCFI. The application will require detailed information about your bank's operations, management, financials, and compliance with banking regulations.