Poland is an important and dynamic market of the European Union (EU) market and has managed to prove itself to be stable during times of financial crisis, establishing itself as a stable and growing market. The jurisdiction offers promising opportunities to investors and many are drawn toward its well-educated and competitive workforce, strong and stable economic prospects and the strategic access to the EU markets. With approximately 38 million people, Poland is one of the single largest markets across the EU member states and ever since their indoctrination into the EU legislation, the economy of Poland has seen impressive growth rates. It is also important to note that the economy of Poland is well established to be diversified and stable, and it was determined to be the least affected economy in Europe by the Covid-19 pandemic according to the World Bank. This gave popularity to the jurisdiction and investors are looking for the most profitable business in Poland to conduct. Before you register company in Poland, Tetra Consultants has helped to prepare the 33 best business in Poland to consider in 2023.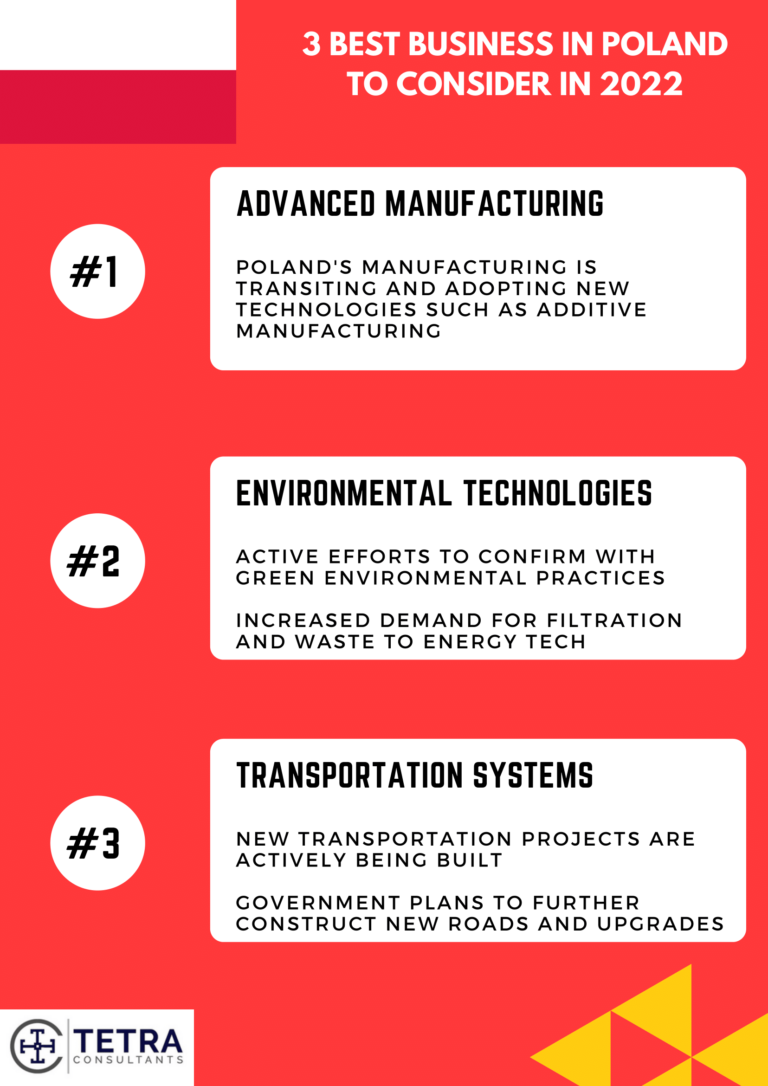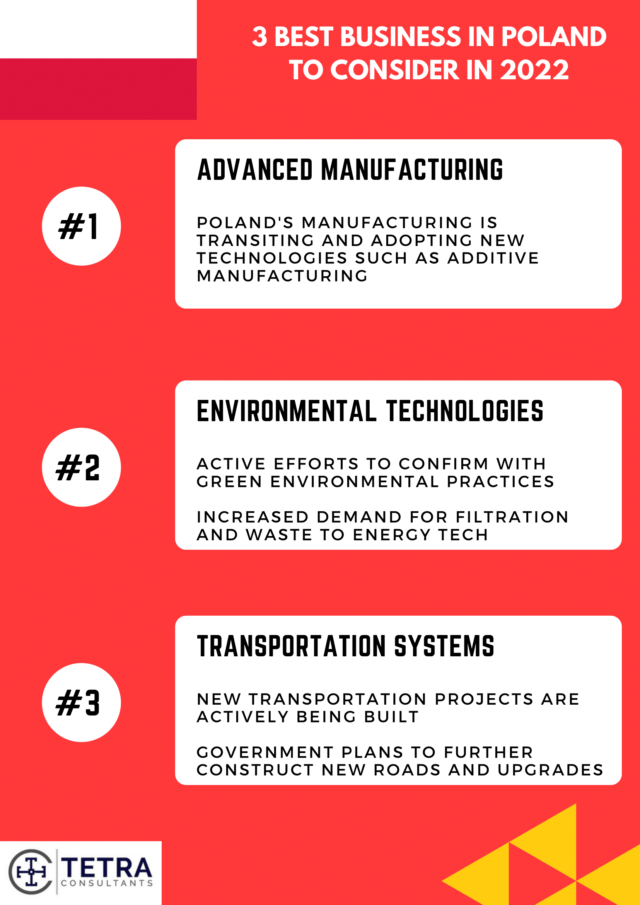 1) Advanced Manufacturing
The first best business in Poland to consider in 2023 is in the field of advanced manufacturing. As the global economy is transiting and welcoming Industry 4.0 (the adoption of data exchange and automation of manufacturing technologies), the field of cyber-physical systems, internet of things (IoT) and cloud computing are increasingly being integrated into our lives. This is particularly felt in the corporate and manufacturing industry as the technology is increasingly changing efficiency and processes across the board. Despite the Covid-19 crisis, Poland's manufacturing industry is continuing to strengthen and develop. The government is actively pushing new boundaries in the investment of new technologies, incorporating new manufacturing processes such as additive manufacturing (or more commonly known as "3D Printing) to help push the economy to the next level. As such, there are multiple grants and resource aid made readily available to support the local R&D and innovation of manufacturing in Poland. The investment in innovation alone in Poland has currently stands at a value of 9 billion and more than 300 R&D centres have been developed to encourage innovation and creation, showing the government's determination to develop the advanced manufacturing industry of the country. Poland is currently poised in a strong position for the development of several manufacturing and technical solutions that includes: additive manufacturing equipment, sensors and instruments, electric motors, machinery tools for cutting and forming of metal, welding and soldering equipment and digital solutions. As a result, the country is ripe for opportunities where international experts who work in the field of advanced technology can stand to benefit from investing in this particular field.
2) Environmental Technologies :
The second best business in Poland to consider in 2023 is in the field of environmental technologies. Ever since the country was indoctrinated as part of an EU member state, Poland has actively confirm with green environmental practices, building more than 1,000 new water treatment plants, developed its piping systems, reduced its carbon gas emissions by more than 30%, created new hazardous waste management facilities and develop programs to help protect endangered species of plants and animals. Despite the efforts put forth by the government, Poland still remains as one of the most fossil fuel-reliant economies within the EU member states and smog and air pollution remains a detrimental issue in many Polish states. As of 2020, burning of coal still remains as the country's primary energy mix, representing about 70% of the country's energy sources and is expected to remain in the lead until 2049. This creates a demand for technologies and services that are able to deal with carbon matter that can allow for a cleaner or more reduced gas emission. Such technologies may include particulate matter control systems, carbon injection systems, better combustion technologies and alternative fuel technologies to be capitalised upon for a cleaner air quality in the country.

Additionally, sludge treatment and reuse poses a major issue to the country as well. Annually, Poland produces over 700,000 tons of sludge and has been traditionally used to fill landfill as a means of disposal. Under EU obligations to reduce the diversion of waste to landfill, Poland (being a member state of EU) has to look for new and alternative methods to treat sludge in a more environmentally friendly fashion. This creates demand for environmental technologies relating to filtration and waste-to-energy technology.
3) Transportation Systems:
The third best business in Poland to consider in 2023 is in the field of transportation systems. Poland continues to devote a huge sum of resources to their nation's development of transportation. There are actively new transportation projects being built and developed to increase connectivity to meet both the nation's societal and economic needs. Under the EU funding scheme, Poland has announced plans to invest 17.5 billion in railway infrastructure and 36.6 billion in road infrastructure developments.

Poland has a considerably large and growing network of roads and highways, ranking the 5th within Europe to have the longest amount of highways and motorways. The government plans to further construct new roads and implement upgrades, as part of their new safe road infrastructure program that focuses on road safety infrastructure to be built.

Regarding the development of Poland's railway system, there are active efforts in integrating intermodal transportation of goods and products in Poland. However, the main obstacles lies in the slow speed of cargo trains in Poland, and the EU increased funds to help address these concerns. With the country's constant efforts to improve its transportation system, this poses a great opportunity for firms or individuals with great expertise to enter the transportation market, making it one of the best business in Poland to consider in 2023.
Conclusion:
Engage Tetra Consultants as we guide you on how to register a company in Poland  through a smooth and hassle-free process. The team provides a comprehensive service package that includes planning and strategizing with our clients to select a suitable business entity, completing the registration and documentation processes, obtaining required licenses, opening a corporate bank account, and ensuring your compliance with the government regulations. 
Contact us to find out more about company registration in Poland and our dedicated and experienced team will revert within the next 24 hours.