Small businesses account for approximately 98.5% of all Australian businesses and employ approximately 44% of Australia's workforce. The Australian government currently provides small businesses with various incentives and benefits to encourage the establishment of small businesses and the continuation of existing small businesses, especially during the Covid-19 pandemic. Therefore, now would be an appropriate time to decide on a business idea and to register company in Australia.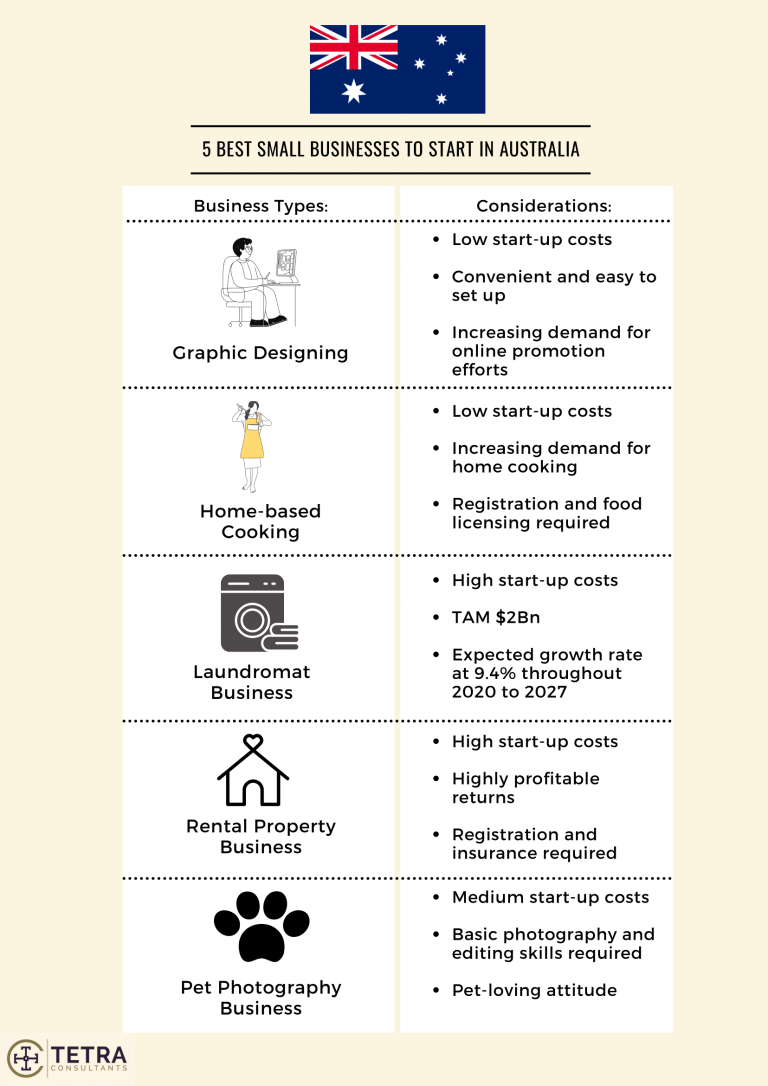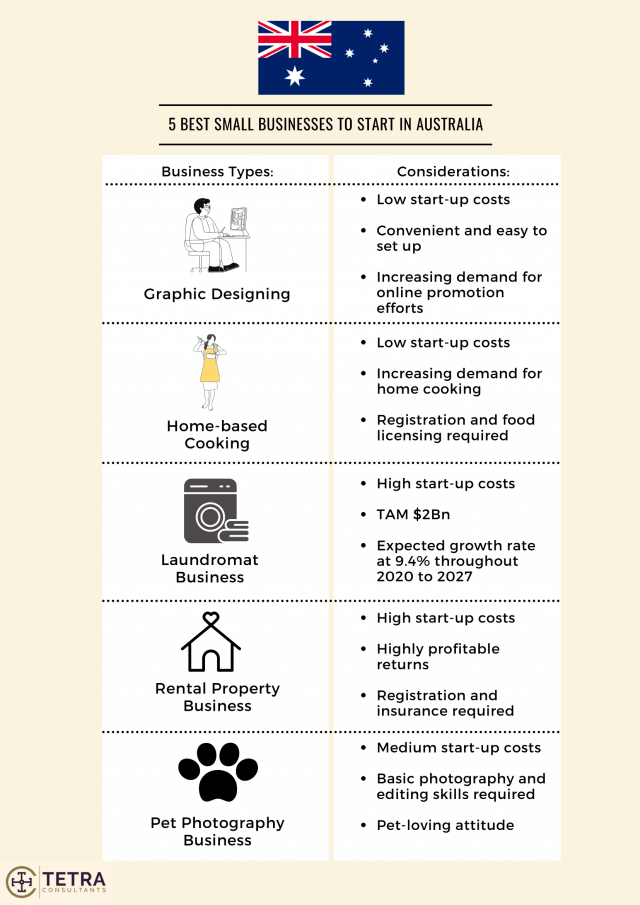 This blog explores the seven best business ideas to start in Australia. 
#1 E-commerce Business:
There is a continued trend towards e-commerce over the past several years. The Covid-19 pandemic has led to a further push towards e-commerce. In Australia, e-commerce sales have been growing at a Compound annual growth rate of 8.9% in 2021. Thus, there has been a growing demand for e-commerce. 
Moreover, to open an online store, a smaller capital is required which may make it more convenient and less expensive to start a business. The business owner could decide the commodity or service to be provided according to their skillset and the current market demand for it. These businesses can cater to the demands of multiple customers. The shop could sell multiple items as per the skill set of the owner and the demand by the consumers.
#2 Agriculture and related business:
In Australia, there is a diverse agricultural, fisheries, and forestry sector which continues to grow at a rate of 7% of the past years. Moreover, this industry is rather resilient as despite having impacted the world tremendously, Covid-19 did not strongly impact this industry. This is because the demand for food just shifted from high valued products like wine and seafood to essentials that could be consumed at home. 
Hence, you can start a business in this industry to take advantage of the growing demand for agricultural and related products. In Australia, 75% of the total value added by this industry is because of small businesses.
#3 Laundromat Business:
The laundry and the dry-cleaning industry produce approximately $2 billion in gross revenue annually and this industry continues to grow at a rate of 1.6%. Hence, by setting up a laundromat business, the company can take a portion of this revenue.
Moreover, this industry is highly profitable and convenient to run. Most laundromats in Australia are self-serviced and thus, do not require additional labour costs. In addition to this, you would not have to be physically present at the laundromat, and can hence, spend your time in some other way.
#4 Food Services:
In Australia, the Food and Beverage industry is projected to reach approximately $4.5 trillion and is forecasted to grow at a rate of 2%. The Covid-19 pandemic has resulted in the imposition of restrictions such as social distancing and lockdowns by the government. This has affected the restaurants and pubs. However, most of these places have adapted themselves to provide services such as takeaways, home delivery, and more. 
Small businesses in the F&B industry are profitable and also account for 38% of this industry's output. 
#5Professional Services:
The professional services industry in Australia has a total revenue of $173 billion and continues to grow. Professional services provided by businesses can include consulting services, market research, advertising and public relations, and more. Depending on your knowledge base and skill set, you can choose the type of service you wish to provide to customers and businesses and take advantage of this growing industry. 
#6 Construction:
The construction sector generated $360 billion in revenue in 2021 and is forecasted to grow at an annual rate of 2.4%. This sector includes the provision of air conditioning services, carpentry, waterproofing, and decorating. You can wish to provide services to customers based on your skillset. This industry primarily comprises small businesses which accounts for 57% of total revenue in this sector.
#7 Rental, Hiring, and real estate:
This industry has generated a gross profit of approximately $6.5 billion in the quarter ending September 2020 and this amount will continue to grow. Since not every individual can afford expensive items, they may rent them for a short while which is why this industry is stable. It is rather easy to start depending on the types of rental service you wish to provide- renting of cars, equipment, flats, etc. The costs also vary depending on the service you wish to provide. 
There are multiple ideas to choose from when deciding which business to start. The above list is non-exhaustive. You must, however, keep in mind your knowledge base and abilities and the cost of capital you are willing to invest. It is based on this you decide which business you wish to pursue. 
Once your business idea is finalised, you can begin the process to register business in Australia through the BRS (business registration service). Once this is done, you can commence your business.
We, at Tetra Consultants, understand that it may be difficult to register business in Australia and would like to offer our services. Through planning and strategizing together, we can assist you in actualising your business idea. We will assist you through the setting up process of your business by providing you with the services you need (help open bank account, provide nominee director service, and more).  
Contact us if you wish to receive more insights into how we can assist you in registering your company in Australia. Our hardworking and experienced team will revert to you within the next 24 hours.