More than three decades ago, The Republic of Mauritius, was only primarily known for its sugar and agriculture products which encapsulated the country's economy. Today, it is starting to see popularity in foreign investments and incorporation as the country transits itself from a low-income nation to an middle class economy, charting tremendous growth history. The country's economy is transforming into a mixed developing economy, as they continue to make strides in the field of manufacturing, textile and apparel, Information Technology (IT) and also its financial services industry. Mauritius has attracted the attention of many foreign investors to think about setting up a business in Mauritius as a result of its political and socio-economic stability and pro-investment climate. Before you register company in Mauritius, Tetra Consultants has helped to prepare and share 4 best business to start in Mauritius for your consideration and decision making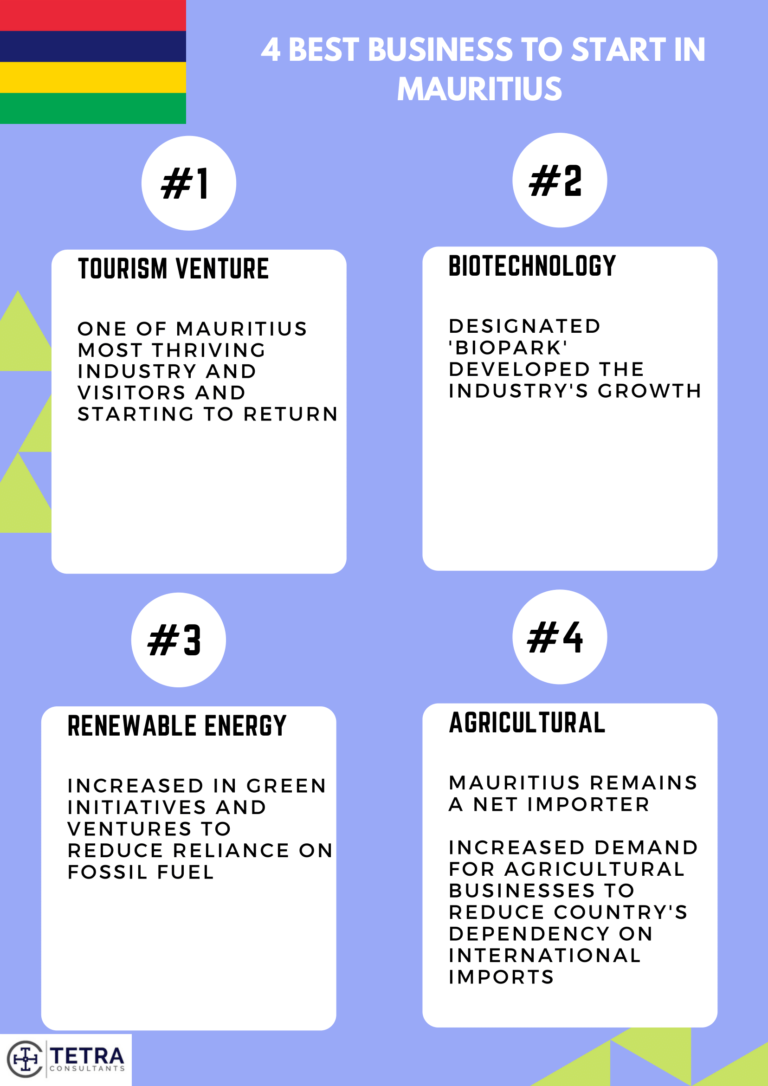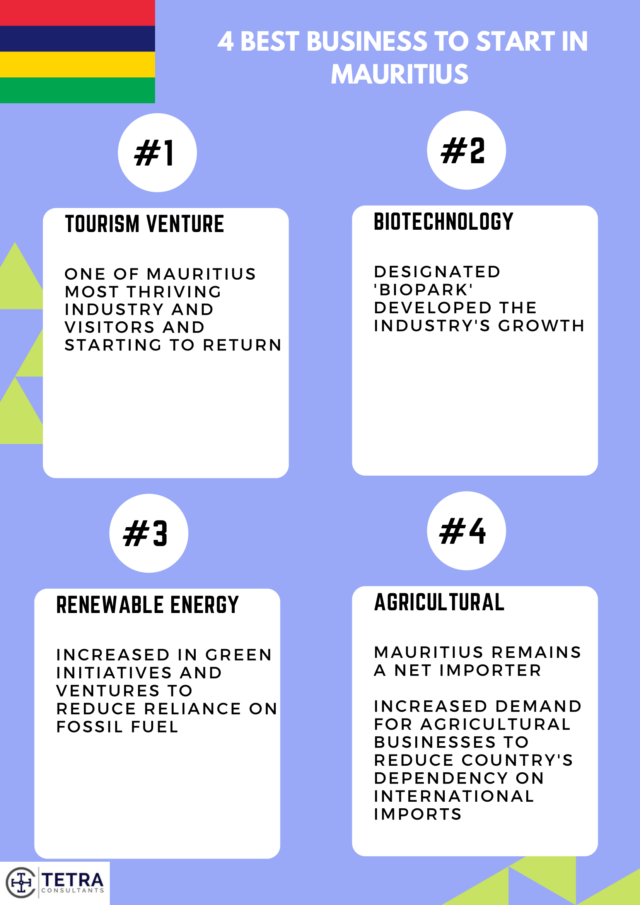 1) Tourism Venture
The first best business to start in Mauritius is a tourism venture into the beautiful country. The tourism sector is one of Mauritius traditional and most thriving industries in the country which provides many opportunities for both locals and foriegn investors. The tourism industry suffered the brunt of the effects from the international pandemic Covid-19 which stunted the country's GDP growth rate by 14.4% as compared to the average 4.4% experienced by the world economy. However, Mauritius was able to chart a V shape recovery towards 2021 with a 7.5% increase in GDP, which is higher than the average 5.2% growth rate experienced by the world economy. The local government has taken actions to tackle the issue of and provided sufficient comfort to foreign investors whilst the tourism industry is experiencing slowdown.

As of October period in 2021, the country has fully reopened its borders and welcomes international visitors to help rejuvenate the tourism industry. The number of visitors are picking up and with the increasing global vaccination rates, this might be the right opportunity to enter the tourism space in Mauritius. Tourists and tourist attractions will never go dry in Mauritius and you can provide a variety of offerings in this industry. In addition, the Mauritian government also announced investments into a cruise ship terminal in Port Louis Harbour which is expected to be completed in early 2022.
2) Biotechnology :
The second best business to start in Mauritius is in the biotech industry. The biotech industry industry in Mauritius is considered to be young, but is currently seeing itself growing and there is potential for more to come. Ever since 2014, several incorporated companies have gathered together and operated at a special designated area known as "BioPark" with modern infrastructure for the purpose of research and development in biotechnology and they are leading the way for future firms to come. This particular industry is supported by various governmental bodies such as the Mauritius Research Council, the Centre for Biomedical & Biomaterials Research and also the Food and Agricultural Research & Extension Institute. As of 2021, there are around 18 companies in the biotech sector which are each involved in various activities ranging from clinical trials to production of biofuels, with many more opportunities to be explored. The Mauritian government has also indicated their commitment to continue developing and nurturing this industry, and passed a new Industrial Property Bill in August 2019. The Industrial Property Bill was designed to consolidate different elements of industrial property (such as patents, layout-designs, models and trademarks) in order to adhere to the World Intellectual Property Organization (WIPO) guidelines. This provides protection to biotech firms operating in Mauritius as they are all adhering to the Madrid Protocol of protecting and trademarking designs. Biotech firms also stand to receive a reduced tax rate of 3% instead of 15%, making it one of the best businesses to start in Mauritius.
3) Renewable Energy Industry:
The third best business to start in Mauritius is in the renewable energy industry of the country. Globally, countries and international bodies have always noticed the importance and ever increasing risk that global warming poses to our world. As a result, there have been increasing green initiatives and ventures into sustaining energy mix by renewable energy resources. This is no different for Mauritius as the government's energy policy encourages the use of renewable or clean energy in order to reduce the country's dependence on fossil fuels and to reduce the greenhouse gas emission rates. Mauritius is actively seeking out international firms to conduct joint ventures with the local private sector for its power projects as they aim to transit to increase reliance on solar energy.
4) Agricultural Industry:
The fourth best business to start in Mauritius is in the agricultural industry. Although Mauritius is known for its primary production of sugarcane, it still remains as a net food importer given an overall self-sufficiency ratio of less than 30%. The Mauritian government is planning to reduce the dependency on imported food by promoting production of local crops and smart agriculture. In the 2021-2022 budget, it was announced that Mauritius will dedicate $122 million into a Modernization and Transformation Fund in hopes of modernizing its current agriculture and fishery industry. This creates demand for firms to enter the agricultural space of Mauritius and help increase local production, thereby reducing the country's dependency on international imports.
Conclusion:
Engage Tetra Consultants as we guide you on how to register a company in Mauritius  through a smooth and hassle-free process. The team provides a comprehensive service package that includes planning and strategizing with our clients to select a suitable business entity, completing the registration and documentation processes, obtaining required licenses, opening a corporate bank account, and ensuring your compliance with the government regulations. 
Contact us to find out more about company registration in Mauritius and our dedicated and experienced team will revert within the next 24 hours.