Starting a business in Switzerland as a foreigner has become an increasingly popular choice and viable option for consideration amongst various foreign investors. The jurisdiction of Switzerland offers just one of the world's best business centres given its forefront position in the development of technologies as well as its stable political environment. The government maintains a pro-business stance and welcomes foriegn investment from entering the country. Similarly, it conducts various trades with major economies such as the United States, United Kingdom, China and Germany. In 2021, the country had a GDP ranking of 18th in the world, producing an estimated amount of $824 billion worth of goods and services in total. The developed and huge economy of Switzerland is primarily driven by its services sector, drawing in huge investments into the country. With plenty of good reasons, it should come as no surprise as many foreign investors are looking to enter this high income economy. Before you proceed to register company in Switzerland,  Tetra Consultants has prepared the 4 best business to start in Switzerland in 2023 for your reference.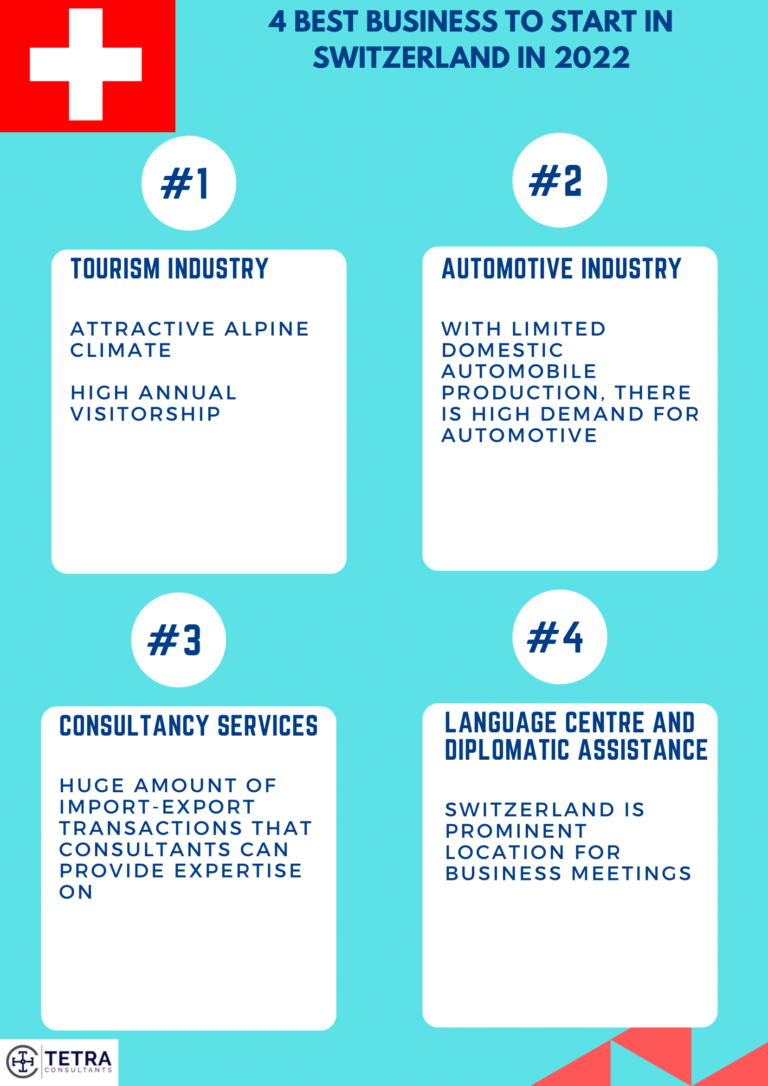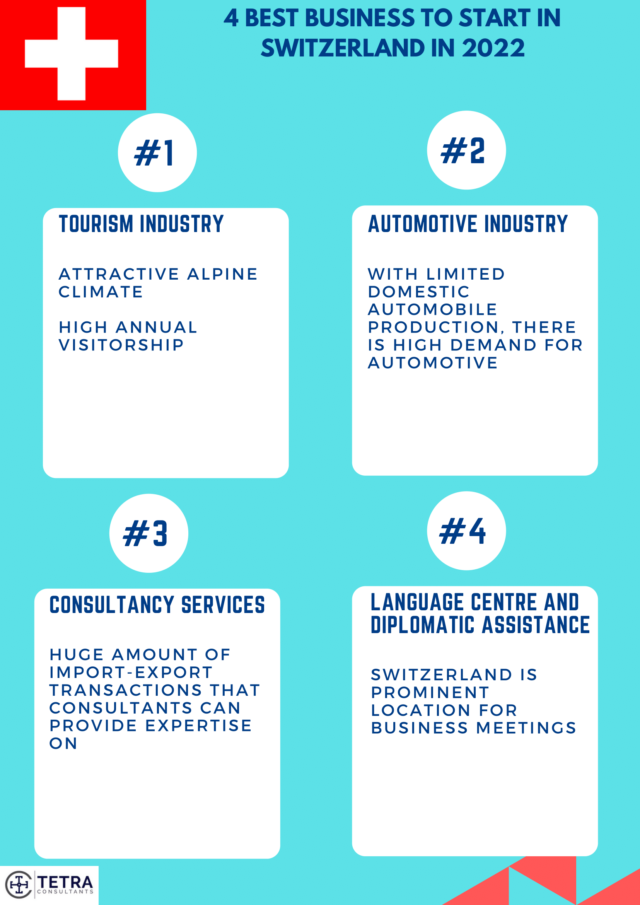 1) Tourism Industry 
The first best business to start in Switzerland to start in 2023 is in the industry of Tourism. Switzerland provides a diverse landscape as well as various activities to its tourists. One of the main reasons for its high annual tourist visitorships is due to its Alpine climate which provides a snowy field of icing placed upon the mountainous formations, which is a delight to experience. There are plenty of tourism opportunities that foreign investors can try their hand at, and these include whilst not limited to: car rentals, food restaurants, bars, guide service, photography services, adventure sports as well as accommodation.

As of the start of 2023, Switzerland is still accepting tourists while under strict rules. With the developments of vaccines and increasing vaccination rates, we can expect to see tourism numbers increase at a humble rate, offering foreign investors an opportunity to enter the tourism industry of Switzerland.
2) Automotive Industry:
The second best business to start in Switzerland to start in 2023 is in the automotive industry. With no domestic automobile production, the Swiss automotive industry often imports vehicles, automobile parts and components from the global automotive industry, most oftenly from Germany. In the jurisdiction of Switzerland, more than 90% of the cars imported enter through agents that trade on exclusive car brands, with the popular brands including Volkswagen, Mercedes, BMW and more.

The automotive industry in the Swiss country is also starting to see a trend for four wheel drive given the natural mountainous terrain and winter driving conditions that the Swiss are facing. Sales of electric and hybrid automobiles are also growing strongly as green and environmental efforts are increasing.

As such, this creates opportunities for foreign investors to enter into the automotive industry of Switzerland, and are recommended to provide products and services from all ranges to suppliers in the industry. Some of the opportunities include supplying vehicle parts like engines, exhaust, gearboxes, and even offering repairing and maintenance services. The aspect of safety in the automotive industry of Switzerland is particularly important given the natural terrain of the country. It is expected to cause more wear and tear and forieng investors can leverage upon this to offer better safety systems to be incorporated into the vehicles.

3) International Consultancy Services:
The third best business to start in Switzerland to start in 2023 is in the consultancy industry. As the country is known to trade with various different countries and receives huge international investments, there are a plethora of import-export business running between the country and others. With the higher number of incoming and outgoing investments opportunities waiting to happen, there exist various opportunities to provide consultancy services on all ends to better help assist interested business parties from conducting their business. If you have the necessary experience and knowledge about navigating businesses to and fro the country, you can help tap on Interested foreign investors to provide your consultancy services in any capacity. You will be able to liaise with the business on whether you decide to take the role of an advisor, or a more active position in promoting their business or being their assistant.
4) Language Centre and Diplomatic Assistance:
The fourth best business to start in Switzerland to start in 2023 is in the industry of providing diplomatic assistance as well as language centres. Switzerland is known to be one of the world's most prominent places to conduct work and business, and is home to major headquarters such as the United Nation, European Union and other important international agencies or bodies.

With officials, business employees and diplomats coming over to the country, it presents a great opportunity to set up diplomatic assistance as well as translators to help provide better services to the aforementioned individuals.
Conclusion:
Engage Tetra Consultants as we guide you on how to register a company in Switzerland through a smooth and hassle-free process. The team provides a comprehensive service package that includes planning and strategizing with our clients to select a suitable business entity, completing the registration and documentation processes, obtaining required licenses, opening a corporate bank account, and ensuring your compliance with the government regulations. 
Contact us to find out more about company registration in Switzerland and our dedicated and experienced team will revert within the next 24 hours.4 Best Business to Start in Switzerland in 2023