The archipelagic country, Indonesia, has come a far way in transforming its fragmented islands into the largest economy within the region of Southeast Asia. The country managed to produce USD$1.06 trillion in 2020, placing it in the 16th position amongst various other economies in the world. Indonesia is one of the most linguistically diverse nations in the world, being the home for over 300 different ethcnic groups with over 700 different languages spoken. The country also engages in various trade relations with many countries, exporting to major economies such as China, Japan, South Korea and Singapore. Indonesia's exports account for 20% of its GDP and the rest of the businesses are mostly domestically driven. The country has displayed an incredible growth rate over the years and is estimated to maintain a 5%~6% positive growth rate between 2021 to 2026. The growth potential of Indonesia can be largely attributed to the RPJM program which is a 20 year long development plan based on the country's economic planning. Given its sound economy and abundant resources, many foreign investors want to set up company in Indonesia. But before you decide to register company in Indonesia, allow Tetra Consultants to share the 4 most profitable business in Indonesia in 2023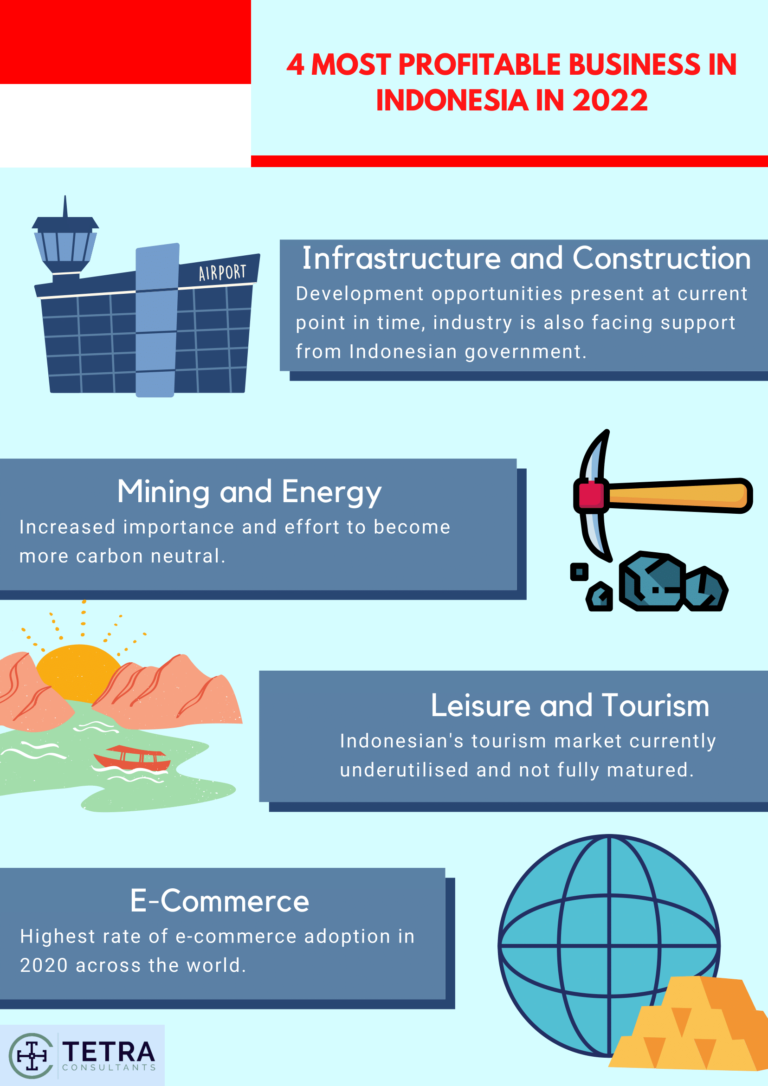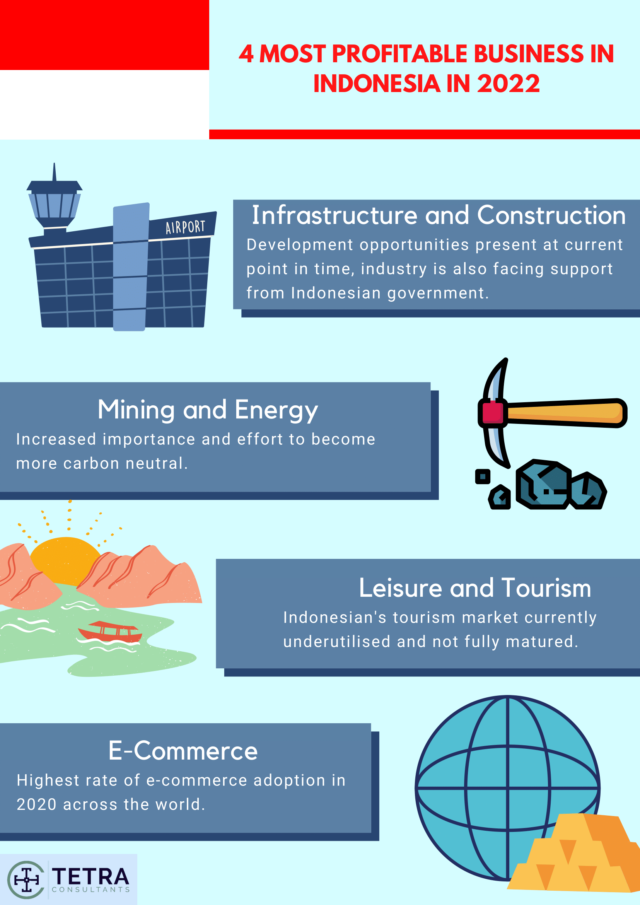 1. Infrastructure and Construction:
One of the most profitable businesses in Indonesia to start in 2023 is in the infrastructure and construction industry. The infrastructure across Indonesia is not considered fully  established and presents room for further improvement and investments, especially considering that better infrastructure also means an increase in the speed of the country's development and business opportunities. The Indonesian government is well  aware of the importance of better infrastructure and has increased efforts to improve the infrastructure of Indonesia. Currently, the country suffers from a lack of roads, harbours, airports as well as bridges, and more often than not, existing means are often in poor quality. The government has mentioned that it aims to invest around $430 billion into the country's infrastructure between 2020 to 2024 in order to improve the connectivity. The country's infrastructure platform allows for an attractive investment in 2023 as Indonesia continues to seek to improve its connectivity, both domestically and internationally.
2. Mining and Clean Energy:
The mining and clean energy industry is another profitable business in Indonesia to invest in during 2023. Indonesia is rich in commodity resources, particularly in coal, natural gas, metals and other agrarian products. Given its abundance of resources, it is natural that Indonesia is a major exporter in providing these resources to other countries.

Indonesia remains a significant player within the global mining industry, producing a significant amount of highly demanded resources such as coal, copper, gold, tin, bauxite as well as nickel. The mining industry has displayed a resounding positive growth trend throughout the years, and is one of the key sectors that contributed to Indonesia's economic growth over many decades.

Indonesia's energy mix is highly reliant on the input of fossil fuels, creating a negative contribution to the global environment. Under the United Nations Framework Convention on Climate Change (UNFCCC), the Indonesian government has pledged to reduce greenhouse gas emissions by 41% compared to business as usual scenarios with the assistance of various parties. This presents the opportunity for firms specialised in clean energy to enter the industry. Furthermore, there are climate investment funds such as the Clean Technology Fund (CTF) used to allocate USD$400 million to rapidly scale-up Indonesia's harness of geothermal energy sources. 
3. Leisure and Tourism:
With the global pandemic of Covid-19 stabilising, many countries have decided to re-open their borders for both vaccinated business and leisure travellers. Indonesia has over 17,700 islands, captivating beaches and diverse landscapes that makes the country an attractive destination for tourists. During 2019, prior to the disruption of the pandemic, the tourism sector accounted for 4.97% of the country's GDP and recorded a total of 16.1 million foreign tourist arrivals. The tourism sector in Indonesia remains largely underutilised and is under regional development to further enhance its attractiveness. This presents a good opportunity for leisure and tourism firms to enter the market, making it one of the most profitable businesses in Indonesia to start in 2023.
4. E-Commerce:
Indonesia has one of the world's highest rates of e-commerce adoption in 2020, which could likely be propelled by the Covid-19 outbreak. According to the International Trade Administration of the United States,  close to 90% of Indonesian internet users aged between 16 to 64 years have purchased a product from various online services and e-commerce platforms. The e-commerce industry was valued at over USD$30 billion in gross market value in 2020 and is expected to reach USD$83 billion in 2025, fueled by changing consumer behaviours seeking convenience. The internet users of Indonesia is measured at approximately 202.6 million users as of January 2021, with the majority of the consumers using smartphones to complete their online transactions. The trend is expected to continue on beyond 2021 as the global pandemic virus continues to persist, making e-commerce one of the most profitable businesses in Indonesia to start in 2023. 
Conclusion:
Engage Tetra Consultants as we guide you on how to register business in Indonesia in a smooth and hassle-free process. The team provides a comprehensive service package that includes planning and strategizing with our clients to select a suitable business entity, completing the registration and documentation processes, obtaining required licenses, opening a corporate bank account, and ensuring your compliance with the government regulations. 
Contact us to find out more about company registration in Indonesia and our dedicated and experienced team will revert within the next 24 hours.