The Republic of Mauritius, a popular tourist destination island located about 2,000 km off the coast of Africa in the Indian Ocean is starting to see popularity in foreign investments and incorporation. The country that was once agrarian dependent and fully involved in tourism to support its economy has improved tremendously across recent years, transitioning itself from a low-income nation to an upper middle class income economy. This can be credited to the nation's development in the field of manufacturing, textile and apparel exports, Information Technology (IT) industry and also its financial services industry. The mixed developing economy of Mauritius has attracted the attention of many foreign investors to think about setting up a business in Mauritius as a result of its political and socio-economic stability and pro-investment climate. Before you register company in Mauritius, do allow Tetra Consultants to share 4 things to know before you register business in Mauritius to help in your consideration.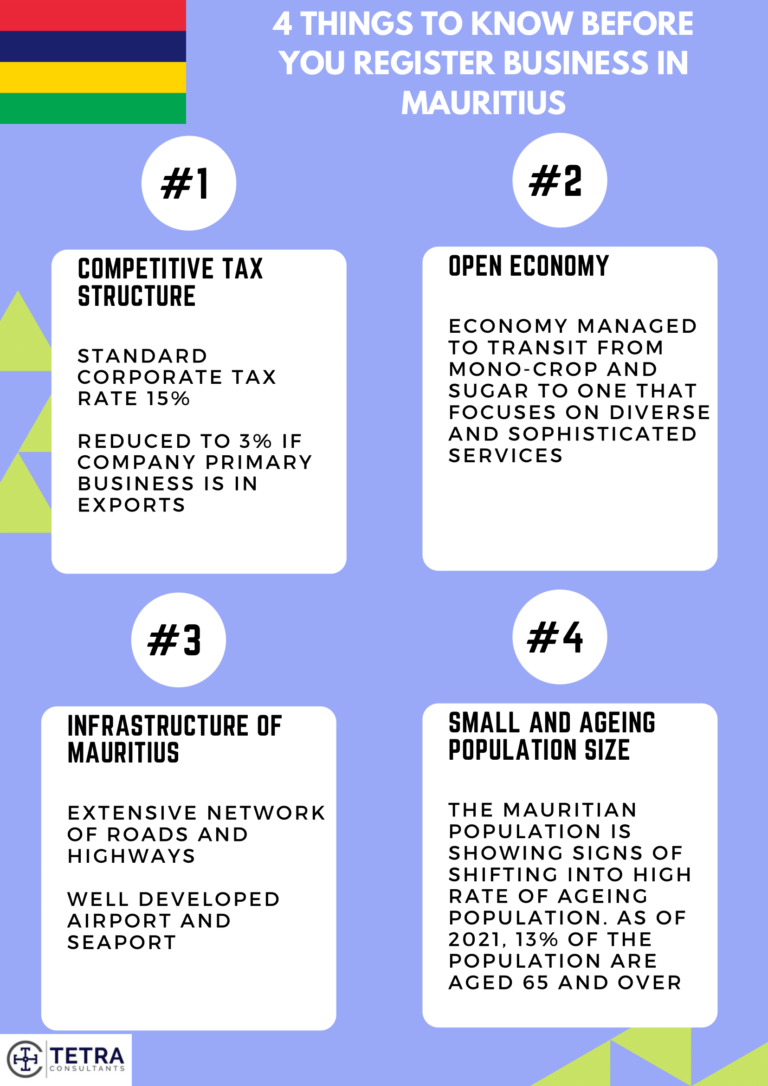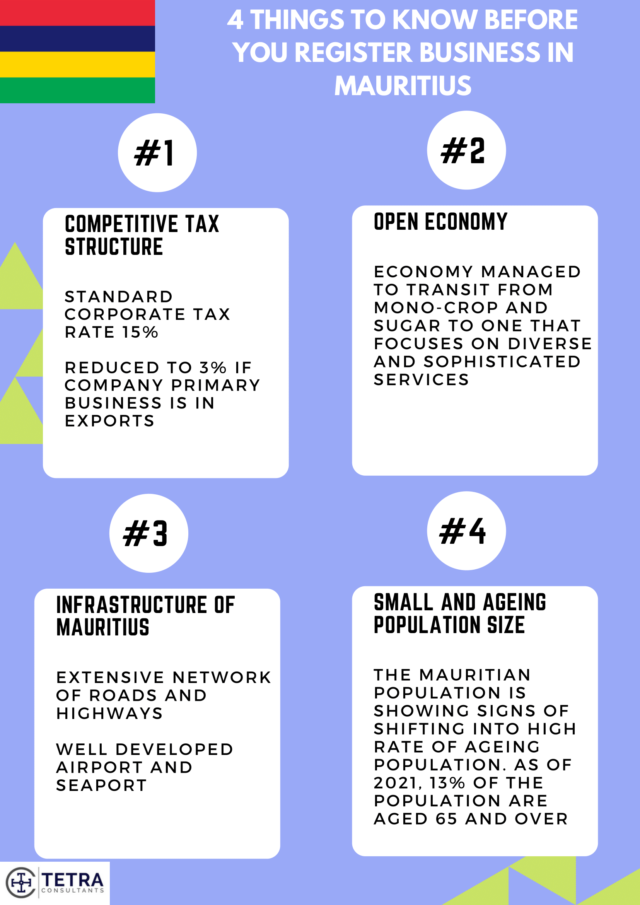 1) Mauritius's Competitive Tax Structure 
The first thing to know before you register business in Mauritius is the international tax structure of the jurisdiction. Mauritius maintains a standard corporate tax rate of 15% on a company's chargeable income which consists of business or trading profits. Normal business expenses are deductible in computing the taxable income. While the standard corporate income tax rate is maintained at 15% , companies whose main source of business and trade lies in exporting of goods are subject to tax rate at 3% instead on chargeable income received from its exports. In addition, there is foreign tax relief available for companies who hold a category 1 global business license (GBC 1 company). A resident corporation whose purpose is to conduct business outside Mauritius may apply for a GBC 1 company license to receive tax credits equivalent to 80% of the tax payable, effectively resulting in a maximum corporate tax rate of 3%. The GBC company license is only given to companies who are ascertained to have valid economic substance in the jurisdiction and if they adhere to legal and public policies on business operations. Furthermore, Mauritius does not levy withholding taxes on dividends earned. This rule applies to interests earned as well, with the exemption of companies that are non-resident in Mauritius. If so, those companies will be subjected to a 15% withholding tax rate on any interests earned.

2) Open Economy :
The second thing to know before you register business in Mauritius is that  the jurisdiction has an open economy that offers a pro-business climate for investors across the world to set up companies in. The Mauritian Economy is considered to be one of the fastest growing economies in the region of sub-saharan Africa. Within the span of three decades, the country was able to transit from a mono-crop and sugar dominated economy into one that offers both diversified and sophisticated services, displaying an impressive track record so far. While its traditional and fundamental sectors like agriculture and tourism remain strong, the country is experiencing new emerging sectors such as the financial services sector and major developments in the field of Information Technology (IT) which are expected to join the ranks of being the country's top Gross Domestic Product (GDP) contributor in the near future. This moment of rapid transition has allowed the country to elevate into a middle-income status, with promising results for its economy.

Not to mention, Mauritian based investors are also very receptive to working with international partners, resulting in increased numbers of joint ventures in both traditional and emerging sectors of the country.
3) Infrastructure of Mauritius:
The third thing to know before you register business in Mauritius is the infrastructure quality of the country. The island has an extensive network of roads, highways as well as both air and sea ports. While there has been considerable work done in terms of infrastructure building, there is still room for improvement in terms of offering additional roads and highways to further connect the country as Mauritius still faces significant traffic congestion issues. However, the Mauritian government is actively taking part in offering a more reliable and efficient infrastructure system through massive funding and investments in upgrading infrastructure works. 
4) Small and Ageing Population Size:
The fourth thing to know before you register business in Mauritius is that the demographics of the Mauritian population are showing stable and confident signs of shifting into a high rate of ageing population. To note, Mauritius also has a considerably small population size of about 1.26 million recorded in 2020. This presents a local market size that is not only small but there will be increasing demand for products and services skewed towards provision of healthcare, caretaking as well as social support. Foreign investors have to account for this shift in dynamic into their business plan as well. As of 2021, 13% of the Mauritian population are aged 65 and over.
Conclusion:
Engage Tetra Consultants as we guide you on how to register a company in Mauritius  through a smooth and hassle-free process. The team provides a comprehensive service package that includes planning and strategizing with our clients to select a suitable business entity, completing the registration and documentation processes, obtaining required licenses, opening a corporate bank account, and ensuring your compliance with the government regulations. 
Contact us to find out more about company registration in Mauritius and our dedicated and experienced team will revert within the next 24 hours.