Australia has always been one of the largest and most influential territories in the Asian-Pacific region, and on the global stage as well. It is the 12th largest economy in the world, and even holds the record for the longest period of uninterrupted Gross Domestic Product growth. With such achievements under their belt and allowance for 100% foreign ownership, it is no wonder that they have been able to attract such a staggering amount of foreign investment. Before you rush to register company in Australia, Tetra Consultants is here to share the four things you need to know if you plan to register company in Australia as a non-resident. 
Pros and cons of

setting up a company in Australia 

Resident director requirement

Non-travel banking solutions 

Visa application and residency
What to know when registering company in Australia as a non-resident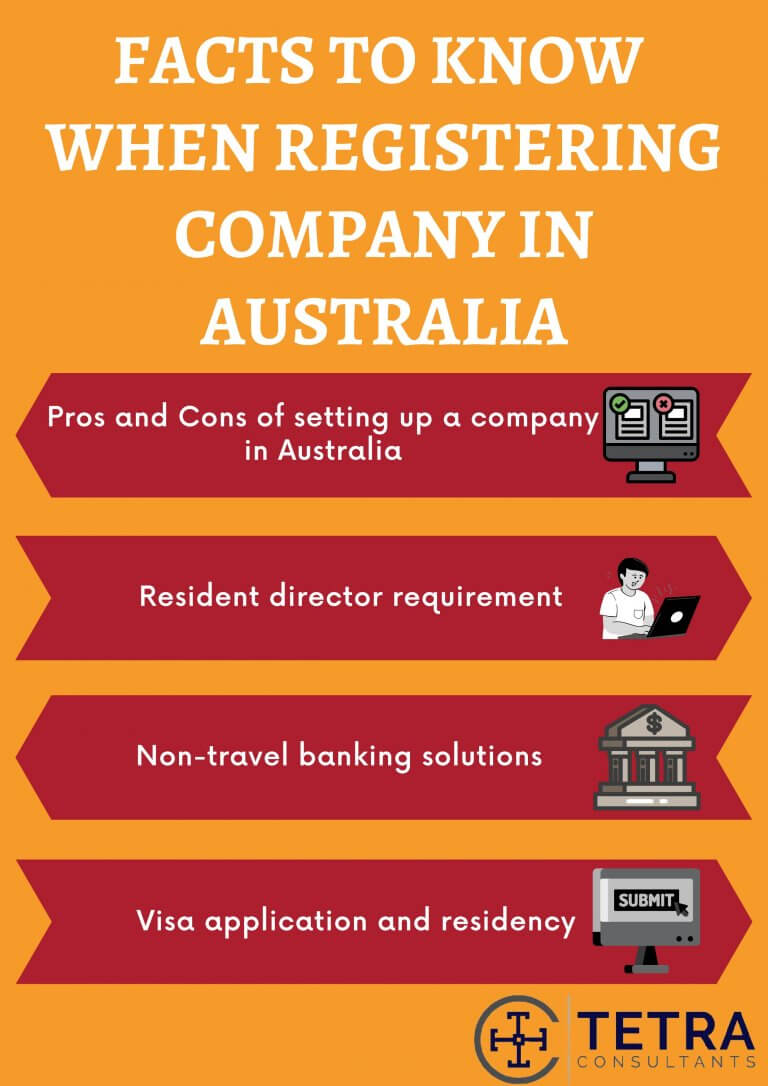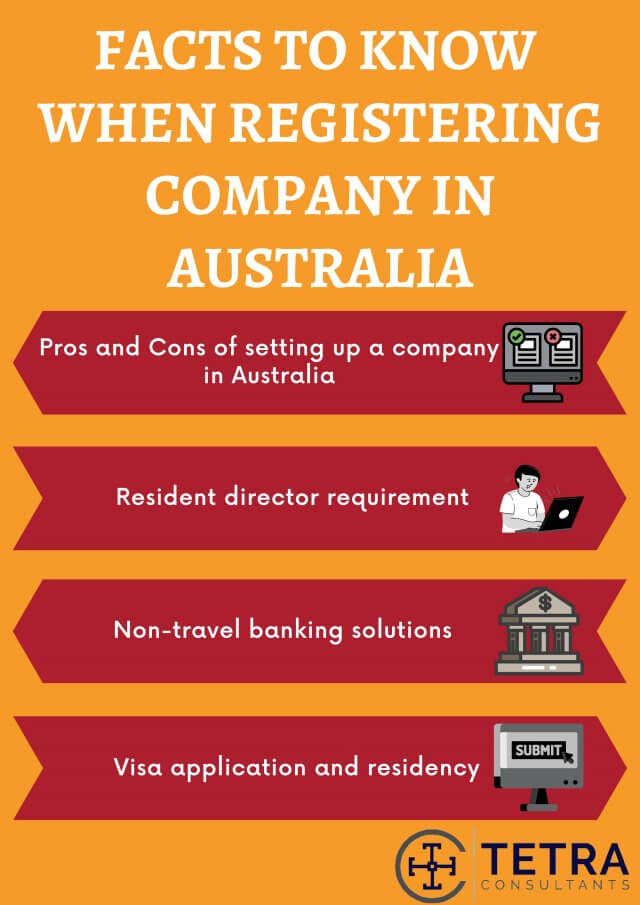 #1 Pros and cons of setting up a company in Australia
Pros
Australia scores well on many global indexes and rankings, which is a testament to the country's political and economic stability. This goes to show that there is a transparent and well-regulated framework in place to facilitate international trade and business. Australia is also remarkably progressive, being one of the few countries in the world to actively regulate and license cryptocurrency. 
Australia is also a party to many trade agreements. This facilitates the free flow of goods and services to these countries since tariffs and trade barriers have been reduced. This makes it easy for your potential company to do business. Some of their trading partners include:
ASEAN

United States of America

China
Cons
Unfortunately, these pros do come at certain costs. Australia ranks 11th on the Numbeo Cost of Living Index 2021. This represents a high cost of living, and by extension doing business in the country. More importantly, company registration fees, compliance costs, and annual fees might be slightly higher compared to other jurisdictions. Registration for a foreign company costs US$390, while the equivalent would cost only US$230 in Singapore.
#2 Resident director requirement
Australia company registration requires at least one resident director. This director must be an Australian citizen or permanent resident and spend at least half a year (183 days) in Australia. This person is to serve as the local point of contact in the country for communication with local banks or government officials.
This position can also be filled by a nominee director. However, it might be difficult or time-consuming for foreigners to source a nominee director due to a lack of contacts or networks. For those who require it, Tetra Consultants provides nominee director services for our international clients starting a small business in Australia to easily satisfy this requirement. We will provide KYC documents of our nominee directors for transparency, and also draft a legal agreement to indemnify you and ensure that the nominee director wields no decision-making authority in your company. 
This will provide you with a cost-efficient and convenient way of not only satisfying the resident director requirement but also offer you added privacy since your name would not appear on the Registrar of Companies.
#3 Non-travel banking solutions 
Most Australian banks would need a local representative to be physically present during bank account opening. This might discourage investors who are keen to register company in Australia as a non-resident due to the hassle and added cost of travelling. 
However, an added perk of our nominee director services is that this director can visit the bank on your behalf, providing a convenient travel-free avenue of opening a corporate bank account for your new business. 
#4 Visa application and residency 
Foreign business owners who are intending to be more hands-on in the management of their new Australian company should also consider the type of visa they would need to enter the country. There are several options which include the Business Innovation and Investment (Provisional) visa, business talent visa, or the venture capital entrepreneur stream. These are semi-permanent options and come with additional minimum requirements in terms of funding or assets. After holding these visas for 4 years, investors can subsequently apply for a permanent visa or apply for citizenship. 
Australia has a high standard of living and healthcare, making it a good retirement option for many people. 
How we can help you register company in Australia as a non-resident
Australia is an attractive jurisdiction to set up business in, but there are a few things you must consider before you proceed to register company in Australia. Let Tetra Consultants take you through the whole process of Australia company registration, from company name registration in Australia to tax filing.
Contact us to find out more about our comprehensive suite of Australian company incorporation services and our team of experts will revert within the next 24 hours.