One-Stop Solution for Japan Company Registration
Japan company registration is straightforward if you are familiar with the process. With Tetra Consultants leading the engagement, you will be able to channel your time and energy into other more important aspects of business.
With our lean-and-mean mentality, you can rely on our experienced team to provide you a seamless experience throughout the whole process of Japan business set up. Our ultimate goal is for you to conduct business with your Japan company within the stipulated time frame.
Our service package includes everything you will require to register company in Japan:
Company registration with the Japan Registry Office (Houmukyoku)
Local company secretary and registered office in Japan
Opening local or international corporate bank account
Provision of Japan nominee director
Tax registration
Annual accounting and tax services
How long does it take to establish a Japan company and open Japan corporate bank account?
Tetra Consultants will complete Japan company registration within 3 weeks. After receiving due diligence documents of the directors and shareholders, our team will search for the availability of your preferred company name and prepare all required incorporation documents.
Throughout the Japan company registration process, you will not be required to travel to Japan. This can be completed remotely.
After Tetra Consultants has set up your Japan company, you can expect to receive the documents of your new company including the certificate of formation, Memorandum and Articles of Association as well as register of directors and shareholders.
These documents will be in Japanese. If you wish, Tetra Consultants will provide you with the translated versions in your preferred language.
Within 4 weeks upon company registration, Tetra Consultants will open a corporate account with a local or international reputable bank.
Consequently, you can expect your Japan company to be fully operational and ready for business within 7 weeks from engaging Tetra Consultants.
If you are keen to know more about the process, Tetra Consultants has prepared a step by step guide for the full process required for Japan company registration and our offered services in Japan.
Can foreigners start a business in Japan?
Foreigners are free to start a business in Japan since there are no requirements that directors must be Japanese. However, Tetra Consultants recommends appointing a local representative director who is fluent in Japanese. As such, he will be able to communicate with local bankers and open corporate bank accounts.
According to Japan Registry Office, the minimum requirements for a Japan Limited Company are:
1 shareholder of any nationality
1 director of any nationality
A Japan local registered office address
No minimum paid up capital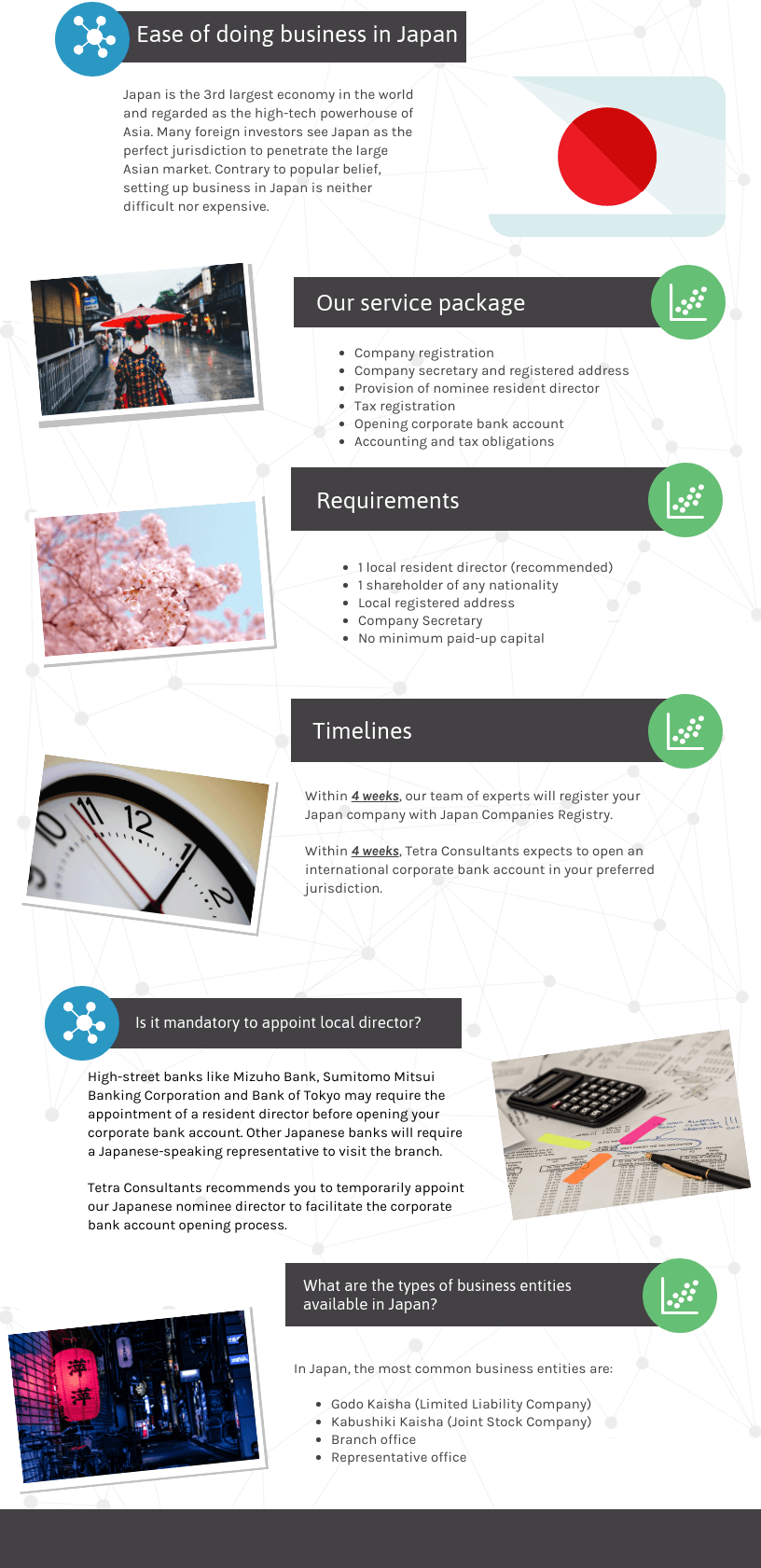 Types of Companies in Japan
There are different company structures in Japan, each tailored for different types of businesses. When deciding the most suitable company type, it is important to consider various factors that include but are not limited to availability of personal liability protection, tax ramifications, ownership and management flexibility as well as compliance requirements.
Each type of company in Japan will come with its distinctive features. Before the start of the engagement, Tetra Consultants will fully understand your business before recommending the most optimum type of company in Japan. Some considerations we take into account include the type of business activity, corporate tax obligations and nationalities of shareholders and directors. Our consultants will also offer more information on the requirements of setting up these entities.
Japan Limited Company (Godo Kaisha)
Japan Limited Company (Godo Kaisha), is a type of company in Japan that is typically recommended to investors with limited capital. By registering a Godo Kaisha (also known as limited liability company), you will be treated and viewed separately from your company in the eyes of the law. This means that in the event of a winding-up, you will not be personally liable for all the debts and obligations incurred by your business.
You will require one director of any nationality, one shareholder of any nationality as well as a local registered address.
Although not mandatory, Tetra Consultants recommends our international clients to temporarily appoint a Japanese nominee director during the process of company registration and corporate bank account opening. High-street banks like Mizuho Bank, Sumitomo Misui Banking Corporation and MUFG Bank may require the appointment of a local director before approving your account. In addition, other Japanese banks will require your business to send a Japanese-speaking representative to visit the branch.
Joint Stock Company (Kabushi Kaisha)
Kabushi Kaisha is a Joint Stock Company which is part of the umbrella of subsidiary companies. It is a popular form of company structure that large businesses choose because it allows them to gather investments. This includes venturing into stock options and convertible bonds. The liability of shareholders is limited to the value of their shares.
Requirements imposed to set up a Kabushi Kaisha is also fairly simple and minimal. A local registered address is required as well as a Japanese bank account to permit the deposition of capital funds. There is no specified minimum amount of share capital stipulated by the law. The amendments to the law in 2016 also make it redundant for you to nominate a representative director.
One can simply register a Kabushi Kaisha today without being a resident of Japan. Nonetheless, Tetra Consultants still recommends that you nominate this director as some banks continue to make it a requirement that a corporate bank account can only be opened with a Japanese resident.
General Partnership (Gomei Kaisha)
A Gomei Kaisha behaves similarly to a general partnership. The partners directly represent the company, and thus bear any liability incurred by the company as well. Corporate shareholders cannot establish a Gomei Kaisha.
There is no minimum capital requirement, and management of the company is easier since they have no shareholders to be accountable to.
Limited Partnership (Goshi Kaisha)
A Goshi Kaisha, otherwise known as a limited partnership, is very similar to the Gomei Kaisha. The key difference between these two structures is that a limited partnership has two tiers of partners, general partners and limited partners.
General partners are fully liable, similar to in a general partnership.
Limited partners are liable for whatever capital was contributed, but may not directly have a hand in managing or running the business, otherwise they might be held to the same level of liability as a general partner.
Representative Office (Chuzaiin Jimusho)
Supplementary to your foreign company, representative offices enable you to engage and explore the Japanese market. Legally permitted to conduct market surveys, collect information and promote your foreign parent company's business, Tetra Consultants recommends businesses looking to explore the Japan market to opt for this corporate structure instead.
However, it is also important to note that representative offices are restricted from engaging in any domestic sales activities. Hence, if you are looking to earn profits, this will not be ideal for you. Any agreements entered into by your representative office are also required to be signed by the foreign parent company. The parent company will also be fully liable for the representative office.
Branch Office (Shiten)
The simplest way to expand your foreign business presence, setting up a branch office will allow you to commence business operations in Japan. Ordinarily, a branch office is not expected to engage in independent decision making but rather is viewed as an extension to its foreign parent company.
In general, the debts and obligations of the Japanese branch office are to be ultimately responsible by the parent company. A Japanese branch office is however permitted to open bank accounts and lease real estate in its own name. The requirement of a local Japanese representative is also abolished. As such, it is a much simpler process to set one up now.
Sole Proprietorship (Kojin Jigyo)
The simplest form of business structure, Sole Proprietorship does not include the separation of legal personalities between the owner and the entity. As such, the owner and its entity are seen as one and the same. While this simplifies operations, it can lead to frustration in the event of a winding up.
In the case of a winding up, the proprietor can be personally liable for all debts and obligations incurred by the business. Any transfer of business is not allowed and hence, there is no continuity. Unlike other business structures, Sole Proprietors are required to report their business income under their individual federal tax returns.
If you are looking to set up a small business (minimart, art studio, bakery, etc.) yourself or within your family that includes the advantages of an easy startup and complete control, Sole Proprietorship may be the business form for you.
To set up a Sole Proprietorship, you should have a work visa, Long Term Resident visa, Permanent Resident visa or be the Spouse of Permanent Resident visa or Japanese National visa.
How to register company in Japan?
Having already covered the company types in Japan, we now look at the specific procedure of how to register company in Japan.
Step 1: Structuring the company
Investors must first choose the structure of company that best suit their needs. Before every engagement, Tetra Consultants will fully understand your business model in order to recommend the most suitable business structure to meet your long-term business needs.
These business structures do not enjoy limited liability and are thus not that recommended unless for the specific purposes mentioned in the earlier section.
In our experience, most investors' needs would suit that of the Japan Limited Company (Godo Kaisha, GK) or the Joint Stock Company (Kabushi Kaisha, KK). This is because these two company structures offer a good mix of continuity and liability protection.
Step 2: Choosing between a KK and GK
Compared to a KK, a GK is cheaper, easier, and faster to incorporate and allows flexible profit-sharing independent of number of shares held. However, a KK would be more suitable for those looking to deal with Japanese companies or issue shares in the future, since the KK is the more established and credible company structure, with the GK being newly introduced in 2006. Investors need not worry about locking themselves into one type of company as they can convert between these two structures after company registration.
Step 3: Name Reservation
Investors should then decide on the basic details of their company, such as business objectives and company name. This company name should not be vulgar, misleading or contain any existing trademarks. It should also not be similar to any existing company names. Tetra Consultants will assist our client to do a Japan company registration number search to ensure the chosen name is unique so as not to delay the incorporation process.
Step 4: Preparation and notarization of supporting documents
The supporting documents should be prepared, beginning with the articles of incorporation (which should also be notarized for the KK). This document should contain all the important details of the company, in particular, it should contain the organizational structure and internal control regulations needed to properly manage the company.
Additional documents to be prepared are the proof of deposit of the capital, notification of the company's seal, and a letter of agreement stating that the directors are willing to take on the appointment. In the case of foreign directors, this letter should be notarized. Once all these are prepared, the application can be sent to the company registration authority in Japan, the Japanese Legal Affairs Bureau (Homukyoku).
Step 5: Paid-up capital and corporate bank account opening
Even though the minimum paid-up capital to open a company is 1 yen, this is not practical in terms of running the business, and also because it would make it harder to open your corporate account with Japanese banks. For the same reason, even though the director does not need to be a Japanese resident, we would encourage our clients to temporarily appoint one to make it easier to deposit the starting capital and subsequently open the corporate bank account for you. Tetra Consultants works with several reputable banks and can also help you to open your local or international corporate bank account.
Step 6: Financial reporting and shareholders' meeting requirements
Approval is expected to take three weeks, after which you will receive your 13-digit Japan company business registration number and certificate of company registration. The company and the director can now proceed to register for their seals. Our team of experts will also help to prepare your firms annual returns and financial accounting as per the 4 accepted standards for annual fiscal year reporting. These must then be presented at the shareholders' meeting for each fiscal year.
Step 7: Tax registration
Companies must also use their Japan company tax registration number to register and notify the National Tax Agency of establishment of an office paying salaries, as well as with the municipal authorities for local inhabitants and enterprise tax. This number will be the same as their business registration number. The effective tax rate after factoring in national corporate tax and local inhabitant tax will be a minimum of 30% for Japanese corporations with share capital above JPY 100 million.
Step 8: Applying for visas and business licenses
Last steps will be to apply for any other required licenses, such as a cryptocurrency license. Companies should also note that if they would like to have a closer hand in running the business from within Japan, they may also apply for the Investor/Business Manager Visa. For this, they would need a physical office address and a minimum paid up capital of JPY 5 million (around US$45,000). Relevant notifications will also have to be made to the labour standards, public employment security and pensions offices that the respective Rule of Employment and insurance policies have been set up.
Is Japan a good place to start a business?
Political
According to Transparency International's 2020 Corruption Perceptions Index, Japan is ranked 19th among 180 countries when it comes to public sector corruption. This suggests that Japan is a relatively corrupt-free country.
In May 2018, Japan passed the first national law meant to facilitate equal filling of male and female political candidates during elections. This suggests that Japan respects women's rights.
Economic
Japan is the third-largest economy in the world with $5.15 trillion based on its nominal Gross Domestic Product as of 2019. This is expected to be $5.37 trillion based on the International Monetary Fund's 2021 estimates.
The Japanese yen is said to have derived its strength from foreign assets and currencies. The low cost of borrowing in yen makes it an attractive vehicle especially in the field of funding and investing.
The Japanese government has placed greater pressure on Japanese employers to raise workers' wages. This could mean that labour costs in Japan may be more expensive.
Social
Japanese is the official language of Japan. According to the Education First's English Proficiency Index, Japan is ranked 55th among 100 countries when it comes to proficiency in English. This suggests that you may potentially run into language issues when communicating in Japan.
More than 20% of Japan's population is over 65 years old, the struggle with Japan's aging society can potentially lead to a decline in its economy.
Technological
As introduced by the previous Japanese Prime Minister, Shinzo Abe, the "Data Free Flow with Trust" initiative suggests Japan's commitment towards innovations.
The Government of Japan is heading towards a vision of Society 5.0. Society 5.0 aspires to be a society where innovations of the fourth industrial revolution are included into every industry and the Japanese social lives.
Legal
Japan's taxation laws generally include various tax exemption and reduction schemes that are meant to encourage investment in Japan.
While Japan's judiciary is said to be largely independent, it is also important to note that the only way to remove a judge in Japan is through impeachment. Based on the Japanese Constitution, politicians can decide if a judge should be impeached. This suggests that there could be a potential infringement in the judiciary's independence.
Environmental
The unfortunate Fukushima Daiichi disaster have also brought along several environmental problems such as ocean pollution.
Japan is highly vulnerable to many natural disasters such as tsunamis, floods, typhoons, earthquakes, cyclones and even volcanic eruptions. These disasters have negatively affected its economy.
Contact us to find out more about how Japan company registration certificate can be obtained. Our team of experts will revert within the next 24 hours.
Find out more!
FAQ
Does Japan have a company register?
The Japanese company register is maintained by the company registration authority in Japan, the Japanese Legal Affairs Bureau (Homukyoku).
How do I register a company in Japan?
Registration of a company in Japan can be done through the Japanese Legal Affairs Bureau (Homukyoku). Tetra Consultants is able to assist you in this process with our full suite of Japanese company registration services.
How do I register my small business in Japan?
Registering a small business will have the same steps as above but will be simpler and have less requirements if you are going to incorporate a private limited company or partnership as opposed to a public limited company.
How much money do you need to start a business in Japan?
There is no minimum paid-up capital requirement for starting a business in Japan. However if you are planning to apply for Investor/Business visa, you should budget approximately US$45,000 as paid-up capital.
Is it hard to do business in Japan?
Some possible challenges that companies might face are in finding suitable human capital. Japan faces an aging population, and there are numerous calls from the Government for higher pay. This might make it harder and more expensive to hire workers, and even more so if they need to be English speaking since Japan ranks relatively low in English proficiency.
What is a good business to start in Japan?
The Japanese economy is mostly driven by the services sector, accounting for 68.7% of total economic output i. In particular, their financial and banking sector is a bedrock of their economy, with the Tokyo Stock Exchange having 2,292 companies listed, making it the 3rd largest globally and the 2nd in Asia.
What business is Japan famous for?
Apart from the services sector, the electronics and automobile manufacturing businesses are also key drivers of the Japanese economy, with a particular emphasis on high-tech goods and innovation.
Do I need license to sell online in Japan?
Licenses are needed when dealing in certain categories of goods, this includes second-hand goods, food, cosmetics, health and health food products, or alcohol.
How many companies are registered in Japan?
There are more than 4 million registered enterprises.
How do I open a Japanese business bank account?
The requirements depend on individual banks, but most banks would first want to see a personal account with the business' capital pre-deposited, and might even need a Japanese speaking representative to be physically present at the bank. If required, Tetra Consultants is happy to assist our international clients with guaranteed corporate bank account opening services.
How to check company registration number in Japan?
This can be done on the website of the National Tax Authority using the name or address of the company.