China, the country which currently holds the world's largest population in 2021 (18.47% of the world population which represents about 1.44 billion people), has demonstrated an exceptional growth rate in the country's GDP and technological advancements. Being part of BRICS, which is an association of supposedly emerging countries, the country has managed to climb its way to the top few rankings in terms of GDP, taking the 2nd place with a total production estimated to be worth 16.8 trillion USD. Notwithstanding its overwhelming rate of growth and production, the country is also known for its cheap labour and production costs which has managed to entice big companies to register company in China and outsource their various production lines to the country. Before you find out how to register company in China, join Tetra Consultants as the team shares with you x types of companies in China and their comparison.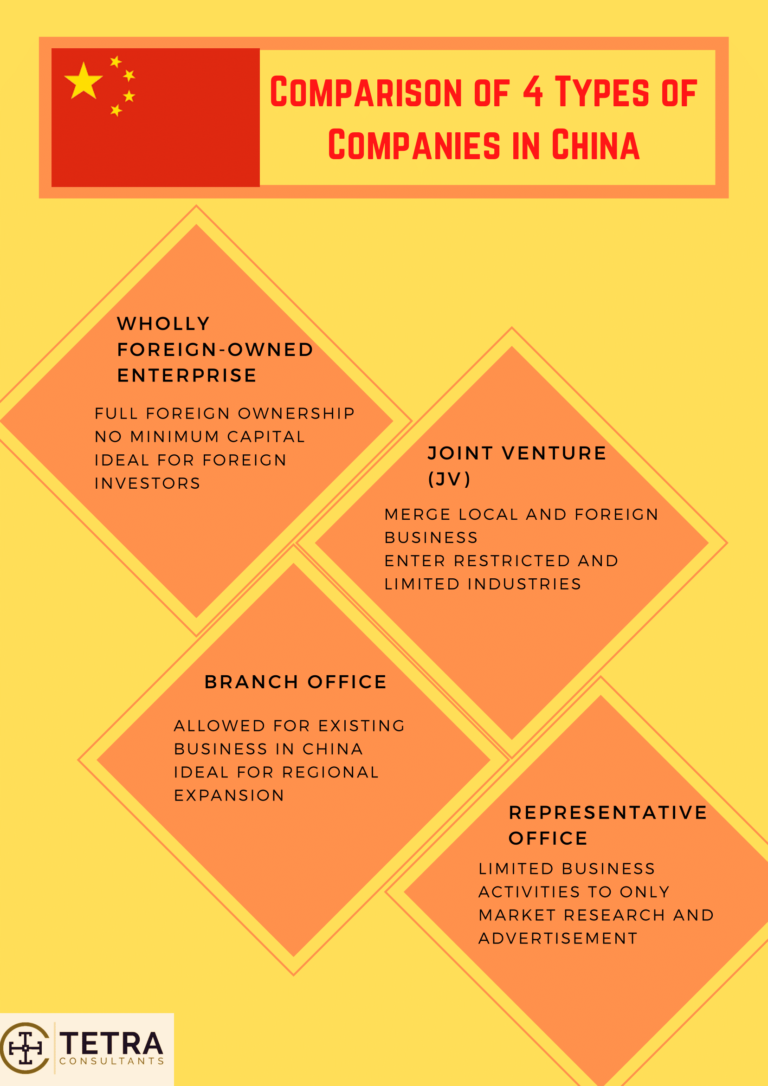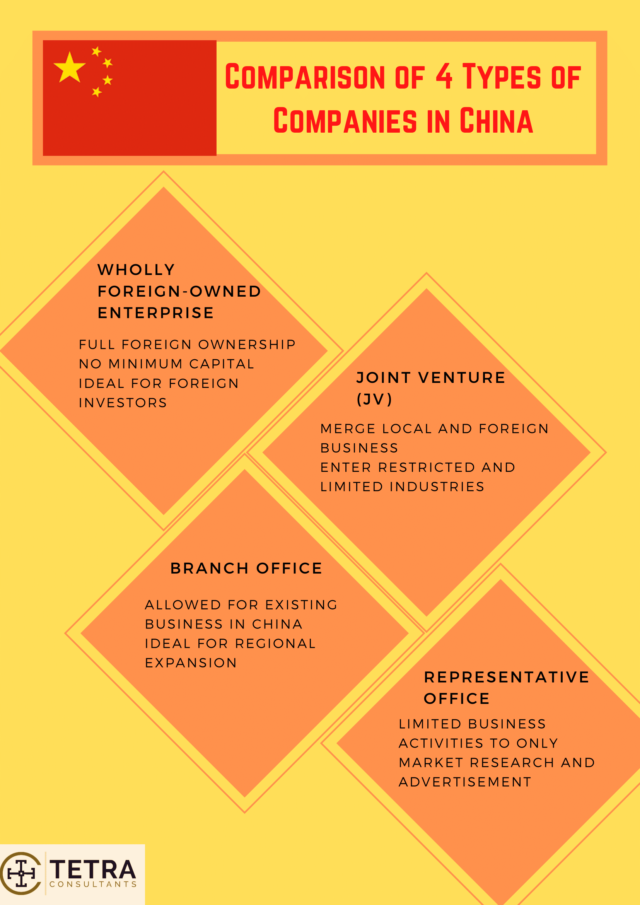 #1 Wholly Foreign-Owned Enterprise (WFOE):
One of the types of companies in China that could be set up is the Wholly Foreign-Owned Enterprises, or simply known as WFOE. The WFOE is one of the most common types of business entities owned by foreigners when they choose to incorporate in China. This structure of a company is allowed to be set up across all industries that are opened to Foreign Direct Investment (FDI) and population industries that WFOE has been set up includes: consulting, manufacturing, services, higher-end technology, food and beverage. The WFOE is largely comparable to the characteristics of a Limited Liability Company (LLC) but in general, this specific type of company offers foreign businesses opportunities to compete with local competition.

To set up an WFOE, a minimum of at least one foreign investor or shareholder is required to be outside the country China. Countries which have varying degrees of sovereignty ties to China, such as Macau and Taiwan do fall in this category as well and are qualified to be considered the "foreign investor" as well. A director, or board of directors have to be appointed under the WFOE, of which the director position can be held by the pre-identified foreign investor as well. In addition, a general manager, legal representative and a supervisor have to be identified prior to incorporation of a WFOE. In general, no minimum share capital is required but companies incorporating under this structure usually declare an investment capital of RMB 1,000,000 or an equivalent amount ranging around USD 140,000. The declared share capital need not be all paid upfront and companies are allowed to do so within the span of 2 years. Companies have to 20% of the share capital paid up front while the remaining amount must be deposited onto an onshore banking account within 2 years as mentioned. To start a WFOE, you have to prepare the necessary due diligence documents, which has to be translated and notarised before submission to the Chinese authorities. The registration process can be quite tedious and complex as it requires the approval of various authorities such as the China National Development and Reform Commission, the People's Republic of China Ministry of Commerce incorporation, and the State Administration of Foreign Exchange. Post registration of WFOE will require additional company licensing and registration of taxpayer status.
Contact Tetra Consultants to outsource the complex procedures and tax payment requirements as we provide you a hassle free and seamless service to conduct your business in China.
2. Joint Venture (JV) :
Another type of company in China that you could find operating is the Joint Venture (JV) structure. The JV structure is considered another form of foreign enterprise where the difference lies in the results that it is formed from the merger of local and foreign businesses. Prior to the formation of the JV, there will be agreements established on the sharing of profits and losses made during the venture. The JV structure is usually capitalised upon for foreign enterprises to enter markets and industries where the government had placed limitations and restrictions upon. Such industries include automotive, tobacco and legal consulting services. The documentation and pre-registration preparation are similar to the WFOE model. However, given the nature of the JV structure, do expect procedures to be more complex as there have to be clear legal agreements set between the local company and foriegn enterprise entering the venture.
3. Branch Office:
The third type of company in China is known as the Branch Office. A Branch Office structure is usually set up to expand the parent company's geological reach and to conduct their core income generating activities in that particular jurisdiction, in this case China. The Branch Office structure does not qualify as a separate legal entity but rather an extension of the parent company starting up in China. This means that the parent company is subjected to any liability and obligations due by its Branch Office. It is also important to note that Branch Offices are only allowed to be set up by existing companies in the country, meaning that for foreign investors looking to set up a Branch Office, you should have prior ownership of an existing company in China. The Branch Office is subjected to the same requirements and tax obligation of a company (minimum one director and registered office address), and is ideal for regional expansion, not international expansion.
4. Representative Office:
A Representative Office is another type of company in China and is the most ideal for foreign investors to set up given its simple and swift procedures required. However, the Representative Office also faces its own set of heavy limitations and restrictions in terms of operations which has made it one of the uncommon types of company in China to be set up. Investors who wish to set up a representative office need to only register with the State Administration for Market Regulation (SAMR) as this specific company structure is subject to limitation of business activities to only market research and advertisement-related. For this reason alone, not many investors do set up Representative Offices in China unless their core income generating activity is heavily reliant upon the two activities.
Conclusion:
Engage Tetra Consultants as we make your registration of business in China a smooth and hassle-free process. The team provides a comprehensive service package that includes planning and strategizing with our clients to select a suitable business entity, completing the registration and documentation processes, obtaining required licenses, opening a corporate bank account, and ensuring your compliance with the government regulations. 
Contact us to find out more about company registration in China and our dedicated and experienced team will revert within the next 24 hours.