Due to the straightforward Australia company formation and incorporation process, the country is globally ranked 14th in The World Bank's Ease of Doing Business 2020. This is evident as the Australia company registration process only takes around 5 business days. With a long list of advantages of doing business in Australia, it is no doubt that numerous businesses are choosing Australia as their ideal country to set up their business in. However, before starting a company in Australia, in order to match your long-term business goals, it is crucial to have a good understanding of Australia's business landscape.
What are the types of business entities available in Australia?
In Australia, the most common business entities are:
   

Limited liability company (LLC)

   

Partnership

   

Trust

   

Branch office

   

Representative office
Advantages of doing business in Australia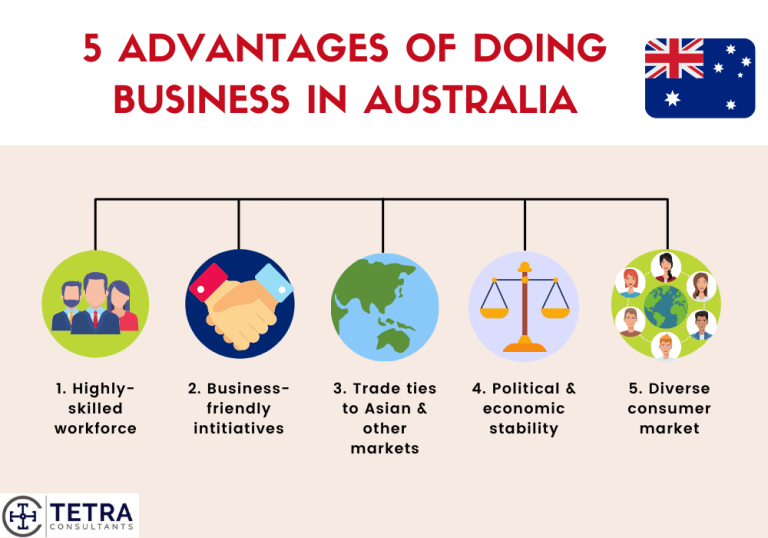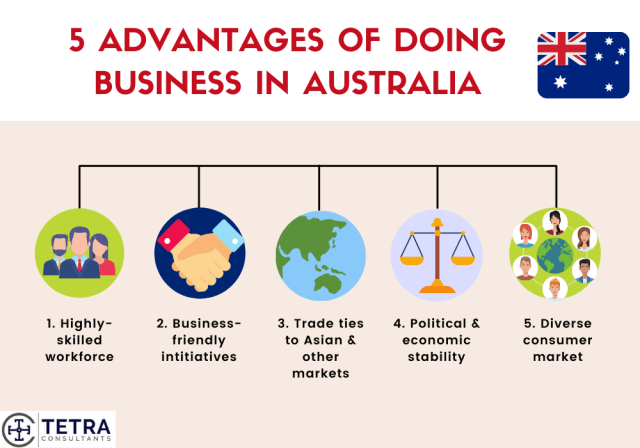 #1 Highly skilled workforce
Australia boasts a qualified pool of labour which can be attributed to the excellent quality of education and available resources to upskill employees. This is evident as the share of the Australian population that holds a Bachelor degree or above has more than tripled over the past 20 years and reached 39% in 2020. Australia also has a culturally diverse workforce, where almost 30% of workers were born overseas. This helps to bring in unique ways of thinking and the sharing of ideas, thereby boosting work productivity.

With English being the main business language of Australia, inconvenience for businesses will be minimised when conducting business transactions.
#2 Wide array of business-friendly incentives
One of the benefits of setting up in Australia is the wide range of business-friendly incentives. As such, over 96% of all businesses in Australia are small businesses. While the corporate tax rate in Australia is slightly steep at 30%, the Australian government offers a number of incentives to promote foreign investment in Australia, thereby making it easier for an investor to

set up a company in Australia

.

There are also generous R&D tax incentives that help to lower business costs. Entities engaged in R&D may be eligible for a 45% refundable tax offset if their turnover is less than $20 million per annum or a 40% non-refundable tax offset for entities with turnover above $20 million per annum.

Businesses in Australia are also entitled to Investment Allowance. It is an

additional tax deduction available for the purchase of plant, equipment and vehicles and encourages businesspeople to invest in income-producing business assets. The incentives provided demonstrate the Australian government's commitment to helping small businesses.
#3 Strong ties to Asian and other markets
Due to its close proximity to Asian economies like China, Hong Kong and Singapore, Australia provides investors with effective trading connections. Additionally, the nation currently has 15 Free Trade Agreements (FTA) in place and more under negotiation with numerous major economies. This suggests the extensive interconnectivity of the Australian economy.
#4 Political and economic stability
According to the IMF's World Economic Outlook Database, Australia is the 14th largest economy in the world. It is also the 11th highest in terms of GDP per capita. According to Transparency International, Australia Corruption Perceptions Index was ranked 12 out of 180 countries accessed in 2019. Australia stands out due to its stable political and economic environment, paired with competent leadership. Additionally, with the implementation of fair trading laws, competition and consumer laws, a conducive environment has been created for businesses to flourish in the long run.
#5 Diverse consumer market
As Australia has a large proportion of immigrants, this has led to a diversified culture with a diversified consumer market. This provides opportunities for businesses as they are able to expand the reach of their goods and services to a larger target audience.

Moreover, Australians have higher purchasing power which helps to create better conditions for businesses as people tend to spend more. According to the OECD Better Life Index, Australia ranks 5th for average disposable income per household.
Capitalize on the advantages of doing business in Australia
In conclusion, Australia has established its reputation as a business hub in the Asia Pacific region over the years. Therefore, the country remains a viable choice for investors to register their business in Australia.
Tetra Consultants provides our clients with a fast, easy and hassle-free way to start a new business. Our team of experts will guide you through the full process, including appointing a qualified nominee director, incorporating the company and opening a corporate bank account. 
Contact us now if you are looking to do business in Australia and we will revert within 24 hours.