Latvia adopts a pro-business climate that is supported by the Latvian government through the readily accessible provision of incentives and facilities. The country has also made remarkable developments in the industries of renewable energy, woodworks, manufacturing and construction, providing many opportunities in these areas. Apart from its growth rate, the country also received huge amount of Foreign Direct Investments (FDIs) due to its attractive tax regime that attracts many firms and foreign investors to set up companies in Latvia. The country was also ranked 19th out of 190 countries accessed under the 2020 Ease of Doing Business Index due the flexibility and low cost to register company in Latvia. Before you decide to register company in Latvia, allow Tetra Consultants to share 5 benefits of registering a company in Latvia.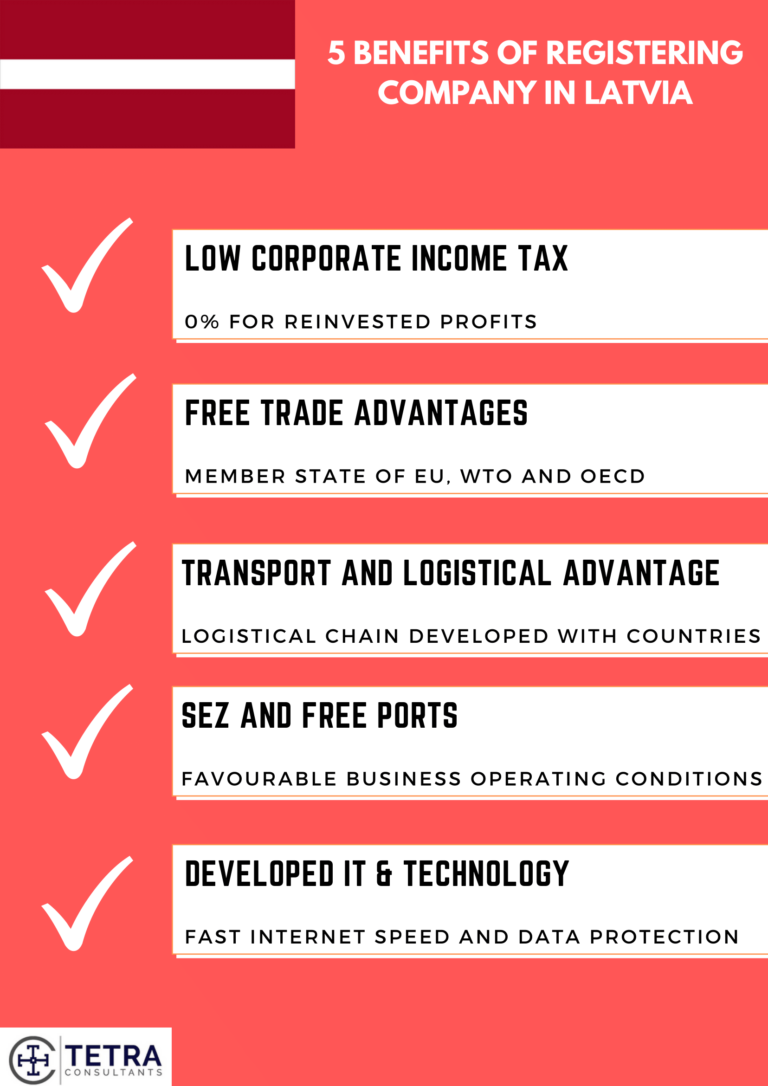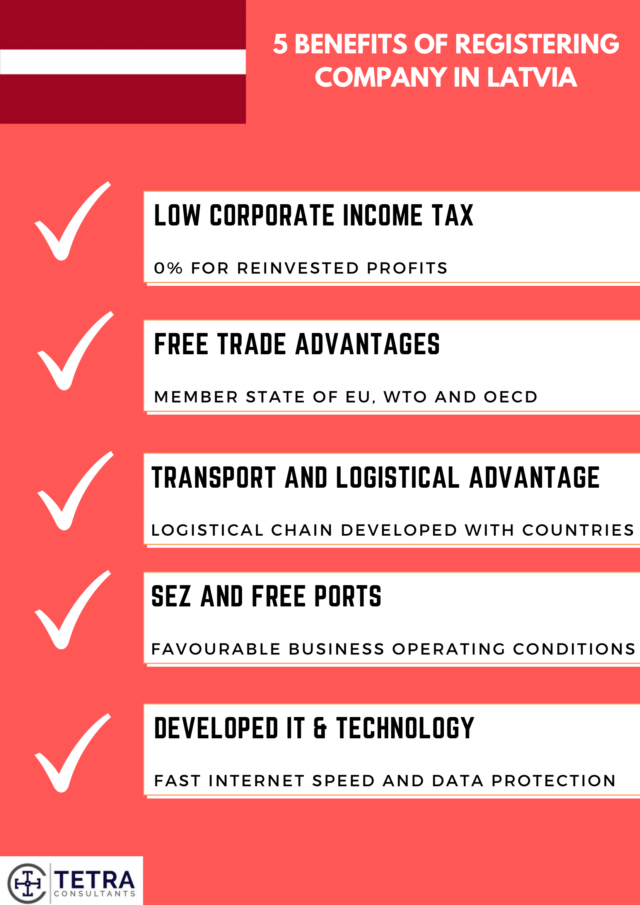 1) Low Corporate Income Tax:
The first benefit of registering company in Latvia is the attractive low corporate tax rate that the jurisdiction provides. From 2018 onwards, corporate income tax rates are charged at 0% for reinvested profits. This means that effectively, corporate income tax rates will only be paid when the company pays dividends or other forms of payments with the intention of actual profit distribution. If so, the corporate income tax rate will be charged at a rate of 20% for the distributed profit through various forms like dividends or any other purpose not directly related to business development. Apart from that, corporate income tax is only taxed at the federal level and not subjected to additional tax by states or municipalities. It is also important to note that all Latvian resident companies are required to pay corporate income tax, regardless whether their income is derived from inland or outside the jurisdiction of Latvia. Non-resident companies operating in Latvia will only pay the corporate income taxes related to income generated from Latvia.
2) Free Trade Advantages:
The second benefit of registering company in Latvia is the free trade advantages that operating a business in Latvia will provide you with. Latvia is a country and a member state considered under the European Union (EU). Apart from that, Latvia is also a participating member of the Organisation for Economic Co-operation and Development (OECD) as well as the World Trade Organisation (WTO). This gives rise to many trade opportunities and incentives between exports and imports among participating countries in these international bodies.
3) Transport and Logistical Advantage:
The third benefit of registering company in Latvia is the logistical and transportation advantage that the jurisdiction offers. Latvia has a favourable location that is located between EU states and large eastern markets, which places a lot of emphasis on well developed logistical chain and transportation services to facilitate the trades between the east and the west. Latvia's proximity to the EU's external border with Russia, Belarus and countries under the Schengen membership have significantly contributed to its national GDP. Latvia also has existing railway connections that connect the Baltic states to Poland, which further allows access to markets like Scandinavia and Russia via connection by extension.
4) Special Economic Zones & Free Ports:
The fourth benefit of registering company in Latvia is that the country has developed special economic zone (SEZ) and free ports to help promote businesses. Latvia in total encompasses three special economic zones (Liepaja SEZ, Rezekne SEZ and Latgale SEZ) and two free ports (Riga free port and Ventspils free port) which promotes favourable business operating conditions. For company operating in the zones, they are subjected to direct tax rebates of up to 35%, 45% and 55% according to different criterias. It is important to note that each different SEZ or free port has their own respective indirect tax rebates which can be found here. 
5) Developed IT & Technology :
The fifth benefit of registering company in Latvia is that the country is developed in terms of Information Technology. Latvia has one of the highest internet speeds among the top few countries measured. In 2012, a "Baltic Highway" was introduced and the purpose was to serve as a modern data transmission network. It not only increased the access speed of international web-based content, but provided opportunities to better linke East and West online service providers. The high capacity and developed internet infrastructure allows for data-intensive companies to consider registering business in Latvia. Additionally, the Latvian government also emphasizes data protection of which the country is part of the General Data Protection Regulation (GDPR).
Conclusion:
Engage Tetra Consultants as we guide you on how to register a company in Latvia in a smooth and hassle-free process. The team provides a comprehensive service package that includes planning and strategizing with our clients to select a suitable business entity, completing the registration and documentation processes, obtaining required licenses, opening a corporate bank account, and ensuring your compliance with the government regulations. 
Contact us to find out more about company registration in Latvia and our dedicated and experienced team will revert within the next 24 hours.