Georgia is a strategically located country, acting as the crossroads between Europe and Asia. Naturally, the country has transformed into a logistical transit hub between the two major economies. The country has traditionally displayed signs of stable economic growth up until the initial outbreak of the Covid-19 pandemic, and showed strong dramatical signs of recovery for post outbreak. Apart from its strategic location and traditional stable economic growth, Georgia also maintains strong foreign relations, developing bilateral ties with the European Union (EU), United States as well as huge economies from the eastern countries such as China. Free trade agreements such as the Association Agreement and a Deep and Comprehensive Free Trade Area were developed with the EU, incentivising foreign investors to register company in Georgia. In this article, Tetra Consultants presents the 5 best businesses to start in Georgia in 2023.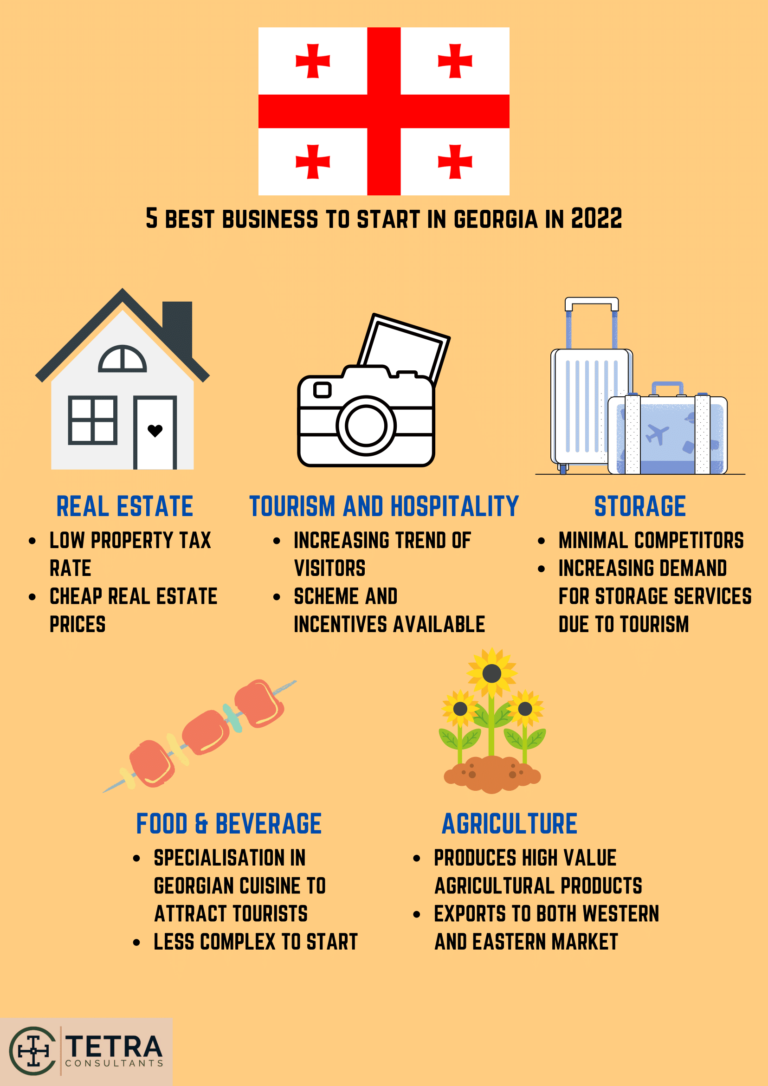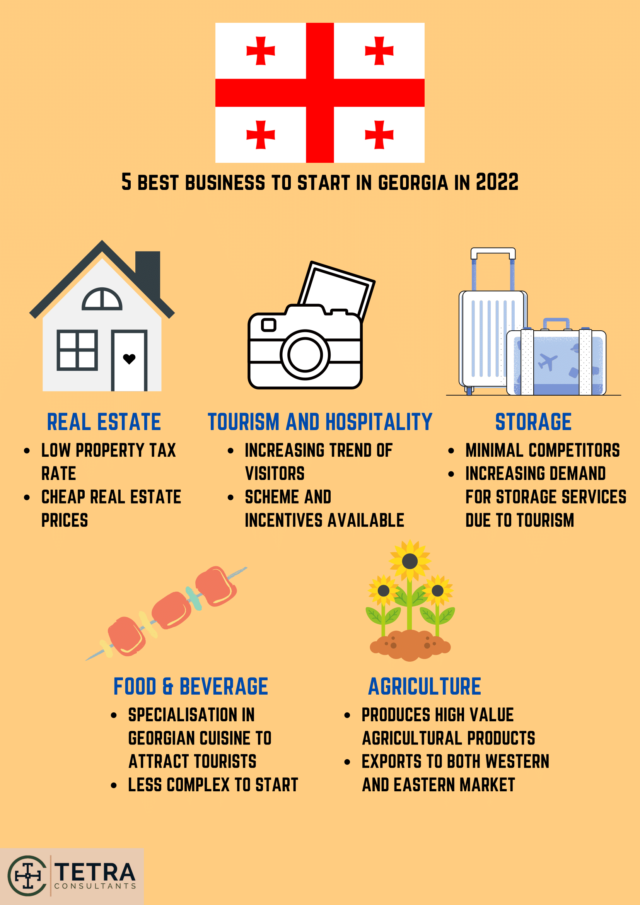 #1 Real Estate Business:
The real estate business is considered one of the best businesses to start in Georgia in 2023 and there are a variety of reasons to do so. The real estate industry is considered another major segment to the economy of Georgia. The real estate located in Tbilisi, the capital and largest city of Georgia, is considered very cheap. Apart from the cheap real estate advantages, the property tax levied upon is considerably gentle and does not exceed 1% of your property value. The real estate business environment is very open and does not pose any restriction or limitation to foreign ownerships, which makes it one of the best businesses to start in Georgia in 2023. An interested investor can enter into this industry through a variety of methods: purchasing an actual real estate, coming in as a building contractor or even acting as a real estate agent if you are familiar with the local market. Interested investors can also attempt to tap onto the sharing-economy, utilising applications such as Airbnb to list and rent their apartments. Furthermore, this opportunity has room to grow given that there is a lack of modern house decor or renovation on available property for rents. Most properties are decorated and furnished according to Georgian taste, presenting investors the option to uplift their properties.
#2 Tourism and Hospitality Businesses:
The second best business to start in Georgia is in the sector of tourism and hospitality. In 2019, Georgia received a record number of 9.3 million international visitors, which represents a 7% increase from the previous year 2018. The country has substantial potential for further tourism development due to its natural beauty, varying topography landscape as well as its rich culture and heritage. In a bid to capitalise on its tourism sector, the local government has also made visa requirements less complex, repaired and improved its roadways and limited tax incentives for tour operators. In addition, various regions of Georgia are experiencing new developments, such as the construction of ski resorts in the Gudauri region. The development of Georgia's tourism infrastructure requires additional investment and rehabilitation of assets such as hotels, restaurants and various leisure facilities to rejuvenate the sector, especially after it being hit by the pandemic outbreak. The government is looking at diverting state-owned Partnership Fund as well as privately held Georgian Co-Investment Fund towards investment opportunities in the tourism infrastructure of Georgia. This presents a timely opportunity which makes it one of the best businesses to start in Georgia in 2023.

#3. Self-Storage Business:
The third best business to start in Georgia is to start a self-storage business. Every year, Georgia experiences millions of international tourists traffic whilst the country is lacking in terms of having self-storage facilities in its region. This presents a product gap which can be capitalised upon. To further improve your self-storage product uptake, do try to make the payment process flexible by adding different payment methods such as cash, cards or even Near Field Communication (NFC) payments. Operations like storage solutions are on demand especially during the conditions where there will be increased tourism numbers. The gap in self-storage service and offerings makes self-storage business one of the best businesses to start in Georgia in 2023.
#4. Food Services Business :
The fourth best business to start in Georgia is to open a food and beverage (F&B) service in Georgia, that specialises in authentic Georgian cuisine. This industry does not require a huge substantial capital and coupled with the ease of setting up business in Georgia, poses great benefits for investors to start a F&B business that specialises in the local cuisine. If you already own a hotel or real estate property in Georgia, you can easily offer food choices as well to tourists who come to visit and stay at your place of accommodation.
#5. Agriculture Business :
The fifth best business to start in Georgia is in the agriculture industry. Georgia offers fertile soil and favourable climate support given its geographical position, and is known to produce high-value agricultural products such as grapes and wines. Additionally, given its location, the country has been exporting to major economies such as the European Union, Russia and also China, and created an external trade turnover of $5.01 billion within the period of January to May 2021. Given its ideal location, starting an agriculture business will prove beneficial as investors will be able to tap on the established connect hub to reach both western and eastern markets.
Conclusion:
Engage Tetra Consultants as we guide you on how to start a business in Georgia in a smooth and hassle-free process. The team provides a comprehensive service package that includes planning and strategizing with our clients to select a suitable business entity, completing the registration and documentation processes, obtaining required licenses, opening a corporate bank account, and ensuring your compliance with the government regulations. 
Contact us to find out more about company registration in Georgia and our dedicated and experienced team will revert within the next 24 hours.