Registering your company in Singapore is the first step towards launching a business in the country, but before that, you need to choose a suitable idea. In this article, we will explore what are some of the best business to start in Singapore 2023.
With the worldwide impact and economic repercussions of the COVID-19 pandemic, numerous businesses have inevitably taken a hard hit. In a bleak job market and economic environment, it may seem daunting to set up a new business. However, this presents an excellent opportunity to leverage on prevailing trends in consumer demand to kickstart your entrepreneurship dream. Singapore has been hailed as one of the most ideal countries to start a business, placing 2nd in The World Bank's Ease of Doing Business Rankings 2020.
What is the best business to start in Singapore 2023?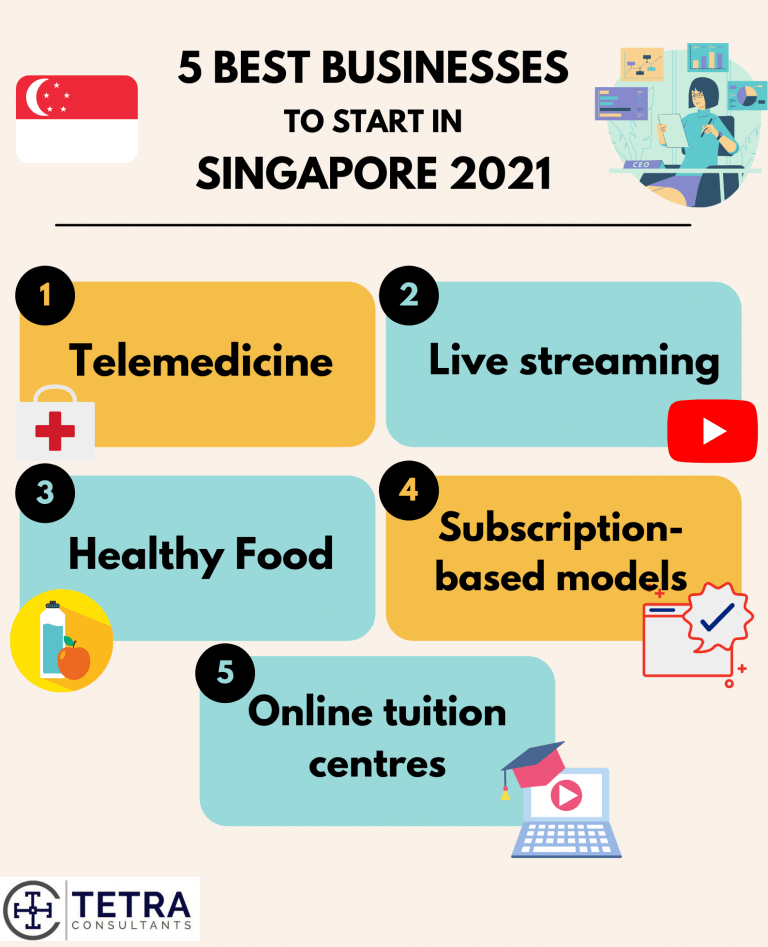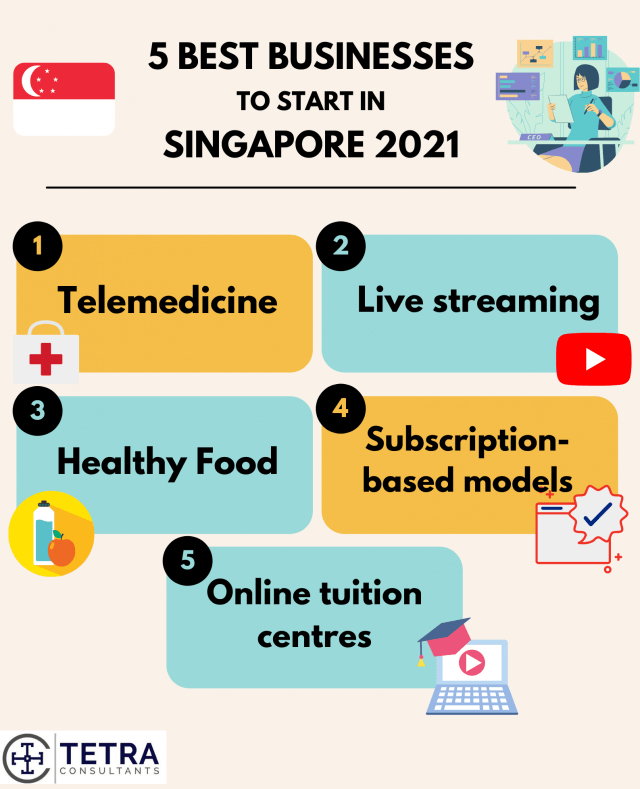 #1 Telemedicine
The COVID-19 pandemic has resulted in telemedicine start-ups becoming increasingly popular. This is due to more people staying at home, which accelerated the need for remote medicine. Telehealth services could bring convenience to people's lives and meet their demands just by bringing key medical services straight to their doorsteps. As it is much more convenient than traveling to a physical clinic, this encourages people to take better care of their health and will also increase the number of customers.
#2 Live Streaming
The COVID-19 pandemic has catapulted the development of the live streaming business as it has become an innovative way to turn viewership into revenue. Businesses are now catching on to the potential of such video streams to promote and sell their products. Especially since more people are staying at home and shopping online, corporate live broadcasts have become significant in connecting businesses and consumers staying at home. Live streaming platforms such as Tiktok, Facebook Live and YouTube are some of the popular choices to start a business in Singapore selling and reviewing products.
#3 Healthy Food
Singapore, hailed as a food paradise, has witnessed a growing local demand for healthy foods, such as vegan burgers and acai bowls. This increased popularity can be attributed to Singaporeans becoming health conscious and actively seeking out healthier alternatives. Some examples of healthy food businesses that you can consider include healthy food trucks and organic food shops. For example, local healthy fast food joint VeganBurg has an outlet in Singapore but has since expanded to different parts of the United States. Therefore, starting a healthy food business will cater to the rising demand and heightened health awareness of Singaporeans.
#4 Subscription-based models
Under a subscription-based business model, customers make a regular payment and receive access to commodities or services for a set time period. Such a model is advantageous to both consumers and companies. Not only can customers gain steady access to goods without having to keep placing orders, but businesses can also earn steady recurring revenue and better predict volume and demand. One example is subscription boxes, where curated products and physical goods are delivered regularly with monthly or annual charges. Such subscription boxes are gaining popularity among millennials as they offer personalization to consumers and enable them to experience the thrill and surprise of unboxing a surprise box. This serves as a great business idea, especially since more people are staying at home and desire such a service.
#5 Online tuition centres
With the ongoing COVID-19 pandemic, the fear of virus transmission has made parents afraid of sending their children to physical tuition centres. This has resulted in tuition centres having to think of new ideas to retain these students. Online tutoring services have been rolled out by tuition centres, offering convenience and flexibility to allow students to learn at home instead. Online tutoring services are also cost-effective as there is no need to rent a physical centre to conduct lessons, resulting in minimal start-up costs. Therefore, with the accelerating digitization of learning, setting up an online tutoring centre is a lucrative business that you should consider.
Find out what is the best business to start in Singapore 2023
Although the process of a Singapore company registration is fuss-free, setting up a new company in Singapore requires an extensive amount of hard work and finances. Therefore, before jumping into that business idea of yours, it is crucial to do extensive research on the industry and your competitors. It is important to be aware of the best business to start in Singapore 2023.
Tetra Consultants provides a fast, easy and hassle-free way to set up new businesses. Our team of experts will guide you through the full incorporation process, including appointing a qualified nominee resident director, securing a local office address and opening a corporate bank account.
If you are looking to start a business in Singapore, contact us now and we will revert within 24 hours.