Indonesia is hold's the largest economy within the region of Southeast Asia, boasting a GDP production of USD$1.06 trillion in 2020 and taking the 16th spot among the world. The country is an archipelago that lies across the equator and hosts over 300 different ethnic groups. The country has displayed a tremendous growth rate and is expected to maintain a 5%~6% positive growth rate between 2021 to 2026. This can be largely credited to their country's economic development programme known as the "RPJMN"  (Rencana Pembangunan Jangka Menengah Nasional). In essence, the RPJMN is a 20 year long programme that is segmented into smaller 5 year medium programmes, with each segment targeting specific areas identified for improvements. Indonesia has also maintained stable foreign relations with other countries, with Japan, China, Singapore and South Korea as some of the country's major trading partner. Given its sound economy and abundant resources, foreign investors have been setting up business in Indonesia to tap onto its potential. But before you decide to register company in Indonesia, allow Tetra Consultants to share x disadvantages to know before you set up a company in Indonesia.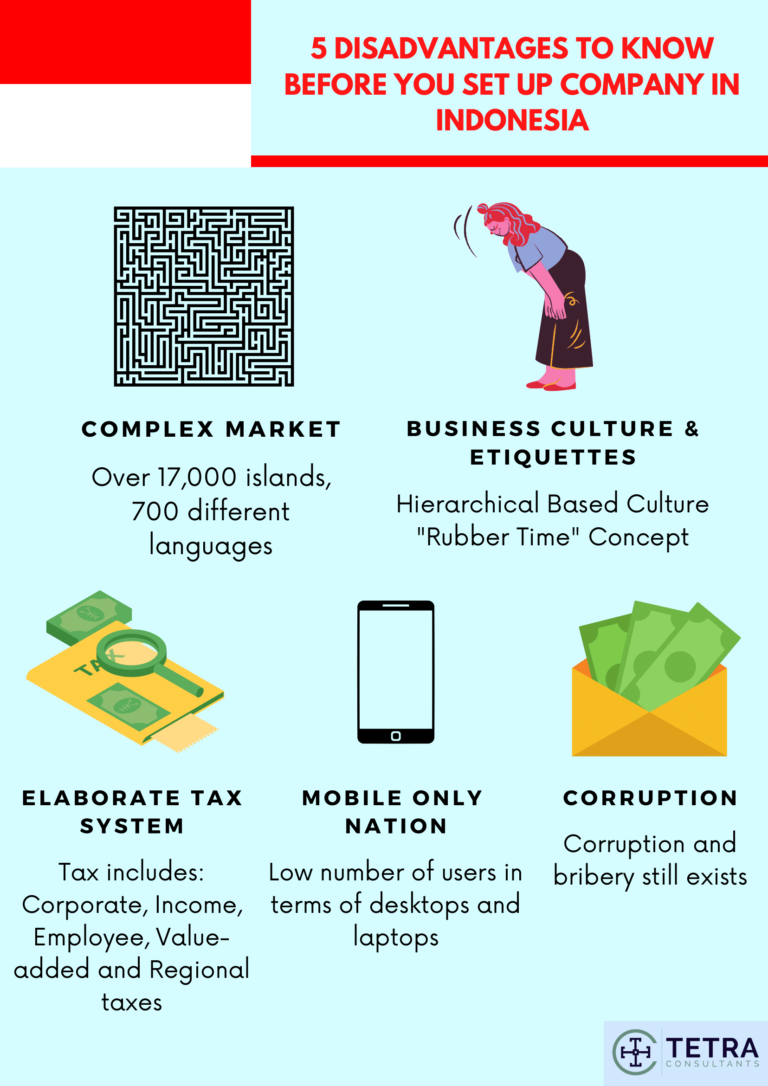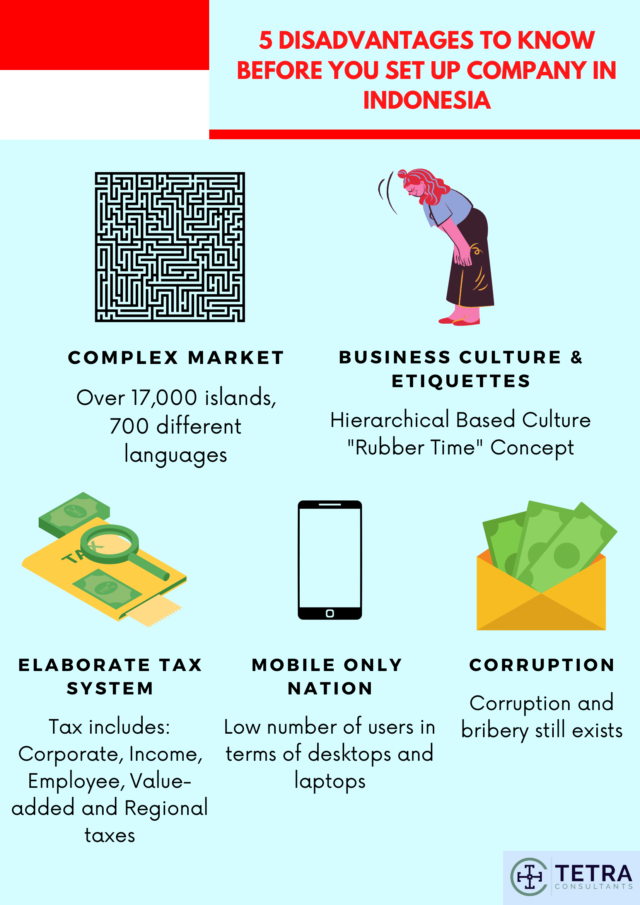 1. Complex Market:
While the Indonesia market poses compelling potential for investors to tap onto, it is important to know that you will be dealing with a complex market when you set up company in Indonesia. The archipelagic country has more than 17,000 islands and over 800 different languages, making the country one of the most linguistically diverse countries. According to the Education First (EF) English Proficiency Index, Indonesia belongs to the lower percentile of English literacy, taking the 80th spot out of 112 countries analysed. Given its diverse nature and terrain, language and culture, foreign investors have to conduct a deep and conclusive market research as well as consumer studies prior to entering the market.
2. Business Culture and Etiquettes:
The second important thing you have to note when you set up company in Indonesia is the business culture and etiquettes that you are recommended to develop prior to the conduct of your business. Due to the nature and culture that you have to adhere to, you might face a slower onstart to the operation of business before it starts picking up. When conducting meetings with trading or business partners, you are recommended to be on time. However, do not be surprised if your Indonesian business partner turns up late. In indonesian, there is a concept of "Jam Karet" which directly translates to "rubber time" and is suggested that time is a flexible and unpredictable commodity.

Distinct from the way of business in western environment, the Indonesian business culture takes an unaggressive approach to business, and employs a softer and more relationship based approach. It is also important to know that Indonesians regard hierarchy importantly and you should show respect when it is due. Hence, it can also be viewed that when conducting business in Indonesia, relationships and connections are key.
3. Elaborate Tax System:
Before you proceed to set up company in Indonesia, the country has various tax orders and compliances that you have to adhere to. In Indonesia, their tax system includes corporate income tax, individual income tax, employee withholding tax, value-added tax as well as regional tax. The general corporate tax rate for companies is at 25%, but lower tax rates are available for companies with lower profits or if the companies are listed under the Indonesia Stock Exchange. It is important to submit your annual tax filings to the Indonesian Tax Authority (ITA) via their e-services and failure to do so might result in serious penalties. On top of the listed taxes, businesses in Indonesia have to pay health insurance contributions as well as social security contributions as well. Hence, it is advisable to contact a specialised service provider to help manage your tax obligations.
4. Mobile-Only Nation:
When you set up company in Indonesia, be prepared to conduct most of your businesses through the usage of smartphones. According to Statista, between 2015 and 2019, the share of households owning a computer in Indonesia is between 18% to 20%. Most of the Indonesian population actually jumps straight into using smartphones as a medium for doing business, instead of using laptops or computers. This might affect businesses that prioritise using applications fit for desktops and laptops and also those that deal with the manufacturing of it.
5. Corruption:
The final disadvantage when you set up company in Indonesia is that corruption and bribery still exists when conducting businesses. While there has been increased efforts from the government to curb corruption in Indonesia, the country still ranks in the lower percentile, taking the 102th spot out of 180 countries under the Corruption Perceptions Index. The corruption is likely facilitated by varying reasons, and local officials are given wide discretionary power and resources without facing strict accountability and proper enforcement rules.
Conclusion:
Engage Tetra Consultants as we guide you on how to register business in Indonesia in a smooth and hassle-free process. The team provides a comprehensive service package that includes planning and strategizing with our clients to select a suitable business entity, completing the registration and documentation processes, obtaining required licenses, opening a corporate bank account, and ensuring your compliance with the government regulations. 
Contact us to find out more about company registration in Indonesia and our dedicated and experienced team will revert within the next 24 hours.