Deciding on which countries to expand your business to can be a complex and difficult decision.  As an aspiring entrepreneur, you might have heard of the lucrative business environment of Luxembourg and might be wondering about the advantages of doing business in Luxembourg too.  In this article, Tetra Consultants will offer insights into the 6 key advantages of doing business in Luxembourg so that you may better understand this business phenomenon and make a more informed decision about whether you should register company in Luxembourg.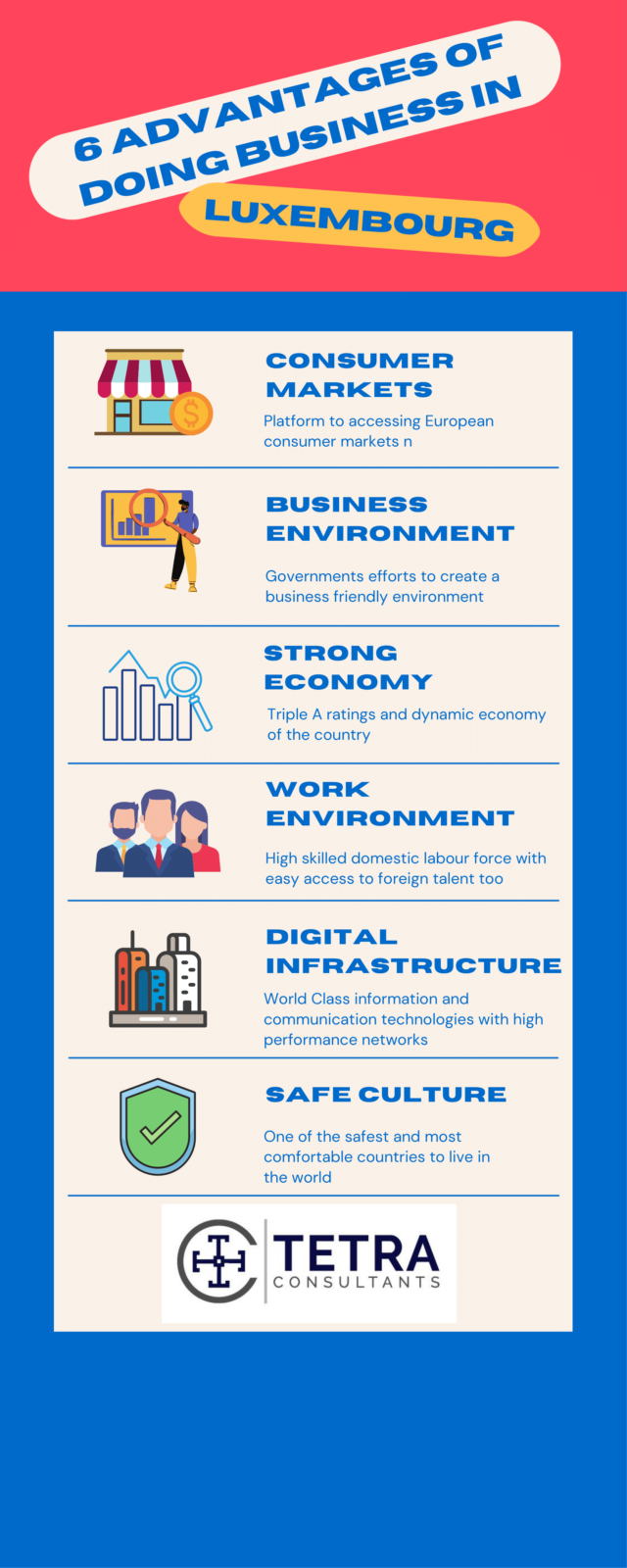 1. Platform to accessing diverse consumer markets in the European region
Located in the heart of Europe, Luxembourg is a key platform business can leverage on to access all European markets.  Despite it being relatively small in size, Luxembourg can often serve as an ideal experimental market to develop concepts and try out new product innovations and services. Furthermore, the country's well-known commercial and political neutrality gives it the ability to facilitate first-class international business relationships, thus helping your company to grow and develop strongly.
2. Favourable business climate and corporate environment
Conducting business in Luxembourg is  one of the most convenient and accessible processes in the world. This is primarily due to the successful efforts of the country's governments to create a business friendly environment, especially for foreing investors. Moreover, their ability to attract many international companies due to its flexible and attractive legal framework as well as economic policies further bolsters the country's economic vibrancy.
In addition, with regards to the political aspect,  public authorities and administrations are easy to access, with their attitudes of open-mindedness and forward-thinking approaches of politicians empowering companies looking to initiate or relocate activities to Luxembourg.
3. Well established and consistently strong economic backdrop
Dynamism, openness and economic stability are 3 key characteristics core to Luxembourg's open economy. This is further shown in the Luxembourg economy's extent of robustness and diversification. In fact, its businesses are frequently given AAA ratings by most if not all credit rating agencies with solid macroeconomic fundamentals being recognised. Hence, Luxembourg offers strong long-term growth possibilities and sustained job creation.
4. Dynamic and Attractive Work Environment
With a dynamic labour market that offers a wide range of excellent job opportunities and highly competitive salaries, Luxembourg is commonly viewed as one of the most attractive places to work in Europe and an ideal location to build an international career. Thus, this ensures that the workforce of a new business would have access to remains of high quality and in large volume. 
Moreover, in order to attract highly skilled employees with specific knowledge from abroad, employers occasionally aid in covering relocation costs for their move to Luxembourg as well. Under specific conditions for certain periods of time, well qualified employees can benefit from tax exemptions on such contributions from their employer linked to their expatriation as well
Additionally, the workforce of Luxembourg is highly skilled and multilingual as well. Its multicultural and cosmopolitan environment attracts the best talents from neighbouring countries and simplifies exchanges with international customers, providing good opportunities for business development and expansion.
5. Top of the line digital infrastructure
Luxembourg is now one of the world's best countries in the area of information and communication technologies. This is due to the country and government's strong determination to become a trusted data hub by countries across the world.
The presence of world-class information and communication technologies (ICT) infrastructures and a new High Performance Computer (HPC with a power of ten million billion operations per second) demonstrates its current potential as an innovative and pioneering country in digital technologies.
Additionally, even when it comes to the issue of logistics to facilitate such services and business, Luxembourg is one of the best as well.  It's central location within Europe alongside high quality and efficient air, road, rail and waterway infrastructure places the country as a competitive inter-continental logistics hub of Europe. Thus, the country can provide multiple strategic advantages to organise their international trade activities efficiently and effectively to and from Europe.
This is likely to be strengthened in the coming years with its strong research and development industry which is not only growing rapidly, but receives strong governmental support. With the aim of spurring the emergence of innovative projects, the country has provided multiple public and private grants to finance various research and development activities. Many financial incentives and other support measures to assist companies are easily accessed by those looking to do business in Luxembourg as well.  All of this is likely to further strengthen the quality of the country's digital infrastructure, a crucial success for your business to succeed in the modern economy. 
6. Safe and secure business and living environment
Ranked as one of the safest countries in the world, Luxembourg is an extremely secure place to live, especially with regards to its top-rate health system, the attractive salaries and bonuses explained above, the beauty of its landscapes as well as its diversified cultural offering. The country also has one of Europe's most attractive social security systems.
All of these factors contribute to a high standard of living not only attracting many qualified employees, but also making it a comfortable environment for aspiring entrepreneurs looking to start a new business overseas.
Conclusion
Navigating a new country's different and unique business climate might be a challenging process – a hassle to say the least.  However, with the key business and corporate benefits outlined above, it is easy to see why many entrepreneurs will choose to register company in Luxembourg.  As such, Tetra Consultants hopes that this article has provided you a much better understanding about the 6 main advantages of doing business in Luxembourg so that you can truly decide on whether you should register company in Luxembourg yourself.
So, what are you waiting for? Contact us to find out more about the process of starting a business in Luxembourg, and our dedicated and experienced team will respond within the next 24 hours.  Tetra Consultants will not only empower you by helping to navigate the different regulations of Luxembourg, but also aid in facilitating the registration of your company there while providing invaluable, nuanced insights into any potential challenges.