Due to the fair regulatory system and an attractive tax system, it is ideal to open a Gibratlar holding company. One of the most popular types of companies to be set up in Gibraltar is the holding company where foreign investors can own shares in one or more companies. However, business operations are not allowed to be carried out in holding companies. In this article, our team at Tetra Consultants has highlighted 6 advantages of setting up a Gibratlar holding company once you decide to register company in Gibraltar.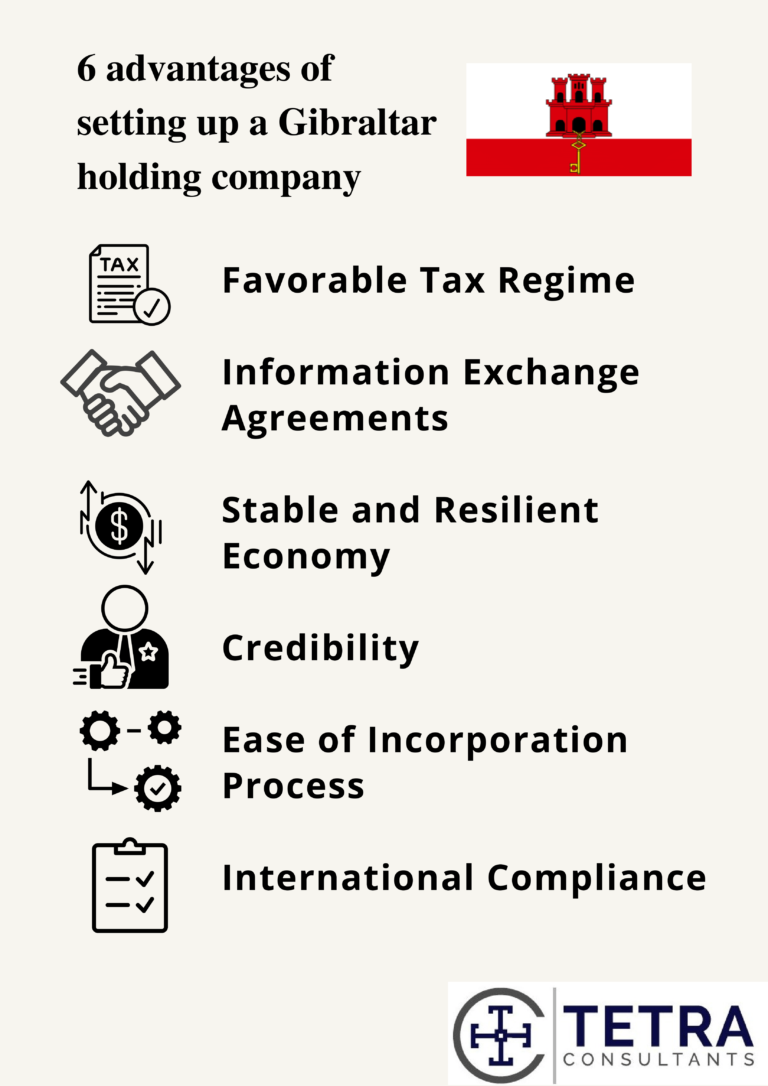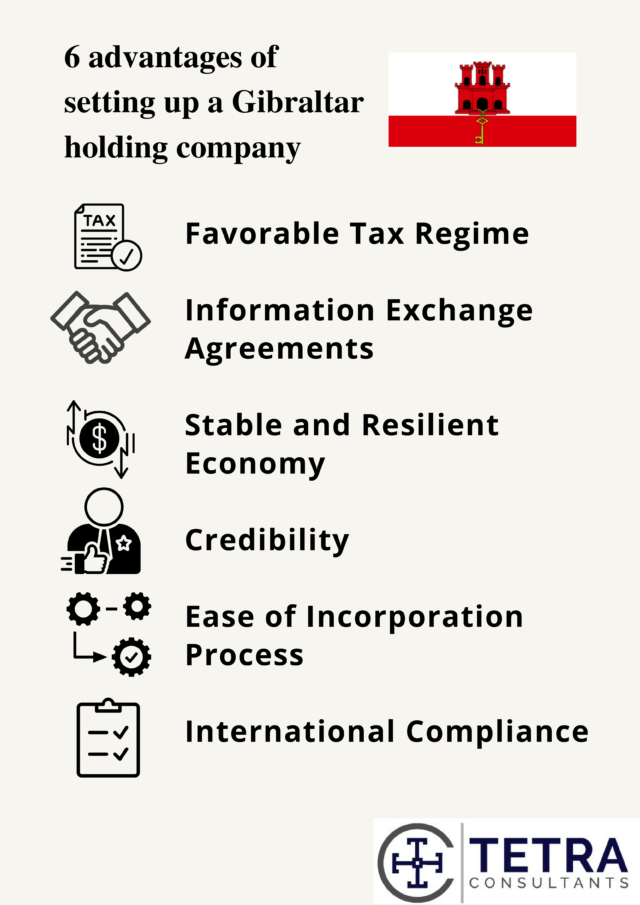 1. Favorable Tax Regime:
Gibraltar imposes low taxes where all incorporated companies only impose a corporate tax rate of 10% except for utility, energy and fuel supply companies where a corporate tax rate of 20% will be imposed. However, if the business were to carry out its profit-making operations outside of Gibraltar, such as a holding company, it will not be subjected to corporate tax. 
In addition, there are no capital gains tax, wealth tax, sales tax, value-added tax and withholding tax on dividends levied in Gibraltar. 
With one of the lowest corporate tax rates in Europe, it entices foreign investors in setting up a company in Gibraltar.
2. Information Exchange Agreements:
Although there are no double taxation agreements in Gibraltar, according to the Gibraltarian taxation legal system, the country has given consent to 27 information exchange agreements. This was set forth by the European Union and Organisation for Economic Cooperation and Development. 
The information exchange agreements offer the establishment of various tax relationships between countries legally. It provided provisions on taxes, loans or transfer of assets to avoid double taxation of income generated in Gibraltar by foreign companies. Hence, taxes will only be imposed on income that is derived from Gibraltar.
3. Stable and Resilient Economy:
Gibraltar's economy has been widely diversified for the past four decades. Previously the primary economic activity of its naval dockyard, which stood over 60% in 1984 has reduced to around 7% today. Its economy now mainly consists of four sectors namely financial services, online gaming, shipping and tourism. On top of that, the consumer enjoys free value-added taxes (VAT) on all goods and services. 
Gibraltar remains strong links with the United Kingdom with its main languages being English and Spanish. Generally, all business is conducted in English and the currency is the pound sterling. 
There is a low unemployment rate of around 1% in Gibraltar which is an indicator of a healthy economy. However, you might be worried about the difficulty of getting workers. This is highly flexible as almost half of total employment in Gibraltar is provided by employees who normally reside in Spain. 
Therefore it Is viable to open a Gibratlar holding company as it offers a safe and stable economy.
4. Credibility:
The Category 2 status started in 1992 although previously the special jurisdiction for high net worth individuals was already recognized. Although Gibraltar is a British territory, self-financing allowed for parliamentary democracy. Having special status within the European Union, Gibraltar gives credibility to high net worth individuals who enter to protect their assets.
Since Gibraltar is not a tax haven, it is ideal to open a Gibratlar holding company due to its reliability.
5. Ease of Incorporation Process:
The incorporation process is fast and fully automated.
Gibraltar companies offer swift incorporation, full UK compatibility and tax benefits. The Gibraltar Companies Act is based on English legislation and the Gibraltar Companies Registry is now fully automated. 
Gibraltar company registration structures for holding companies can be Limited Liability Company, Companies Limited by Guarantee and Unlimited Companies. The most popular structure would be the private Limited Liability Company where it is a separate legal entity. There is only the requirement of one director with no minimum paid-up capital.
6. International Compliance:
By committing to ensure the high standards of regulation and the international tax transparency agenda, Gibraltar has gained success as a financial center. There are legal and regulatory frameworks that are adhered to so that agreements and relations which other partners remain in place. 
Furthermore, transparency and exchange of information on fiscal matters are ensured. With measures such as the signing of Common Reporting Standards (CRS) taken, it continued to adhere to the international guidelines receiving the second-highest OECD rating of 'largely compliant'. Hence, Gibraltar was on a par with the USA, Germany, the UK and Spain. The high level of international compliance allows foreign investors to have more faith in Gibraltar.
Conclusion:
There are many advantages to setting up a holding company in Gibraltar. However, to fully understand whether it is suitable for your business, you may wish to engage Tetra Consultants for advice. With Tetra Consultants by your side, the registration process of your business in  Gibraltar will be smooth and hassle-free. Our comprehensive service package includes planning and strategizing with our clients to select a suitable business entity, completing the registration process, obtaining required licenses, opening a corporate bank account, and ensuring your compliance with the government regulations. 
Contact us to find out more about how to register business in  Gibraltar and our dedicated and experienced team will revert within the next 24 hours.