Setting up a business in Gibraltar is ideal due to its business-friendly environment. The government of Gibraltar supports the opening of business and thus seeks to encourage and facilitate business. A business-friendly environment such that it offers excellent 'ease of doing business', a favorable tax environment, a common law legal system, competitive operating costs, a productive, flexible and highly trained workforce and a well-developed infrastructure with world-class support services. Hence, if you ought to register company in Gilbraltar, you should understand the underlying disadvantages as well. In this article, our team at Tetra Consultants has highlighted 6 disadvantages of setting up a company in Gibraltar.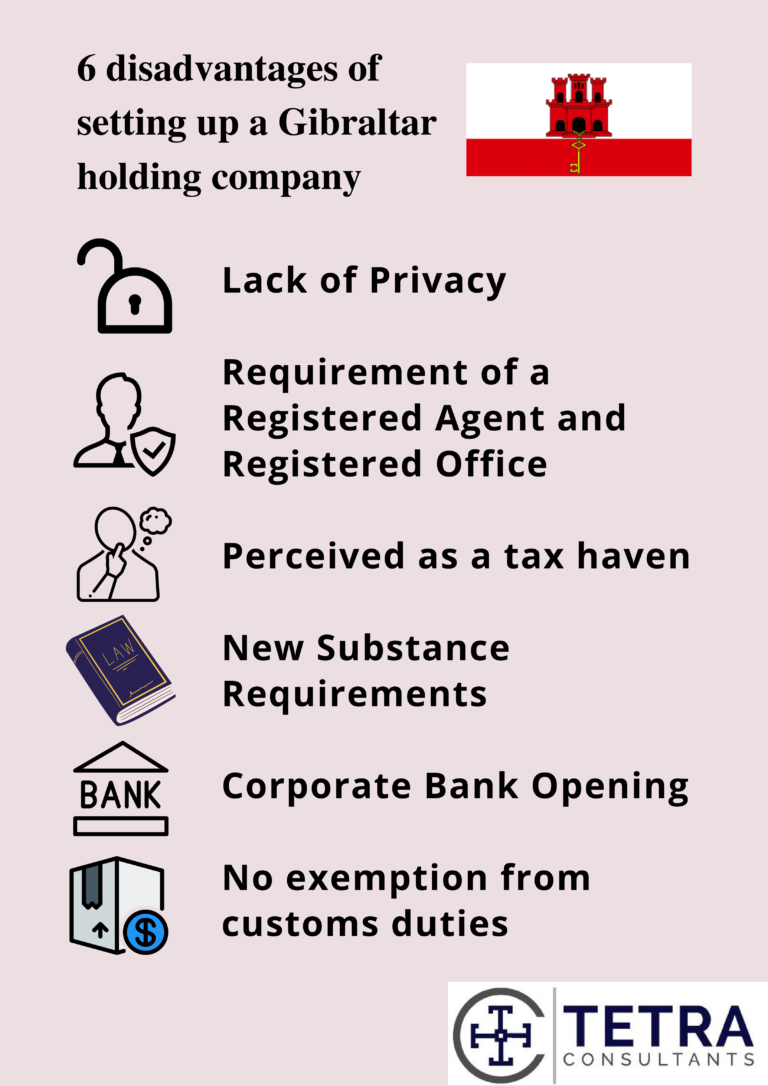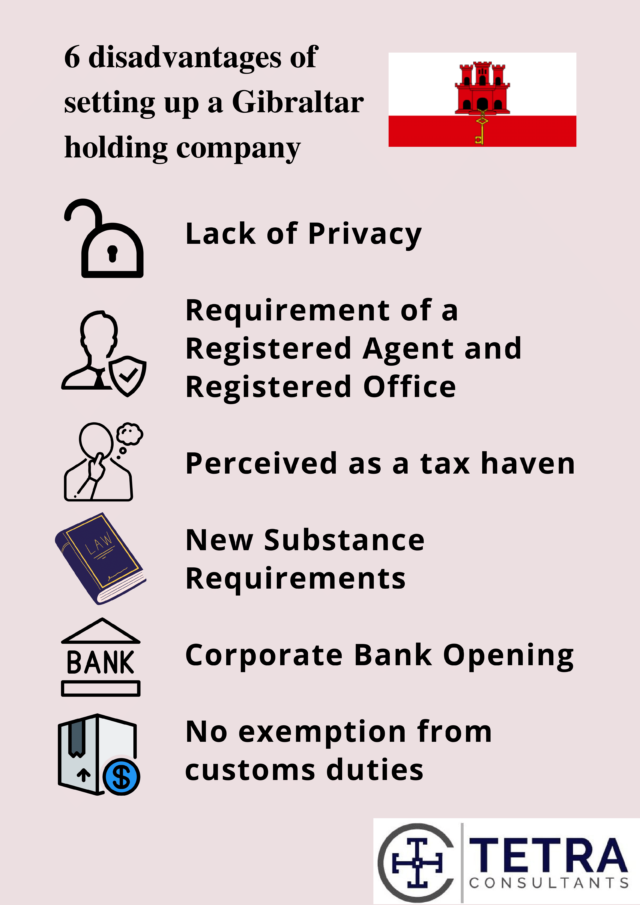 1. Lack of Privacy:
For registration of a Gibraltar Limited Liability Company, it is required to disclose the information of all directions and shareholders such that the public is able to view them at the official register at the Gibraltar Registrar of Companies. This results in the lack of confidentiality and privacy exposing them to lesser financial security.
2. Requirement of a Registered Agent and Registered Office:
According to the Gibraltar Companies Act 2014, all companies are required to have a registered agent and registered office in Gibraltar. A registered agent is a third party who is assigned to handle the management of the business located in Gibraltar. Furthermore, a registered office is required with the registered agent physically present on Gibraltar. As such, the registered agent will be the point of contact for the authorities of Gibraltar. Such agent services can be provided by an individual or by a company.
3. Perceived as a tax haven:
Although Spain has taken Gibraltar off its list of tax havens after an agreement with the United Kingdom and the presence of the stringent compliance rule, Gibraltar is often perceived as a tax haven due to its tax policy. Since it is perceived as a tax haven, it has brought some drawbacks. 
One disadvantage lies in the process of opening a corporate bank account in Gibraltar where additional documents and checks will be required. In addition, businesses operating in tax haven jurisdiction may lead to additional scrutiny as they are often viewed with skepticism. Hence, these collectively will cause inconveniences for those who are setting up a company in Gibraltar.
4. New Substance Requirements:
Since January 2019, it is required for all Gibraltar LLCs to comply with the new substance requirements. The additional new requirements might discourage one from setting up a company in Gibraltar. 
5. Corporate Bank Opening:
In the industry of crypto-currency and other high-risk business activities, there is an enhanced process for corporate bank opening in Gibraltar. It is challenging to open a bank account as the bank classifies as a high-risk client. Hence, the bank will require additional due diligence documents and KYC procedures. The bank might even request proof of source of funding for their application to be accepted. Hence, this might result in the opening of the corporate bank account taking up to several months.
6. No exemption from customs duties:
Although Gibraltar is part of the European Union (EU), it is not part of the EU's customs area or value-added taxes (VAT) area. The EU customs area allows easier trading for EU companies where there are no customs duties are required to be paid when goods are transported from one EU country to another. Since Gibraltar is not part of it, it would not be entitled to such benefits if businesses were to export goods to Europe. Hence, if your business would like to function as exporting goods to Europe, you can consider other places to start your offshore company.
Conclusion:
Although setting up a company in Gibraltar has some disadvantages, the fair regulatory system and an attractive tax system of Gibraltar still have much to offer. If you are unsure whether you should start a business in Gibraltar, you may wish to engage the service of Tetra Consultants. With Tetra Consultants by your side, the registration process of your business in Gibraltar will be smooth and hassle-free. Our comprehensive service package includes planning and strategizing with our clients to select a suitable business entity, completing the registration process, obtaining required licenses, opening a corporate bank account, and ensuring your compliance with the government regulations. 
Contact us to find out more about how to register company in Gibraltar and our dedicated and experienced team will revert within the next 24 hours.