Being the boss of your own business may seem like a lofty dream to many. However, the process of starting a business in Singapore can be hassle-free if you are equipped with the right tools and resources. In this article, we will break down the steps on how to set up a new company in Singapore, with a focus on how to register your company in Singapore.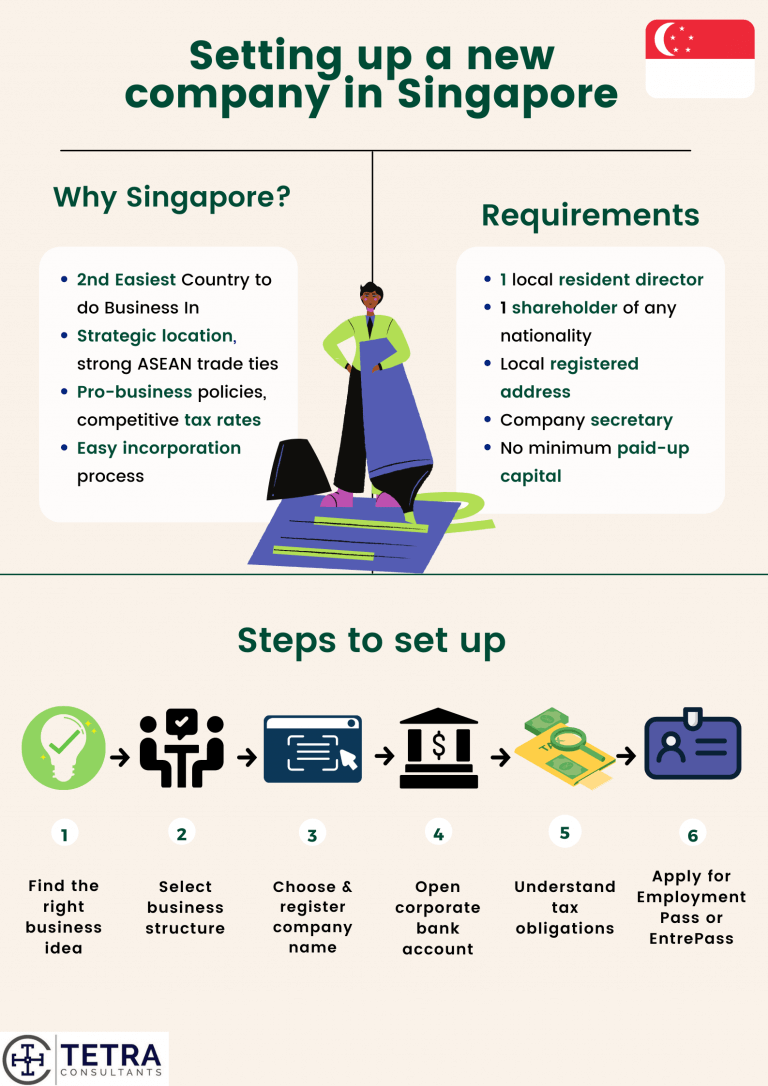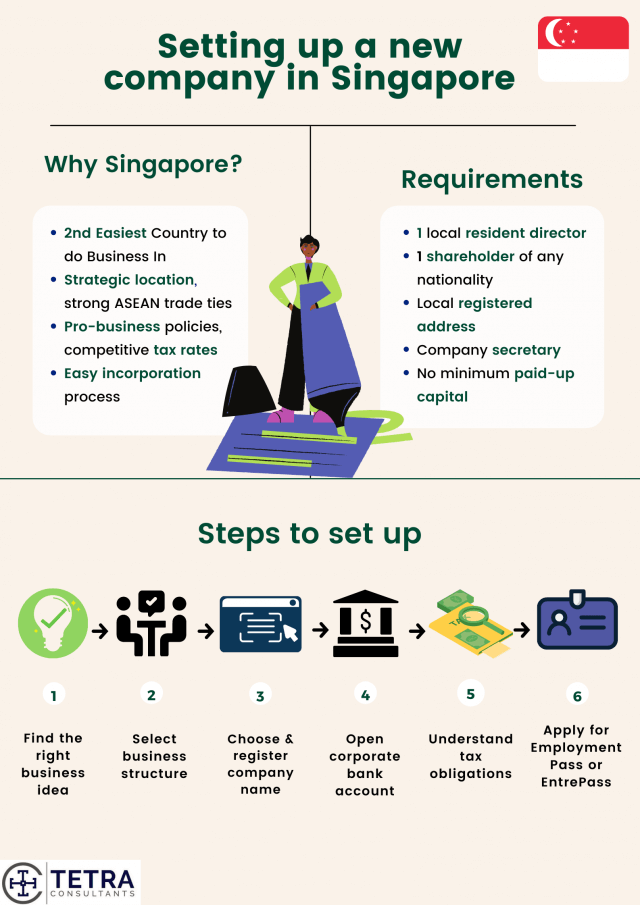 Why start a business in Singapore?
Singapore has been hailed as one of the most ideal countries to start a business, ranking 2nd in The World Bank's Ease of Doing Business 2020 Rankings. Singapore is labeled as Asia's most competitive business country as it is strategically located between the east and the west, along key Asian trading routes. This allows Singapore to tap on demand from the 600 million-strong populations living in the economic region of ASEAN. Singapore's ability to attract foreign investments is hence indisputable, and can be attributed to its pro-business policies, tax systems and easy Singapore company incorporation processes.
Requirements:
1 local resident director

1 shareholder of any nationality

Local registered address

Company secretary

No minimum paid-up capital 
In order to register a Singapore company, it is mandatory to appoint at least 1 Singapore resident director. The appointed director must be a Singapore citizen, permanent resident or holder of an EntrePass or Employment Pass.

Steps to set up a new company in Singapore:
#1 Finding the right business idea
Starting a business is not an easy decision, let alone finding the right business idea. Before diving into that business idea you thought of, it is crucial that you understand the local market well.
How do you determine if your business idea is a good one? Here are some questions to ponder:
Does it solve an existing problem?

What is your price point?

Will people pay for it?

Is there a sizable niche market for it?

How will you market your business?
#2 Select a business structure
Before you register your company in Singapore, one of the first things to do is to decide on the business entity. Simply put, a business entity refers to the form of incorporation for a business.
Determining the business entity most suitable for your business depends on a variety of considerations:
What are the benefits and drawbacks of each business structure?

How many company owners will there be?

What is the amount of investment capital you are willing to pay?

What is your risk appetite?

What liabilities are you prepared to be responsible for?
Four main forms of business structures are commonly found in Singapore. They are the Sole Proprietorship (one owner) or Partnership (two or more owners), Limited Partnership (LP), Limited Liability Partnership (LLP) and Company.
#3 Choose and register a company name
A company name is mandatory so as to differentiate your business from others. You must first register a business name via the Accounting and Corporate Regulatory Authority (ACRA) before you can register/incorporate your business. As the business name is reserved for 120 days, it will not be made available to you if you do not incorporate the company within these 120 days.
#4 Opening a corporate bank account
Once the Singapore company registration is completed, you will now need to open a corporate bank account. You can do so with reputable banks in Singapore, such as DBS, OCBC, UOB, Standard Chartered, HSBC and Citibank. You can also engage in offshore banking, which refers to the use of banking services in a foreign jurisdiction outside of the country where the main business operation is conducted. This means that you can own a Singapore registered company with a corporate bank account in another country other than Singapore.
The following documents will need to be submitted to open an account in most international banks:
Corporate documents, such as Certificate of Incorporation and Memorandum & Articles of Association

KYC documents of shareholders and directors (e.g. copies of their passports and proof of address)

Corporate resolutions and UBO declaration

Business Plan

Invoices issued to customers

Contracts signed with suppliers

Financial licenses (if applicable)
#5 Understand tax obligations
It is important to understand Singapore's tax system so that you can avoid any legal problems in the future. Singapore's corporate tax rate is 17% and follows territorial taxation. This means that only certain foreign-source income is subject to tax upon receipt/remittance to Singapore.
#6 Applying for Employment pass
If you plan to run your business in Singapore, you will also need to secure an employment pass. There are two types of passes, Employment Pass and Entrepreneurship Pass. The type of pass most suitable for you depends on when you apply for the pass.
If you are applying before incorporation, you can only apply for the EntrePass.
You are mandated to register your company within 30 days if your application is successful.
If the company has been incorporated for less than 6 months:
You will be able to apply for either the EntrePass or Employment Pass, given that you are able to meet their criteria for eligibility.
If the company has been incorporated for longer than 6 months:
You are only eligible for an Employment Pass. You may need to present proof of your company's viability and good performance, such as contracts, profits and expenditure.
Looking to start a business in Singapore?
At Tetra Consultants, we provide our clients with an easy and hassle-free way to set up a new company in Singapore. Our team of experts will guide you through the full incorporation process, including appointing a qualified resident director, opening a corporate bank account and meeting financial reporting requirements.
Contact us now and our team will revert within 24 hours.