South Korea placed 5th globally in the World Bank's ease of doing business 2020 report, demonstrating the country's aptitude for new business innovation and forgein investments. Being part of the Four Asian Tigers should come as a no surprise given that the country is home to one of the world's fastest internet speed and smartphone penetration rate, with up to 76.25% of their population owning a smartphone and beating China's 63.4% in 2020. This country is not only famous for its market leading giants like Samsung and Hyundai, but she also took the world by storm through its major influence in beauty, pop culture as well as the eSports industry. Before you decide to register company in Brazil, let Tetra Consultants show you 6 things to know before opening a business in South Korea.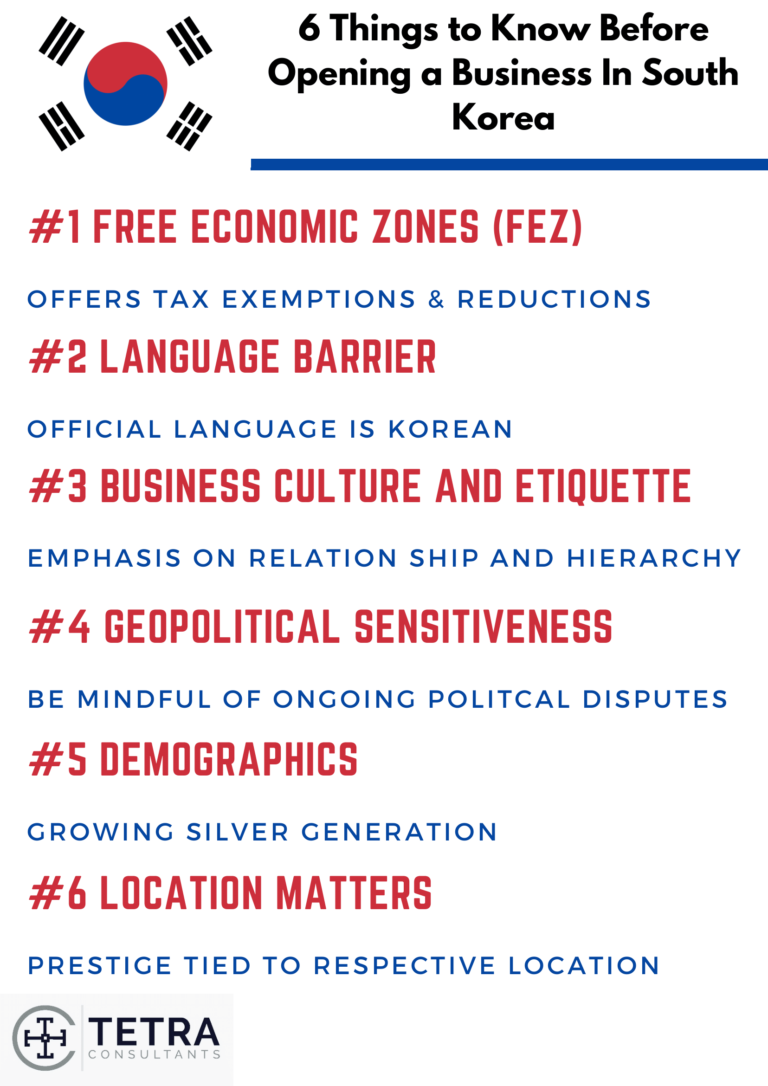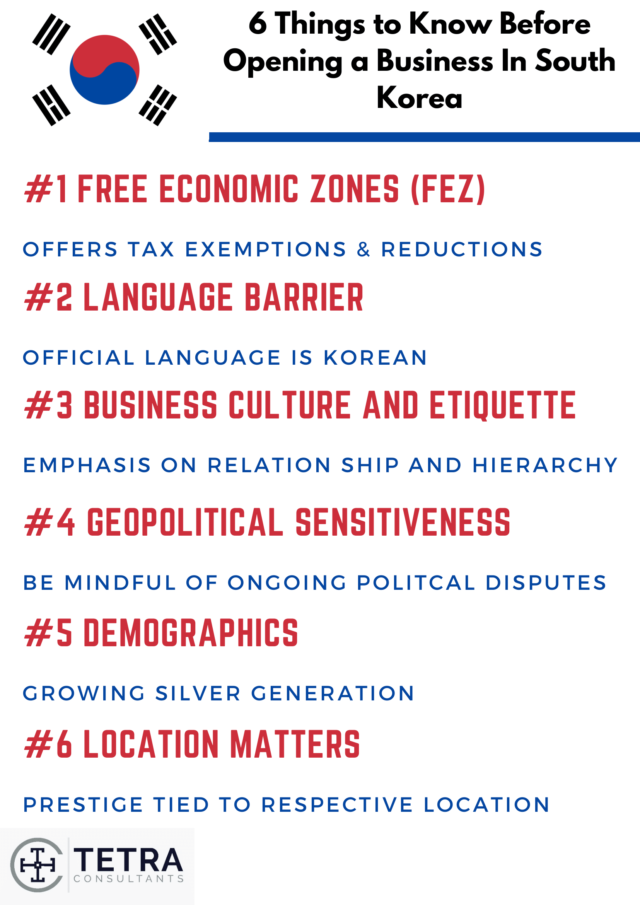 1. Free Economic Zones:
Free Economic Zones (FEZ) are Special Economic Zones assigned in South Korea with the intention to improve the business and living conditions of foreign invested firms within South Korea. The zones are designated in order to strengthen national competition for business which helps to promote development and growth in regional areas. In 2018, the accumulated foreign direct investment in the FEZ amounted to $178 Billion, with the support of 5,250 firms which include big names like GE and BMW.

In totality, there are 9 different FEZ locations in South Korea for foreign investors to decide. The FEZ offers exemptions and tax reductions on tariffs, acquisition and property taxes, for up to durations of 5 to 15 years for foreign-invested resident firms. This attracts many to open company in South Korea as the FEZ creates conditions for collective growth between firms and the high level of infrastructure in the country allows for scalability of businesses. 
2. Language Barrier:

Before doing business in South Korea, it is important to understand the main form language that most businesses will be conducted in. Korean is the official language of South Korea and it's mainly across businesses and day to day life. Delightfully for most foreign investors, English is also used amongst businesses that are conducted at a higher scale that deals with higher ranking officials. South Korea placed 37th out of 112 countries in terms of English proficiency, netting a "moderate proficiency" score according to the Education First (EF) English Proficiency Index in 2021. Before opening a business in South Korea, consider hiring a local bilingual worker or you can expect to face difficulty in terms of language barrier.
3. Business Culture and Etiquette:
In Korean culture, there is a lot of emphasis placed upon age and status. Social or working hierarchy is respectfully adhered and considered in all forms of social interaction. When doing business in South Korea, it is also important to develop good business etiquettes such as the exchange of business cards, bowing and shaking hands, as well as the action of gift giving. One can also expect themselves to attend multiple eating and drinking sessions together with their business partners as this is a common practice across Korea in order to cultivate better working and personal relationships. Lastly, common across most of Asian societies, it is impertinent to "maintain face" of your business partners and not behave or perform acts that would bring disgracefulness or shame to your partners. Those are surefire ways to lose partners and create a bad name for your firm even before opening a business in South Korea.
4. Geopolitical Sensitiveness:
South Korea and Japan have a delicate relationship, given that the two countries have ongoing conflicts and political disputes which are not fully reconciled even till recent dates. It will be wise to follow and respect local preferences when opening a business in South Korea as not doing so could unintentionally cause relationships to sour and cease. 
5. Demographics:
In South Korea, according to the Statistics Korea, the youth population aged 0~14 years are expected to decline 12.4% to 6.23 Million and elderly population aged 65 and above are expected to grow 16.1% to 8.03 Million, through a projected period from 2020 to 2040. For those with intentions of opening a business in South Korea, it is important to know that the local market is expected to become a silver generation and it will be optimal to make business and executive decisions in that regard.
6. Location Matters
Wall street and Silicon Valley are two names that are synonymous to finance and start-ups/ventures respectively. To a similar effect, opening a business in South Korea in the right location will yield significant influence and prestige. Popular locations such as Gangnam and Pangyo Techno Valley are locations largely associated with brand image and being technological hub respectively within South Korea and it can influence your brand image considerably.
Conclusion:
Engage Tetra Consultants as we guide you to open company in South Korea in a smooth and hassle-free process. The team provides a comprehensive service package that includes planning and strategizing with our clients to select a suitable business entity, completing the registration and documentation processes, obtaining required licenses, opening a corporate bank account, and ensuring your compliance with the government regulations. 
Contact us to find out more about company registration in South Korea and our dedicated and experienced team will revert within the next 24 hours.