Luxembourg remains one of the largest investment fund centres in Europe, and the runner up in global position just after the United States. With more than EUR4,500 billion net assets under management, it is recognised as a global distribution centre for investment funds that is offered to over 70 countries around the world. The country has managed to attain a reputable status in terms of maintaining a pro-business climate as well as the stability of the jurisdiction, attracting major businesses to register company in Luxembourg. Apart from its pristine investment fund status, the country also caters to business friendly policies that encourage innovation and development of technology, allowing greater opportunities for entrepreneurship and small scale businesses to start up.
Before you proceed with company registration in Luxembourg, allow Tetra Consultants to share a comparison and contrast of 6 types of companies in Luxembourg for you to decide on which legal entity you want to set up as.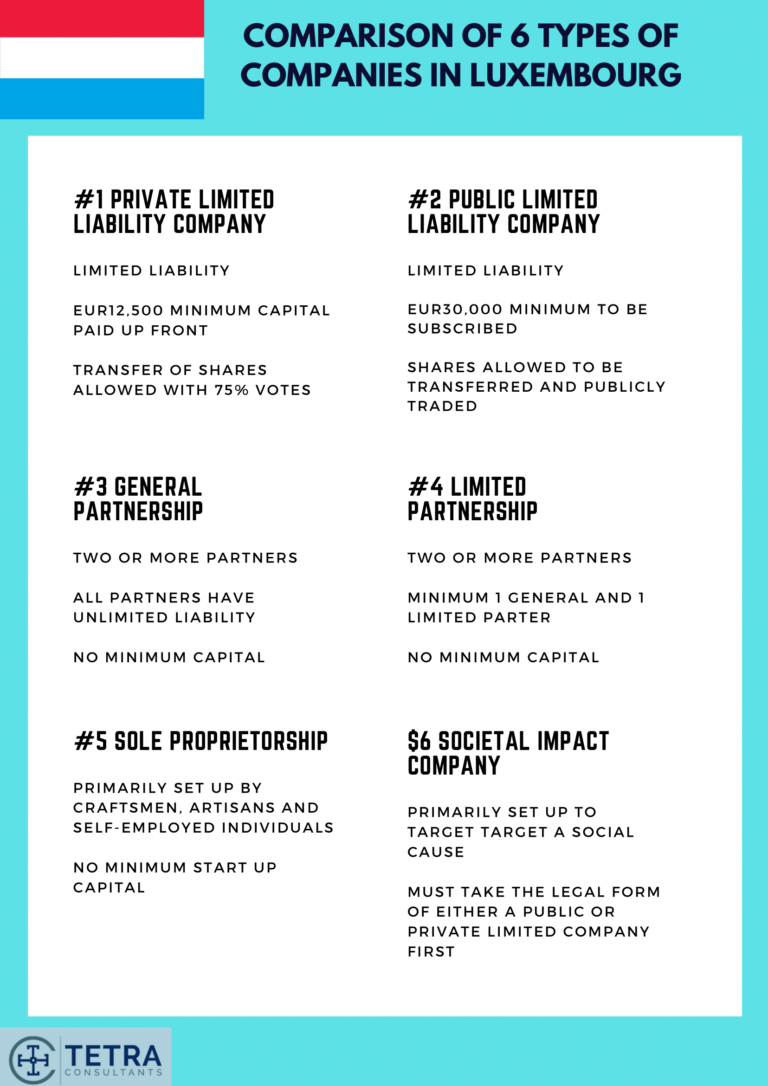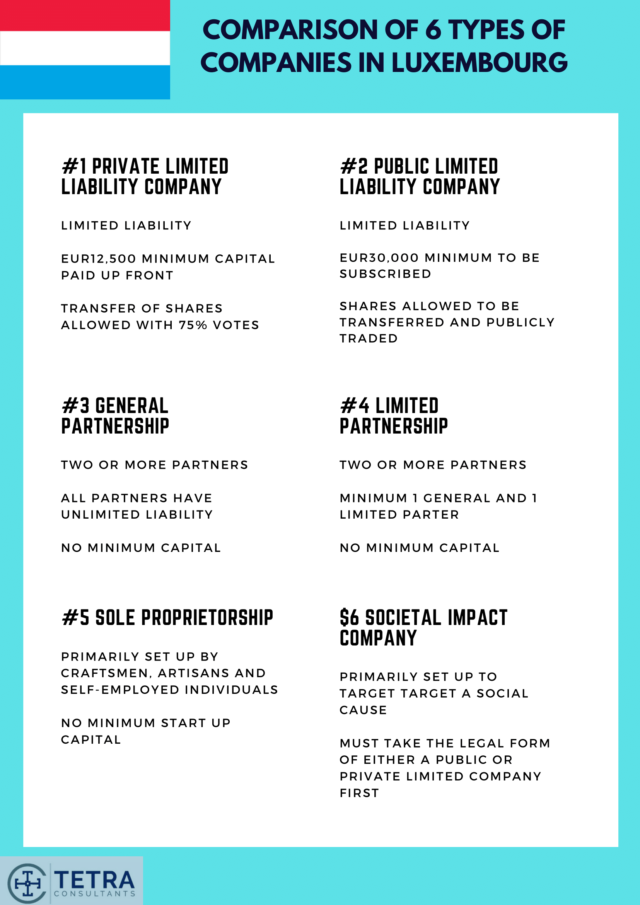 1) Private Limited Liability Company  (S.à r.l.):
The first type of company in Luxembourg is the Private Limited Liability Company, known as Société à responsabilité limitée or S.à r.l. and is one of the most popular choices amongst foreign investors. Shareholders of the private limited liability company are subjected to limited liability and are considered separate from the company. Minimally, one director and one shareholder are required to set up a private limited liability company. There is a requirement of EUR12,500 minimum share capital to be paid upfront and it may be expressed in other currency. Shares under the private limited liability company structure are non negotiable and cannot be publicly traded. Transfers of shares are considered to be restrictive and have to undergo an approval procedure prior to the action and will only be done so given support of the majority of shareholders representing at least 75% of the share capital of the company.
2) Public Limited Liability Company (S.A.):
The second type of company in Luxembourg is the Public Limited Liability Company, known as société anonyme or S.A., which offers company shares to be publicly traded. Similarly, shareholders are subject to limited liability which grants them protection from the debts and obligations of the company. Shareholders will only lose their investable amount of shares and contribution to the capital. To set up a public limited company, there must be minimally 1 director and 1 shareholder. The minimum share capital tp be subscribed is EUR30,000.
3) General Partnership (​​SENC):
The third type of company in Luxembourg is a general partnership or also known as Société en nom collectif (SENC). The general partnership is a commercial company that is set up by two or more partners who are held liable to an unlimited extent for all of the company's debts and obligations. There is no minimum start up capital requirements and it will be required to file annual reports if its annual turnover exceeds EUR100,000.
4) Limited Partnership (SCS) :
The fourth type of company in Luxembourg you can register as is a limited partnership or also known as société en commandite simple (SCS). The limited partnership is formed by at least two or more partners, of which minimally there is one general partner and one limited partner. The general partner holds unlimited liability whilst limited partners hold limited liability. Similar to general partnership, there is no minimum required capital.
5) Sole Proprietorship :
The fifth type of company in Luxembourg you can register as is a sole proprietorship who engages business in their own name. This form of business is primarily set up by a trade, craftsman, artisans or self-employed intellectual worker. As implied, owners of sole proprietorship have unlimited liability and the business and owner are seen as one under the eyes of the law. To start a sole proprietorship, there are no minimum capital requirements. Sole proprietorships are required to file annual reports should their annual turnover exceed EUR100,000.
6) Societal Impact Company :
The sixth type of company in Luxembourg that you can register as is a societal impact company, which is operated in view to engage economic activity with a societal purpose. A societal impact company must first take the legal form of public and private limited companies before receiving this accreditation. A societal impact company must fulfil two conditions, which are to provide support to persons considered to be vulnerable and also contribute to social causes (list of social causes can be found here).
Conclusion:
Engage Tetra Consultants as we guide you on how to register a company in Luxembourg in a smooth and hassle-free process. The team provides a comprehensive service package that includes planning and strategizing with our clients to select a suitable business entity, completing the registration and documentation processes, obtaining required licenses, opening a corporate bank account, and ensuring your compliance with the government regulations. 
Contact us to find out more about company registration in Luxembourg and our dedicated and experienced team will revert within the next 24 hours.