Crowned the best country by the U.S. News & World Report in 2021, Canada's society is regarded to be sufficiently safe and stable for individuals to grow and prosper. The report is based on a perception survey done by more than 17,000 people across four regions, with regards to the political, social, economic and environmental aspects relating to 78 countries on 76 different metrics. Due to its political and economic stability, high-quality public education and friendly environment, Canada is generally regarded as a great place to live and work in. Typically, businesses also prefer to setup company in Canada due to its abundant natural resources, incentives for small businesses, ease of incorporation, strong banking sector, skilled labour force, easy access to the U.S. market and robust economy. This article will explain in detail the reasons to register company in Canada.
Top reasons to setup company in Canada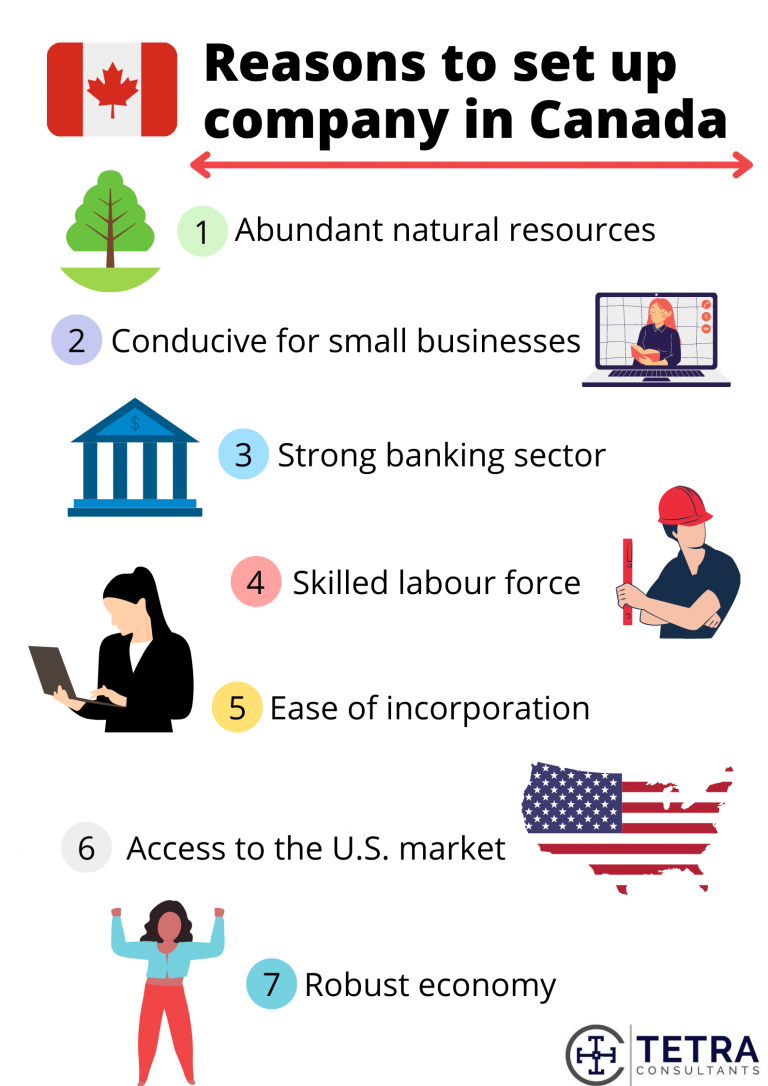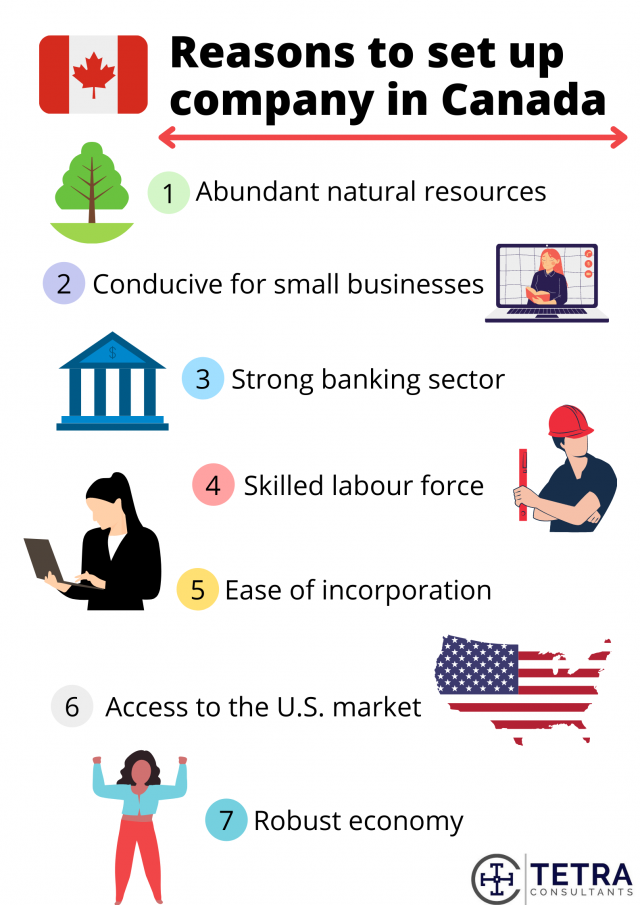 #1 Abundant natural resources
As the second-largest country in the world, Canada has an abundance of natural resources, including oil, coal, natural gas, fish, wood and precious metal such as gold and silver. Natural resources in Canada accounts for approximately one-ninth of the country's GDP, with the energy sector being the largest natural resource industry. Other natural resource industry such as forestry, mining and agriculture also play an important role in creating employment and generating revenue in Canada. The natural resource industries in Canada provide a wide variety of business opportunities such as extraction of resources, development of efficient technology to facilitate extraction, conservation and preservation of resources and the processing and refinement of resources. 
#2 Conducive for small businesses
Small businesses in Canada can opt for a lower corporate income tax. In Canada, all corporations are required to pay an annual federal income tax and provincial income tax, depending on the province it is incorporated in. However, small businesses that earn an annual income of less than CAD 500,000 can opt to pay a lower provincial tax rate, ranging from 0% to 3% based on the province. They will also pay a lower federal income tax of 9%, which means that the net corporate income tax for small businesses can range from 9% to 12%.

Furthermore, there are numerous monetary grants and support schemes a Canada company can apply for. For example, the Canada Small Business Financing Program (CSBFP) helps small businesses with gross revenue of less than CAD 10 million to obtain loans from financial institutions at a more favourable interest rate, while Creative Export Canada allows businesses in the creative industry to receive funding for activities that generate export revenues. There are many other grants and schemes available at both the federal and provincial level to support

foreign company registration in Canada

and their business activities.
#3 Ease of incorporation
Ranked 23

rd

in terms of ease of doing business by the World Bank in 2020, it is relatively easy to set up a business in Canada. Specifically, Canada does well when it comes to starting a business due to the straightforward procedures, low time and cost, and minimum capital required to open a new business. The registration process for a Canada company can be done remotely at a small fee of CAD 200 for federal incorporation and it takes at most 1 working day for the company to be approved by the government. While the fees and time will differ for provincial incorporation based on the province the company is incorporated in, they are generally low for all provinces. In addition, there is no minimum capital requirement to set up a company in Canada. As such, a business owner can register a business in Canada easily within a short time without having to

deal

with unnecessary bureaucracy and lengthy procedures.
#4 Strong banking sector
Canada's banking sector is dominated by 6 large banks and is widely regarded to have one of the safest banking systems in the world. Not only do these large banks provide the necessary credit and liquidity required by businesses they also have a strong capital buffer and a range of diversified assets to ensure that they are able to fund loans and saving accounts even during times of crisis. Due to the strong regulations, the Canadian banking sector managed to avoid the banking crisis that hit the U.S. and many other European nations in 2008.
#5 Skilled labour force
Companies that set up in Canada can gain access to a skilled and educated labour force. According to the Organization for Economic Co-operation and Development (OECD), 62% of 25-34-year-old Canadians hold a tertiary qualification in 2018. This is in contrast to the 44% average across OECD countries. Most Canadians are also bilingual and can speak both English and French. Although the unemployment rate in Canada is relatively high at 8.2%, this could signify an opportunity for business owners to hire skilled labour at a lower cost due to the greater supply of workers.
#6 Access to the U.S. market
Since Canada is located right next to the U.S. geographically, it is natural that Canada has a strong bilateral relationship with America. The close proximity helps to facilitate the transport of goods and services between the two countries. In fact, more than 75% of exports in Canada can be accounted for by U.S. clients. Similarly, Canada is also the U.S.'s largest customer based on U.S.'s export volume. 
#7 Robust economy
For the past decades, Canada has enjoyed consistent and stable economic growth. Even when other countries were hit badly by the Global Recession in 2008, Canada managed to avoid a banking crisis which led to a milder recession compared to its neighbouring countries. In 2020, many countries were adversely affected by the global pandemic and experienced negative economic growth. Canada was no exception. However, as the number of new daily coronavirus cases decline and the country rolls out its vaccination programme, Canada's economy is poised to recover by next year. In particular, the OECD expects the Canadian economy to grow by 6.1% in 2021.
Looking to setup company in Canada?
Overall, if you are looking for a quick and easy incorporation process and wish to gain access to the U.S. market, you should consider setting up a business in Canada because of its political and economic stability and business incentives. The main disadvantage of setting up a business in Canada is the stringent requirement for directors' residence: at least 25% of directors must reside in Canada. This means that a sizable portion of your management team must be situated in Canada. 
Although a corporation (limited liability company) is the most common business entity for business owners in Canada, the business entity you choose will ultimately differ depending on the goals, structure and activities of your business. After you have decided on the type of business entity you wish to set up, the next step is to find out how to register business in Canada.
Tetra Consultants provides you with a fast and simple way to register company in Canada through our service package, which includes registration of your company with the relevant federal or provincial authority; provision of nominee resident directors, local company secretary and a registered address; the opening of a corporate bank account; license application if applicable; and annual accounting and tax services. Tetra Consultants will also recommend the type of business entity suitable for your company, based on your long-term goals and business model.
Contact us to find out more about why and how to setup company in Canada. Our team of experts will revert within 24 hours.