Isle of Man is regarded as a stable jurisdiction and a tax haven. Due to the benefits of registering a company in Isle of man such as the attractive tax, it is ideal to register a business isle of man. Hence, if you plan to register company in Isle of Man, you should understand the underlying disadvantages as well. In this article, our team at Tetra Consultants has highlighted 9 disadvantages of setting up a company in the Isle of Man.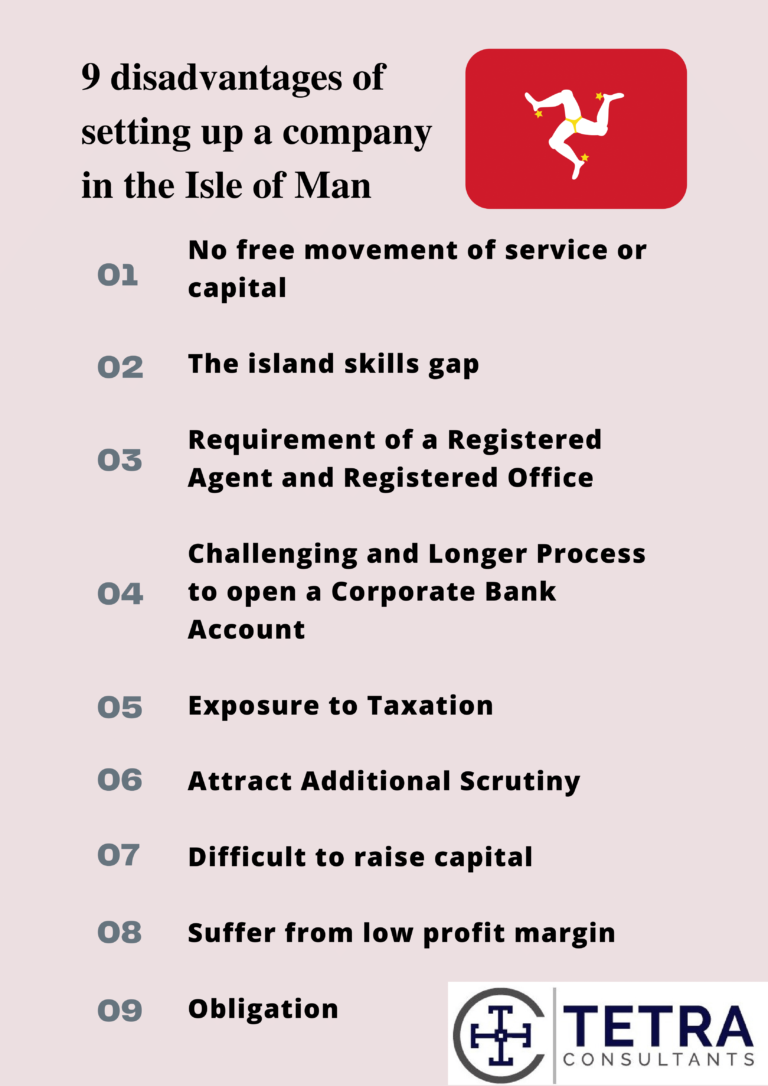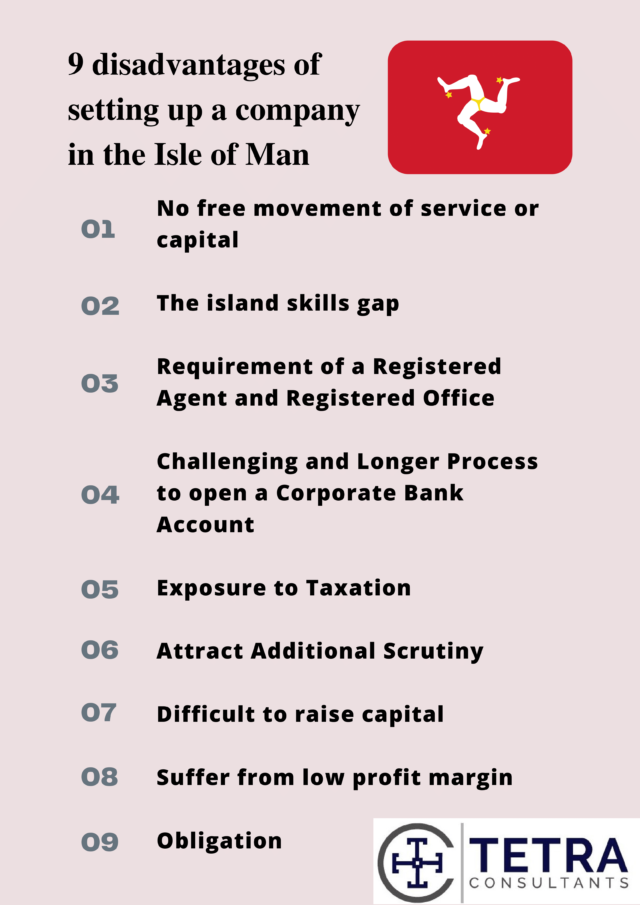 1. No free movement of service or capital:
Although Isle of Man possesses strong connections with the European Union, it is not entitled to the free movement of services or capital where the deployment of services and capital can be done across borders efficiently. Therefore, if the lack of free movement of services or capital is seen as a huge disadvantage to your business, it may be more feasible to start your company in another jurisdiction such as Gibraltar. 
2. The island skills gap:
It has been noted that Isle of Man is facing a problem of skill gap where there is a difference between the skills required by the employers and the skills employees actually possess. On top of that, due to the low unemployment rate, it is difficult to hire workers with the right skills that is best suited for the job. This not only leads to a shortage of manpower due to the difficulty of hiring the right-skilled worker, but it also leads to problems such as logistics problems. Hence, it may be difficult in terms of hiring workers if you were to set up a company in Isle of Man.
3. Requirement of a Registered Agent and Registered Office:
There is the requirement of a registered agent and registered office in setting up a Isle of Man company. A registered agent is a third party who is assigned to handle the management of the business located in Isle of Man and regulated by the Isle of Man Financial Services Authority. Furthermore, a registered office is required with the registered agent physically present on Isle of Man.
4. Challenging and Longer Process to open a Corporate Bank Account:
Businesses operating in tax havens are often classified as high-risk clients. This results in the opening of corporate bank account being much more challenging. In addition, there may be a requirement of additional due diligence documents and a higher standard of requirement in order for their application to be accepted. This may deter one from starting a business in Isle of Man.
5. Exposure to Taxation:
The exemption of tax might be one of the many reasons to start a company in Isle of Man. However, your corporate and personal tax obligations of the country of your residence may still apply. Hence, through the remittance and distribution of the assets and income, you may be subjected to taxation. This would result in the cancellation of the exemption of taxes which was offered in Isle of Man.
6. Attract Additional Scrutiny:
Companies operating in tax haven jurisdictions are often classified as skeptical. Hence, an increasing number of both customers and suppliers are beginning to be unwilling to conduct business with them. Furthermore, companies operating in tax haven jurisdiction attract additional scrutiny due to being viewed unfavourably by the government to audits.
7. Difficult to raise capital:
As mentioned above, businesses operating in tax haven jurisdiction often raise skepticism. This will undoubtedly influence investors and it may lead to them hesitating to invest in projects in such businesses. Therefore, this may result in difficulty in raising capital through equity. In the case that you require investors, a tax haven jurisdiction such as Isle of Man may not be suitable.
8. Suffer from low-profit margin:
With a small population of 85,700 in 2021 and known for the sectors in finance, insurance, and online gaming, it would be an ideal place to start a business in these sectors. However, if you wish to start a business in a sector that is less well-known in Isle of Man, such as exploring other sectors or intending to release new products into the market, your company may face the problem of suffering loss or low-profit margin in the beginning.
10. Obligations:
Due to the stringent compliance law, there are obligations such as the annual return filing requirement. The annual return requires information such as a summary document of the directors, secretary, shareholders and share capital at a point in time. It is required to be filed annually which businesses may have to complete additional documentation.
Conclusion:
Although setting up a company in Isle of Man has some disadvantages, the stable jurisdiction and an attractive tax system of Isle of Man still have much to offer. If you are unsure whether you should start a business in Isle of Man, you may wish to engage the service of Tetra Consultants. With Tetra Consultants by your side, the registration process of your business in Isle of Man will be smooth and hassle-free. Our comprehensive service package includes planning and strategizing with our clients to select a suitable business entity, completing the registration process, obtaining required licenses, opening a corporate bank account, and ensuring your compliance with the government regulations. 
Contact us to find out more about setting up a company in Ireland from abroad and our dedicated and experienced team will revert within the next 24 hours.