If you are looking to expand your business into China, there are many considerations to be taken account into before proceeding with the China business registration. In this article, our team at Tetra Consultants has highlighted 9 pros and cons to know before you set up company in China which will help you in deciding whether to register company in China.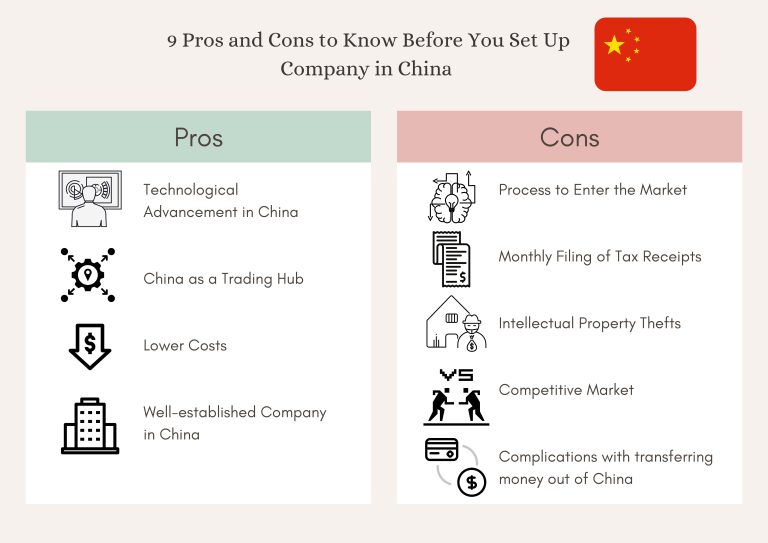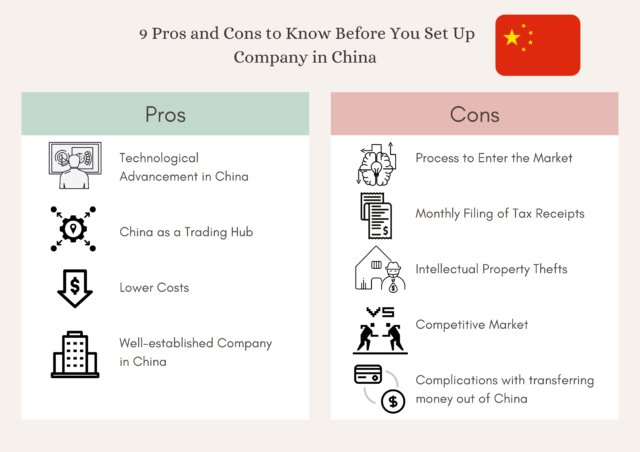 Pros:
#1 Technological Advancement in China:
China is well known as a leading technology innovator all around the world. As seen from emerging famous handphone brands such as Huawei, Oppo and Xiaomi, China is shifting towards being a technology producer. The advancement in China is a driving force for economic growth, and this includes scientific and technological advancements. Furthermore, China's 14th Five-Year Plan spanning from 2021 to 2025 also includes a path to achieving the Sustainable Development Goals, which is currently the talk of the town. You can leverage the advancements and set up company in China, where your business innovations can be easily scaled up. This allows your business to gain more profits, achieving its utmost potential.
#2 Well-established Company in China:
Having a local company in China allows you to issue formal receipts that are required for local accounting. This is an important procedure in the running of your business and attracting investors, as it helps your company to be deemed trustworthy and legitimate. Once you set up company in China, you would be able to open a local bank account. This is useful in allowing you to speed up your transaction, adapt to the China market and manage affairs with ease.
#3 China as a Trading Hub:
As China has a huge population and land size, China shifted its focus towards international trade for economic growth. The government has shifted its policies to create a business-friendly environment. Furthermore, the companies in China understand the importance of entering the market globally, and these measures allow individuals to set up company in China more easily. Therefore, with China being an important part of the international trade, the businesses would be more globally oriented, which is a huge advantage if you wish to set up business in China.
#4 Lower Costs:
Many investors are attracted to set up company in China due to the low manufacturing cost. As China has advanced technology and a large number of suppliers and manufacturing factories, your company would be able to enjoy low cost for factors of production. In the event you wish to expand your business, this low cost for factors of production would be a great advantage for your company, maximizing your gains and profits. Based on the industry your company is in and the products that you need, cutting 80% of your costs is possible.
Furthermore, the sheer number of manufacturing companies can aid you in looking for one that is suitable for your business, saving you time and money. Even though the minimum wage and working standards in China increased in recent years, the cost of manufacturing is still attractive when juxtaposed to developed countries. With an established business ecosystem, competitive currency, and low taxes for business, China is undoubtedly a leader in the global market and setting up a business in China is definitely an option filled with unlimited possibilities for you to consider.
Cons:
#1 Process to Enter the Market:
Although there are many benefits in entering the China market, it might not be easy to access the market, especially for foreign companies. You would have to take many factors into consideration while planning to set up company in China before you start applying for required permits and licenses. To set up business in China smoothly, you need to look into the regulations imposed on foreign companies, as well as the registration process and the protection of the right strategies. Furthermore, the registration process for setting up a business in China is deemed as complex paperwork due to the various regulations.
Entering the China market also requires you to understand the purchasing habits of the consumers in China. This also includes understanding the platforms used to communicate with potential partners and consumers. Since the media censorship in China is heavy, the social media platforms used by consumers there will be very different from those used here. Therefore, enough research must be done on the regulations and culture of the China market before you can step foot into the market.
#2 Monthly Filing of Tax Receipts:
After you have set up company in China, you are required to declare the tax receipts of your company monthly. Depending on the number of transactions your business is involved in, you would have to pay your accountant approximately 500 to 2000 Chinese Yuan per month. The price you have to pay to the accountant increases with the number of transactions you have.
#3 Complications with transferring money out of China:
The Chinese central bank has a system that is different locally. Therefore, it might not be as easy as you think to transfer money out of China into your local bank account. Furthermore, platforms like PayPal are not accessible in China. Since the internet forbids many applications, you might want to consider the usage of VPN. However, you need to note that it might not work well with the use of a VPN as well. Therefore, you should carefully consider the options and ways to receive the money before stepping foot in the China market.
#4 Intellectual Property Thefts:
Many are afraid to start a business in China due to the cases of intellectual property thefts. Often foreign companies fall prey to such cases of thefts. Even though the government is willing to help you in the case of intellectual property theft, it is important for you to know what you can do. This includes preventive measures, protecting your rights to prevent thefts, and mitigative measures in the event that you are unable to prevent it.
#5 Competitive Market: 
Since China is the most populated country in the world, there would be a large number of local companies. Furthermore, with the influx of foreign businesses in top-tier cities such as Shanghai and Beijing, Guangzhou and Shenzhen, there would be fierce competition in China market both between the local and foreign companies.
The competition in China brings about improvements. For the companies to continue staying in business despite the competition, they have to constantly innovate and improve their products to gain more customers and increase profits. However, if your company is unable to catch up with the constant growth, your company might be unable to prevent losses and it might lead to a shutdown. Therefore, it is important that you have enough resources and suitable manpower to keep your company afloat in the China market.
Conclusion:
With Tetra Consultants by your side, the registration process of your business in Canada will be smooth and hassle-free. Our comprehensive service package includes planning and strategizing with our clients to select a suitable business entity, completing the registration process, obtaining required licenses, opening a corporate bank account, and ensuring your compliance with the government regulations. 
Contact us to find out more about company formation in China and our dedicated and experienced team will revert within the next 24 hours.