Mauritius, the widely popular tourist destination island located about 2,000 km off the coast of Africa in the Indian Ocean has become the centre of attention for many foreign investments and corporations. The country boasts a conducive environment that is pro-business, allowing for facilitation of business formation, activities and investment to take part in the open Mauritian economy. This has allowed the previously low-income economy to grow and graduate, transitioning itself into a middle class income economy. This is further cemented by the fact that the once agrarian dependent country that was fully involved in agriculture and tourism has in recent time, shown new developments in emerging fields of manufacturing, textile and apparel, Information Technology (IT) and also its financial services sector. The mixed developing economy of Mauritius has attracted the attention of many foreign investors to consider to register business in Mauritius as a result of its political and socio-economic stability and pro-investment climate. Before you register company in Mauritius, do refer to Tetra Consultants' detailed comparison of 3 types of companies in Mauritius.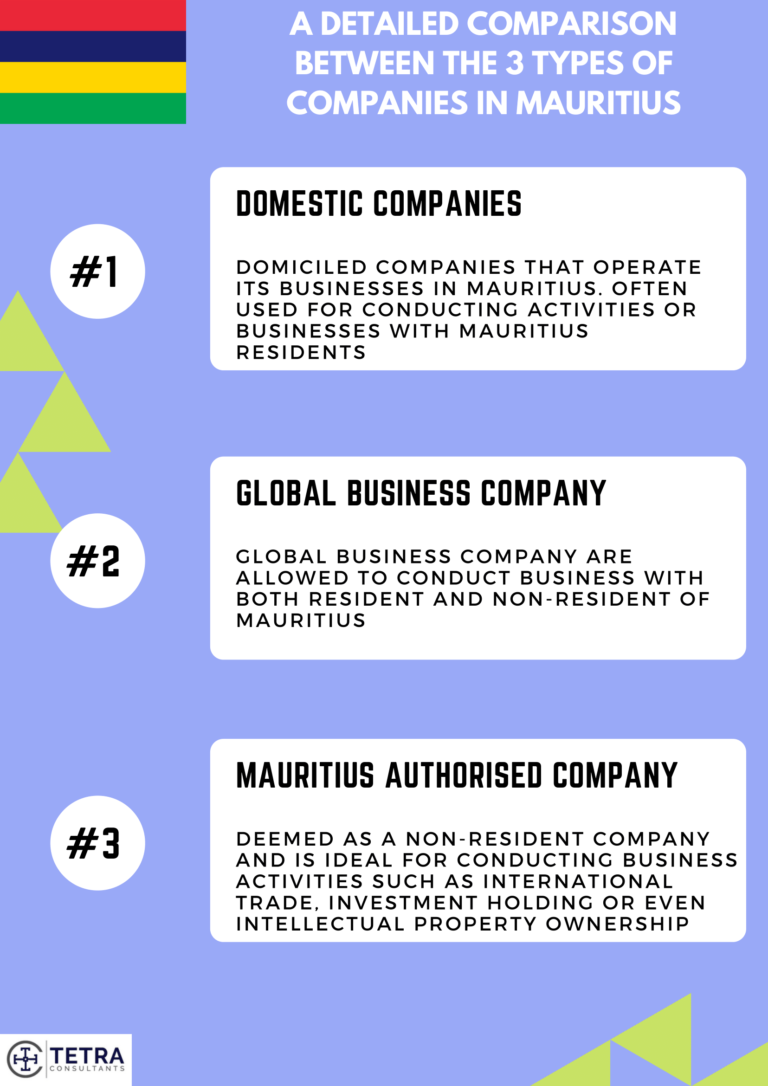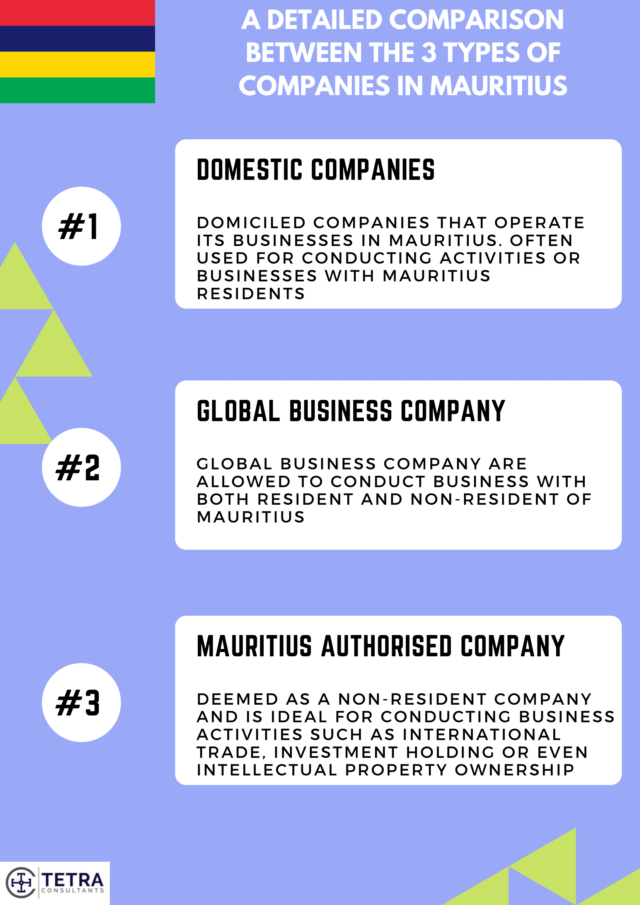 1) Mauritius' Company Types
In Mauritius under The Companies Act 2001, the following types of companies in Mauritius are allowed to be formed: Domestic Company (DC), Global Business Company (GBC) or the Authorised Company. In essence, there are 3 types of companies to be set up in Mauritius.

Domestic company is essentially a domiciled company that operates its business in Mauritius. The domestic company can be set up for various activities such as trading, investment, consulting and other service provision. A domestic company is often used for conducting activities or businesses with Mauritius residents. Shareholders of a domestic company are allowed to be non-resident members.

Global Business Company is an entity that is licensed by the Financial Services Commission (FSC) and regulated under both The Companies Act 2001 and Financial Services Development Act 2001. GBC firms were previously split into GBC 1 and GBC 2 companies, with the first category being considered as a resident company and the latter considered to be a non-resident company but this system has been phased out and firms are just considered under the "GBC" identity. GBC firms essentially are allowed to conduct businesses with both residents and non-residents of Mauritius and they have to attain the Tax Residence Certificate in orderter to enjoy double taxation treaties that the jurisdiction has established with other countries. It is also important to note that GBCs have to meet a certain level of economic substance requirements to receive discounted tax rates.

A Mauritius Authorised Company (MAC) is deemed as a non-resident company, which allows itself to be exempted from corporate tax, capital gain tax as well as withholding tax in Mauritius. The MAC is an entity that is regulated under the Financial Services Act 2007 and is ideal for conducting business activities such as international trade, investment holding or even intellectual property ownership. Additionally, the records or register of a MAC is not made publicly accessible to the public.
2) Mauritius Company Structures
Having explained the few main types of companies in Mauritius, it is now time to understand the varying structures of companies that can be founded under The Companies Act 2001. Companies can be formed limited by shares. This means that the liability of shareholders is limited by the respective unpaid amount on the shares held by the shareholders. Companies can also be formed through limited by guarantee. The main principle is to subject the liability of each member to be limited to the amount each member respectively undertake to contribute to the assets of the company. There is also the option to be limited by both shares and guarantee.

Mauritius also allows for the formation of an unlimited company which is founded on the principle of having no limitation placed on the liability of the company's shareholders. Another company structure is known as the limited life structure, which by constitution limits the company life to a period not exceeding 50 years. However, companies can opt to alter its life through extension of up to a maximum period of 150 years. A "One-person company' is also allowed to be incorporated, but is subjected to the restriction of nominating a secretary in the event of the death or incapacity of the sole shareholder or director of the one-person company. The last structure available to be set up in Mauritius is known as the dormant company which allows the company, by passing of a special resolution during a meeting of shareholders for the year that annual accounts have been duly filed, to declare themself dormant and not carry on to conduct any kind of business activity.
3) Public or Private Companies:
The third thing to know about types of companies in Mauritius is that companies can either choose to be privately held or publicly traded. A Public company must have a minimum of 25 shareholders and the capacity of shareholders is not limited as companies are allowed to sell off its shares to the public in hopes of raising capital. However, for private companies in Mauritius, they are not allowed to have more than 50 shareholders and are not allowed to make any offer of company shares to the public.
Conclusion:
Engage Tetra Consultants as we guide on determining your optimal company entity from the various types of companies in Mauritius through a smooth and hassle-free process. The team provides a comprehensive service package that includes planning and strategizing with our clients to select a suitable business entity, completing the registration and documentation processes, obtaining required licenses, opening a corporate bank account, and ensuring your compliance with the government regulations. 
Contact us to find out more about company registration in Mauritius and our dedicated and experienced team will revert within the next 24 hours.