After you register company in Dubai, the next step will be to proceed with setting up an offshore bank account in Dubai. An offshore bank account is one that is set up in a different country than the residence of the account owner. This type of account ensures high levels of privacy and security while maintaining low rates of tax. Several countries provide such facilities, including Singapore, Switzerland and Dubai. In this article, we will discuss the benefits of having a Dubai offshore bank account.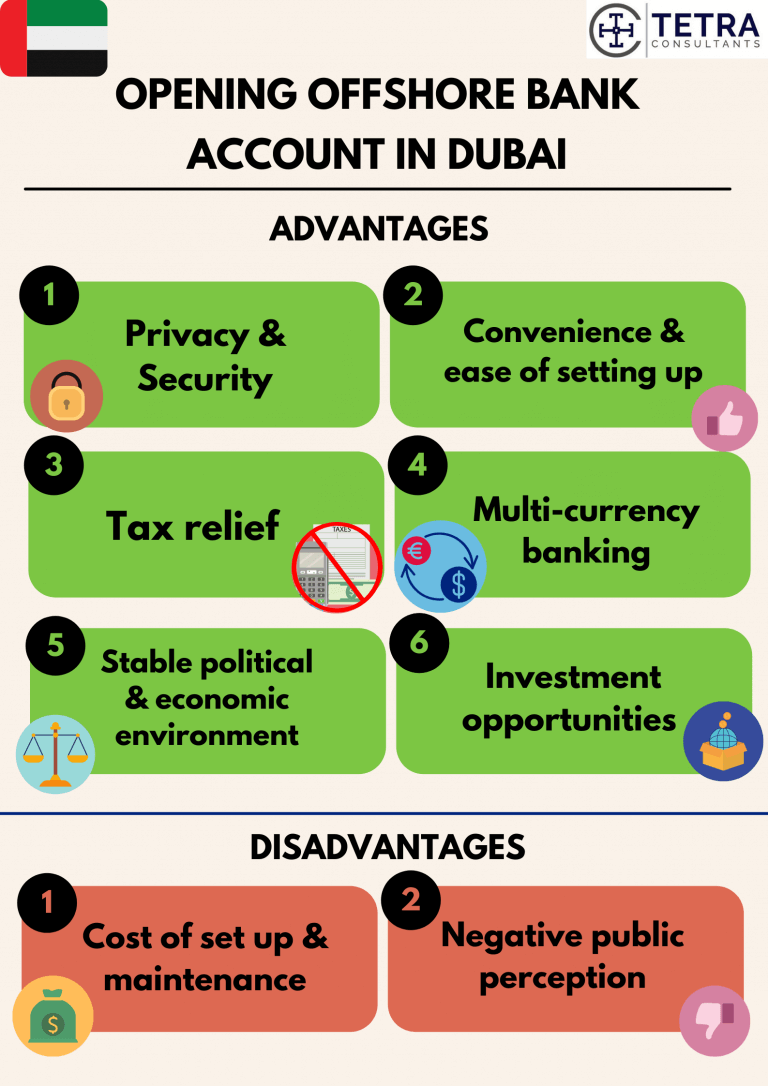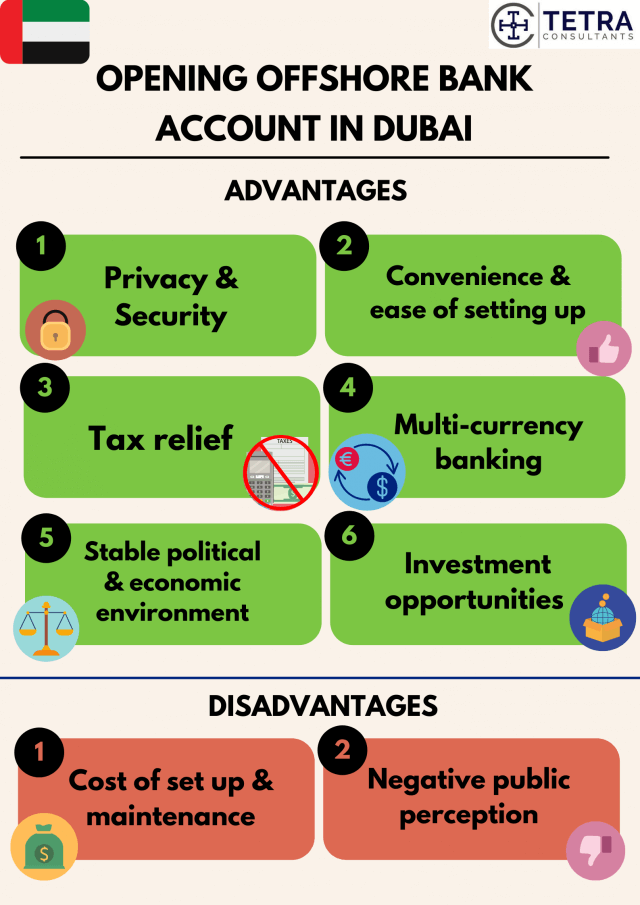 Advantages
#1 Privacy and Security
Offshore bank accounts opened in Dubai provide more privacy and security for the company. This is due to the strict regulations imposed by the government and banks, guaranteeing confidentiality and protecting the company's assets and funds.
#2 Convenience
Offshore bank accounts can be accessed from any part of the world. With an offshore bank account, companies with offices in multiple locations would then not need to go through the time-consuming and inconvenient process of setting up bank accounts in multiple countries.

Moreover, with the provision of internet banking, companies can conveniently transfer funds to all parts of the world. In Dubai, there are no restrictions on the total funds that can be transferred.
#3 Tax Relief
Several countries provide tax incentives to promote foreign investment. In Dubai, this comes in the form of a lack of personal income tax or corporate tax. Therefore, individuals with an offshore bank account would be guaranteed complete tax relief.
#4 Multiple-Currency banking
Offshore bank accounts provide currency exchange services. This can reduce the risk of wide fluctuations in currency values and allow you to wait for a lower currency rate before making your transaction. Moreover, these offshore banks can provide a more competitive currency exchange rate compared to traditional banks. Some of the more reputable banks such as Emirates NBD and Dubai Islamic Bank are able to provide multi-currency banking facilities. 
#5 Stable political and economic environment
Dubai has a relatively stable political and economic environment. Since there are strong financial regulations and a lower risk of political unrest, there is a lower likelihood of company assets being seized or frozen by the government. Therefore, owning an offshore bank account in Dubai would be highly beneficial.
#6 Investment opportunities
Offshore banks can also provide you with more options for investment than banks in the home country. This is because offshore bank accounts enable access to international markets instead of only domestic markets.
#7 Ease of setting up a bank account
Offshore bank accounts are relatively easier to start and do not take long to set up once you have completed the process to

register business in Dubai

.
Despite there being so many benefits, there are some drawbacks to having an offshore bank account as well.
Disadvantages
#1 Cost
Offshore bank accounts are very costly to set up and maintain. It is difficult to open such a bank account and it has a higher minimum account balance requirement. Therefore, it is more beneficial for companies with higher revenues.
#2 Public perception
Offshore banking is usually associated with tax evasion and money laundering. This negative and outdated public perception can weaken the reputation of the company wishing to open an offshore bank account even if they are doing so legally.
After gaining a better understanding of the benefits and drawbacks of setting up an offshore bank account in Dubai, we will now examine the steps to do so.
Before you can set up an offshore bank account, it is recommended to complete your offshore company registration in Dubai. This would make it quicker and easier to open a bank account once you have already completed your new business set up in Dubai.
Steps to open Dubai offshore bank account
Once you have completed the process to register company in Dubai, you can follow these steps to open an offshore bank account:
Step 1: Decide on the bank
You need to decide which banks to apply to, carefully comparing the facilities they provide, their minimum requirements, and other factors.
Step 2: Complete the KYC process
You must pass the KYC process which involves checking your Proof of Identity, Residential Proof, and Credit History.

You must also have the following documents: Memorandum of Association, Business description, Registration Certificate and more.
Step 3: Make the initial deposit
You must deposit the minimum balance required by your bank to activate your account. This amount differs in each bank.
This entire process should take approximately two to three weeks if you have already finished the process to register business in Dubai. However, it may take longer if you have not completed incorporation. You will receive online access once the account has been activated.
Keen to open a Dubai offshore bank account?
We at Tetra Consultants recognize that the process of setting up an offshore bank account in Dubai can be difficult, hence we offer you our full services. We will recommend to you the most suitable bank for your needs and assist you through the set-up process, as well as the time-consuming procedure of offshore company registration in Dubai.
Contact us if you wish to receive more information about creating an offshore bank account in Dubai and our team will revert to you within the next 24 hours.