Norway has managed to ascertain itself as the world leader in the production of oil and gas, energy, maritime, seafood and other contemporary sectors across the globe. Taking the 33rd spot in terms of GDP production in 2021, Norway is considered one of the world's frontrunners in terms of developed economies as the country receives a heavy amount of Foreign Direct Investments (FDIs) with many international companies incorporated in the jurisdiction. Not to mention, Norway is recognised as a safe and straightforward place to conduct business, ranking  9 out of 190 countries during the year 2019, under the World Bank's Doing Business Index. Norway's success can be partly attributed to its major industries that are supported by strong and competitive professional services like finance, Information & Communication Technology (ICT) and legal services. This created a strong collaboration and development into new emerging opportunities such as Fintech, Cleantech, Medtech and Biotechnology. With Norway being at the forefront of technology and professional services, many foreign investors have been looking into setting up a company in norway as they hope to enter the well developed economy. Before you proceed to register company in Norway, allow Tetra Consultants to share the 5 top benefits of starting a business in Norway.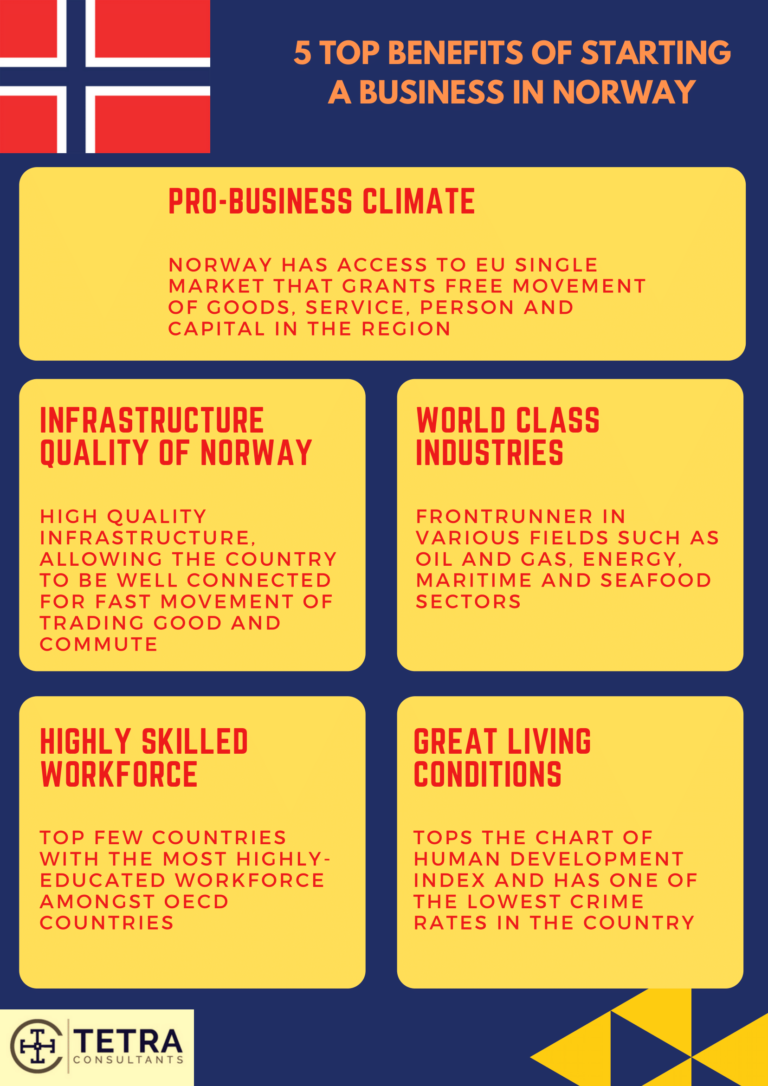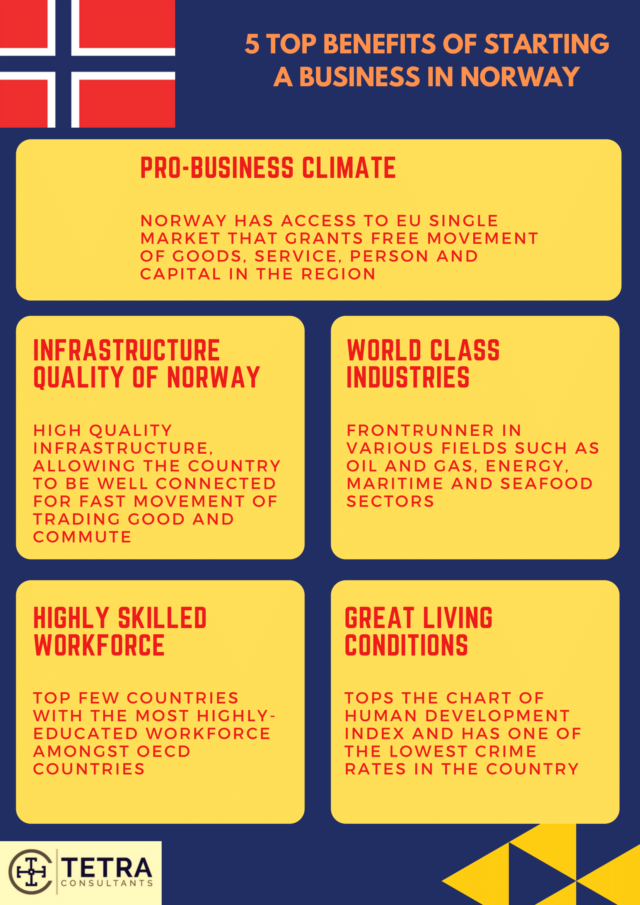 1) Pro-Business Climate 
The first benefit of starting a business in Norway is because of the pro-business climate that the jurisdiction offers. The jurisdiction of Norway offers foreign investors a pro-business climate to conduct their business and operations. While not a member state of the European Union (EU), Norway is a partner of the European Economic Area (EEA) which grants the country access to the EU single market and that allows for free movement of goods, services, persons and capital. The Norwegian Government actively seeks to liberalise its foreign investment legislation, removing restrictions to conform more closely with EU trading laws and standards in an effort to make investments easier to be processed and done. In the year 2018, Norway recorded a whopping USD 140 billion Foreign Direct Investments (FDIs), which has more than doubled over the last decade. The government of Norway also started "Innovation Norway", which is set up to provide public funding for innovation and development of Norwegian enterprises and industry. They support companies that are involved in the following seven sectors: Energy and Environment, Maritime, Health, Agriculture, Oil and Gas, Seafood and Tourism. The funding helps enterprises by providing grants ranging from KR 50,000 to KR 100,000 and you might stand to receive even higher grants up to KR 500,000 if your enterprise manages to develop well and has the potential to grow.
2) Infrastructure Quality of Norway :
The second benefit of starting a business in Norway is the high infrastructure quality that Norway offers. The country of Norway is considerably well connected, with a well developed railway system and multiple airports that build and increase intra connectivity between the different towns and municipalities of Norway. The country is also home to 12 major sea ports that stretch along the North Atlantic Ocean, allowing for the export and import of goods and products via sea freight. Starting your business in Norway will grant you access to great connectivity, both domestic and international, which is ideal for businesses who often conduct trading of goods.
3) World Class Industries:
The third benefit of starting a business in Norway is the world class industries that Norway provides. Norway is a leader in many different industries which includes oil and gas, energy, maritime and seafood sectors. The jurisdiction is actively improving the process and methods of production across all different sectors of industries, pioneering and elevating the entire processes. This gave rise to green industries and incorporation of green practices which allowed industries operating in Norway to further improve their research and development. Some examples of new green initiatives include pioneering zero-emission shipping, carbon capture, utilisation and storage (CCUS) and various other new technologies to be developed. Starting a business in Norway will surround your business in its world class industries and easily place them on a platform that allows for scaling of business and green transformation.

4) Highly Skilled Workforce:
The fourth benefit of starting a business in Norway is that the country offers a competitive talent pool of highly skilled workforce and is considered one of the top few countries that offers the most highly-educated workers even amongst OECD countries. If you are looking to register your business in Norway, looking for competent and ready workers should not be a cause of concern given their high level of education and qualities.
5) Great Living Conditions:
The fifth benefit of starting a business in Norway is that the jurisdiction is considered one of the best places to live on this planet. The country consistently tops the chart of the Human Development Index and has a high literacy rate, great education and material wealth. The country also experiences one of the lowest crime rates across the world, allowing for an ease of mind to foreign investors incorporating in the country. The high quality of life makes it another benefit of starting a business in Norway.
Conclusion:
Engage Tetra Consultants as we guide you on how to register a company in Norway through a smooth and hassle-free process. The team provides a comprehensive service package that includes planning and strategizing with our clients to select a suitable business entity, completing the registration and documentation processes, obtaining required licenses, opening a corporate bank account, and ensuring your compliance with the government regulations. 
Contact us to find out more about company registration in Norway and our dedicated and experienced team will revert within the next 24 hours.