With business-friendly policies, tax incentives, straightforward incorporation process, and more, Delaware is one of the prime jurisdictions to set up your business in. In this article, we will explore the benefits of starting an LLC in Delaware in 2021. We will also highlight the steps you must undertake to register company in Delaware.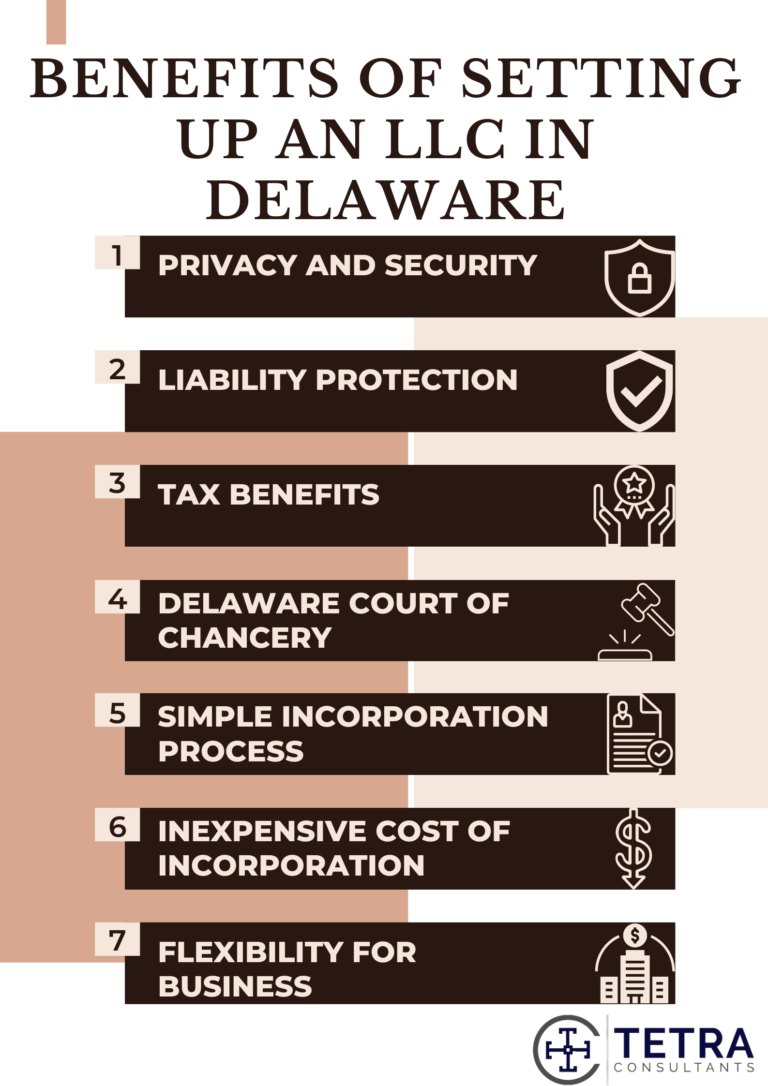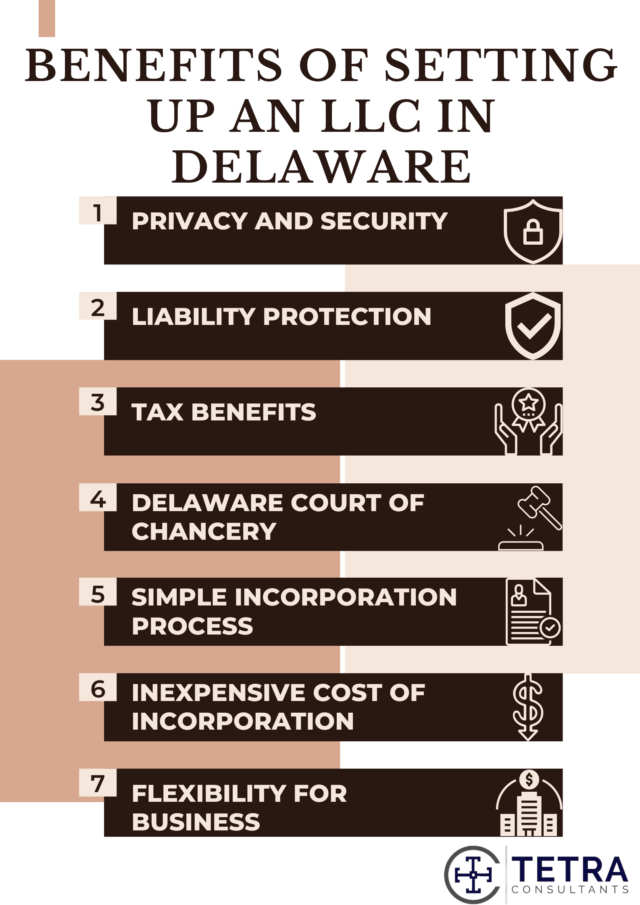 What are the benefits of setting up a Limited Liability Company (LLC) in Delaware?
1. Privacy and security:
In Delaware, businesses do not need to list the names of their shareholders and directors in their Article of Incorporation. Only the registered agent in Delaware must have the above information and they are not required to disclose the same with the government. The public will, therefore, not have access to the records of your Limited Liability Company and businesses receive high levels of confidentiality and are thus, well-protected.
2. Liability Protection: 
An LLC is considered to be a separate business entity from its owners. Therefore, the shareholders are not held accountable for any of the business's debt obligations and liabilities. They are only liable up to the amount they have invested in the business as paid-up share capital. Therefore, the personal assets of the shareholders are well-protected. 
3. Tax Benefits:
There are multiple tax benefits that businesses receive in Delaware. Firstly, if a business set up in Delaware conducts its operations in a different state, it will not be subjected to any corporate income tax. 
Additionally, businesses are not subjected to taxation on intangible properties. Businesses also do not need to pay sales tax.
Moreover, businesses can choose how they want their revenue to be subjected to taxation by the Internal Revenue Service (IRS). Businesses can choose to be taxed as the following:
Sole Proprietorship

Partnership

S Corporation

C Corporation
Based on your chosen entity, you will be subjected to taxation. Our team of experts at Tetra Consultants will advise you on a suitable entity so as to ensure you are subjected to minimum taxation.
4. Delaware Court of Chancery:
In Delaware, the Court of Chancery was set up to handle business disputes. The cases are handled by judges who are specialised in corporate law and commercial disputes instead of juries. This will allow for quick and efficient handling of any business disputes. Instead of the usual years taken by the Courts to handle cases, the Court of Chancery handles disputes in months if not weeks.
5. Simple Incorporation Process:
The company incorporation process is simple and straightforward as very few requirements are required to be met. For example: there is no minimum paid-up share capital requirement that needs to be met. Moreover, there are fewer compliance obligations that businesses need to face. 
Besides this, the incorporation process can be completed quickly, within a period of one week.
6. Inexpensive cost of setting up an LLC:
The government fees charged during the incorporation process are relatively low compared to in other states in the United States of America. 
Moreover, once the business is operational, businesses are required to continue to make annual payments to relevant authorities in order to maintain an LLC in Delaware. This payment is relatively inexpensive.
7. Flexibility:
LLC businesses set up in Delaware can operate in any part of the country and in certain parts of the world, thus, providing flexibility to the company.
An LLC business that is set up in Delaware is governed by the Operating Agreement created by the business owners and this is recognised by the State. The Agreement allows LLCs to define its own guidelines and procedures for running the company. Thus, companies can decide on their own business structure and regulations. 
Incorporation Process of a Limited Liability Company (LLC) in Delaware:
The Delaware company registration process is smooth and hassle-free if you understand the process properly. By following the steps mentioned below, you can incorporate your business in a timely manner.
Step 1: Reserve your preferred business name:
You must check for the availability of your preferred business name by using the Delaware

State of Delaware Entity Search

. 

You will then be required to reserve the same with the Delaware Divisions of Corporations. 

Your preferred name must meet certain criteria including the following:
Name must include 'Limited Liability Company' or 'Ltd'

Name must not include names related to the government body such as 'Treasury'

Name must be different from existing business entities
Tetra Consultants will assist you in the above endeavour.
Step 2: Appoint a local agent
You must appoint a local registered agent to act on behalf of your business. This individual will serve as a link between the business and the Delaware Divisions of Corporations.

Tetra Consultants will assist you in finding a suitable agent for your business.
Step 3: Prepare the required incorporation documents:
You will also be required to prepare all the required documents at this point including:
Power of Attorney appointing a local registered agent

Proof of Address

Certificate of Formation

LLC Operating Agreement

Other incorporation documents
Tetra Consultants will advise you on the documents required and prepare the same for you.
Step 4: Register your company:
Once all the pre-registration steps are completed, Tetra Consultants will proceed to file the Certificate of Formation with the Delaware Division of Corporations.

You will not be required to travel to Delaware to register your business. We will do it on your behalf.

Once the incorporation process is completed, we will collect the Certificate of Incorporation and any other incorporation documents and courier them to your preferred address.
Step 5: Opening of a corporate bank account:
Once the registration process is completed, Tetra Consultants will proceed to open a corporate bank account for your newly incorporated company. We will leverage our extensive banking network to open an account with a suitable and reputable bank in Delaware.
Step 6: Meet all the Post-registration requirements
If you are planning on employing individuals for your business, you must obtain an Employer Identification Number (EIN) from the IRS. Tetra Consultants will assist you with the same.

Based on your business activities, you will be required to obtain certain licenses from the Delaware Division of Revenue. Tetra Consultants will advise you on the licenses you will be required to obtain and help you in receiving the same.
Step 7: Staying Compliant with government policies:
Even after the company registration is completed, Tetra Consultants will continue to assist the company in staying compliant with the government policies by preparing annual financial statements and filing tax returns, if required.
The entire registration process should be completed within 1 week of engagement and receipt of all the required due diligence documents. We will inform you of the requirements before we begin the incorporation process. Following this, opening a corporate bank account will take approximately 4 weeks. All in all, your Delaware company will be completely operational within 5 weeks of engagement.
We, at Tetra Consultants, understand that the process of setting up business in Delaware may be cumbersome and would, therefore, like to offer our services. We will support you in incorporating your business in Delaware by informing you about the various requirements you will need to meet and assist you in doing the same. We will incorporate your company and open a corporate bank account on your behalf. Following this, we will ensure that you remain compliant with the government regulations.
Contact us if you wish to find out more regarding how to register business in Delaware and the comprehensive service package we offer to our clients. Our dedicated and experienced team will revert to you within the next 24 hours.