Are you planning to open offshore company in Hong Kong? In this article, Tetra Consultants explains the reason you should setup offshore company in Hong Kong.
Before we begin, you must first understand what an offshore company is. An offshore company conducts its business activities in a jurisdiction other than the home country of the business.
What are the advantages of choosing to open offshore company in Hong Kong?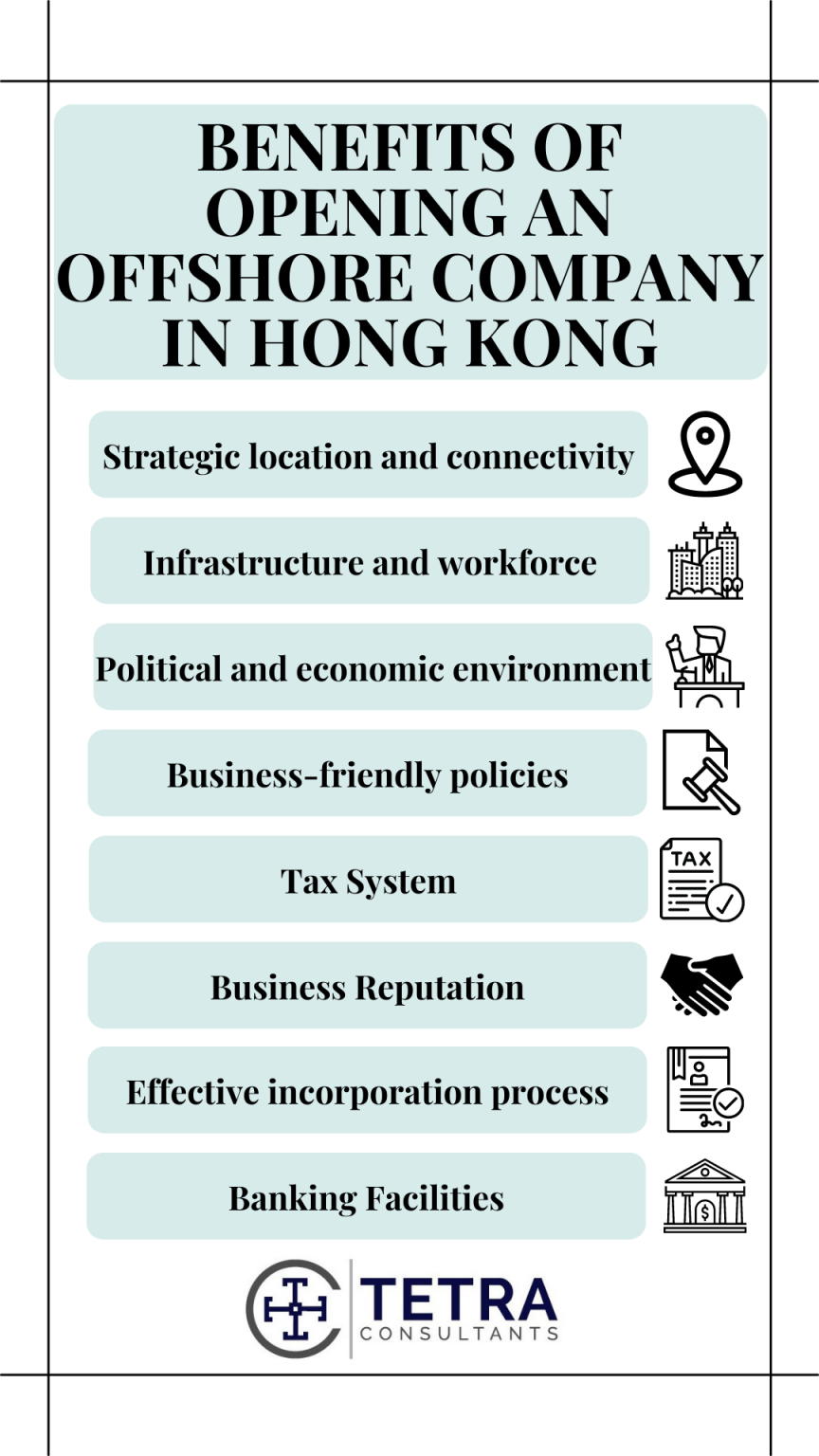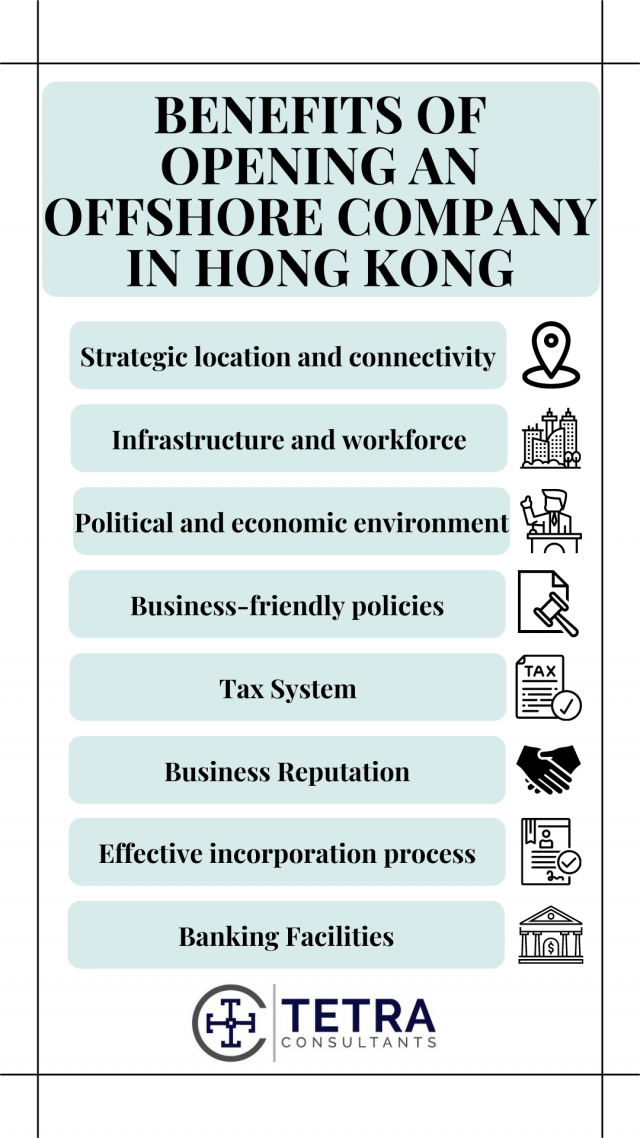 #1 Strategic location and connectivity:
Located on the southeast coast of China, Hong Kong is one of the best jurisdictions to set up offshore companies in. This is because not only does it serve as a gateway to the Chinese market but also to the entire Asian market.

With various ports and airports, Hong Kong has a sound network system connecting it to different countries worldwide. In fact, Hong Kong has a rank of 7

th

worldwide in terms of the busiest port.
#2 Infrastructure and workforce:
Hong Kong has a well-developed infrastructure with the availability of electricity, strong communication networks, an efficient transportation system, and more. 

Besides, Hong Kong has a large and growing labour force that businesses can take advantage of. 

According to the Global Competitiveness Index of 2019, Hong Kong has a ranking of 3

rd

out of 141 countries in terms of infrastructure and 20

th

out of 141 countries in terms of a skilled and efficient labour force.

Moreover, Hong Kong is a global trading hub with English as its second official language. Hence, businesses will not face any communication problems when operating in the country.
#3 Political and economic environment:
Despite having an unstable political environment presently, owing to the anti-government protests with Mainland China, the economic and legal system of Hong Kong remains sound.

With the "one country, two systems" policy, Hong Kong has maintained its own political, economic, and judicial system, separate from China.

Hong Kong believes in a transparent law and order system, allowing for better handling of conflicts and disputes.

Hong Kong has a ranking of 11

th

out of 180 countries according to Transparency International's Corruption Perception Index of 2020.

The Hong Kong Dollar (HKD) is controlled and compared to the United States Dollar (USD), thus allowing the currency to be relatively stable. 
#4 Business-friendly policies:
The Hong Kong government has issued various business-friendly policies to attract foreign investment. 

The government has issued various policies to protect the Intellectual Property Rights of businesses leading to the creation of a fair business environment.

Hong Kong has one of the freest economies in the world, as per the Index of Economic Freedom of 2019. This could be attributed to its open market and policies.

Hong Kong has a ranking of 3

rd

out of 141 countries in terms of its national competitiveness, as per the Global Competitiveness Index of 2019.

There are also no foreign exchange controls allowing for a better foreign exchange market.

Moreover, the Hong Kong government has a liberal immigration policy, allowing overseas investors or business owners to obtain required visas to come to the country.
#5 Tax system:
Businesses in Hong Kong are subjected to a Corporate Tax Rate of 16.5% on the locally sourced income, which is lower than the worldwide average corporate tax rate of 23.85% measured across 177 jurisdictions. 

Hong Kong offshore company tax

system is simple and beneficial for businesses. This is because businesses are completely exempted from tax on foreign income, capital gains tax, and withholding tax on dividends or interests. 

Besides, the government has an extensive network of Double Tax Agreements with over 45 countries.
#6 Business Reputation:
Despite having various tax reliefs provided to your business, the Organisation for Economic Cooperation and Development (OECD) does not consider Hong Kong to be a "tax haven" country unlike the Cayman Islands or the British Virgin Islands, which tends to give businesses negative publicity. 

Moreover, Hong Kong adheres to the international standards on taxation information and exchange.

Therefore, businesses set up in Hong Kong have a good and credible image of the business among the various stakeholders of the business. 
#7 Effective incorporation process to open offshore company in Hong Kong:
Hong Kong has a rank of 3

rd

out of 189 countries in terms of the Ease of Doing Business, according to the World Bank. 

The setting up process of a company in Hong Kong is smooth and hassle-free without any bureaucracy or red tape. 

Moreover, businesses have to meet fewer requirements to incorporate the business, allowing for a fast registration process. In Hong Kong, businesses can be completely foreign-owned without a need for a local director or shareholder.

The incorporation process is also relatively less costly in Hong Kong than that in other countries such as the Cayman Islands.

Companies set up in Hong Kong also face a lower compliance cost as they only need to file an annual tax return.
#8 Banking Facilities:
Hong Kong is one of the leading financial centres in the Asian Pacific region, providing various facilities such as multi-currency accounts, internet banking, and more. 
Open offshore company in Hong Kong vs Singapore
Generally, when deciding on a jurisdiction to set up an offshore company, people are confused between a Hong Kong vs Singapore offshore company. There is no clear answer as to which jurisdiction is better as it depends on your business activity, requirements, and long-term goals.

In terms of the setting up of an offshore company, Singapore and Hong Kong are quite similar except for in the following ways:

Hong Kong government levies a tax rate of 16.5% on the locally sourced income of the businesses whereas Singapore levies a rate of 17%. However, the foreign income of these offshore companies is not taxed. 
Hong Kong is ranked third in terms of the ease of doing business whereas Singapore is ranked second, possibly owing to its clarity of policies and complete transparency. However, it is relatively costlier to do business in Singapore than in Hong Kong because of additional requirements and compliance costs.
Singapore is more politically stable than Hong Kong, allowing businesses to face a lower level of risk as compared to those in Hong Kong.
Despite being close competitors when it comes to infrastructure and labour force, businesses may receive more benefits from incorporating in Singapore.

Although it may seem that setting up offshore business in Singapore is more advantageous than in Hong Kong, it is relatively costlier to establish your business in Singapore. Moreover, if your business is looking to enter the Chinese market, Hong Kong may prove to be more advantageous for your business because of its strategic location.

Contact us

 

if you are unsure about which jurisdiction would be best suited for you and our team of experts will revert within 24 hours. 
How can Tetra Consultants help you open offshore company in Hong Kong
Our team of experts at Tetra Consultants has assisted our international clients in the incorporation process of their company in Hong Kong. Our service package includes planning and strategizing with our clients to choose a suitable jurisdiction for their company and a suitable business entity; the registration of the company to ensure a smooth and hassle-free process; assisting in opening a corporate bank account for your business by leveraging our extensive banking network; ensuring that the business remains compliant with the government laws.
Contact us to know more about the incorporation process in Hong Kong and our comprehensive service package. Our dedicated and experienced team will revert within the next 24 hours.