Thinking of starting a business in Cyprus? Cyprus is a crucial European business hub that provides significant advantages to foreign investors such as a thriving economy, a low tax haven and a welcoming territory for foreign investments. With straightforward procedures to register company in Cyprus, it is no wonder Cyprus is a leading jurisdiction to set up a business. Cyprus business setup is within the reach of everyone while choosing a good business idea can make all the difference. Before you embark on your entrepreneur journey, here are the 10 best businesses to start in Cyprus.
Cyprus offers different types of business entities for you to choose from, where each business entity caters to different types of business activities. Foreigners who wish to operate business in Cyprus can choose between these 8 business entities, which includes: 
Private Limited Company by shares

Public Limited Company by shares

Limited Liability Company by guarantee

General Partnership

Limited Partnership

International Trusts

Branch Office

Sole Proprietorship
Private Limited Company by shares, also known as a Cyprus limited liability company, is the most common and popular type of company registered by foreign investors in Cyprus. A Limited Liability Company is usually used to structure a Cyprus Holding Company. A holding company allows businesses to diversify investments across several industries according to the investors' interests and the advantage of the company.
Before you register a business in Delaware, it is crucial to fully understand your business model before choosing the most suitable business entity. Some considerations you should take into account include the type of business activity, tax obligations as well as potential personal liability.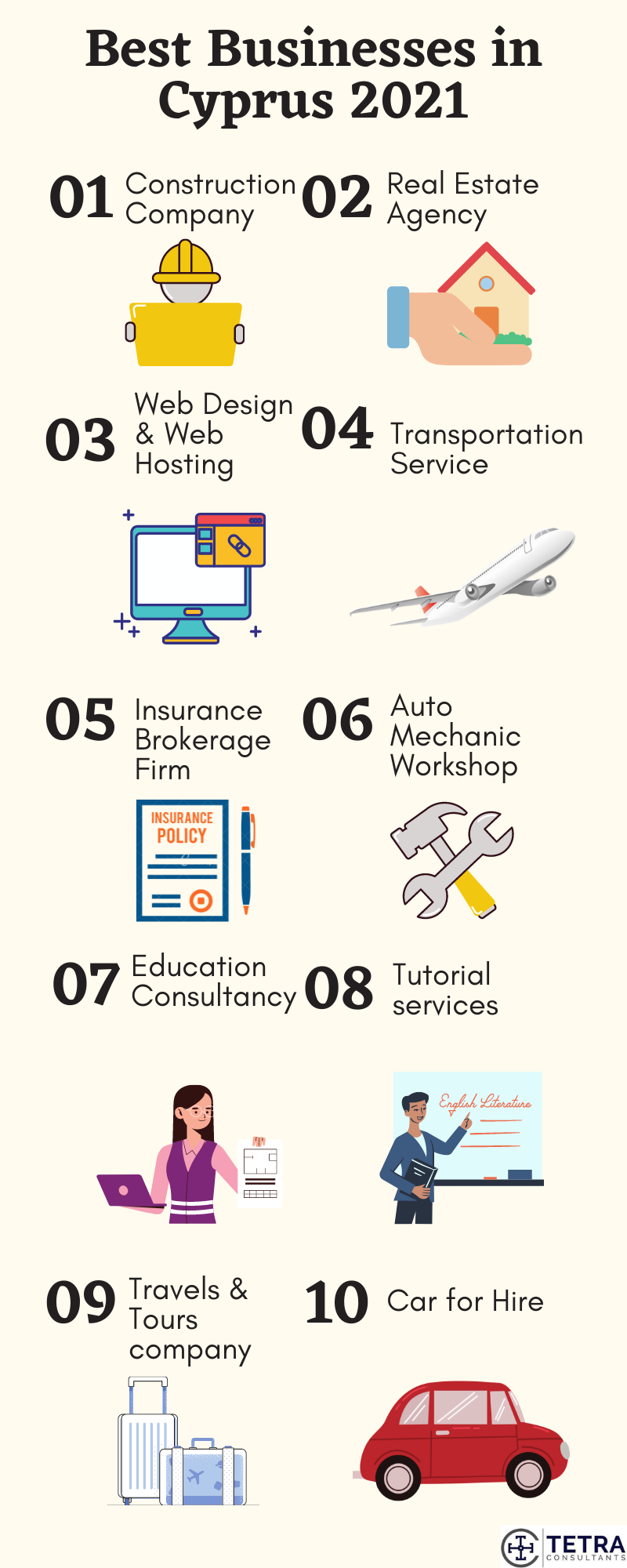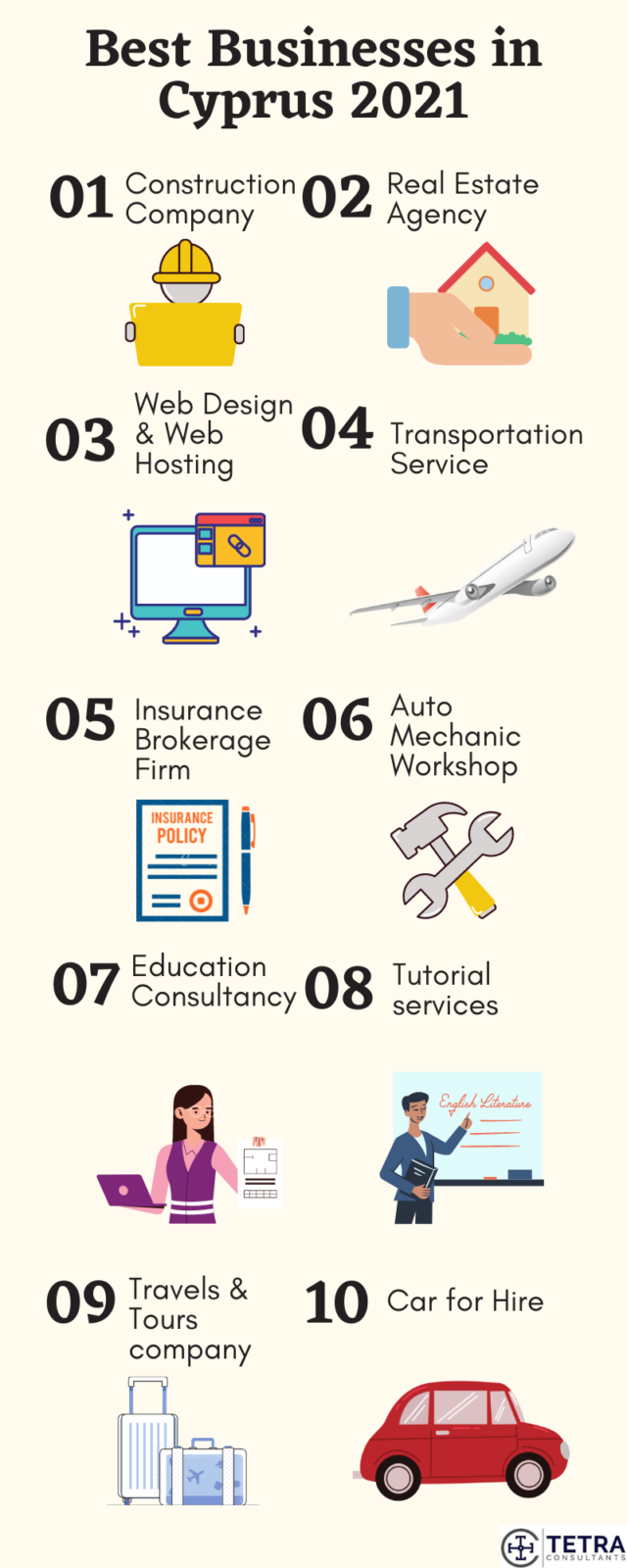 1. Construction company
Not just in Cyprus, the construction industry plays an important role in the infrastructural development of any country. Construction companies in Cyprus can benefit from some form of government support. As the government is highly supportive of massive infrastructure development by the private sector, there are plenty of opportunities to establish your own construction company if you are thinking of investing big time in Cyprus. If you are a civil engineer, structural engineer or in a related field, starting a construction company is a thriving and profitable business to engage in. 
2. Real estate agency
Due to the great demand and people's constant lookout for properties such as homes, apartments, office spaces and rooms, real estate proves to be an attractive investment in Cyprus. Therefore, by starting your own real estate agency, you can make money by assisting people to conduct transactions such as selling or renting their homes, buildings and land.
3. Web Design & Web Hosting business
Another business you can start from the comfort of your home is web design and web hosting. The web has become one of the most ingenious tools to begin a business. If you have acquired website designing and development skills, you can leverage your skills to create a customer-friendly website for businesses. 
As numerous small businesses do not have an online presence, you may wish to target this group of potential clients. By emphasising the importance of good web design for businesses, you will be able to attract clients for your business.
4. Transportation service
As Cyprus's transport sector is very receptive to private investors, you stand to gain if you start your own transportation business in Cyprus. You can consider specialising in either road transportation or water transportation. If you have the financial capacity, you may even venture air transportation. If well monitored and managed, starting a transportation service is a lucrative business opportunity as you can reap good returns even if you incur a substantial amount on logistics and maintenance. 
5. Insurance Brokerage Firm
Insurance brokerage firm is a thriving business in Cyprus. As the owner of an insurance agency, you are responsible for guiding customers through the buying process and assisting them in choosing the policy that best fits their needs. Insurance products are almost deemed as necessities by many people as they seek a layer of protection against any potential adverse events. Some examples include automobile insurance and homeowners insurance. Therefore, if you are a trained insurance practitioner, it would be lucrative if you start your own insurance brokerage firm.  
6. Auto Mechanic Workshop
Ranked as one of the countries with the highest car per citizen, this makes auto mechanic services a lucrative business venture due to the high demand. You may consider setting up your own auto mechanic workshop if you have the relevant training as an auto mechanic. However, you will have to ensure that your auto workshop is located in a well-positioned area which is accessible. This will ensure that you will always have a client to attend to per time. 
7. Education consultancy
Having invested its riches in a high-quality European education system, Cyprus boasts of having some of the top universities in the world. As lessons are taught in English language, this makes it an ideal destination for international students to pursue their studies. If you are seeking to establish a service based business in Cyprus, you can look no further to start an education consultancy service. You can assist international students to secure admission and accommodation in universities. Therefore, a consultancy organisation in the education field is a great idea for startups. 
8. Tutorial services
As parents are placing greater importance on private tutors for the education of their children, there is a growing demand for private tutors who can provide academic assistance. Therefore, providing tutorial services in Cyprus will be ideal if you have the relevant academic certificates and are open to interacting with children.

9. Travels and Tours Company

Travels and tours is another thriving business enterprise in Cyprus as it is a popular destination among international tourists. There is a readily available market for travel services as people will always require to travel from one place to another. Travel agencies are suitable for both big time investors who have the financial capacity to invest and aspiring entrepreneurs who do not have the capital. You can even start a travel agency online too. 
To ensure that your travel agency business thrives, you should understand the tourism industry, conduct market research and feasibility studies, decide which niche to concentrate on and know who your major industry competitors are before starting out. 
10. Car for hire
Apart from setting up travels and tours companies, car for hire is an ideal business in Cyprus due to a high influx of tourists visiting Cyprus for tours. Additionally, it is a low-cost based investment opportunity and does not require a lot of capital to start this business. You can simply use your personal car to provide car for hire services. Therefore, car for hire services will be of a great demand among tourists, especially in tourist destinations
Cyprus company registration is hassle-free if you are familiar with the entire incorporation process. Tetra Consultants strives to provide our clients with a seamless experience when setting up a company in Cyprus. Our team of experts will ensure that your Cyprus company can be operationally ready as soon as possible