There are many reasons why Taiwan company registration is an attractive choice for many investors. In this article, we highlight some of the best business in Taiwan that you can start that will be profitable for you. Following this, we present a guide to setting up company in Taiwan, especially for those who are starting business in Taiwan as a foreigner.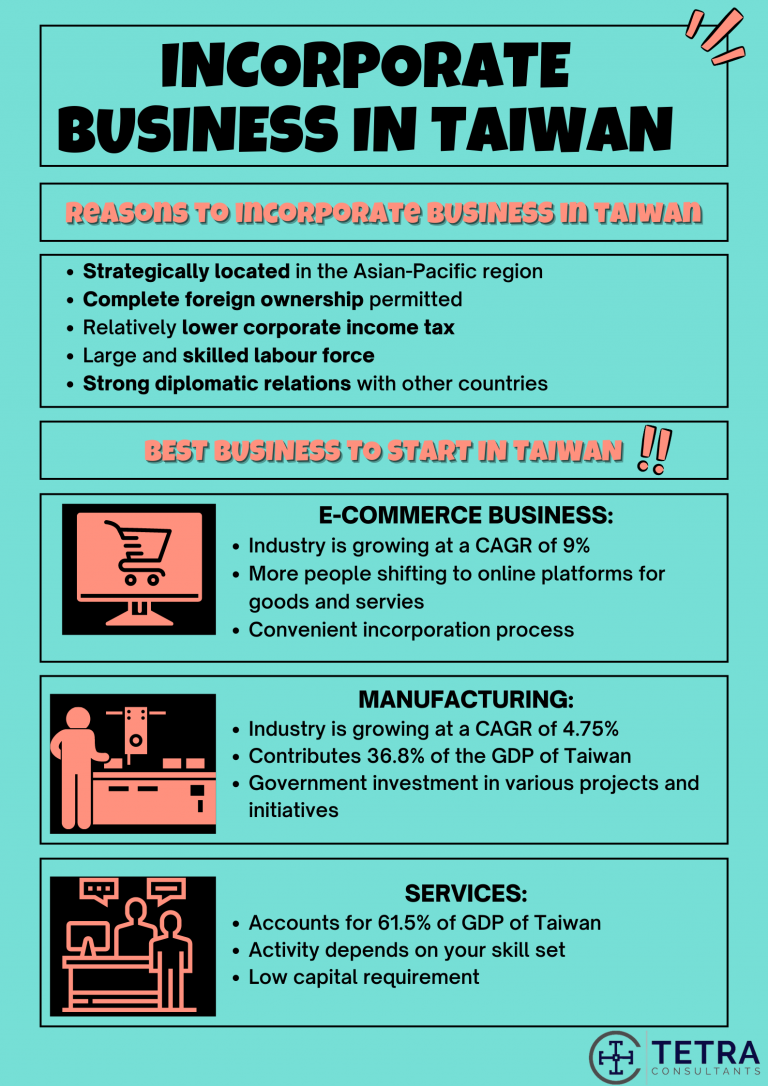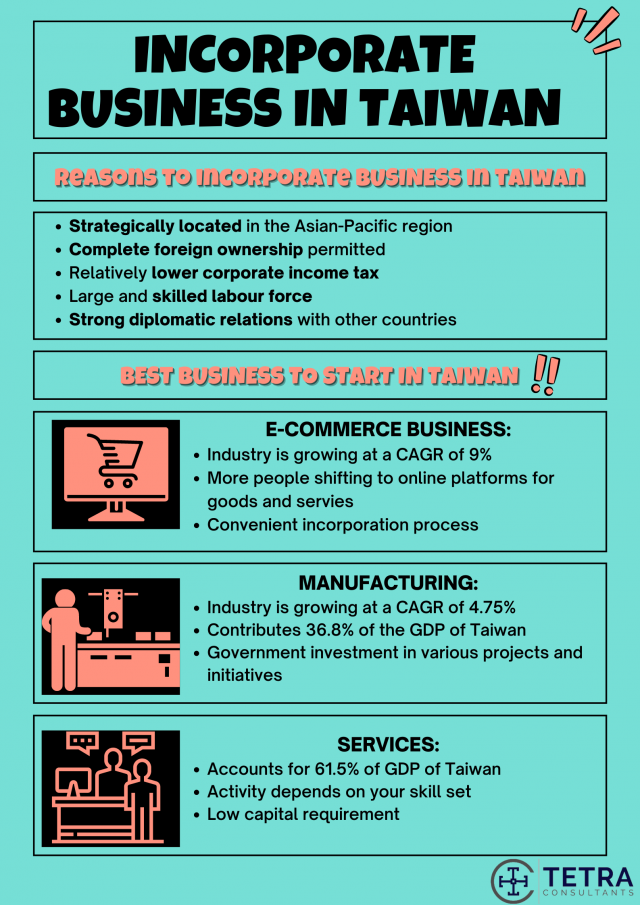 Reasons to incorporate firm in Taiwan
You may be wondering the reason for completing the Taiwan business registration process. The reasons to register your company in Taiwan are:
Taiwan is strategically located in the Asian-Pacific region allowing businesses to have access to various developed and emerging markets including the United States of America (USA), India, and China.

Foreign investors and business owners have complete ownership of their business.

The government levies a lower corporate income tax as compared to other countries. They also offer various benefits and exemptions to businesses depending on the business structure, revenue generated, and more.

With a large population size and labour participation rate in Taiwan, business owners have access to a large workforce. The high literacy rate in Taiwan implies that the labourers are highly skilled and knowledgeable which can be an advantage for the businesses.

The Taiwanese government has established strong diplomatic relationships with various countries and is a member of various organisations. These favourable relations provide businesses with access to the international markets and allows for a smooth trading process.  
Best businesses to start in Taiwan in 2023
Based on your knowledge base, skill set, and resources, you can choose from the following business opportunities:
E-commerce business:
The Covid-19 pandemic has affected the world tremendously in terms of the way we live and operate. The already growing e-commerce industry was further impacted by the pandemic leading to a further push towards this industry. With government regulations and restrictions imposed to control the spread of the virus, people shifted to online shopping as a way to protect themselves. For this reason, the e-commerce business continues to grow with an increasing number of people shifting towards online platforms for commodities and services. 

In Taiwan, the e-commerce industry is estimated to grow at a compound annual growth rate (CAGR) of 9.0% from 2020 to 2024. Seeing this continued trend that could serve to be extremely advantageous for the public, the government has launched various initiatives to promote e-commerce in the region.  

Besides this, opening an online store is a relatively convenient process and requires a much smaller capital. Business owners can decide on the choice of the commodities or services they wish to offer to the public on the basis of their skill set and current market demand for it. Business owners can start their own website to sell the commodities or services of their choosing using websites such as Wix.com or Weebly. Conversely, they can utilise existing e-commerce platforms such as Ruten, Shopee, and Taobao. 
Manufacturing:
In Taiwan, the manufacturing industry has been growing over the past years. In 2020, it contributed to approximately 36.8% of the Gross domestic product of Taiwan. According to the Industrial Technology Research Institute, the manufacturing industry in Taiwan should have an output growth rate of 4.75%. 

With business-friendly policies, the Taiwanese government has managed to make the country one of the leading manufacturing hubs worldwide. The government has also invested in various projects and initiatives including those supporting robotics, precision manufacturing, and also big data. This allows for an inexpensive and highly productive manufacturing process.

Before beginning a manufacturing business, you need to decide on the product you wish to produce and sell to the public. For this, you need to conduct a market analysis to identify the market demand for your product and to also raise enough capital to fund such a business. Moreover, you need to choose the product based on your knowledge base about the same. Some possible commodities you can manufacture include electronics, medical equipment, cars, and more.
Services: 
The services sector in Taiwan accounts for 61.5% of the total GDP of Taiwan. This sector includes professional services like consulting and financial services, food and beverage services, logistics services, and more. Primarily, the sector catered to the domestic markets. However, the Council of Economic Planning and Development established the Taiwan External Trade Development Council to establish platforms that allow the services sectors to cater to the international markets as well.

Based on your knowledge base and skill set, you can choose the type of service you wish to provide to the consumers and businesses. Not only will such a business require less capital than other businesses but also will be profitable for you.
There are multiple business opportunities available for you to choose from. The above list is non-exhaustive. However, you must ensure that whichever business idea you choose to pursue meets your knowledge base and capabilities. You must also ensure that you have enough capital to invest in your business. 
How to incorporate your new business?
Now that we have highlighted some of the available business opportunities, you need to understand the steps you need to undertake to complete the Taiwan company registration process.
Step 1: Choose a suitable business structure
You must choose a business structure that is the best suited for your business. Some business structures that you can set up include Limited Liability Company, Partnership, Free Trade Zone company, and more.
Step 2: Reserve your preferred company name
You must decide on a business name and check for its availability. Once the availability is confirmed, you can proceed to reserve your preferred company name with the Department of Commerce of the Ministry of Economic Affairs (MOEA).
Step 3: Apply for Foreign Investment approval
If you wish to incorporate a Limited Liability Company, you need to apply for foreign investment approval with the Investment Commission of the Ministry of Economic Affairs (MOEAIC).
Step 4: Corporate bank account opening
Step 5: Apply for Investment Capital Examination
For foreigners, the Investment Commission needs to check the investment capital and provide the necessary approval. 
Step 6: Register your business:
You must prepare and submit the required incorporation documents to the Taiwan Department of Commerce.

Once the registration process is completed, you will receive a Certificate of Incorporation, Memorandum and Articles of Association, and more as proof of the same. 
Step 7: Register for tax
Step 8: Compliant with local laws
Once the registration process is completed, your business can be operational. You must ensure that your business remains compliant with the government regulations by meeting all the

accounting and tax obligations

of your business.
Thus, you can register your business by following the above steps. 
How we can help you start the best business in Taiwan
We, at Tetra Consultants, understand that the Taiwan business registration process may be difficult for you if you do not understand it. Our service package includes planning and strategizing with our clients to select a suitable business entity for your business before assisting them through the incorporation process. We will provide you with all the relevant information you need to know while helping you in meeting all the requirements of the Taiwanese government. Even after the registration is completed, we will ensure that your business remains compliant with the government regulations.
Contact us now to find out more about the comprehensive range of services we offer to incorporate a business in Taiwan, and our team of experts will revert within the next 24 hours.