The characteristics of the Cayman Islands tax haven have attracted investors to register company in Cayman Islands. If you are one of them, you might wonder what is the best business to start in Cayman Islands 2022. In this article, our team at Tetra Consultants has highlighted 7 best business to start in Cayman Islands 2022.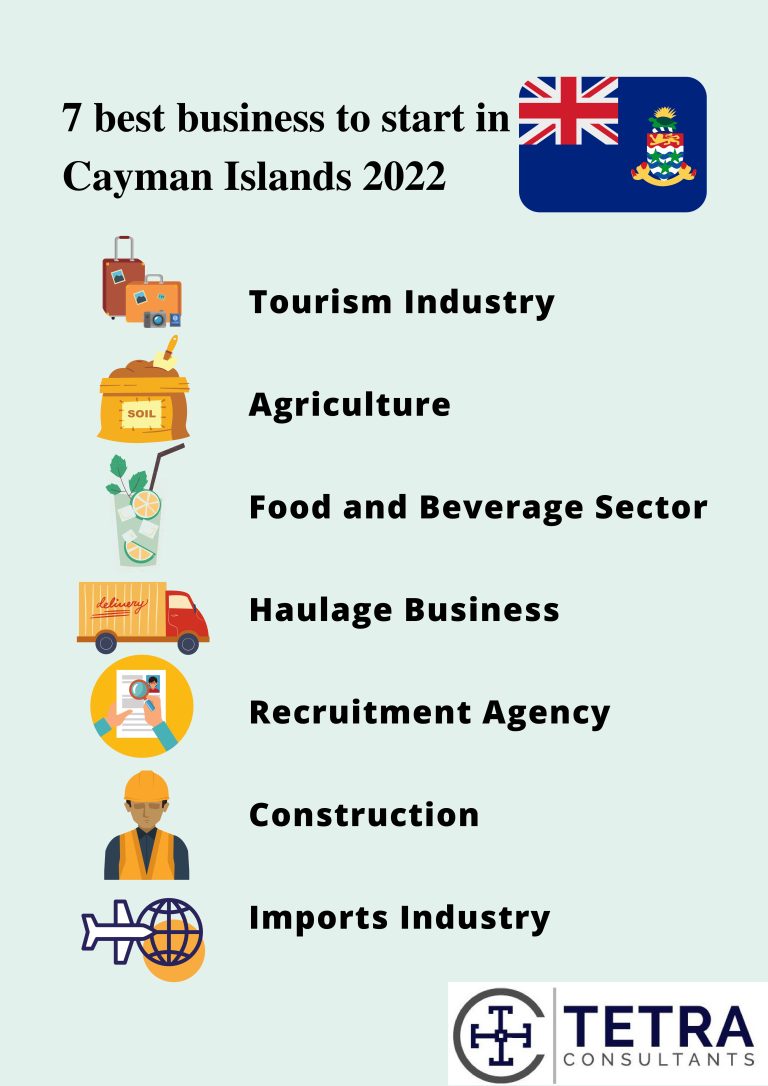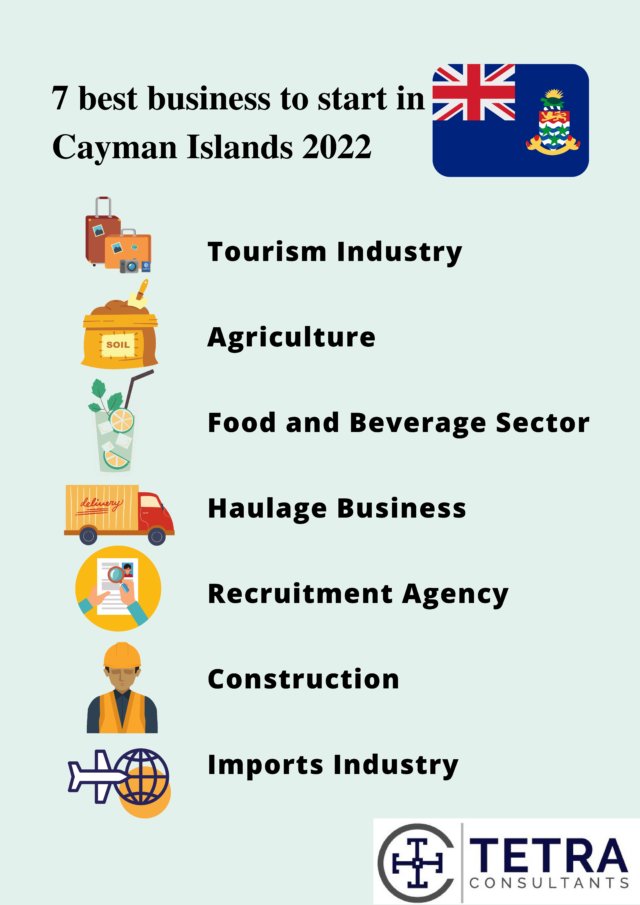 Accounting for about 70% of the Cayman Islands' GDP, the tourism industry is a great option for investors to look into when setting up a Cayman Islands Company. With year-round sunshine and award-winning beaches, the Cayman Islands is a great location for vacations. The tourism industry consists of the service, entertainment, and accommodation sectors. In the service sector, investors can choose to start a business in pick up and drop off at the airport, tour guide services, or translation services, such that visitors are able to enjoy their vacation without worries of any miscommunication. Investors can also consider starting a business for entertainment such as diving and snorkeling, or ship cruising for tourists to enjoy the scenery. If you are interested in improving the experience of the tourist through their stay, you can also choose to build hotels or holiday resorts. Although the current pandemic has placed huge restrictions on the tourism industry, the industry will pick up its pace quickly in the next couple of years and thrive once again.
Cayman Island relies heavily on imports to satisfy the demand for food. With only approximately 10% is being locally produced, this sector was greatly affected. Therefore, the authorities began to implement programs and policies to increase the local production of food crops. This will not only improve the economy of the Cayman Islands but also increase the food security of the territory. Since Cayman Island is a tropical area, the climate is very suitable for growing crops. You can open a farm at Cayman Island with the support given by local agricultural boards. The support would include courses on effective planting methods, as well as improved seedlings.
Building a farm for crops would require you to source adequate land, equipment necessary for the smooth running of the farm, as well as helping hands to increase your productivity. Since the agriculture industry is a basic necessity, it will be serving both the domestic market and the export market, bringing about large profits to your business.
Food and Beverage Sector:
Be it locals or visitors, who doesn't love food? The Cayman Islands homes a large number of people from all over the world, including locals, immigrants, and millions of tourists each year. When there are gatherings, there will be meals. You can take advantage of the huge crowd in the Cayman Islands and satisfy the palate of the people, serving both local cuisine and intercontinental dishes. To start a restaurant, you should source for an accessible location, and engage competent chefs that can add value to your business. You are also required to adhere to the rules and regulations imposed by the government in the Cayman Islands.
A business you can consider starting in the Cayman Islands is a haulage business. This business aims to lend a helping hand to people, from individuals to corporations. For individuals who are moving to a different place, they would require help with moving their belongings or furniture from one place to another. As individuals tend to pursue a higher quality of life which includes shifting to a larger house if their financial status allows, it would not be difficult to find customers in this business. Furthermore, you can provide this service to corporations that require transportation of items, which might allow you to gain more profits since it is a larger industry.
At the end of 2020, the unemployment rate in the Cayman Islands has increased to 8.3%, which is relatively higher than many countries in the world. With the large number of both skilled and unskilled workers who are unemployed, you can start a business to fill this labor gap in the Cayman Islands. In this way, you can help both locals and immigrants to secure a job position. More importantly, with your help, immigrants would be able to adapt to the country more easily. You can leverage the flexible immigration policies in your recruitment agency, making profits from your transactions.
In the Cayman Islands, the construction industry is gaining traction, where there are many new projects, and it is seen as a driver of future economic activities. Therefore, you can start a business in the construction sector to fill the demand from the sector. The construction sector has many layers to it, where you have a wide variety of choices to choose from when it comes to starting a business. You can choose to be a government contractor, or a private contractor, where the projects you manage will be different. You can also enter the factors of the production sector, where you provide building materials or other required equipment required for construction companies. Entering the construction industry is definitely an advantage with the current demand of projects, but it is also important to note that there might be strict rules and regulations to follow, as well as permits and licenses to obtain to be able to start a business in this industry.
Similar to the agriculture industry, Cayman Island is very dependent on imports for the production industry. However, instead of starting a business to produce the products required, you can start a business to cater to the import demands. Leveraging on a large number of imports into Cayman Island, you can be a representative of the products that are being brought over to the country. This way, you would be able to gain profits for the never-ending transactions. However, you have to take many factors into consideration in this industry. With the high profit, you are required to obtain permits and licenses to be able to run your business. You would also require suitable warehousing for storage. Furthermore, this industry would require you to source staff who are competent enough to take up the job. Dealing with large orders and purchases, even the smallest mistakes cannot be tolerated in this industry.
Conclusion:
After this article, you might have concluded the best business idea for yourself out of the 7 best business to start in Cayman Islands 2022. With Tetra Consultants by your side, the registration process of your business in the Cayman Islands will be smooth and hassle-free. Our comprehensive service package includes planning and strategizing with our clients to select a suitable business entity, completing the registration process, obtaining required licenses, opening a corporate bank account, and ensuring your compliance with the government regulations. 
Contact us to find out more about how to register business in Cayman Islands and our dedicated and experienced team will revert within the next 24 hours.