With many countries to choose from, it may seem like a daunting task to choose a country for corporate bank account opening. With each country offering different advantages, it is crucial to select a country that best meets your long term goals and business needs. In this article, we will explore the factors to consider and the best countries to open offshore bank account in.
What to consider when choosing the best countries to open offshore bank account in: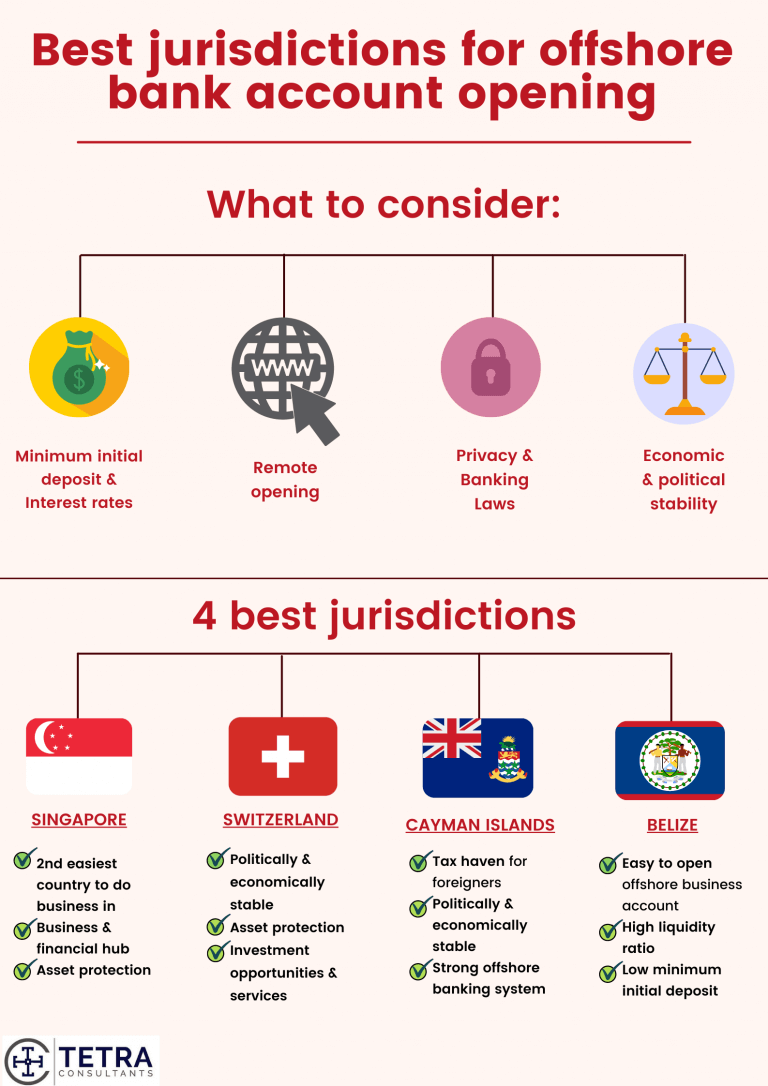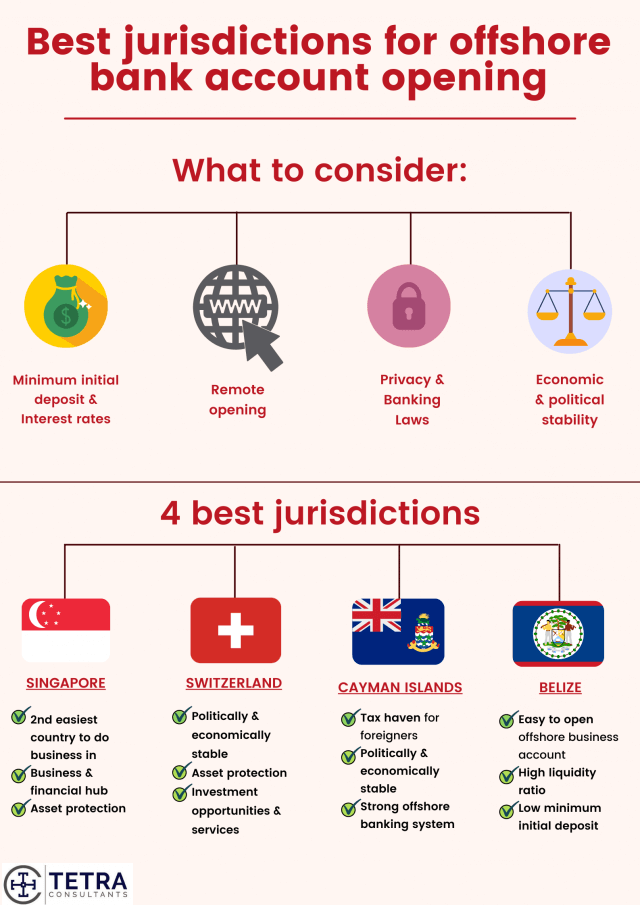 #1 What are offshore bank accounts?
Offshore banking refers to the use of banking services in a foreign jurisdiction outside of the country where the main business operation is conducted. An offshore bank account is hence a bank account you own in a foreign country outside of the country where you reside. This means that your business engages in offshore banking if you open a bank account in a foreign jurisdiction. Setting up an offshore business account is one of the first steps to setting up a business in a foreign jurisdiction.
#2 Considerations when choosing the best countries to open offshore bank account
Minimum initial deposit
Several banks implement a low deposit minimum and some do not require the initial deposit for an

offshore bank account opening

. This is a crucial consideration for start-ups, entrepreneurs and SMEs as it may be financially difficult for them to meet the minimum initial deposit if it is high.
Interest rates
Offshore banks tend to offer higher interest rates than those in your home country. If an offshore bank account offers higher interest rates on assets relative to a country's inflation levels, this means that the real value of assets is higher, and investors are able to gain more.
Remote Opening
One important consideration is whether there is a need to open an account online or visit the bank in person.

Especially during the COVID-19 period, tightened travel restrictions across the world may pose a stumbling block when physically setting up an offshore bank account. However, remote opening creates a high level of flexibility and convenience for non-citizens who wish to open an offshore bank account from their home country.
Privacy and Banking Laws
Banking secrecy laws and privacy measures can be an important aspect of determining your ideal jurisdiction for a

business bank account opening

. Strong secrecy laws that are implemented prevent people from revealing client information.
Economic and Political stability
Countries that have economic and political stability tend to have sound banking systems. This includes a secure money supply, low inflation rates, low corruption levels and minimal capital controls. Therefore, a developed financial system breeds an environment of certainty and stability.



Top best countries to open offshore bank account in:
Singapore
Singapore is one of the best places to conduct business, having ranked 2nd according to The World Bank's Ease of Doing Business Report 2020. Having established a strong reputation of being a business and financial hub, Singapore has also been recognized as a gateway to Southeast Asia. With a world-class financial system and strong business and financial regulations, investors are well assured that they are offered great investment protection for their assets.
Switzerland
With a stable political and economic climate, Switzerland has established a strong reputation of being one of the most respected financial centers in Europe. The Swiss banking system is financially stable as Swiss financial regulations require all banks to maintain a minimum capital level to ensure all clients are paid in full for their holdings in case of bank liquidation. Highly prized for asset protection, Swiss banks offer top-class investment opportunities and services, allowing investors to achieve high returns.
Cayman Islands
Over the years, the Cayman Islands has established a strong reputation as a tax haven. There is no implementation of direct taxation in the form of income tax, capital gains tax and wealth tax. This is a significant cost consideration as this means that

business accounts for foreigners

are subjected to a minimal tax burden, which leaves foreign owners more profits to reinvest into their business. Coupled with a politically and economically stable environment and strong regulatory framework for offshore banking services, this has made the Cayman Islands a thriving source of offshore banking.
Belize
Belize is considered one of the easiest countries to open an

offshore business account

in. The banking stability of Belize is implied by Belize banks' high liquidity ratio of 24%, which means that banks are able to meet their short-term financial obligations and can provide investors with one of the most attractive liquidity rates worldwide. Additionally, the minimum initial deposit is relatively low compared to other countries, ranging from only $500 to a few thousand.
Looking for the best countries to open offshore bank account in?
In conclusion, opening an offshore bank account in any country will vary in difficulty and expense. However, there is no one-size-fits-all solution and it is important to assess your business goals before deciding on a jurisdiction to set up an offshore business account in.
Tetra Consultants provides our clients with an easy and hassle-free way to begin offshore banking. Our team of professionals will guide you through the full process, including finding the best jurisdiction for your company's offshore banking needs, setting up the offshore corporate bank account and even offshore company incorporation services if needed.
Contact us now if you are looking to set up an offshore bank account for your business and we will revert within 24 hours.