Ranked as the world's third-largest economy after the United States and China, it is no wonder that Japan remains a key market for international businesses. Helmed as a leading centre for innovation, Japan boasts a conducive business environment such as its R&D capabilities and intellectual property rights. Japan is a party to many major Intellectual Property-related treaties such as the Patent Cooperation Treaty and the Paris Convention for the Protection of Industrial Property. Before you register company in Japan, it is crucial to understand what Japan has to offer to business owners. Whether you are an aspiring entrepreneur or an experienced business owner, we will provide you with the advantages and disadvantages of company registration in Japan as a foreigner.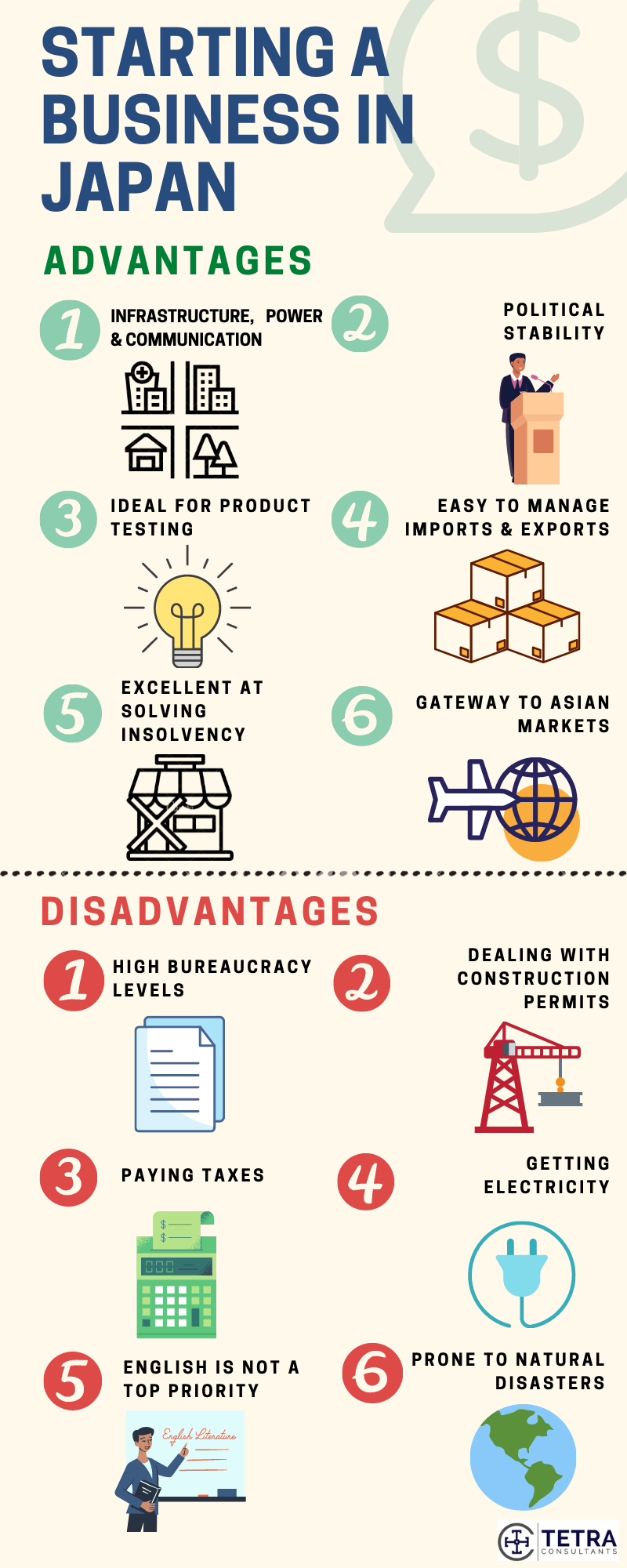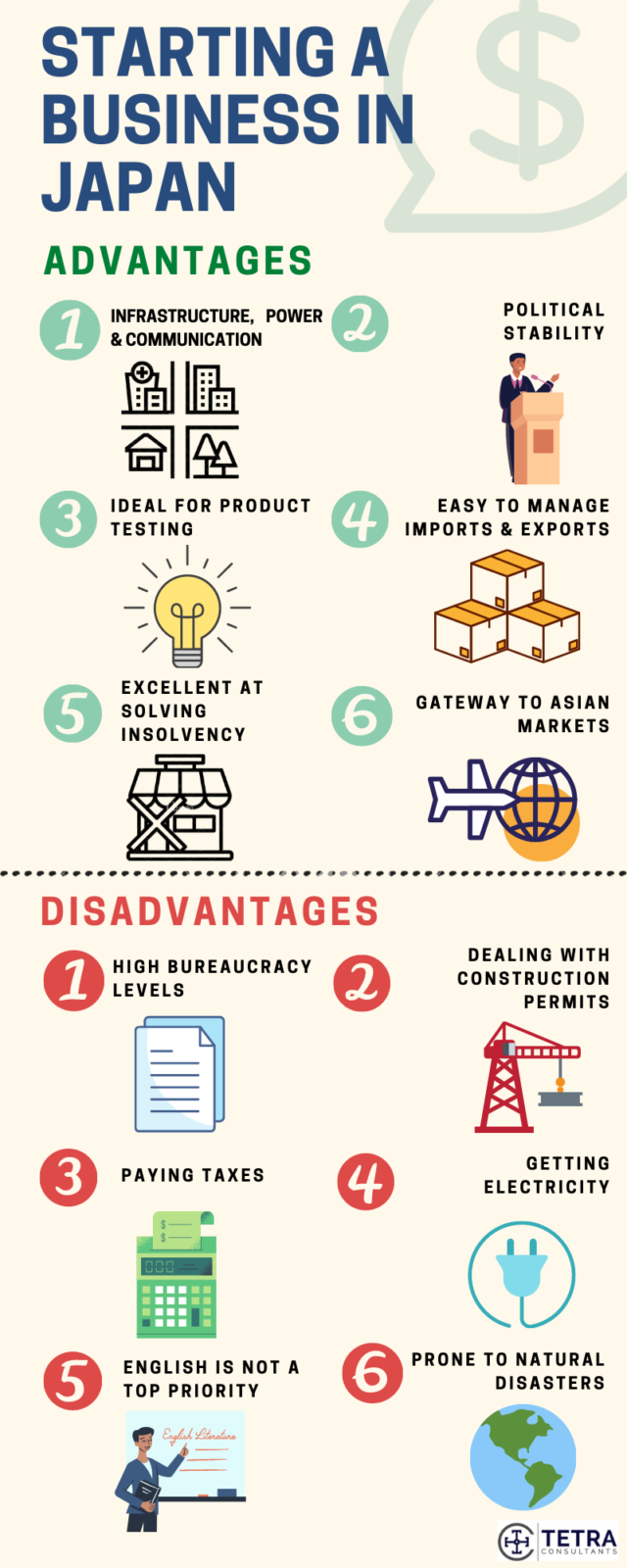 Advantages 
Well developed infrastructure, power & communication
Japan boasts a well developed and modern infrastructure, including airports, roads, railroads, highways, subways, warehouses and telecommunications for the distribution of all types of goods and services. According to The Global Competitiveness Report 2019 published by World Economic Forum, Japan is ranked 1st worldwide in terms of the efficiency of public transport services, 2nd worldwide in access to electricity and 3rd worldwide in airport connectivity. 
With over 20 ports and 5 international airports, Japan provides convenient access to major business hubs in Asia, thereby placing itself to be a global commercial center. In Tokyo, the two major airports are the Narita International Airport (NRT) and the Tokyo International Airport (HND). As for the Osaka area, the two major airports are the Osaka International Airport (ITM) and Kansai International Airport (KIX).
An essential factor that business owners looking to set up in a country must consider is how well a country is governed and how transparent the government is. According to Transparency International's 2020 Corruption Perceptions Index, Japan is ranked 19th among 180 countries when it comes to public sector corruption. Japan's ranking implies a low risk of corruptive activities in the nation's public sector, thereby reinforcing an investor's confidence in the jurisdiction's political stability.
Ideal for product testing 
As consumers in Japan have high levels of disposable income and are well educated, doing business in Japan provides greater opportunities for product testing as compared to other countries. Additionally, Japan has one of the highest household expenditure levels in the world. As the consumers are educated, this strengthens their ability to differentiate between high-performance goods and low-cost items. Therefore, Japan provides an ideal platform for businesses to obtain better feedback when they introduce products prior to returning to the United States or Europe.
Easy to manage imports and exports
As Japan is an island nation, numerous ports in Japan are able to handle the import and export activities of a business. The completion of an import order here only takes 5 days and the export process takes on average 10 days to complete. In comparison with other countries, these rates make this advantage an above-average experience for businesses. This can be attributed to the Japanese business culture's strong emphasis on relationships. 
Excellent at solving insolvency
According to the World Bank's Doing Business Report 2020, Japan is ranked first in the world for resolving insolvencies with a recovery rate of over 90%, where the recovery rate is calculated and noted down as cents on the dollar recovered by stable creditors through the proceedings of liquidation, reorganization, or the enforcement of debts through foreclosure or receivership. With a good insolvency regime, procedures in Japan can take as little as 6 months and costs about 4% of the estate to complete the work. 
Due to its geographical location, the Japanese market is an ideal jurisdiction for foreigners looking to enter other Asian markets. Behind the United States and China, Japan is the third biggest economy globally. As Japan is welcoming to foreign direct investments (FDI) and businesses have access to a 127 million-strong audience, Japan is an ideal jurisdiction to set up a business.  
Disadvantages
It may be a challenging task to start a business in Japan as the bureaucracy levels in Japan are high. Prior to starting a business, you will have to communicate with the District Tax Office, the local tax office, the Labor Standards Inspection Office, the Ward office, the Legal Affairs Bureau of the Ministry of Justice, the Japan Pension Service and the Public Employment Security Office. As each division has mandatory rules/procedures that need to be implemented into your business, you can only move on to the next step after receiving permission.
Dealing with construction permits
According to the World Bank and International Finance Corporation (IFC), the average time taken for the issuance of construction permits is 193 days in Japan, which is much higher than the time taken in other countries. Moreover, there are 14 procedures to navigate, which involves obtaining permission from local authorities and governmental departments. Therefore, companies in Japan are likely to face a delay in construction processes. 
The Japanese tax system is a victim of the bureaucracy in Japan. Ranked as 123rd in the world for their corporate tax system by the World Bank and IFC, it takes an average of 330 hours per year in management time to prepare tax returns. Moreover, 14 payments are required annually and Japan's corporate tax rate stands relatively high at 30%. 
However, Japan offers numerous local and national incentives to foreigners thinking of setting up a business in Japan. This includes taxable income reduction, investment tax credit related to machinery, buildings and equipment, and special depreciation rules. Additionally, there are tax incentives for wage and productivity improvement, whereby tax incentives are provided to raise employees' wages and for investment in information technology.
Tokyo Electric Power Company, or Tepco, is responsible for handling electricity for the city and its surrounding areas. Due to the grid's extensiveness and the number of clients they service, businesses have to schedule a construction date with the utility provider in advance so as to minimise delays in meter installation. It takes an average of 105 days to link the company to the main power grid. 
English is not a top priority for Japanese culture
While English is increasingly spoken in Japan as compared to the past, it is not commonly used as a language for business communication as Japanese is a preferred language. According to the Education First's English Proficiency Index, Japan is ranked 55th among 100 countries when it comes to proficiency in English. Due to Japan's low proficiency in English, this suggests that you may potentially run into language issues when communicating in Japan. It would be particularly useful if you learn basic conversational Japanese prior to starting a business in Japan. 
Prone to natural disasters
As natural disasters are common occurrences in Japan, this makes Japan highly vulnerable to many natural disasters such as tsunamis, floods, typhoons, earthquakes, cyclones and even volcanic eruptions. These disasters have negatively affected its economy and businesses operating in the surrounding areas. Moreover, the unfortunate Fukushima Daiichi disaster has also brought along several environmental problems such as ocean pollution.
Conclusion
Japan company registration is hassle-free if you are familiar with the entire incorporation process. Tetra Consultants strives to provide our clients with a seamless experience when setting up a company in Japan. Our team of experts will ensure that your Japan company can be operationally ready as soon as possible