Ranked as fifth worldwide in the World Bank's Ease of Doing Business 2020, South Korea provides an ideal business ground for foreigners to set up a business. Apart from being recognized as one of Asia's most developed economies (Four Asian Tigers), South Korea is also strategically located between two of the largest economies, China, and Japan. South Korea proves to be a popular jurisdiction among business owners to set up a business, which can be attributed to the ease of company registration in South Korea. Regardless of whether you are an aspiring entrepreneur or an experienced business owner, we will explore what are some of the requirements and procedures to register a company in South Korea.
Steps to company registration in South Korea
Step 1: Choosing the optimum business structure
Step 4: Corporate bank account opening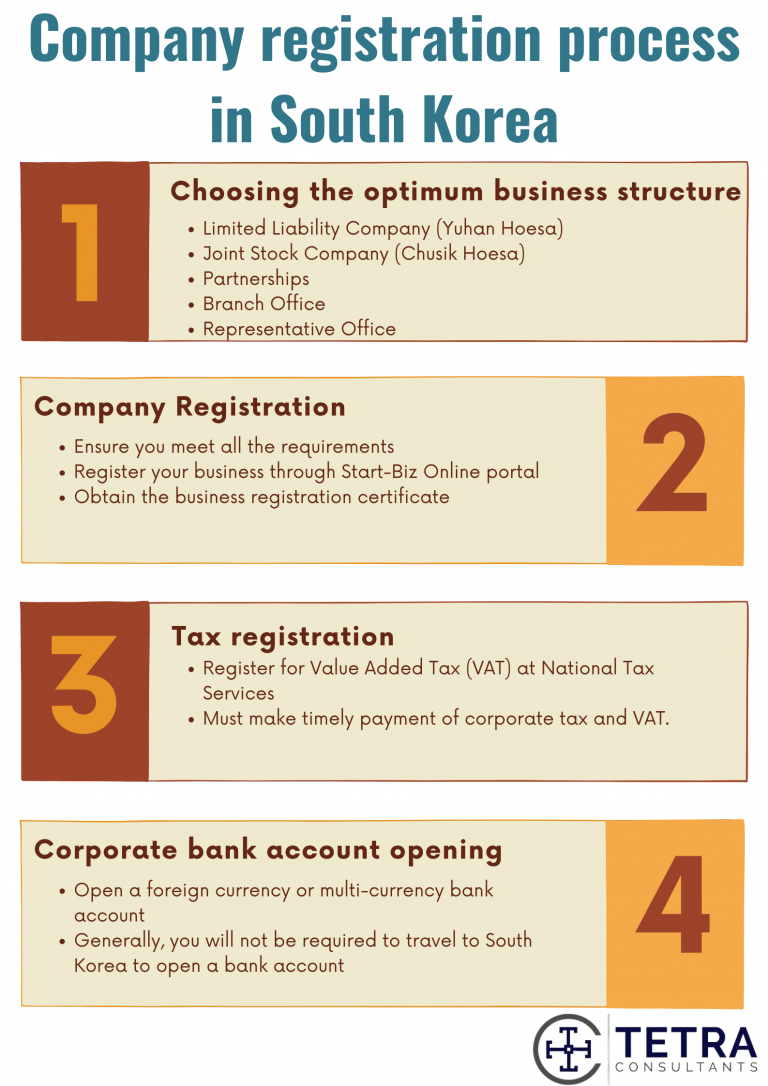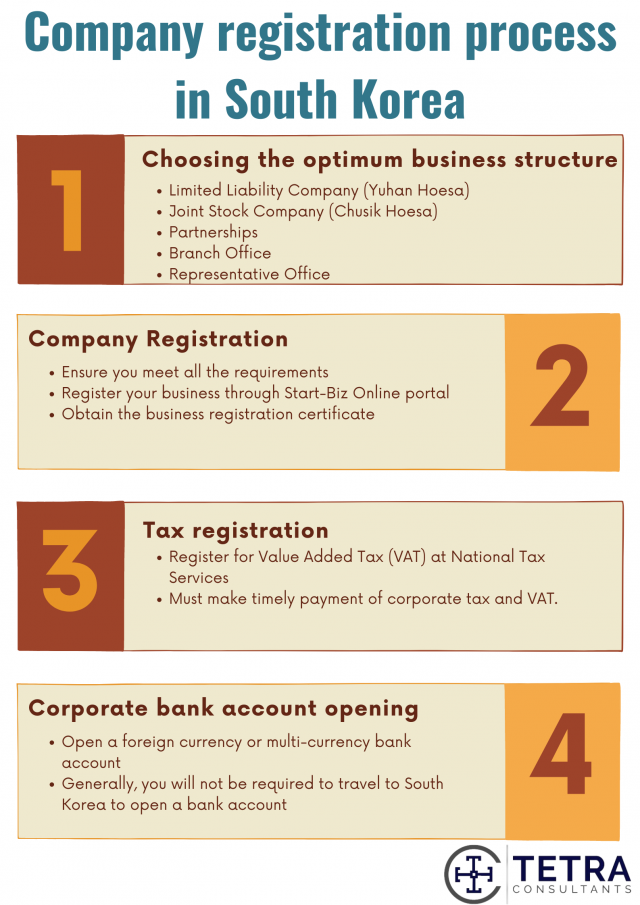 [ps2id id='step1′ target="/]#1 Choosing the optimum business structure
South Korea offers different types of business entities for you to choose from, where each business entity caters to different types of business activities. Foreign companies that wish to operate their business in South Korea can choose between these 5 business entities. This includes Joint Stock Company (Chusik Hoesa), Limited Liability Company (Yuhan Hoesa), Partnerships, Branch Office, and Representative Office.
Prior to South Korea company registration, it is crucial to fully understand your business model before choosing the most suitable business entity. Some considerations you should take into account include the type of business activity, tax obligations as well as potential personal liability. 
Limited Liability Company (Yuhan Hoesa)
Limited Liability Company (Yuhan Hosea) is the most preferred type of business in South Korea. It is a closely held company that allows for a maximum of 50 shareholders. These shareholders are not liable for any debts or obligations incurred by the company and their liability is limited to their share capital. The requirements to open a Limited Liability Company in South Korea are minimal. This includes at least one director and one shareholder of any nationality, no minimum paid-up capital for a South Korean LLC, and a legal registered office address. Under the Foreign Investment Promotion Law (FIPL), a foreign-owned local corporation is recognised as a foreign investor and is required to invest at least 100 million won. 
Joint Stock Company (Chusik Hoesa)
Joint Stock Company

(Chusik Hoesa) is the most common business entity used in South Korea and a popular business entity for foreign investors to establish subsidiaries in South Korea. It is a business entity that allows the public issuance of shares. In a Joint Stock Company, the stockholders have limited liabilities in the company whereby it is based on their capital investment amount. Additionally, stocks can also be freely transferable, with approval from the board of directors. Therefore, it is mandatory to hold at least one general shareholder meeting annually.
Partnerships
Partnership is a type of business structure that consists of two or more individuals working together and distributing all the profits and losses of the business amongst themselves. There are three types of partnership, namely General (Hapmyeong Hoesa), Limited (Hapja Hoesa), and Limited Liability (Hapja Johap) in Korea.

In General Partnership, all partners hold unlimited liability, which means that they are personally liable for the debts the business may accrue. The transfer of ownership requires the unanimous consent of all members. 

For both Limited Liability Partnership and Limited Partnership, at least one partner has unlimited liability and at least one partner has limited liability. Limited Liability Partnership

combines the characteristics of a conventional partnership and a limited liability company (LLC). As Limited Liability Partnership is a separate legal entity from its members, it suggests that the members are subjected to limited liability. In this form of partnership, the partners have unlimited liability for their own actions, but not for the debts of the partnership business and the liabilities of the other partners. On the other hand, Limited Partnerships are not considered to be a separate legal entity. 
Branch Office
If you are looking to penetrate the South Korean markets, foreign business owners can open a branch of a foreign company in South Korea. Since a branch office is an extension of the parent company, it can only perform business activities that are similar to that of the parent company. Therefore, the parent company is fully accountable for all liabilities incurred by the South Korea branch office. Moreover, there is no limit on the number of investments or ownerships.
Representative Office
Numerous foreign business owners begin with representative offices, also known as liaison offices due to their straightforward registration formalities. Representative offices are meant

for foreign investors who do not intend to carry out business in South Korea. Representative offices are not allowed to conduct commercial activities or generate revenue in South Korea, such as selling goods or services. They can conduct non-commercial activities such as market research and R&D. 
[ps2id id='step2′ target="/]#2 Company registration
After deciding on the company's business entity, you can proceed with the registration of your South Korean company. You can apply for company registration 20 days after you start your business. If there is more than one business to register, each business has to be registered individually. 
With the introduction of Start-Biz Online, business owners can not only complete company registration on the portal, but the portal is also a one-stop source that connects various bodies from registration to tax. Some procedures which can be done on Start-Biz Online includes:
Check trade name availability and obtain a certificate of name availability

File application package for incorporation

Obtain corporate registration tax bill

Obtain a certificate of seal impression of the corporation

Tax registration to obtain a Tax Identification Number (TIN)

Submit rules of employment
A business registration certificate will be issued 3 days after consultation and verification of the paperwork in the civil service area. 
[ps2id id='step3′ target="/]#3 Tax registration
Corporate tax is progressive where businesses in South Korea are liable to pay a corporate income tax rate of 10% for the first KRW 200 million of income. The corporate tax rate increases to 20% for incomes between KRW 200 million and KRW 20 billion, 22% for incomes between KRW 20 billion and KRW 300 billion, and 25% for incomes exceeding KRW 300 billion. 
In South Korea, the standard VAT rate is 10% on goods and services. All South Korean businesses must register for Value Added Tax (VAT) at the National Tax Service within 20 days before the start of business. Moreover, businesses have to submit VAT invoicing in an electronic format, otherwise, they will be penalised. 
[ps2id id='step4′ target="/]#4 Corporate bank account opening
Before you start a business in South Korea, it is essential to open a corporate bank account. A corporate bank account is crucial for your business transactions, asset protection, accounting, and tax filing. Your company can open a corporate bank account with reputable banks in South Korea including Woori Bank, Korea Development Bank, and KEB Hana Bank. It is recommended to open a foreign currency or multi-currency bank account if your company is a trading company or has large overseas transactions. In most instances, it is not a requirement to travel to South Korea for bank meetings. 
How we can assist you with company registration in South Korea
South Korea company registration is hassle-free if you are familiar with the entire incorporation process. Tetra Consultants strives to provide our clients with a seamless experience when setting up a company in South Korea. Our team of experts will ensure that your South Korean company can be operationally ready as soon as possible.
Contact us to know more about the incorporation process and the comprehensive service package we offer to our clients for the same. Our dedicated team will revert within the next 24 hours.