Vietnam has made tremendous development in its economy, and is expected to overtake various Southeast Asia countries in the coming years. The country is viewed as an emerging economy and also an attractive destination for many foreign investors. According to Vietnam's Foreign Investment Department (Under the Ministry of Planning and Investments), there were a total of 32,539 valid projects recorded with various investors, registering a capital of nearly USD381.2 billion up till August 2020. The country is also favourably located, possessing a strategic location that acts as a gateway to international sea trade and China at the same time. The Vietnam government also maintains an open economy, with policies developed towards welcoming foreing investment through procedural reforms and investment incentives, attracting foreign investors to start a foreign company in Vietnam. Before you register company in Vietnam, allow Tetra Consultants to compare and contrast 5 different types of companies in Vietnam for your reference.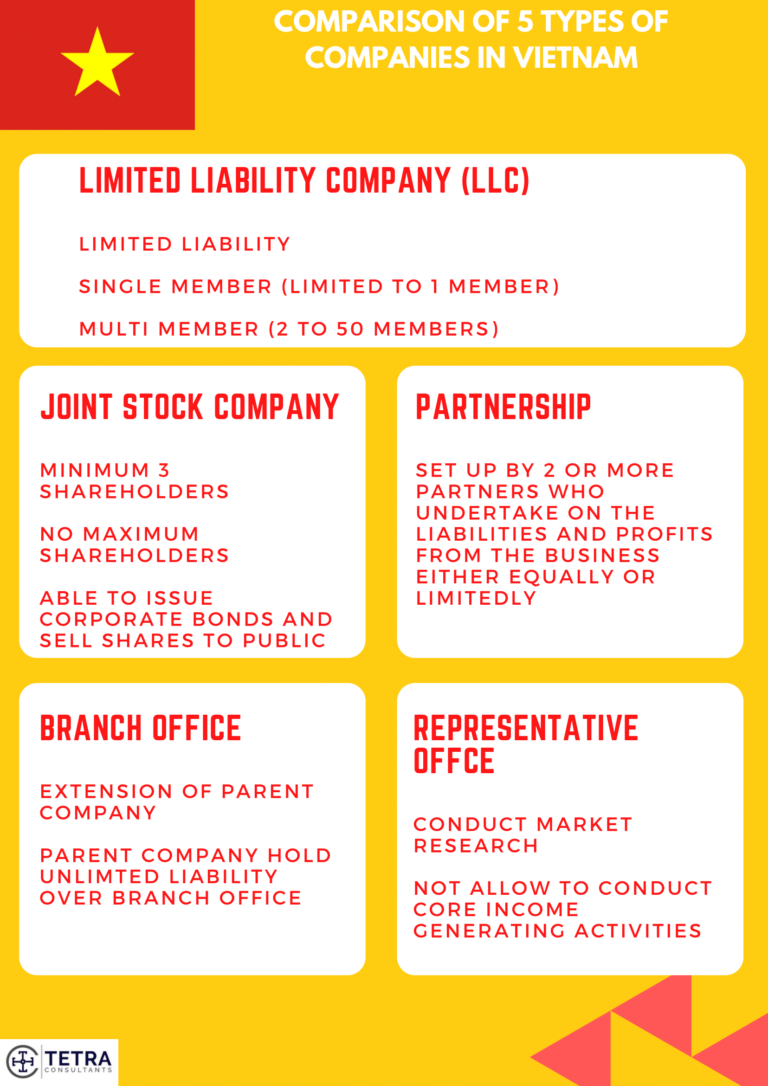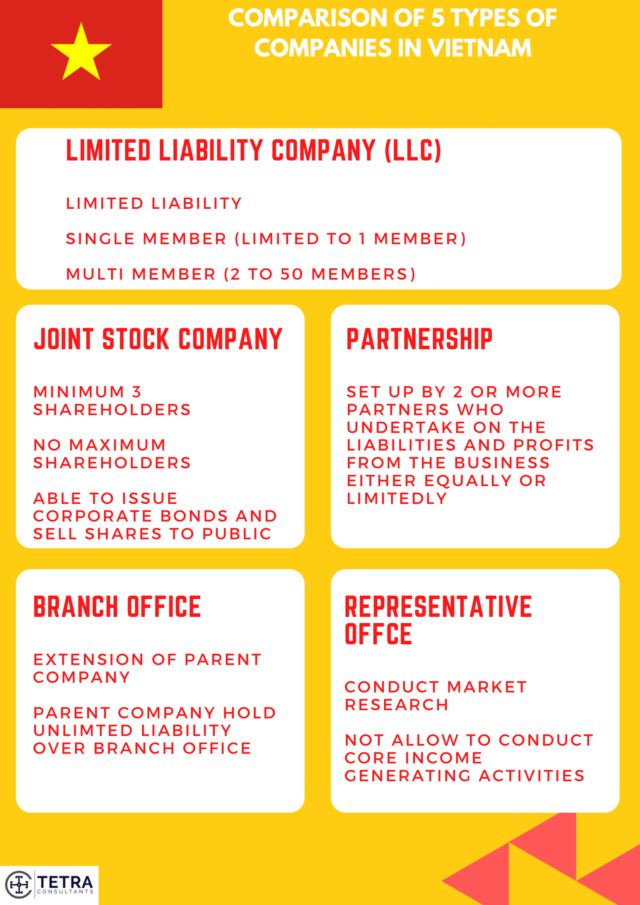 1) Limited Liability Company (LLC)
The first type of companies in Vietnam that you can incorporate as in the jurisdiction is the Limited Liability Company, or more commonly known as 'LLC'. An LLC is one of the most popular choices among foreign investors who wish to incorporate in the country of Vietnam, and the formation of an LLC is considered to be a separate legal entity from its shareholders and directors. Shareholders are subjected to limited liability, meaning that they are only liable for their own respective sum of invested capital into the company. Debts and obligations of the company are not made personally liable to the shareholders of the company. For LLCs in Vietnam, it can be generally classified into two different legal liability companies, namely single-member LLC or multi-member LLC.

A single member LLC requires only one member to helm both directorship as well as the sole shareholder of the company. The owner of the company is entitled to transfer partially or wholly their capital, and is also given the option to raise funds through charter capital.

A multi-member LLC consists of 2 or more, but not exceeding 50 members who are limitedly liable to their own scope of contributed capital. Multi-member LLCs are given the permission to transfer partially or wholly their own capital by offering it to another member of the company in the same proportion. Transferring of shares to non-members can only happen if the capital is not fully bought by remaining members within 30 days of the offering trade proposed by the original member.

LLCs formed can be 100% foreign owned or it can also be set up through joint ventures with at least one Vietnamese resident as a shareholder.
2) Joint Stock Company (JSC)
The second type of companies in Vietnam that you can set up in the jurisdiction is known as the Joint Stock Company, or 'JSC' in short. JSC is a type of business where shares of the company's stock can be bought and sold by shareholders. To form a JSC, a minimum of 3 shareholders is required and there is no limitation on the maximum number of shareholders. Similar to LLCs, JSCs are considered to be a separate entity and shareholders invested in the company will only hold limited liability, to which they are only liable to their own respective sum of invested share capital. It is important to note that JSC is the only type of company entity that is able to issue corporate bonds as well as being listed on the Vietnamese Stock Exchange to raise capital by selling shares to the public. JSC has a 3 year restriction for founding shareholders that prohibits the free transfer of shares to other founding shareholders and non-founding shareholders if mandated during general shareholder meetings. Usually after 3 years, the founding members will then be entitled to freely trade their shares with the exception of voting and preference shares.
3) Partnership
The third type of companies in Vietnam that you can set up is known as partnership. A partnership is usually set up by 2 or more partners where they share liabilities and profits from the business equally or limitedly, depending on the type of partnership formed. All partnerships are liable for the operations of the partnership and partners have to be individuals. 
4) Branch Office
The fourth type of companies in Vietnam that you can set up is known as Branch Office. A branch office is usually set up and seen as an extension from its parent company. Prior to setting up a branch office, the parent must minimally have been in operations for at least 5 years. The branch office will conduct similar business operations as its parent company and will not be recognised as a separate legal entity from its parent company.
5) Representative Office
The fifth type of companies in Vietnam that you can set up is known as the Representative Office. Representative offices are companies set up with the purpose of conducting market research as well as promoting the activities of the parent company. Representative offices usually require a shorter lead time to set up but are barred from conducting any core income-generating activities or business operations.
Conclusion:
Engage Tetra Consultants as we guide you on how to register a company in Vietnam through a smooth and hassle-free process. The team provides a comprehensive service package that includes planning and strategizing with our clients to select a suitable business entity, completing the registration and documentation processes, obtaining required licenses, opening a corporate bank account, and ensuring your compliance with the government regulations. 
Contact us to find out more about company registration in Vietnam and our dedicated and experienced team will revert within the next 24 hours.