Appointing a resident director is one of the first steps to incorporating your company in Australia. Resident directors are responsible for the management of your business. However, finding a suitable resident director for your Australian subsidiary or branch office may be cumbersome. Therefore, you may wish to appoint a nominee director in Australia instead. In this article, we will provide you a complete guide to resident directors in Australia and explore their roles and responsibilities.
Complete guide to Resident Directors in Australia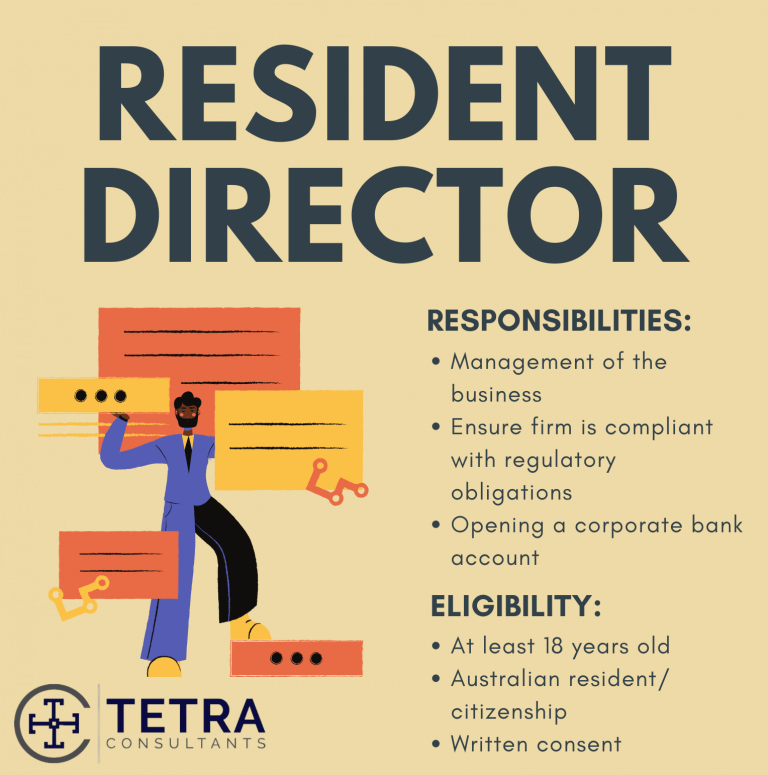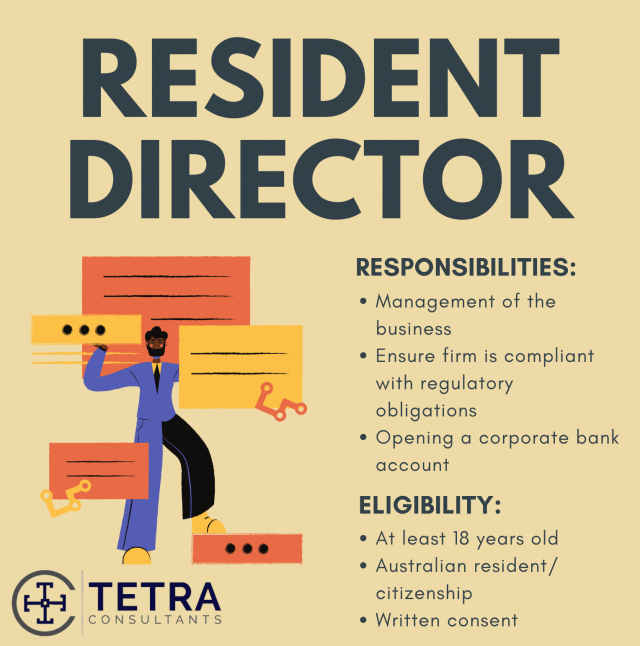 Why do you need a Resident Director?
According to the Australia Corporations Act 2001, all companies incorporated in Australia are required by Australia Securities & Investments Commission (ASIC) to appoint at least one resident director. The individual can either have Australian citizenship or permanent residence in the country. 
While this is not a problem for most Australian businesses as directors already reside in Australia, foreign businesses have to engage in resident director services in Australia. This is due to ASIC not allowing Australian companies to be solely registered and controlled by foreigners. The company will incur penalties for non-compliance.
While it is a requirement to appoint at least one resident director, there are no nationality or residency requirements for the other directors appointed in the company. A resident director can be appointed in name only and the resident director does not need to be directly involved in operating and managing the business.
Under the Corporations Act 2001, a resident director has to ensure that the company has:
Current registered office in Australia

A principal place of business

Disclose personal details of all directors (name, date of birth, residential address)

Keep up-to-date financial and company records

Notify ASIC of key changes to the company's details

Ensure timely payment of all ASIC fees

Check annual statements
Who is eligible to be a Resident Director?
To be eligible to be a resident director in Australia, the following requirements must be met:
Be at least 18 years of age

Consent on paper to take on the roles and responsibilities of a company director 

Be a resident of Australia or hold Australian citizenship
Roles of a Resident Director
As agents of the company, resident directors are in charge of the management of the company's business. The general duties of resident directors are to exercise their powers for a good purpose, act in good faith, and in the best interests of the company. They should also take steps to ensure the company's financial statements are healthy and the company does not become insolvent.
The resident director plays a key role in getting your business started by ensuring your company meets all regulatory and legal requirements. Once the setup of the company is done, you can alter the resident director's level of involvement based on your business goals. 
Some of the activities a resident director are involved in includes:
Sign major contracts and agreements 

Open bank account

Review and sign accounts and financial records

Ensure regulatory compliance and company solvency
Complete guide to Nominee Directors in Australia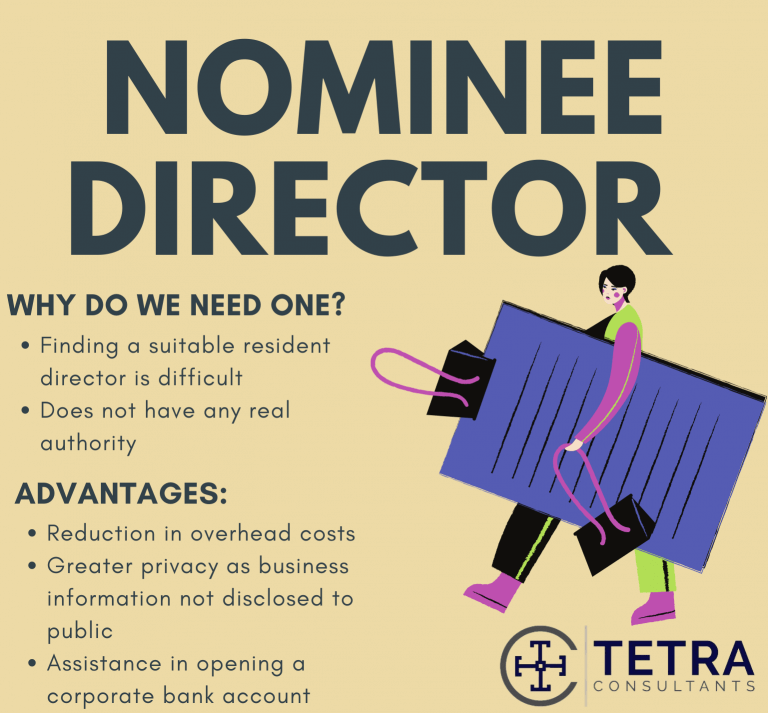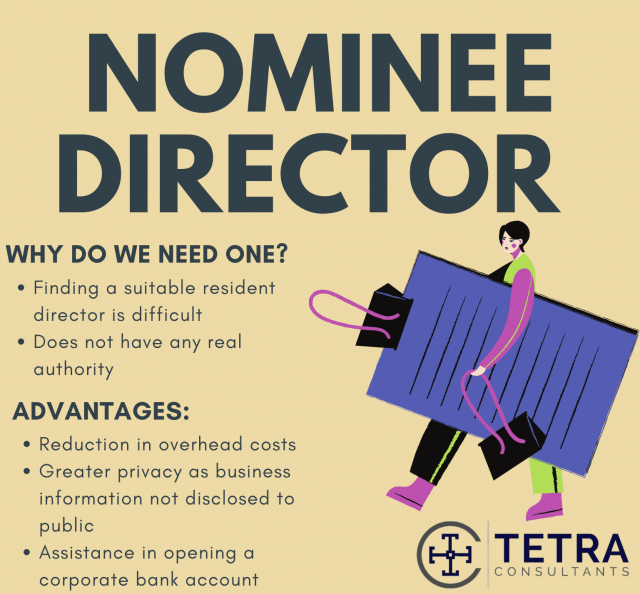 Why do you need Nominee Director service in Australia?
Identifying and appointing an eligible resident director for your Australian company may be a difficult task. Apart from the aforementioned requirements of a resident director, a potential resident director is required to be well aware of his/her responsibilities and obligations. As company directors play a pivotal role in ensuring the smooth operations of a business, it may be challenging to find a suitable candidate who has the capabilities to take up the role of a resident director. 
Therefore, engaging nominee director service in Australia is an ideal alternative to source for company directors. 
What is a Nominee Director?
A nominee director is an individual who is appointed as your Australian company's resident director. This appointed individual will not have any authority in your company. The main duties of a nominee director are to communicate with the government and banking authorities and to ensure the company's compliance, especially whether the company timely files annual returns and financial statements. It is imperative to appoint an individual who has experience in corporate governance and annual reporting/filing as a nominee director. 
Advantages of using Nominee Director service in Australia

 
Foreign investors may need to incur additional costs during the incorporation process because of the need for an Australian resident director. If your company appoints a nominee director then your business will not be required to incur the additional costs and can save on the overhead expenses while remaining compliant with the regulatory obligations.

By signing up for nominee director services, your company can enjoy business anonymity as your personal information will not be publicly available on the Australia Companies Register. This is an optimum solution if your company wishes to maintain privacy.

During the process of opening a corporate bank account in Australia, most Australian banks will require a representative of the company to visit the bank for identity verification purposes. Your nominee director will assist you with this task, at no additional costs

.

 
Need a Resident or Nominee Director for your business in Australia?
Tetra Consultants offers a cost-effective nominee director service to our international clients, guaranteeing that all the requirements of setting up a company in Australia are met while ensuring that the business continues to stay compliant with the laws of the government. Besides this service, we also assist our clients in the incorporation process and the opening of a bank account.
Contact us to find out more about the Resident Director Service in Australia and our team of experts will revert within the next 24 hours.