The Estonia crypto regulation has the primary aim of protecting investors' interests and establishing a comprehensive regulatory framework that ensures transparency and hence trust in the system. Given that Estonia has consistently been a forerunner in the cryptocurrency industry, it is no surprise that the nation has proposed yet another set of changes in regulation in January 2021. This new set of changes comes in quick succession after prior changes in 2019 and 2020 as well. It is no wonder that the Estonia cryptocurrency license holds its place as one of the most sought after in the crypto market, as both a progressive and credible crypto license. This article is a guide to the newest Estonia cryptocurrency regulations in 2022.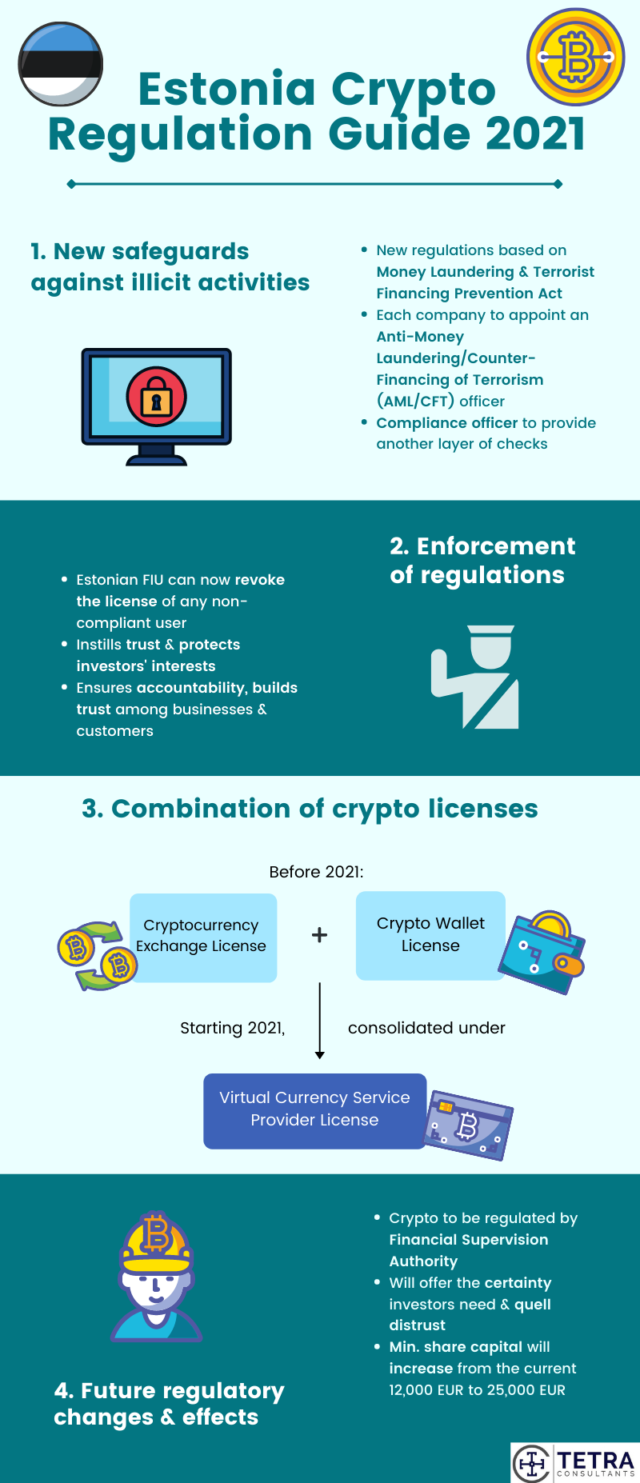 Safeguards against illicit activities and raising trust in the system
Given the intangible nature of cryptocurrency, as well as its anonymity, a large part of Estonia crypto regulation is centered around the prevention of the usage of crypto as part of illicit activities such as money laundering or terrorist financing. Therefore, the Money Laundering and Terrorist Financing Prevention Act heavily influences the regulatory framework surrounding the Estonia cryptocurrency exchange license.

Current regulations state that each company must appoint a trained Anti-Money Laundering/Counter-Financing of Terrorism (AML/CFT) officer and implement specific procedures to counter money laundering and terrorist financing. This includes specific Know Your Customer (KYC) protocols that have been enacted as part of Section 20 (Due diligence measures) of the Act. This officer will then be interviewed by the Estonian Financial Intelligence Unit (FIU) to determine their competency and suitability before an Estonia cryptocurrency exchange license can be issued to the company in question.

Another role added was the compliance officer who will provide another layer of checks. As such, this officer should have free access to relevant information across all business structures, as well as the competence to ensure compliance. The changes in 2019 and 2020 also include new requirements stating that the place of business, registered office, corporate bank account and seat of the board must be in Estonia.

However, this should not deter legitimate users keen on applying for an Estonia cryptocurrency license as Estonia is pioneering the concept of electronic residency. In 2014, Estonia became the first country to offer electronic residency to foreigners through the e-Estonia initiative, allowing foreigners remote access to the same services a local resident could physically partake in.

Therefore, the Estonia crypto regulation is supported by government policies, and both work hand-in-hand to ensure compliance to the Money Laundering and Terrorist Financing Prevention Act, upholding the accountability of the system whilst keeping it accessible to potential entrants.