The Estonia crypto regulation has the primary aim of protecting investors' interests and establishing a comprehensive regulatory framework that ensures transparency and hence trust in the system. Given that Estonia has consistently been a forerunner in the cryptocurrency industry, it is no surprise that the nation has proposed yet another set of changes in regulation in January 2021. This new set of changes comes in quick succession after prior changes in 2019 and 2020 as well. It is no wonder that the Estonia cryptocurrency license holds its place as one of the most sought after in the crypto market, as both a progressive and credible crypto license. This article is a guide to the newest Estonia cryptocurrency regulations in 2022.
What are the latest Estonia crypto regulation?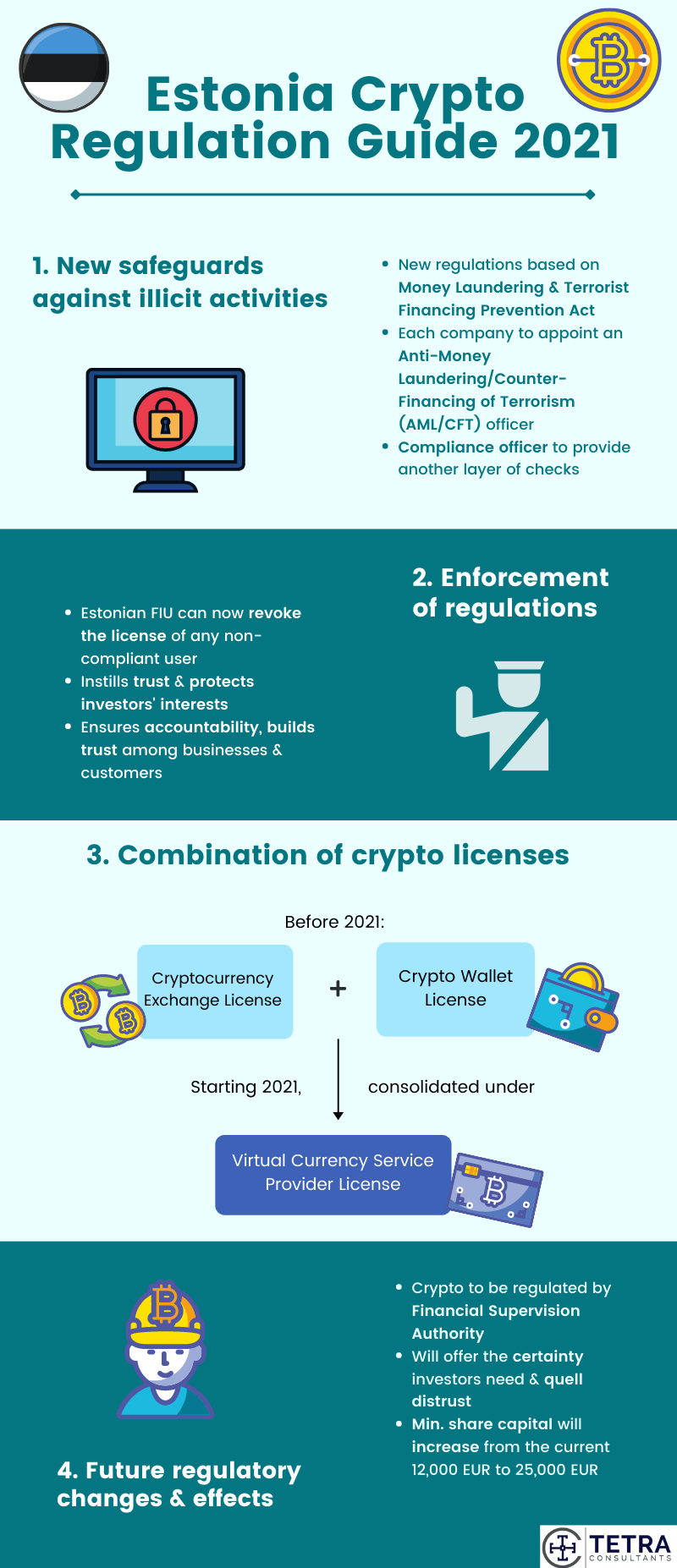 Safeguards against illicit activities and raising trust in the system
Given the intangible nature of cryptocurrency, as well as its anonymity, a large part of

Estonia crypto regulation

is centered around the prevention of the usage of crypto as part of illicit activities such as money laundering or terrorist financing. Therefore, the Money Laundering and Terrorist Financing Prevention Act heavily influences the regulatory framework surrounding the

Estonia cryptocurrency exchange license

.

Current regulations state that each company must appoint a trained Anti-Money Laundering/Counter-Financing of Terrorism (AML/CFT) officer and implement specific procedures to counter money laundering and terrorist financing. This includes specific Know Your Customer (KYC) protocols that have been enacted as part of Section 20 (Due diligence measures) of the Act. This officer will then be interviewed by the Estonian Financial Intelligence Unit (FIU) to determine their competency and suitability before an

Estonia cryptocurrency exchange license

can be issued to the company in question.

Another role added was the compliance officer who will provide another layer of checks. As such, this officer should have free access to relevant information across all business structures, as well as the competence to ensure compliance. The changes in 2019 and 2020 also include new requirements stating that the place of business, registered office, corporate bank account and seat of the board must be in Estonia.

However, this should not deter legitimate users keen on applying for an

Estonia cryptocurrency license

as Estonia is pioneering the concept of electronic residency. In 2014, Estonia became the first country to offer electronic residency to foreigners through the e-Estonia initiative, allowing foreigners remote access to the same services a local resident could physically partake in.

Therefore, the

Estonia crypto regulation

is supported by government policies, and both work hand-in-hand to ensure compliance to the Money Laundering and Terrorist Financing Prevention Act, upholding the accountability of the system whilst keeping it accessible to potential entrants.



Enforcement of regulations
The Estonian FIU also has the authority to revoke the license from any non-compliant users. The strength of their commitment to upholding the integrity of the system is evident as they revoked over 1,000 non-compliant licenses in late 2020. 

Crucially, Martin Helme, Estonia's Minister of Finance, has clarified that the regulatory changes are not meant to curb cryptocurrency trading but rather to "regulate the field more thoroughly to prevent and combat risks related to money laundering." By designing such a regulatory framework, and more importantly, by enforcing it, they aim to instill trust and protect investors' interests. 

This system also helps to ensure the accountability and conformance of businesses in the cryptocurrency market. The consequent trust built among suppliers and customers will make them more comfortable and accepting of this new method of payment.
Combination of crypto licenses
Another recent change in

Estonia crypto regulation

was the combination of the individual

crypto trading license

and

crypto wallet license

into one combined

Estonia cryptocurrency exchange license

. Not only will this minimize confusion between the two, but it will also simplify the application process since businesses will now only need to apply for one license instead. This represents a step forward since many other countries famous for cryptocurrency, such as Malta, have 4 different classes of license. The simplification also benefits businesses and makes them more inclined to do both crypto exchange and crypto wallet services, furthering the growth and development of the market.
Future regulatory changes and expected effects
Moving forward, the Estonian government has not been complacent in its success. Rather, it is even continuing to introduce new amendments to reform the sector, which might even have wider repercussions on the European Union cryptocurrency market. It seems then again, that for the third time, Estonia is once more the forerunner in digital and cryptocurrency adoption.

By taking active steps to put cryptocurrency on the same level of regulation (and hence investor protection) as securities, Estonia aims to quell the distrust amongst service providers and investors. This would be done by subsuming cryptocurrency under the Financial Supervision Authority. While this might increase minimum share capital from the current 12,000 EUR to 25,000 EUR, as well as necessitate more regular reporting and auditing, it will greatly benefit the cryptocurrency market as it offers a level of certainty that investors crave, but that the EU has not yet delivered. Given that new license holders would also benefit from EU passporting, it would allow the Estonian authorities to resolve the current issues of limited jurisdiction and supervision too, delivering greater legal certainty.
Find out more about Estonia crypto regulation
With all this in mind, it seems that the potential increase in compliance costs is outweighed by the many benefits and protections that Estonia crypto regulation offers, making the Estonia cryptocurrency exchange license one of the most sought-after crypto licenses.
Looking to start a cryptocurrency business in Estonia? Tetra Consultants provides our clients with an easy, hassle-free way to obtain an Estonian crypto license. Our team of experts will guide you through the full application process so that you can start conducting your cryptocurrency transactions as soon as possible.
Contact us now for a free, non-obligatory consultation and we will revert within 24 hours.